6 Marketing Lessons Learnt from Analyzing 250 Million Images Research
Every second 60,000 images are shared online.
That's 60,000 pictures of concerts, lunches, dogs, memes, selfies, and more.
Within many pictures are your brand, your products, your services and even your ads.
If you can analyze them you can better understand how people view your organization.
For our latest report we spent four months analyzing 250 million images shared online to find:
How often each brand is photographed online 📸
Most visible brands by location 🌎
Which brands are pictured most by influencers 💁
The sentiment attached to each brand's images 😡
6 marketing lessons we learnt analyzing 250 million images
1. Sport sponsorship generates unparalleled
visibility
Adidas, Nike, Emirates, Puma and Coca-Cola all sit within the top six most pictured brands online – largely due to sport sponsorship.
Emirates sponsorship of PSG, Real Madrid and Arsenal generates incredible visibility while Coca-Cola's World Cup and Olympics sponsorship does the same.
This is considerable and measurable visibility that isn't seen from other brands who focus on TV or music sponsorship.
2. BBC outperform others – because of one small trick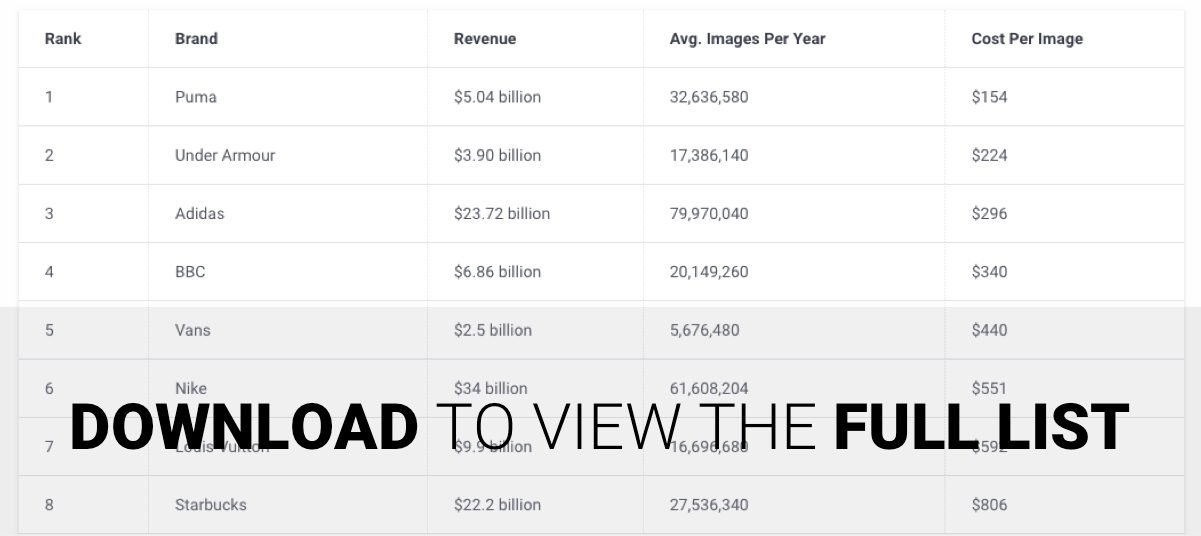 Relative to its size, the BBC perform far better than similar sized brands.
In fact, the broadcaster appears fourth on our list when adjusted for revenue. Here's why.
The BBC watermarks everything. If its content goes viral, so does the brand, even if "BBC" isn't mentioned in text. This small change dramatically increased visibility.
3. Google shows how brands can get lucky with the power of memes
Google leads the way as the most pictured brand in the technology industry.
Why? Well part of the reason is this meme. It was shared 10,000s of times, generating more visibility than any other brand during the Super Bowl weekend.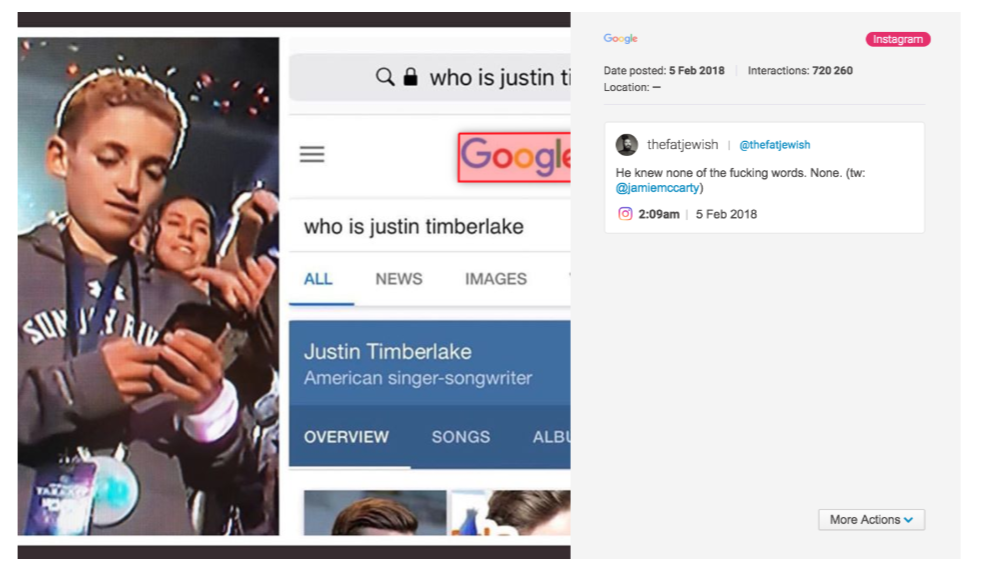 4. Puma's smart logo placement
The report analyzed European football kit sponsors to reveal the amount each brand pays (in sponsorship fees) per image online. Here are the results:
Puma = $2.40 cost per image
Adidas = $8.02 cost per image
Nike = $11.83 cost per image
Puma performs incredibly, with a much cheaper cost per image.
This is an impressive result. Especially when you consider that this data just monitors unique images. Shares, likes, comments and other engagement metrics would dramatically increase total reach.
One of the reasons for Puma's success is where it positions the logo. Unlike other brands, Puma also places the logo on sleeves: 
"Mesut Özil will leave Arsenal in January." – https://t.co/OdyS80HuAPpic.twitter.com/Ky5PuCOkry

— Squawka News (@SquawkaNews) October 15, 2017
No other kit sponsor does this and it appears to greatly increase visibility.
5. Vans' smart emerging market campaigns
The report broke down images shared online by the location they were shared from. This allowed us to reveal the most popular brands by country.
Although Vans didn't appear as a leader in any single country, the brand surprisingly came second in Argentina and ranked well elsewhere.
This is due to its well documented focus on targeting growing markets. In fact, since Dec 2017 the volume of Vans images shared in Asia grew by 20%, and by 62% in South America.
6. Nutella's positive sentiment
By analyzing the sentiment in text attached to each image we can see which brands generate the most positive images:
Nutella surprisingly come in 5th.
Compared to others on this list, Nutella hardly spends on advertising and sponsorship, so how do they do it?
Nutella's owned Instagram marketing account has a very clear strategy; encourage users to use Nutella in novel ways.
Nutella also follows strict guidelines, mainly including the logo in every piece of content (see below):
This strategy clearly pays off, increasing its visibility dramatically.
Importantly it also encourages several customers to replicate their ideas and post their own creations online.
Our analysis discovered:
Overall, Nutella generates huge volumes of image visibility, due to a smart strategy that encourages their consumers to share.
The report
There are many more insights like this available in the report.
To get access to this free report, simply click this link and press download.
And if you're still not convinced, take a look at what Matt Navarra said when he read the report:
"Brandwatch's report gives fascinating insights into the hidden world of visual marketing on the social web. " 
---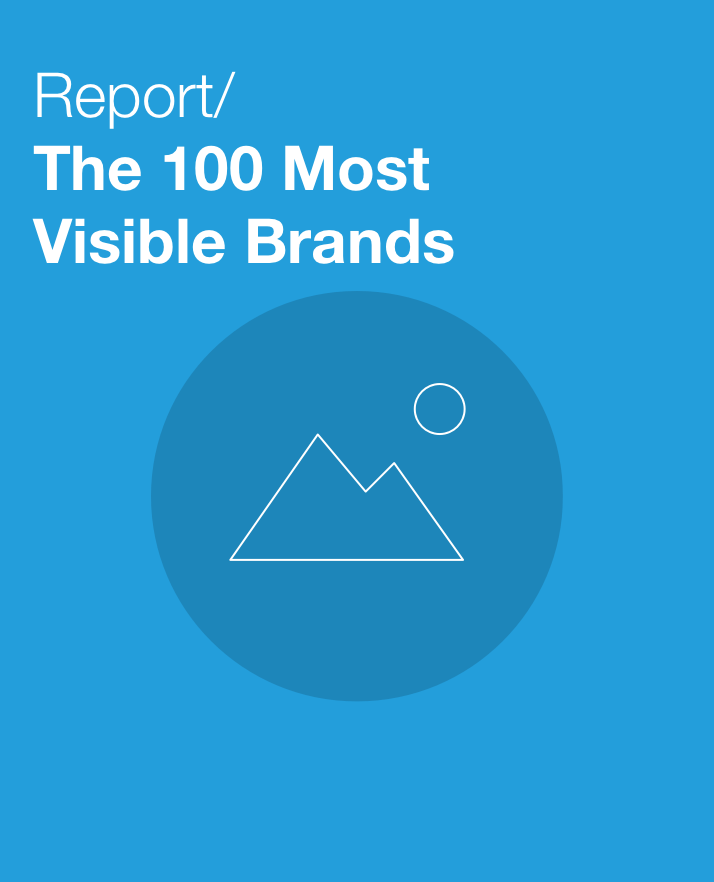 Discover the most visible brands online
Download the free report.
GET THE REPORT