Amy Collins on Data: Introducing Four New AsiaPac Data Feeds Product

In a recent blog post, I shared our plan to make Brandwatch the number one destination for social data covering the Asia Pacific region. In today's blog, I'm going to update you on a data partnership deal that we recently signed and that our engineering team are in the process of integrating.
Most vendors of social data analytics solutions buy their data from a data aggregator who do their crawling for them. We are almost unique in the industry in that we do our own crawling. This is a strategic choice in that it gives us the ability to rapidly add new sites when asked and ensures that when we do it is available exclusively to our customers.
We have just signed a partnership with the main data crawling service in the industry. The theory is that by adding the data used by all of our competitors to our own crawled data, we will have by far and away the best coverage for the Asia Pacific region. Here are the projected data volumes that we're seeing:

1. News articles
The team has completed integrating the first of the four feeds that we've procured for you: News.
We're already seeing the data in the app in the testing environment and you should start seeing it in the live version of Brandwatch Analytics in the next release (Thursday 8th March). The following is a really powerful illustration of the new AsiaPac news content from that test environment. It's exciting to see the project results shown in such a visual way. We're currently seeing volumes of between 5,000 and 7,000 news articles per hour.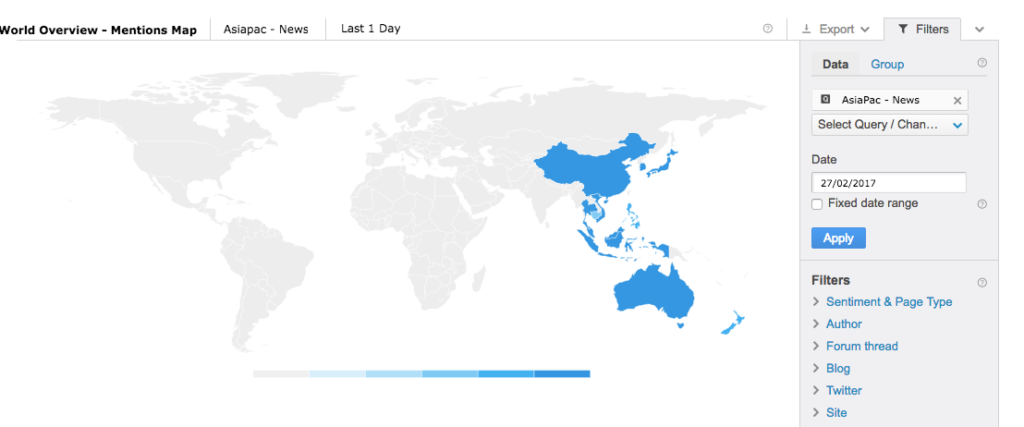 2. Blog posts
The second feed that we're working on is blogs.
The team are making good progress and I will update you in a future blog when this is due to come online. Because it can be hard to identify where blog articles originate, we bought a global feed. In terms of volumes we're seeing around 120,000 articles per hour.
3. Forums and message boards
Forums and message boards are high volume content: we're seeing 600,000 per hour across the Asia Pac region. This will be the third stream that will come online in the coming weeks. Again, I promise to keep you updated.
4. The full Tencent 'Discuz!' firehose
If you're a westerner, you may not know of "Discuz!" or you may have assumed that I misspelled Disqus, the commenting engine (which we also provide in our platform). Discuz is a part of the Tencent ecosystem of social networks. If you don't know Tencent, they're a Chinese social empire to rival Facebook. Discuz is essentially message boards or forums that power vast numbers of Chinese communities. We're seeing between 5,000 and 10,000 posts per hour coming in. We hope to move on to integrating this in the early weeks of Q2 2017.
The future of Brandwatch's AsiaPac data
I hope to have some news in the next month or so about another significant Chinese data partnership – one of the large social networks.
Watch for a future blog from me.
---
Brandwatch Analytics
Open up a world of social data with Brandwatch Analytics
Find out more