Audience Content Intelligence: Know What Your Audience is Talking about Right Now Product

In a time of content saturation, it is harder than ever to stand out amidst the noise.
Brandwatch's new audience content intelligence features let you discover the topics, people and conversations your target audience is engaged with, so you can speak more directly and authentically to them.
The average article is shared half as often as it was three years ago. Marketers relying on the same old branded content are competing for a slice of an ever shrinking pie.
The solution? Stop trying to turn your audience's attention away from what they were talking about with yet another advertorial about your products, and build a loyal audience that actively seek out your content by contributing something valuable to their existing conversation.
The problem is, when looking for topics everyone's talking about, most big trends are already very noisy. Everyone's trying to have their 'Oreo Moment'. There's a reason we still use that five year old term: no-one's quite managed it as successfully since.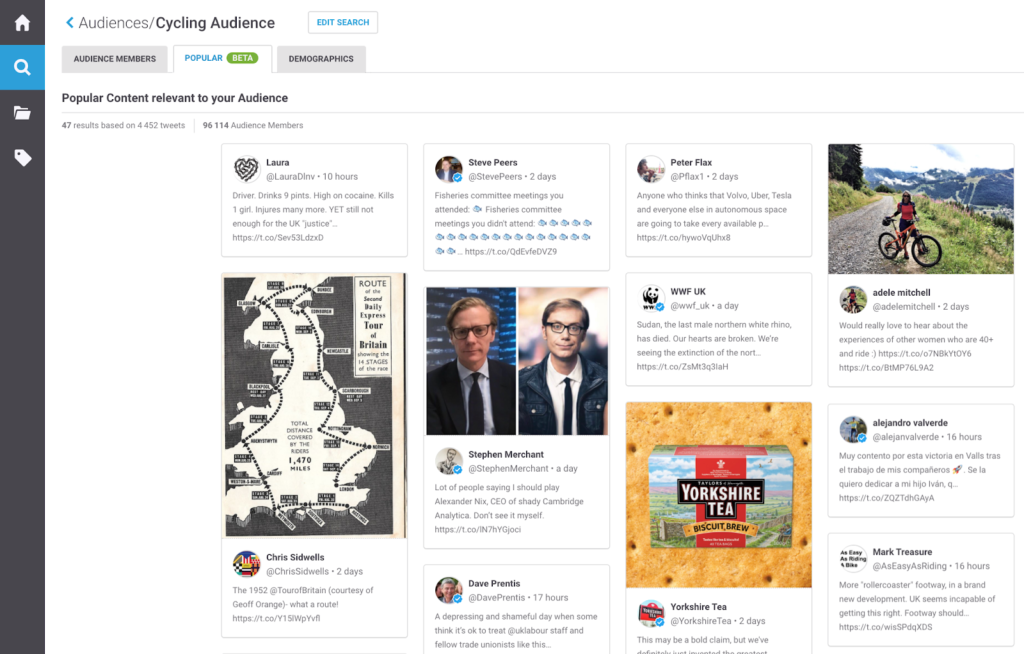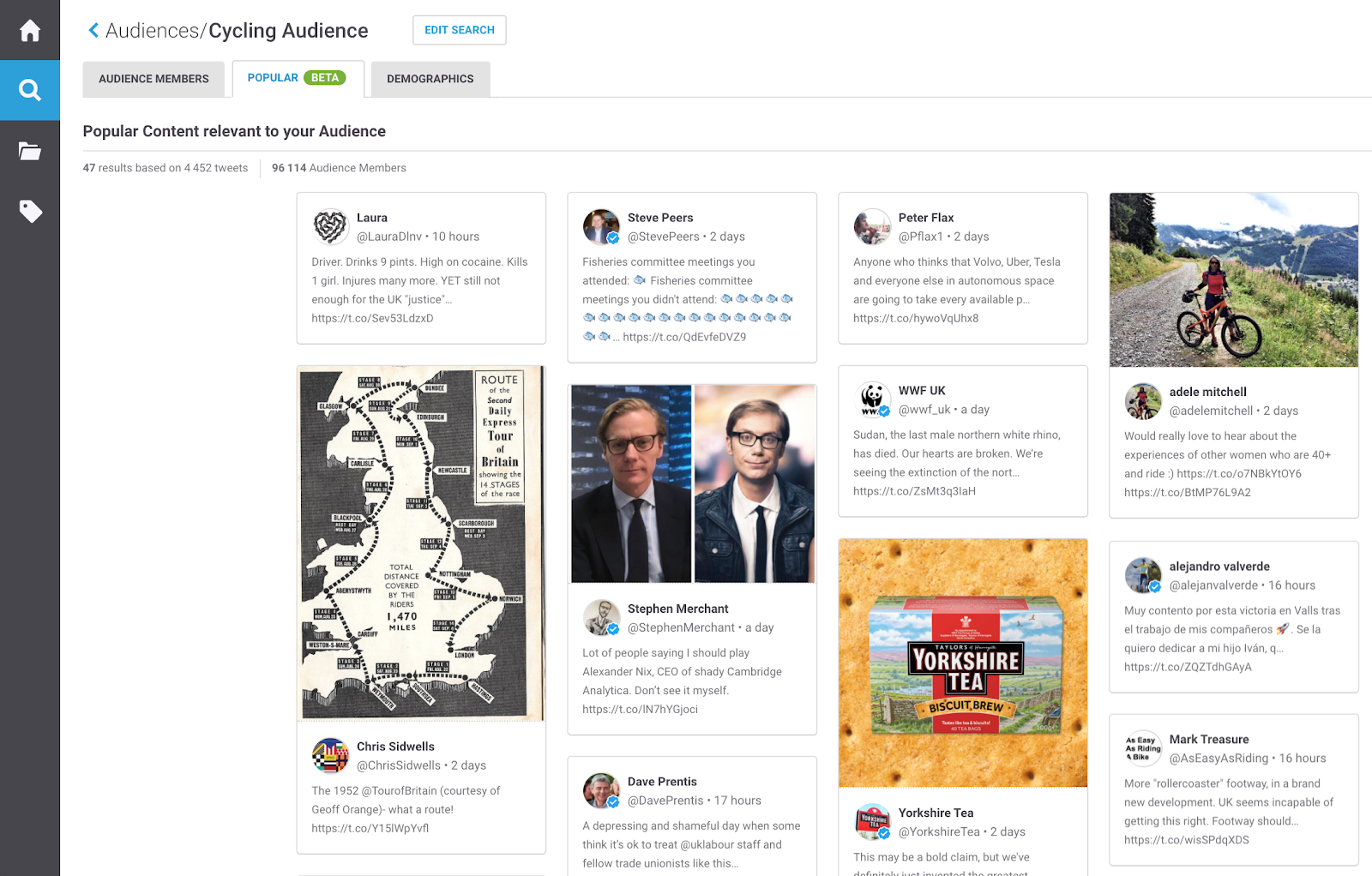 With Brandwatch Audiences you can open a window onto any audience to understand what's trending in their world so you can discover local marketing moments that might not be as big globally as the Super Bowl but, to the people you're trying to reach, are just as important.
Popular Tweets
The new Popular Tweets tab shows the tweets and the links, images and videos in them that are most retweeted and replied to by the people in your audience.
Audiences lets you perform unlimited and instant searches of a database of over 400m authors. This means you can see what's trending within any audience based on keywords in their bio or recent public tweets, their gender, interests, profession and who they follow.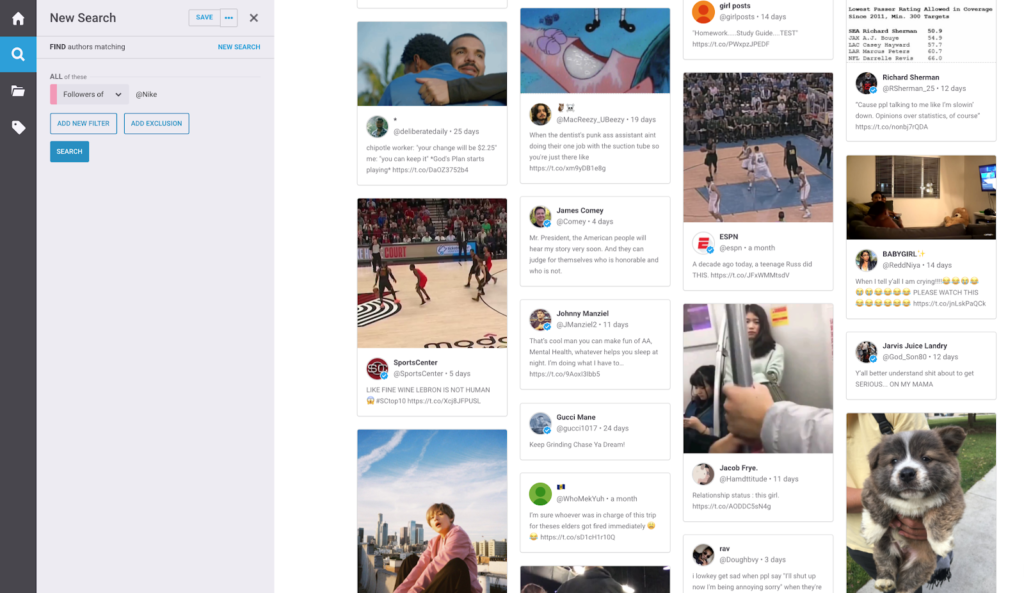 You can study the popular tweets of your followers to draw inspiration about the kind of content you could be sharing and creating to nurture your own community. Or set up a target audience of people with specific interests and demographics to help you find ways to reach a wider audience.
This provides a critical insight for content marketers and advertisers that wasn't possible before: in what context is my content going to be seen? For example, if your audience tends to share cartoon memes or shaky images and videos taken on camera phones – how is your polished, branded video going to look in someone from your audience's timeline?
The same even applies to advertisers whose content is increasingly being consumed on social and are starting to shift from glossy, aspirational ads to more relatable content that resembles the kind of things people are sharing and talking about online.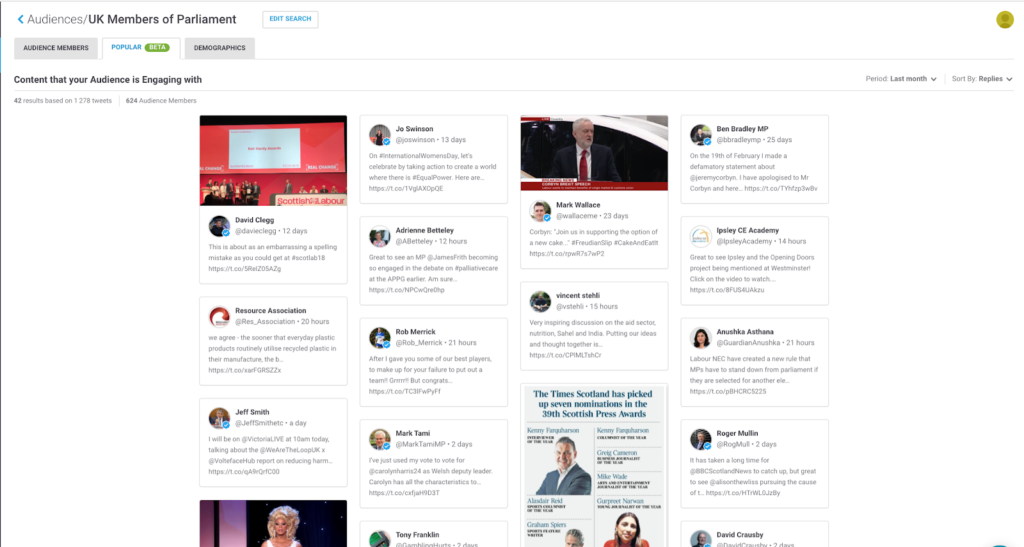 You can even track the conversations of highly specific groups such as politicians or industry journalists to keep an eye on what these influential people are talking about.
Popular Hashtags
The Hashtags tab shows the same information for hashtags tweeted or retweeted. This provides a more general view of the topics your audience is interested in.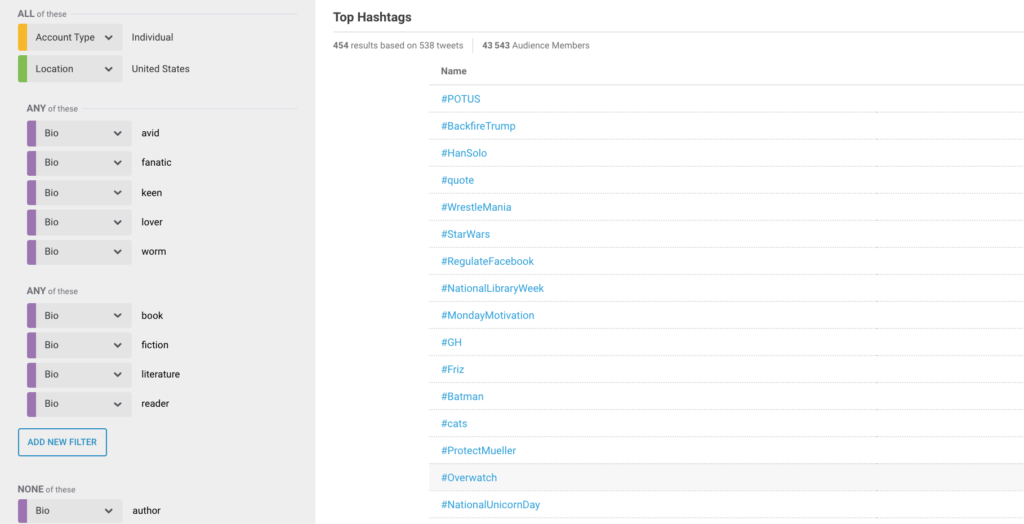 This is a great place to find relevant hashtags to join in your own marketing but also to start planning content creation around surprising topics you might not have expected your audience to be interested in.
What's trending now?
You can set the date range for the Popular tweets and Hashtags tabs to just the last day allowing you to discover opportunities to engage or create content around stories or themes trending right now.
BBH Labs pointed out that 'it took the industry more than a month to respond to one of 2017's biggest cultural moments'. Being this late is what makes brands come across as awkward and out of touch when attempting to speak their audience's language, especially when engaging a younger crowd, and is why they might be reluctant to try something bold again in the future.
But Audiences gives brands the chance to discover these kinds of popular memes in the 'embryonic' stage instead of joining in after they've done the rounds on forums, the media and, finally are so mainstream your parents already know about them.
Index Score
When studying audiences, insight is in the differences. The index score is a measure of how specific to your audience a tweet or hashtag is.
Sorting by index will show you those 'local' marketing moment opportunities: trends that you wouldn't necessarily know about if you weren't in that community but which are important to the people you're hoping to engage.
Sharing or caring?
You can sort popular tweets by the number of people in your audience who have retweeted them or by how many replied to them.
This is a useful way to compare what they're sharing, and most likely agree with or find interesting with what they are responding to which might often be because they disagree or feel passionately about.
Give your content a boost
Audiences is a powerful discovery tool to help you create content that will resonate with the right people. It can also help you find the influencers that can help you get your content in front of them and build tactical lists you can target with Twitter Ads.
If you want to learn more about how these new content intelligence features can support your audience research and marketing strategies, sign up for our webinar on creating content that speaks to the right people.
---
Brandwatch Audiences
Show how well you know your customers.
Find out more