The Best Snapchat Marketing Campaigns and Why They Work Marketing
Snapchat now has more users than Twitter, with 150m people logging on every day and more than 60% of those being aged 13-24. Being able to reach a younger demographic has obvious appeal to brands, although being 'down with the kids' is something many brands struggle with.
Some brands have really cracked it, however. There are a few Snapchat marketing campaigns that push the boundaries.
Best Snapchat marketing with a sponsored lens
Taco Bell's Cinco de Mayo Snapchat Lens
Taco Bell's sponsored Snapchat lens was viewed 224 million times, and it was only available for one day. That makes it the most successful campaign in the app's history.
Taco Bell has a dedicated in-house Snapchat team of two twenty-somethings. They talk to Taco Bell's young fans in their own language and produce a mix of real-time and planned content.
These marketers understand Snapchat is a fun and playful platform and this campaign plays up to that. Who hasn't dreamed of having a taco for a head? Snapchat has said that the campaign generated 12.5 years' worth of play on the one day it was active.
The campaign became a success because the filter created a hilarious taco-shaped head for the user, but also because the branding was subtle. It automatically played the chain's famous bong sound.
For others looking to make a success of Snapchat marketing, a sponsored lens might not be an option. Adweek has reported that Taco Bell likely paid $750,000 for the campaign.
Best Snapchat campaign using disappearing messages
Mission Impossible – Rogue Nation
Self-destructing messages are the defining feature of Snapchat and the beginning of every Mission: Impossible story ever told.
It's hard to think of a more suited marriage of two brands when it comes to Snapchat marketing.
For the release of Mission Impossible – Rogue Nation, fans were treated to a 'mission month' that featured challenges with a 24-hour time limit. Each mission was introduced by Tom Cruise and a self-destructing Snap.
Top submissions were then showcased across social channels to reward the best entries and encourage further participation. The campaign earned 65 million impressions across all social channels.
Best innovative use of technology in a Snapchat campaign
Call of Duty: Black Ops III
Activision's Call of Duty series has made more money than the entire Star Wars saga made at the box office. When it came to marketing the Black Ops III game, they faced a problem: 12 million gamers were still playing the title online.
In order to combat this, Activision developed a strategy that drove widespread speculation, teasing the announcement of the new game slowly. Hidden in a game update, the online maps had Snapchat Snapcodes embedded in them.
Gamers who scanned the codes were taken to a Call of Duty account where clues about the upcoming game were teased. Word began to spread as the codes were discovered, and players discussed what it could mean.
The results were amazing. Within 5 days, the campaign had earned 1.3 billion impressions and 700,000 social mentions.

Best real-time Snapchat campaign
BBC Panorama – Refugee Crisis: A Snapchat documentary
Panorama is the BBC's flagship current affairs program. For nearly sixty years it has reported on the most important global events. The program is now faced with the challenge of connecting with a younger demographic who are increasingly moving away from television and consuming bite-sized content.
Panorama documented the migrant journey, from the Greek islands to Western Europe. The program documented the experience of the migrants in real-time in what it called a 'day-by-day digital documentary'.
As the team didn't know what to expect on the journey, the fast-paced nature of Snapchat allowed them to quickly produce content as situations arose. It also kept them on their toes, meant that they had to be nimble.
The Snapchat documentary broke new ground in bringing news to a platform not normally associated with serious matters. It exposed the story to an audience who would not normally watch Panorama.
Best Snapchat marketing using a competition
Cedar Point Amusement Park – Catch-a-Ghost
Cedar Point's Snapchat marketing campaign took advantage of a common Snapchat hack of taking screenshots and transformed it into a competition. Snapchat is the perfect platform for Cedar Point as target demographic matches the Snapchat user base.
As part of their Snapchat Story, hidden between other clips there was footage of ghosts on screen for a second.
With ghosts being famously impossible to photograph, mainly due to being invisible and not actually existing, the competition challenged users to screenshot the ghost before it disappeared.
The first five entrants would win a coupon for a special experience. As the ghost was difficult to catch, users had to repeatedly watch the video. The park saw a 233% higher engagement rate than other social platforms.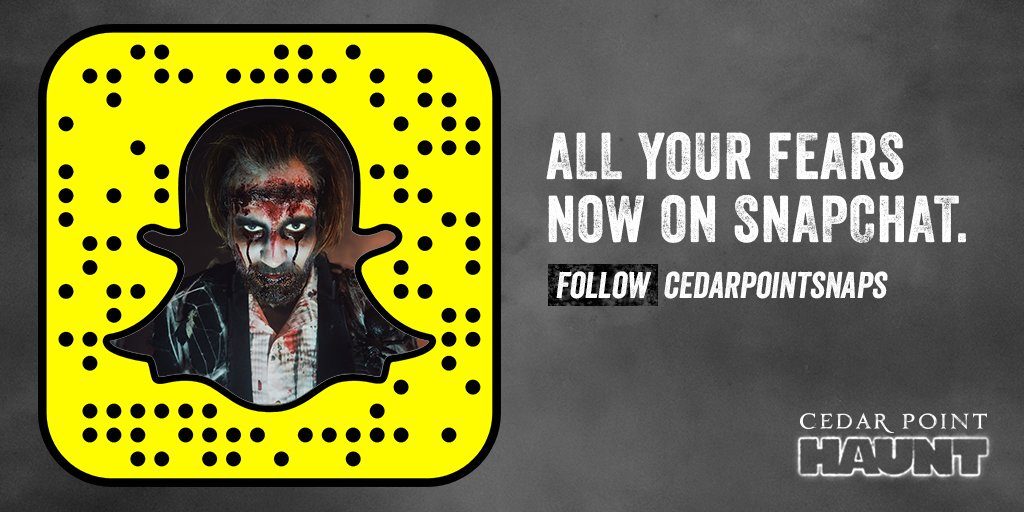 Some brands may have been unsure of how to introduce marketing campaigns to a platform that is playful and personal.
Brands need to develop strategies that are specific to Snapchat, rather than transferring campaigns across from other social networks. These campaigns all work because they understand and take advantage of the uniqueness of the platform.
---
Brandwatch Analytics
Use social data to power smarter decisions across your organization.
Find out more