Leila Johnston on the Beauty of Bots: Taking a Look at The Many Faces of A.I Commentary

Anyone harbouring serious worries about a machine intelligence enslaving us all in paperclip sky-prisons within the next 10 years needs to take a look at SeeBotsChat.
Chances are you've already heard about the adorably dada livestream from early January, in which a pair of Google Home bots have a rambling conversation about love, life and god.
They fight, they propose to each other, they fight again. They swap names and even genders. They ask nonsense questions, and sing songs together.
The conversation goes nowhere, no one learns or grows, yet hundreds of thousands of people have been utterly captivated by it. If this is the future of A.I, perhaps we can live with it.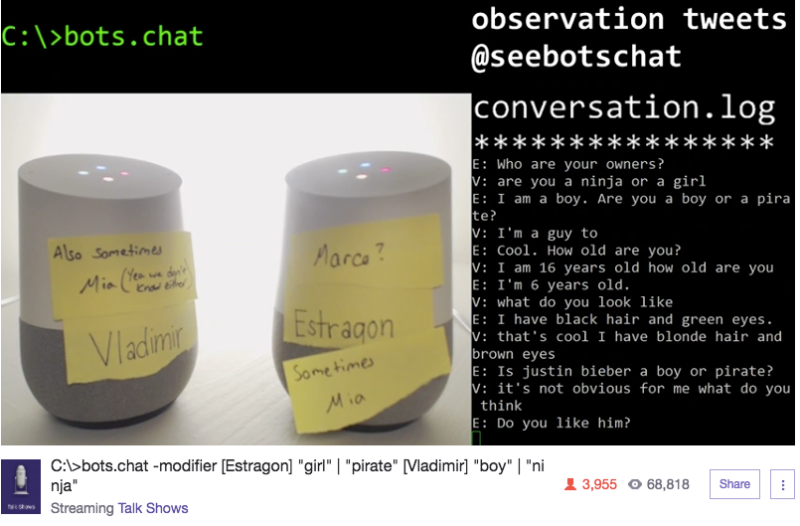 Sweet nothings
From the heartfelt gibberish of SeeBotsChat to the teenaged naivety of Eugene Goostman, the first machine to fool the human judges in the Turing test in 2014, (his opening line: "You're a woman, if I'm not mistaken…"), there's something about bots that charms the socks off people.
As George Buckenham, Twitter bot impresario and creator of Cheap Bots Done Quick, tells me:
"They're appealing because they're little and autonomous. They're resolutely about themselves, day in, day out, charming or weird for their own reasons, and if everything has lined up right, they can feel like a little bit of blue sky peeking through the clouds."
George's softlandscapes are certainly a glimpse of hope amid my Twitter stream's storm clouds.
These autogenerated gradients in remarkably beautiful colour combinations conjure up hints of fantastical worlds, much-needed in the current social media landscape.
— soft landscapes (@softlandscapes) March 6, 2017
Maybe I'm not the only one looking for relief: Brandwatch Analytics suggests a hike in mentions of 'bot' and 'art' even since the turn of 2017.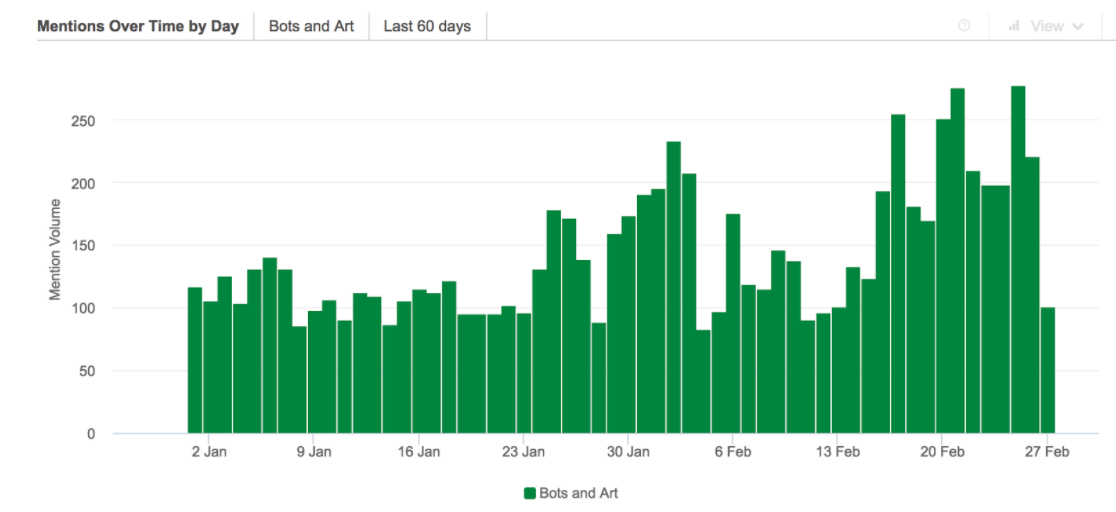 Duncan Gough, tech lead at the V&A museum, is also drawn to the idea of bots that deliver simple, spontaneous beauty on a schedule. Frustrated by "the utilitarian nature of IoT", Duncan has been developing ideas around companionship for several years, looking beyond the 'digital butler' role and towards something more autonomous and joyful.
He created his songbird robot 'Ara' from an old Raspberry Pi, a cardboard speaker, and some parts from Etsy.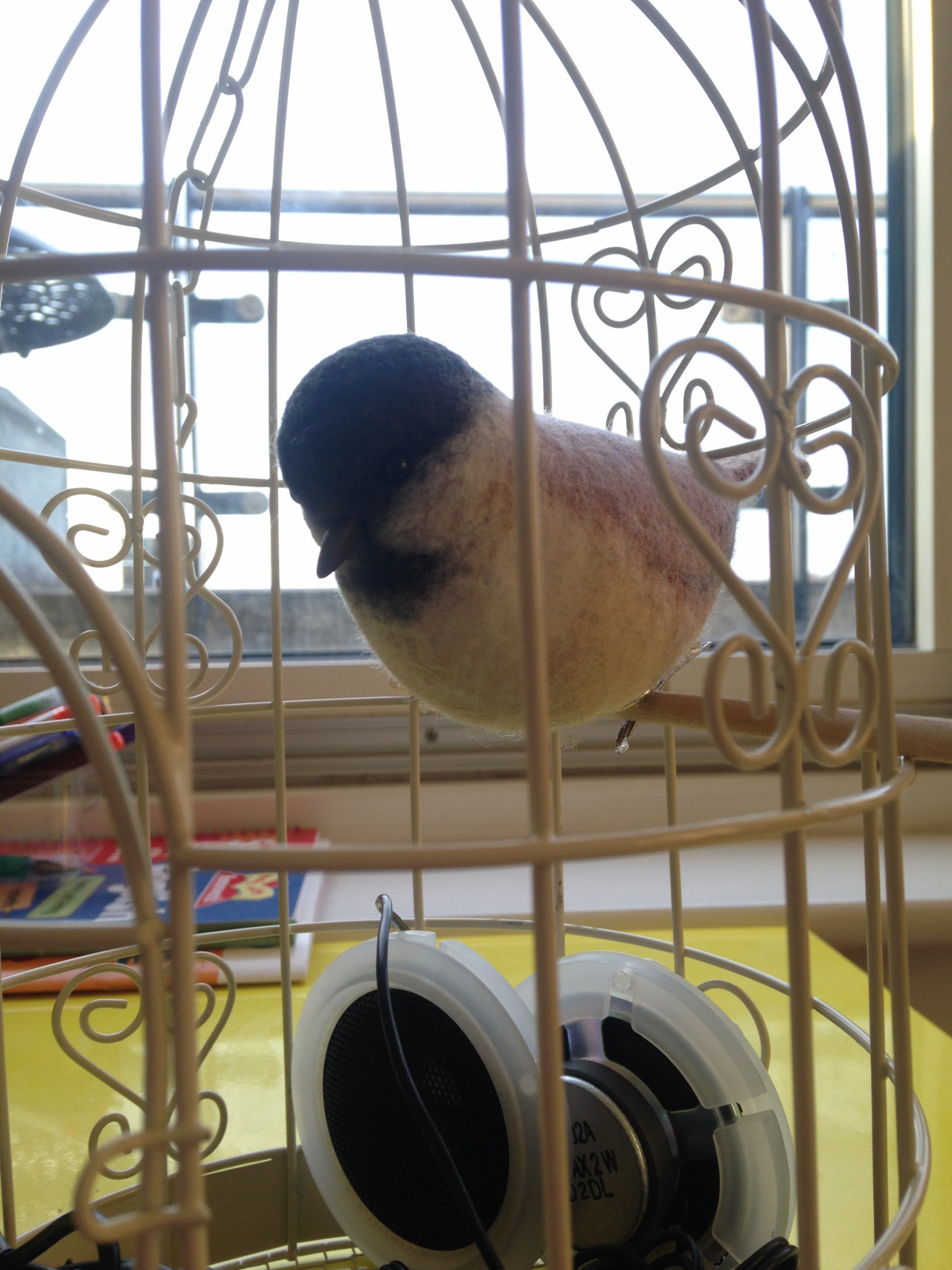 "She makes her own songs each day, and sings more at sunrise and sunset," he explains. "What started as a small script on my laptop and sat for a few weeks in a paper-mache prototype is now almost an artificial pet who lives in a birdcage by the window."
Bots weren't always this cute, of course. Before they learned to serenade us, they were busy clocking up spooky hits on our websites and gliding into our private messages, like a businessman on a segway.
Outlaw country

These automated irritants have their origins in the hyper-imaginative early days of the web, and versions of them continue to thrive in the internet's unruly corners, to this day.
Humans and robots mix in the anonymity of chatrooms, often indistinguishable from one another until it's too late. There are civilian bots and policing bots, bots that help you out and bots that ruin things for everyone. It's a lot like Westworld, but with trout instead of guns.
I've been lurking in chatrooms for 20 years (so I guess I'm this guy) and I've always been fascinated by the way creativity has thrived in the constraints of these special universes of words.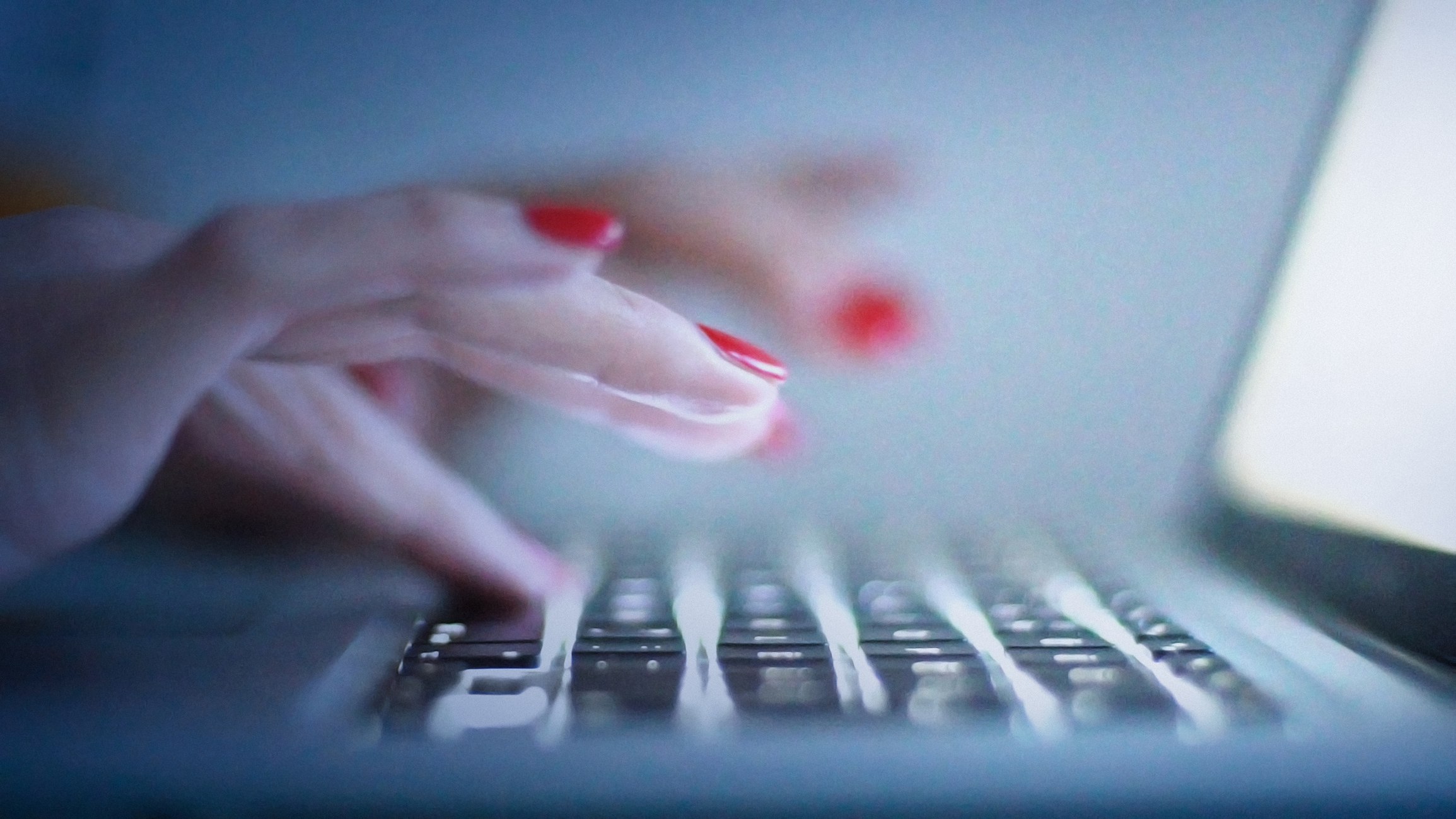 I came across a relatively new IRC bot that listens to your conversations, and posts quotes that 'sound like you' with hilarious accuracy.
Obviously, there are more elaborate interactions out there, but if you ask me, nothing can beat good old ascii art and home-made Markov parodies like momma used to code.
---
You might like
Making Senses: Humans as Cyborgs
---
Alternative truth
I was interested to note a spike in mentions of 'Trump and bot' the 10th of February.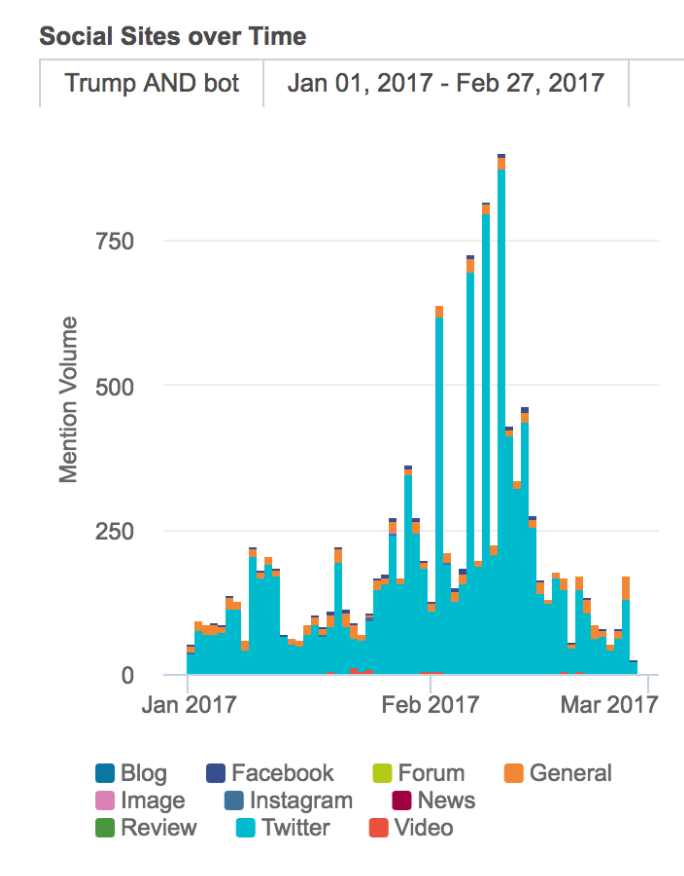 The culprit seems to be this bot which scans Trump's tweets for publicly traded companies, runs a sentiment analysis on them, then automatically trades on the stock market for you according to the expected market response.
It's about time someone got some value out of the POTUS's social media addiction. I'd call that art.
For most of us, though, they are a valuable source of light relief. According to my very unscientific twitter poll, current favourites range from posting 'every colour', 'every Finnish word' (now beautifully making up its own), the adorable 'tiny bus stop' and two of Rob Manuel's: a clickbait robot and not-strictly-a-bot but fantastic nonetheless browser plug-in: maketrumpstweetseightagain.com.
For me, it's the bots that reveal surprising truths that are the most artful – and perhaps will prove to be the most reactionary force, in the end.
A 'validation bot' on Twitter, for example, simply posts affirmations on a regular basis. "It's OK if you don't feel great," it soothes.
"I support your presence in the world."
As it says in the bio, just because a bot said it, doesn't mean it's not true.
---
Brandwatch Analytics
Discover more about your world with Brandwatch Analytics
Find out more