Using Historical Data: Create Disruptive Products Product

For the modern company, fast product development is required to meet consumer needs and keep up with agile competitors.
However, uncovering the product features customers desperately want can be a slow and painstaking process.
Let's say you work for a male grooming company. You're desperate to find the next big thing so you contract a market research agency to find out exactly what your target consumers want. 
In the following six months, you define objectives, build a plan, refer it to an ethics committee, find a sample audience, collect data through focus groups, phone interviews, and online surveys, before sending it off to be analyzed.
The result? Customers want more blades. And a bigger handle would be nice. Essentially, after 12 months you are left with obvious conclusions.

Of course, not all traditional research works this way. Most endeavors deliver tangible and valuable results. But it's undeniably slow. At the speed your competitors move, waiting more than a month for an insight can be debilitating.
Fortunately, social data can offer instant insight about consumers on an unparalleled scale. It may not be the sole contributor for product development ideas, but it's quickly becoming a vital part of the research armory.
Profitable product feedback
One company has made a success of developing product purely on the back of social media feedback.
By scouring online reviews, C&A Marketing developed products that answer the frustrations of consumers and include the most requested features.
C&A collect reviews on thousands of its products. One of the many products it creates is a waterproof radio. Analyzing historical reviews revealed that a significant amount of people wanted a rechargeable version. The team then built a rechargeable version and linked potential buyers to their updated version.
This strategy may seem simple and novel, but it's successful. The team collects nine-figure sales annually, growing at 30% year on year.
But social data reveals far more than simply the volume of people discussing your product. Metadata attached to each mention shows sentiment, author demographics, key topics of conversation and much more.
This means you can pull granular insights about the specific components of your product. For example, Amazon's Kindle range can be analyzed by looking at the net positivity of different features for each Kindle Model.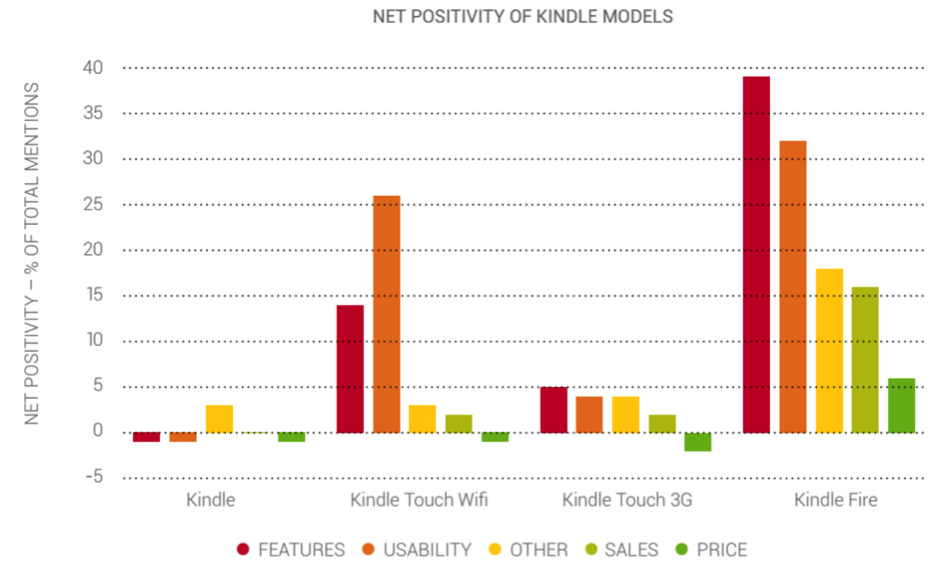 Historical data can be extraordinarily valuable for product development. If companies like C&A Marketing are able to generate nine-figure revenues by simply listening, surely all brands should do the same.
From one dollar razor, to billion dollar sale
Dollar Shave Club revolutionized the male grooming market with a disruptive business model.
The likable CEO, attractive brand, and genius subscription package caused growth that ultimately led to a $1 billion sale.
However, none of this would have been possible without consistently improving their product over the last three years.
Achieving this feat required regular product iterations, with each improvement aimed at maximizing customer value.
To do so, Dollar Shave Club used Brandwatch's extensive historical data functionality to fuel product development.
The company found common customer pain-points and changed product design to stop recurring problems, It also identified the features customers wanted and altered its product accordingly.
Find out more
Dollar Shave Club used Brandwatch's world-leading historical data to build a one billion dollar company.
Our new product, Unlimited Historical Data, adds extensive historical functionality, letting users collect instant historical insight on any topic.
If you're a customer and want to see it for yourself, speak to your Brandwatch representative.
Not a customer? Click below to find out how Brandwatch can work for you.
---
Brandwatch Analytics
Unlimited Historical Data for instant historical insight.
Find out more