Most of you will know that in one minute a lot happens.
38,000 posts are sent to Instagram, 347,000 new tweets are published, 527,000 Snapchats are shared and 700,000 people log in to Facebook.
What most people don't know is that the data published publicly via social networks represents the largest pool of accessible data available in our history.

The sheer amount of digital data finally allows for a holistic understanding of your campaign's performance.
But without historical data, a number of assumptions must be made. These assumptions ultimately lead to biases that skew results and impair insight.
Let's say your company receives a surge in positive mentions straight after the release of a new advert during the summer. Using real-time data, you may assume this increase was in direct response to the advert. Moreover, you may conclude that the advert is successful as it caused your largest spike in mentions.
However, with years worth of historical data, you could uncover a very different conclusion. You may discover that a surge in mentions always appears during the summer and the advert actually made no significant impact. 
You could look back and see that past adverts generated far more mentions than your recent release, which in comparison, performed poorly.
Measuring valuable hype
With historical data, campaign measurement becomes more reliable and valuable. You can quickly compare a campaign to all your previous work to check for seasonality and determine success.
This was vital for a world-leading video game publisher, and Brandwatch client, during their recent release. 
In the gaming industry investments in marketing campaigns have grown dramatically. In 2015, the industry spent $630 million on TV advertisements alone. But TV is just one element. Campaigns now include announcements, teaser content, trailers, public keynotes, demos and more. Understanding how these affect sales figures is a key task for any major distributor.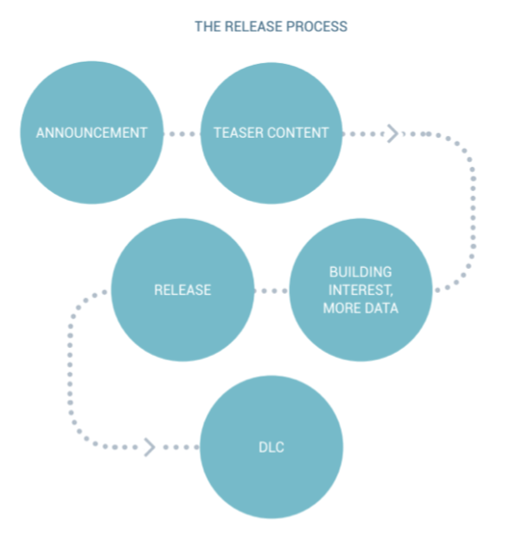 However, when analyzing its recent release, the Brandwatch client realized that spikes in mentions didn't impact on whether people actually bought the game. The hype didn't equate to sales, so to speak.
Detailed research intending to find which types of conversations lead to sales was carried out using years of historical data.
By listening exclusively for language relating to pre-ordering the game, the organization separated generic conversation from the intent to purchase conversation (mentions relating to purchasing the product).
Analysis of the pre-launch conversation surrounding two different games uncovered the answer.
The publisher found that Game 1 generated more mentions than Game 2, but less intent to purchase mentions. Subsequently, Game 2 generated more sales overall, suggesting that intent to purchase mentions correlated with actual sales.
| | | |
| --- | --- | --- |
| | Game 1 | Game 2 |
| Total mentions | 70,143 | 30,456 |
| Total intent to purchase mentions | 1,295 | 4,012 |
| Total sales after one week | 300,000 | 600,000 |
What became clear, from measuring a number of previous campaigns, was that indiscriminate hype, measured by total mentions, did not necessarily equate to sales.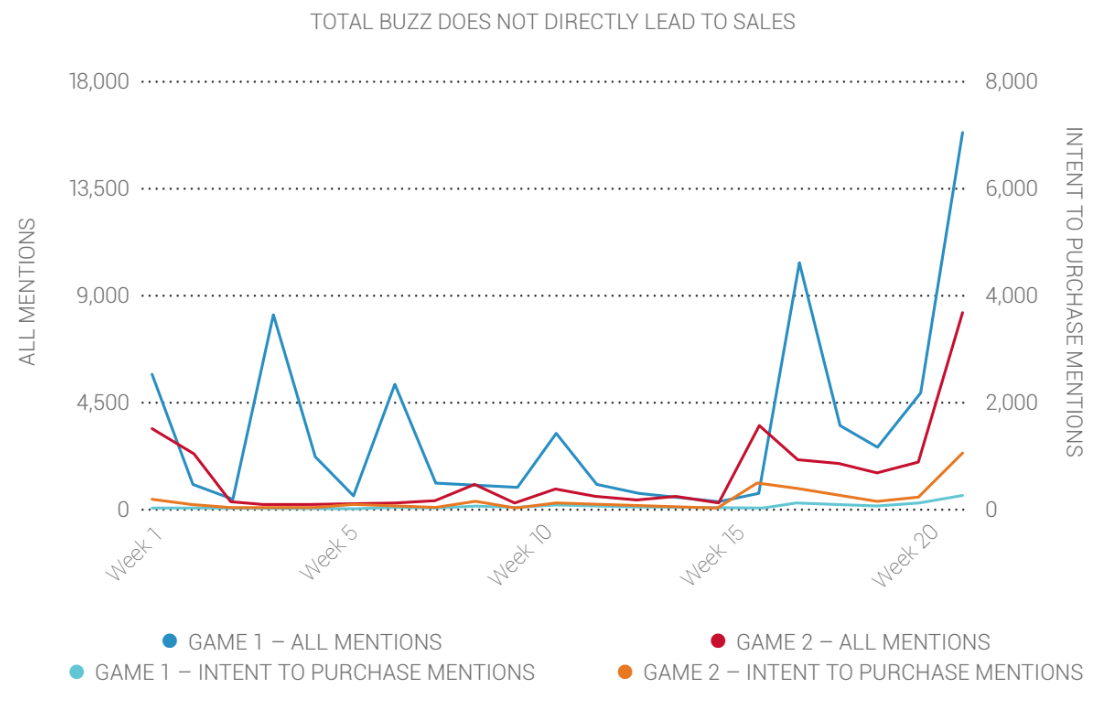 Simply monitoring buzz as a campaign goal may not be enough to make confident predictions about a campaign's success, nor is it a valid metric to measure the effectiveness of different marketing activities.  
This smart use of historical data validated the importance of monitoring social conversation during campaigns. The unsolicited, unbiased, open communication from the web provided a reliable way to measure demand.
Find out more
We've just released Unlimited Historical Data, a product that provides instant historical insight on any topic.
Unlimited Historical Data adds extensive historical functionality to our world-leading platform.
If you're a customer and want to see it for yourself, speak to your Brandwatch representative.
---
Brandwatch Analytics
Unlimited Historical Data for instant historical insight.
Find out more