Following the announcement that Beyoncé was pregnant with twins, the Brandwatch React team got thinking.
If Kim Kardashian can influence members of her enormous following to spend $100 million on her very own mobile video game, and if the UK's Mary Berry can make a jacket sell out just by wearing it on the Great British Bake Off, can Beyoncé inspire a boom in procreation?
As a team we are privileged to have the freedom to experiment with data from the world's best social intelligence platform, Brandwatch Analytics. Why not explore the question with social data?
We decided to take a look at the online conversation surrounding pregnancy to see how it was made up and whether Beyoncé's announcement has had an effect.
Beyoncé is pregnant with twins, so I'm going to get pregnant with twins. pic.twitter.com/Gy5HMecLnz

— Lucy San Miguel (@lilyyareli) February 1, 2017
What patterns would emerge? We were interested but slightly afraid to find out.
Pregnant conversation
We took a year of mentions of "pregnant" on Twitter, as well as setting up Queries surrounding people talking about being pregnant themselves, people talking about intending to get pregnant and people talking about babies being born.
Our first surprise was that there were a worrying number of tweets that contained the phrase "can I get pregnant if ___?". We won't be addressing those questions in this post, although there's certainly an opportunity here for a well-informed organization to dispel misinformation on the topic and to try to stop it misleading others.
Something we really wanted to know was how much digital behavior reflected established trends. For example, do mentions of babies being born align with real world trends? The answer is "kind of".
August is generally the month in which most babies are born in the USA, and it's also the most popular month for people to tweet the phrase "just had a baby" on Twitter (retweets not included). November, nine months before August, is also the least popular time to use the phrase.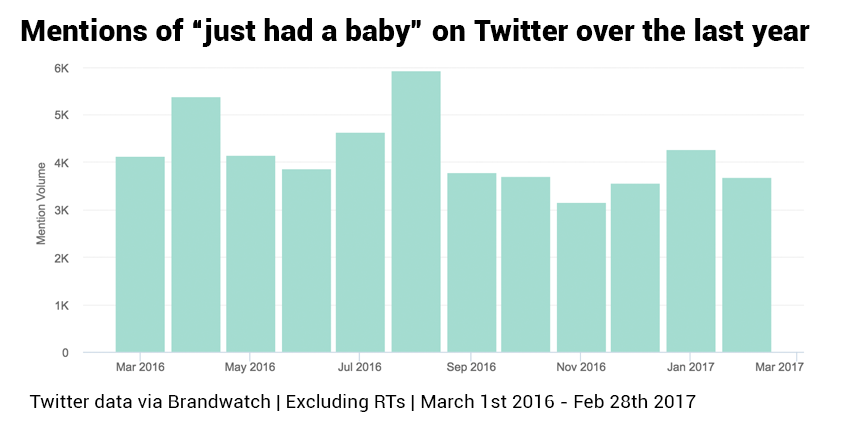 While it's a happy coincidence, this probably isn't proof that Twitter data mirrors actual birth trends.
As we'll see, it only takes a famous person to have a baby to get everyone talking about it – and, no doubt, the month in which Beyoncé's twins are born will likely become the new peak month.
More broadly, there were around 25k mentions of "pregnant" on Twitter per day, but then the 1st of February 2017 happened. Beyoncé's pregnancy announcement sent Twitter into meltdown, with 100,000 more "pregnant" mentions than you'd expect on an average day (once again, excluding retweets).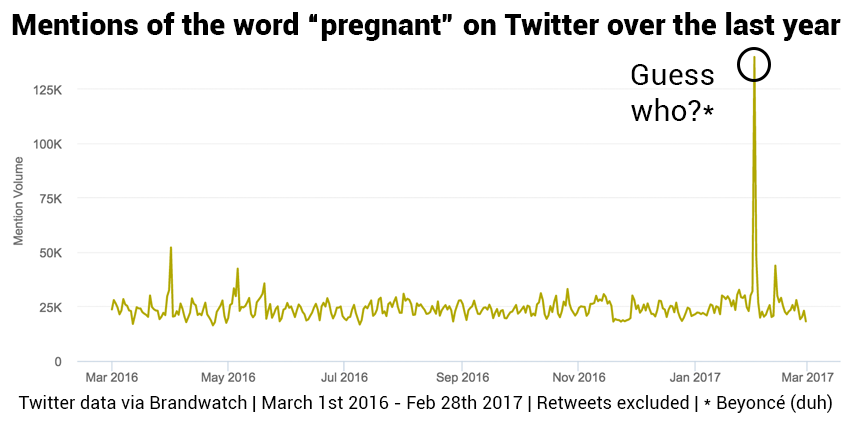 It'd be difficult to get a bigger reaction.
Pregnancy announcements
Looking at mentions of "I'm pregnant", "We're having a baby" etc, thousands of people announce that they are pregnant on Twitter every week (this data excludes retweets), but not everyone is serious.
For example, on April Fools day around 12,500 people tweeted to say they were pregnant. So original.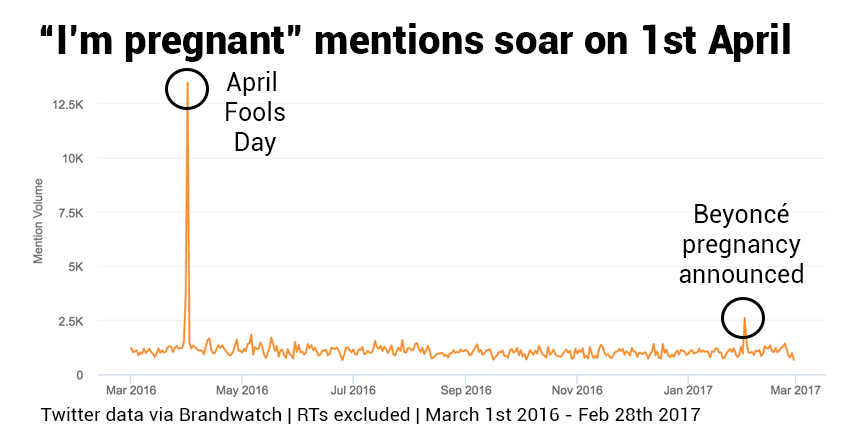 When Beyoncé announced her pregnancy we also found a boost in people talking about their own family plans. There was an outburst of tweets claiming "If Beyoncé is pregnant with twins, I'm also pregnant with twins", while others claimed that they were pregnant with various types of potato-based snacks and that that was somehow a coincidence.
We did initially filter out mentions of "food baby" but decided against filtering out all kinds of edible item because 1) it would take a while and 2) who are we to judge.
https://twitter.com/priscillabronx/status/826878949565272065?ref_src=twsrc%5Etfw
Others informed the world that they'd be pregnant at the same time as Beyoncé, with varying levels of excitement.
I'm pregnant at the same time as Beyoncé. What a time to be alive

— Mrs Claus ❄️ (@kaylabirch_) February 1, 2017
Tracking intent to have kids
We also tracked mentions of people saying they were going to have kids (with various variations, "i'm gunna have a baby", "we will have a child" etc).
While we were hoping to recognize some kind of pattern in the data, there wasn't really anything to report. Of course, the content of tweeted baby plans vary from humorous tweets to long term dreams which don't easily translate onto a simple line chart in a useful way.
Tweets from around the time of Beyoncé's announcement didn't suggest that people were actually planning to have kids as a result of her pregnancy, and there was not significant increase in these kinds of mentions.
I'm going to get pregnant with triplets and finally beat Beyoncé at something

— Beth Wish (@LitAsShit) February 2, 2017
However, again, this kind of data presents a good opportunity for service providers to make their presence known – young people talking about having a baby may not be aware of the support that's available, so targeted ads could work quite well here.
---
You might like
How to Break Down Social Data By Age: What Are 21-Year-Olds Talking About?
---
Beyoncé baby boom?
Thinking about having a baby around this time of year seems fairly popular, but this year has seen a sustained interest on Google. That's not necessarily Beyoncé's influence, but it might be one of the reasons.
Given the many factors that go into making a decision about having a baby, it would be simplistic (and a bit offensive) to attribute a baby boom primarily to Beyoncé's powerful influence. However, if our thoughts and behavior weren't influenced by our idols then influencer marketing wouldn't exist.
The social data does not suggest thousands of people are going to have babies because of Beyoncé, but we might check the stats again in nine months time.
Are you a journalist looking to cover our data? We've got plenty more. Give us a shout at react@brandwatch.com for more information.
---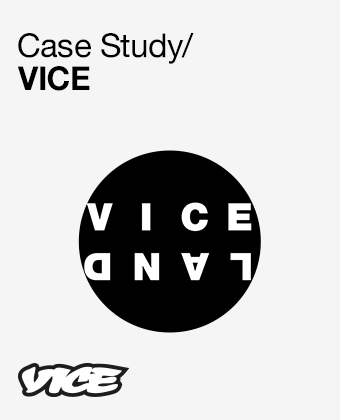 Using audience insights for a smart launch
Download the case study and learn more.
GET THE CASE STUDY