"That's so Black Mirror": How the Name of a TV Show Became an Everyday Expression Entertainment
We are constantly trying to predict the future, but nothing does it more pessimistically (and sometimes accurately) than TV show Black Mirror.
"2017 will be the year of ____!" "The food of 2016 will be ____!" "This year Facebook will ____!"
As marketers, we produce and consume an incredible amount of babble surrounding the next big thing. New trends and buzz words are conceived of and over-amplified as quickly as they peak and disappear, and our hunger for what's next is never satisfied.
Yet, if the future is anything like how the creators of Black Mirror imagine it, perhaps we'd be better off not thinking about it.
"I never think of the future – it comes soon enough" – Albert Einstein
If you're not familiar with it, Black Mirror is a show that plays with the extreme but scarily conceivable consequences of our use of technology and our growing dependence on it.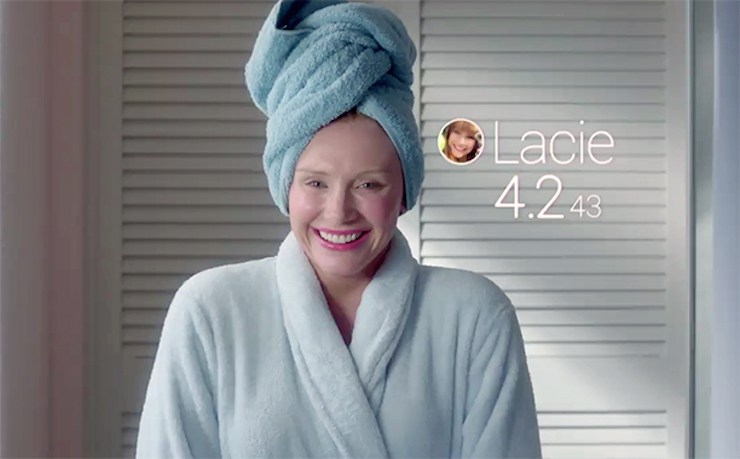 While the show is generally set in the future, many of the circumstances which the often ill-fated characters find themselves in are entirely plausible in our current world.
"Far from far-fetched, this shit is real, and if it's not here now, it's only five minutes away. That's the scary thing – and the power – about this and every episode of Charlie Brooker's Black Mirror," says Sam Wollaston in the Guardian's review of season three, which aired in October for the first time on Netflix.
The Brandwatch React team has examined the latest season of Black Mirror before – check out our social data review here – but we were keen to see how the television show has had an affect on our understanding of the world we live in (particularly as the show grew in popularity in the US).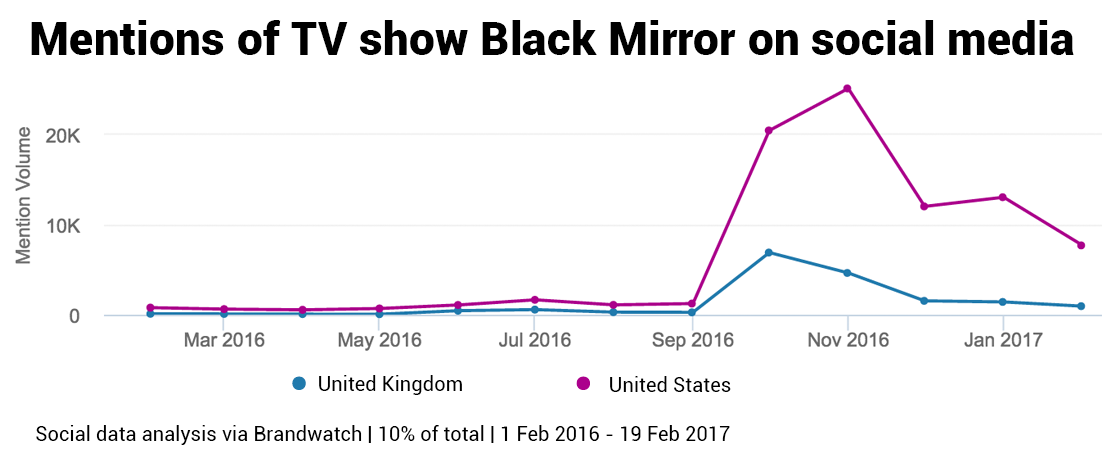 Searching for mentions of "Black Mirror" across Twitter, Facebook and Instagram, we set up our Query on a 10% sample to get a quick overview of volume and let Unlimited Historical Data take a few minutes to find mentions back to February 2016.
"Wow, it's so Black Mirror!" is the new "Well, talk about Big Brother."

— Sean Preston (@SeanPrestonLDN) February 20, 2017
"This isn't an episode. This isn't marketing. This is reality." – @blackmirror
The impact of the US elections on the conversation was incredibly prominent.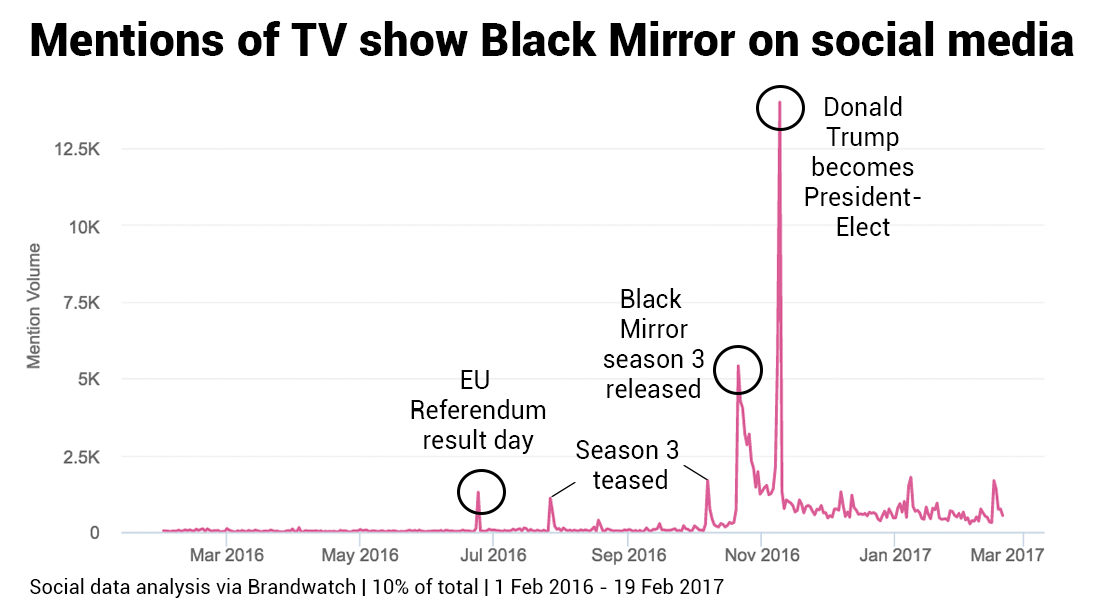 This tweet was a particularly popular part of that spike.
This isn't an episode. This isn't marketing. This is reality.

— Black Mirror (@blackmirror) November 9, 2016
Black Mirror's eerily close depictions of our world have made the term a popular reference point, used to describe technology with scary implications or events (like the US Elections or the EU Referendum) that have an uncertain impact on our future.
If you've only just discovered the bleak dystopian future world of Black Mirror another show you should definitely check out is the news

— tom jamieson (@jamiesont) October 25, 2016
The show's alignment with the real world goes beyond broad political themes. Some of the events that happen in the various seasons have depicted real-world events to a creepily specific degree.
"I never had a dream come true" – S Club 7
If you thought Black Mirror's appeal was a journey into fictitious release you'd be wrong. With technological developments that could make every episode viably appear to be just around the corner, you might be more sensible to attempt to escape the reality Black Mirror predicts than escape the reality we're currently living in by kicking back and enjoying the show.
Without revealing too many spoilers, the final episode of season three involves a large swarm of robotic bees. As this story in the New Scientist did the rounds on the internet, Black Mirror saw a significant increase in mentions.
Robotic bee could help pollinate crops as real bees decline https://t.co/7juOxBTBzP pic.twitter.com/9JP54e1yAe

— New Scientist (@newscientist) February 9, 2017
We're just letting Black Mirror become a reality TV show at this point https://t.co/9Sj29g4eJa

— jules (@_westernhaiku) February 15, 2017
It's not the first time the show has been praised for its ability to "predict the future".
An early episode, first aired in Britain on Channel 4, named "National Anthem" saw a fictitious British Prime Minister in a horrific dilemma involving a pig and a kidnapped member of the royal family. Four years later, sordid allegations involving Britain's then Prime Minister David Cameron and a dead pig hit the national press.
You can read about Charlie Brooker (the man behind Black Mirror's creation) and his apparent clairvoyance here.
"That's totally Black Mirror" – Everyone
Our system found around 650 mentions of "like Black Mirror" (excluding mentions like "shows like Black Mirror", "I like Black Mirror" etc), many of which were comments on news stories that described the elements as reminiscent of an episode or theme explored in the show.
There are plenty of examples of news stories people claimed were Black Mirror-esque.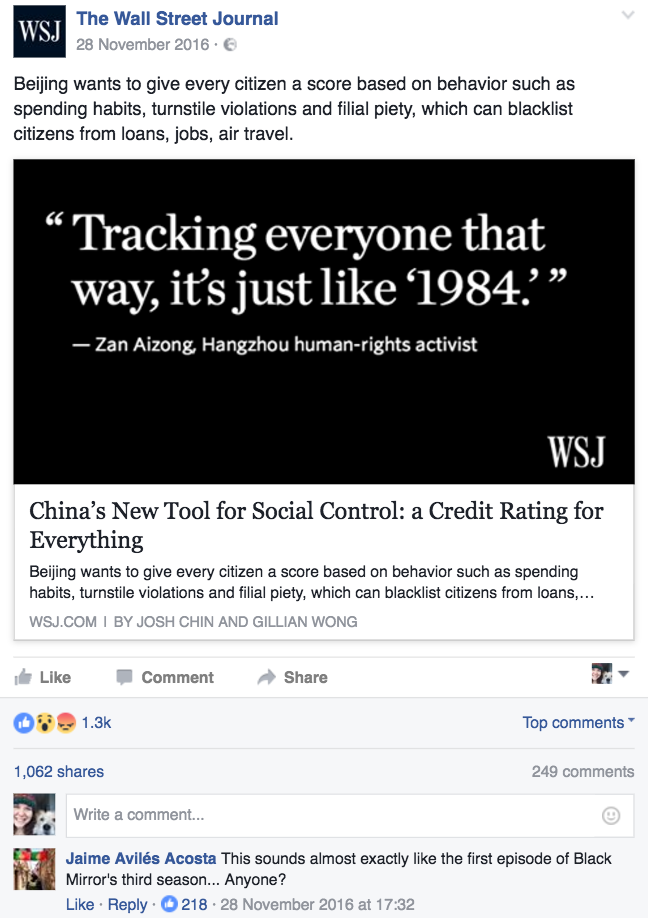 A number of the thousands of comments on this post from Forbes referenced the show (the episode 'Playtest' in particular).
The scariest part
When we first studied Black Mirror Season 3, we identified episode two ('Playtest') as the most terrifying of the episodes, according to how people were discussing it on social media.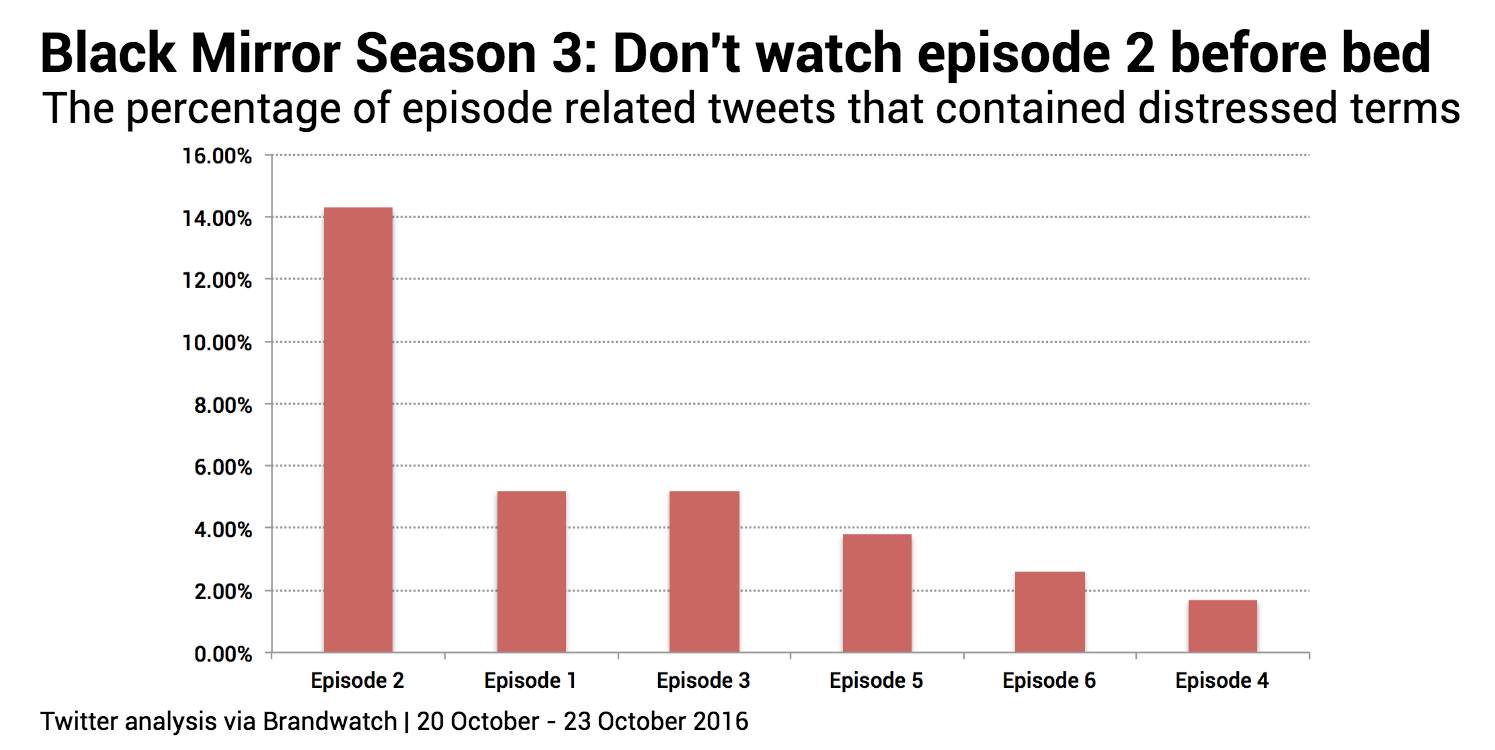 In the episode, a guy called Cooper signs up for a trial with a secretive gaming company when he runs low on cash. He is soon plunged into a game which searches his brain for things that scare him, and then he experiences those things.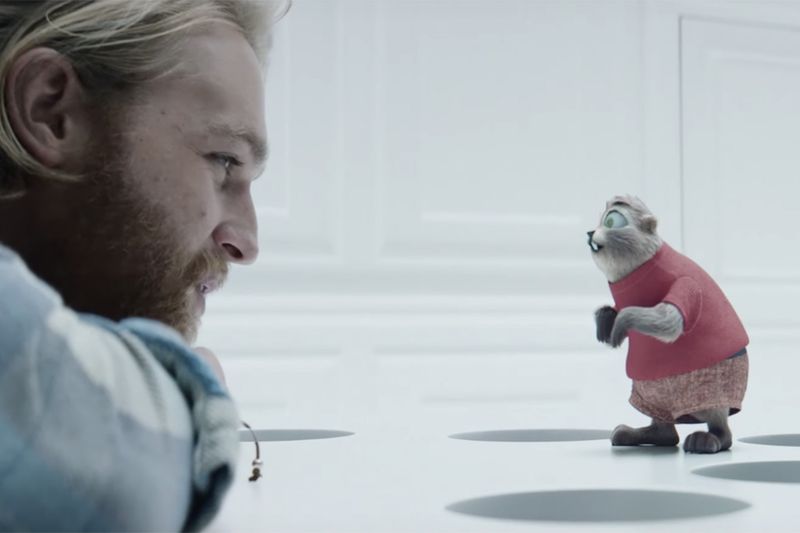 It's really not one to watch if you plan on getting to sleep easy (but it is an excellent episode nonetheless).
As gaming becomes more immersive and as technology like that shown in the above clip becomes smarter, this kind of terrifying game experience becomes more and more possible.
While Pokémon Go isn't exactly terrifying, it's a good example of how a game that mixes reality with fiction has mass appeal. Before Playtest even aired, we found plenty of references to Black Mirror alongside commentary surrounding the game.
This Pokemon Go thing has the feel of a Black Mirror episode.

— Jason Sizemore (@apexjason) July 12, 2016
Oh, yeah. This is totally BLACK MIRROR shit. https://t.co/EigIh4iwhg

— Scott Wampler™ (@ScottWamplerBMD) July 10, 2016
A reference point and a warning
"Black Mirror" is a rare but fascinating example of a TV show name turned into a commonly used comparative phrase, that can be applied to almost every aspect of our lives.
It feels important.
Beyond being a fun pop cultural reference, the connotations of "Black Mirror" as a term are unsettling and dark.
It's a descriptive term used to call out situations where technology seems to have gone too far and, if we ever needed language to describe that feeling, now seems like the ideal time.
If you're a journalist looking to cover our data email react@brandwatch.com for more information.
---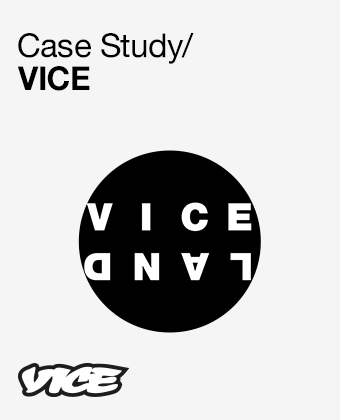 Launching VICELAND UK with the help of social intelligence
Download the case study and learn more.
GET THE CASE STUDY