Following Suit: What Do Those Outside of the UK Think Of Brexit? Politics

Welcome to the second in our series of data explorations of the Brexit conversation.
Earlier in the week we examined what young people were saying about Brexit, but this time the Brandwatch React team is tackling the social data surrounding what people are saying about Brexit who are outside of the UK.
Why measure what people outside of the UK are saying?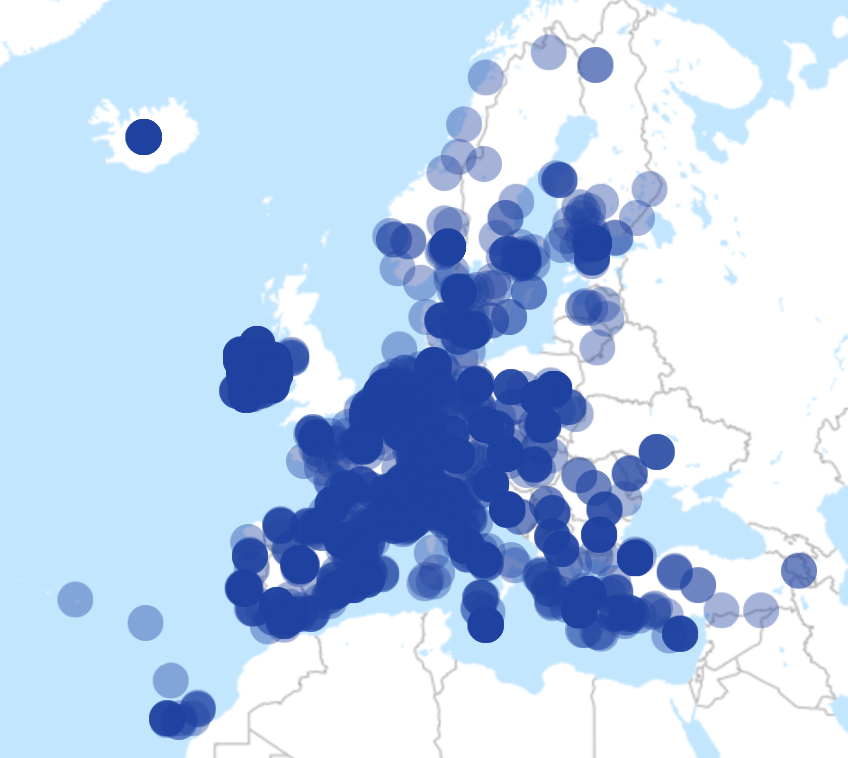 The consequences of the United Kingdom leaving the EU stretch well beyond the English channel, and hearing from voices outside of the UK can offer an interesting dimension to the conversation.
For this research, the React team tracked English-speaking mentions of the EU Referendum coming from authors located outside of the United Kingdom.
This data offers a look at what English speaking people who live outside the UK think, as well as British people who were based in a different country at the time of tweeting.
"Turkeys" in Gibraltar
We thought we'd start in (technically UK) Gibraltar to see what English speakers there had to say in the wake of the EU Referendum result. British citizens living in Gibraltar were able to vote in the EU Referendum, and they voted overwhelmingly to stay.
It was difficult to find a good word said about Brexit.
I just woke up and after reading the news for 30 seconds I wish I hadn't 😐 #EUref

— Bill Wignall ACMA (@ravens_requiem) June 24, 2016
The £ is at the lowest it has been against the $ since 1985. Still think you have made the right decision? Putin & Trump wanted Brexit also

— Dani Wink (@dan1wk) June 24, 2016
Cheers majority of the UK for cocking it up for us living abroad. I hope you enjoy your inflated holiday prices and loss of E111 #Brexit

— Emily Watkins (@watkins2805) June 24, 2016
@NatalieSarantos sorry but this rings hollow after being royally screwed by #Brexit – a ref that we didn't ask for.

— John K. Baw ن (@John_Baw) June 26, 2016
At the same time, 823 people in Gibraltar actually voted leave.
They have been dubbed the "turkeys that voted for Christmas" by some. These 823 leave voters caused Gibraltar to trend in the wake of the result as people puzzled over why they came to that decision.
Using location filters and our geo-tagged map to zoom in on Gibraltar was useful for finding the views of British citizens living there, and using this method helped us find other Brits living abroad and their concerns.
Brits abroad
Finding tweets from British people residing in different EU nations was a little tricky, but we found a few.
Their concerns about being able to stay where they are residing are yet to be fully addressed, much like those who originate from other EU countries currently residing in the UK.
#Brexit (fucking hate that word) but what does it mean for me living in #Spain and wanting to remain living here? #EURefResults 😥

— Hayley Vegas (@IamHayleyVegas) June 24, 2016
---
You might like
What Are Young People in the UK Saying About Brexit?
---
A reputational crisis?
The United Kingdom has gone down in many people's estimations, and a recent study showed that Brexit had negatively affected the "overall attractiveness" of the UK.
Quantifying that kind of sentiment towards the UK using social data presents some difficulties (although in a broader study I'd estimate that valuable insights could be gleaned), but we did find some anecdotal evidence of people talking about the UK negatively in tweets coming from outside of the UK.
#Brexit I'm (sort of) one of the older generation, and I'm totally mortified!! The UK has just become a less tolerant and inclusive place

— Jim Crawley (@teachology) June 24, 2016
#Brexit reeks of pure #bigotry. The abuse of foreigners in UK has become more brazen within these 48hrs alone. #prayforhumanity

— Sue (@face_phase) June 26, 2016
That's not to say that everyone outside of the UK was upset with the result, though.
"Now it's our turn": #Frexit, #Grexit, #Italeave…
We wondered whether #Brexit would impact people's thoughts on other countries leaving the EU, and found that "Frexit" saw a huge jump on the day of the result.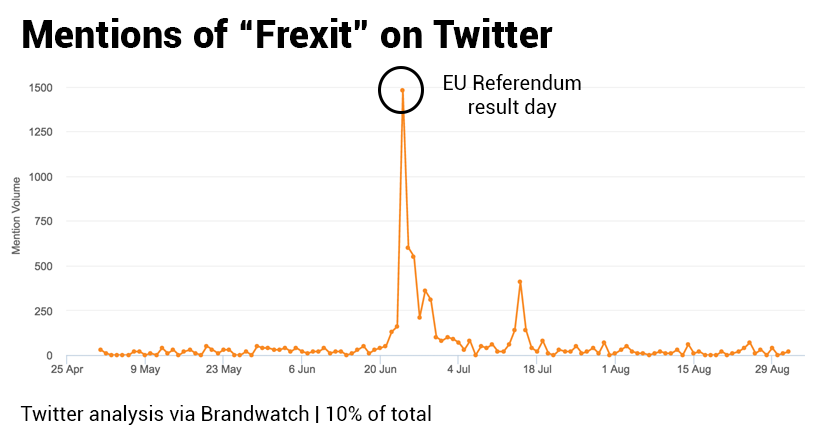 Of course, these social media mentions don't indicate that people in other countries are going to be more inclined to leave the EU, but Brexit is definitely enough to start conversations.
The post-Brexit conversation was a hot topic amongst Trump supporters, too.
After the BREXIT let's hope American people will elect D Trump To mâle America Great Again👍👏

— aconcagua06 (@aconcagua06) June 24, 2016
The BRITS just said a resounding FU to Globalists and our turn is next!!! #Trump2016 #TrumpTrain #Brexit

— Lori Hendry (@Lrihendry) June 25, 2016
When the US Elections finally rolled around, Brexit mentions jumped as Trump was made President-Elect.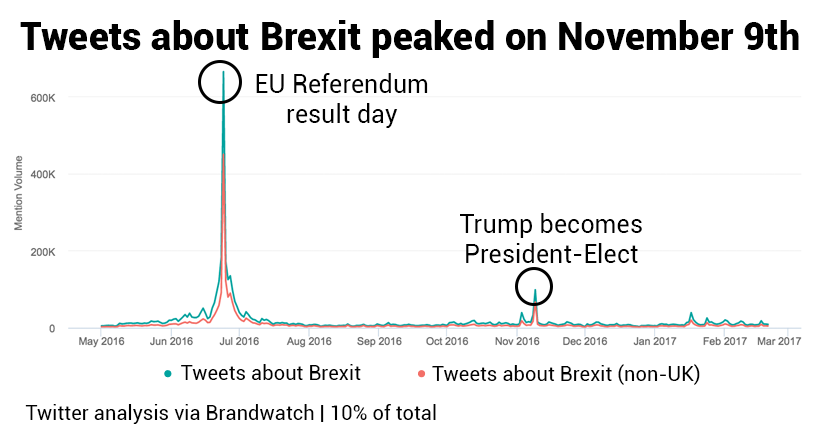 Going forward
If anything can be drawn from non-UK mentions of Brexit, it's that it's become a reference point for major political change, and it'll be interesting to see how it's used as debates surrounding other countries' positions in the EU develop. We'll be sure to keep an eye on the data.
Got questions? Email us react@brandwatch.com