Social Media's Reaction to Budget 2017 in Six Charts Politics
"Wheeeyyy", "boooo"… No, it's not a football match. It's Budget 2017.
Yes, in the words of the Chancellor of the Exchequer, it's the thing with "the long economic-y words in it."
A whirlwind of a budget that touched on large scale economic plans as well as smaller scale changes that will affect people's lives quicker, sprinkled with dad jokes and jeering from politicians, is now being picked apart by commentators both on the TV and social media.
The Brandwatch React team monitored conversation surrounding #Budget2017 on Twitter throughout the day and minute-by-minute to see how social media reacted. (Because we, like Philip Hammond, know how to have a good time).
Budget 2017: Top-line stats
During the Budget 2017 announcement:
There were over 85,000 tweets about #Budget2017
At the most discussed point there were 1,561 mentions in a single minute
61% of gender-categorized mentions were from male authors, 39% from female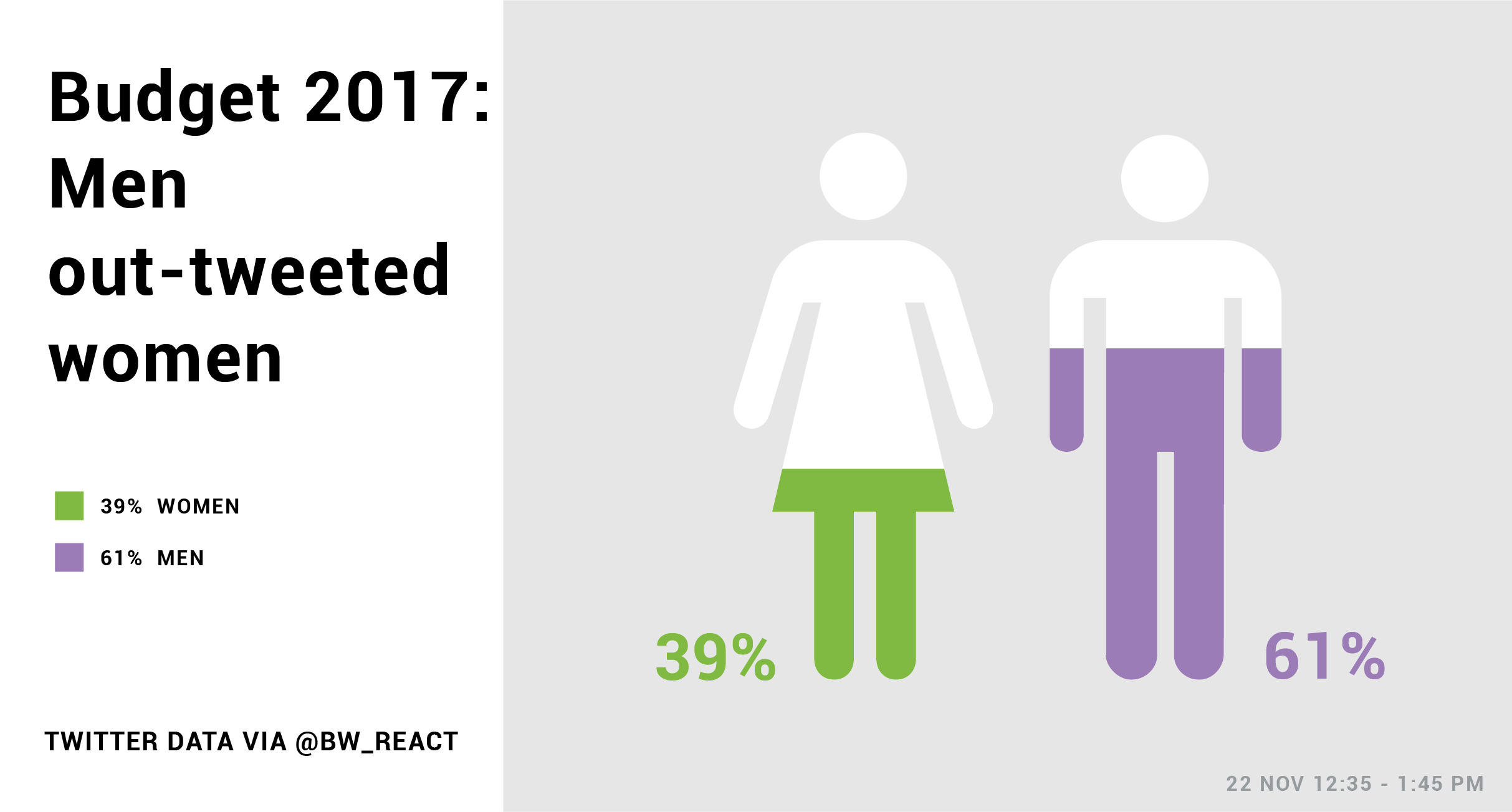 The highlights, the low points and biggest topics
There were a whopping number of tweets and, as you can see below, it was a real roller-coaster ride.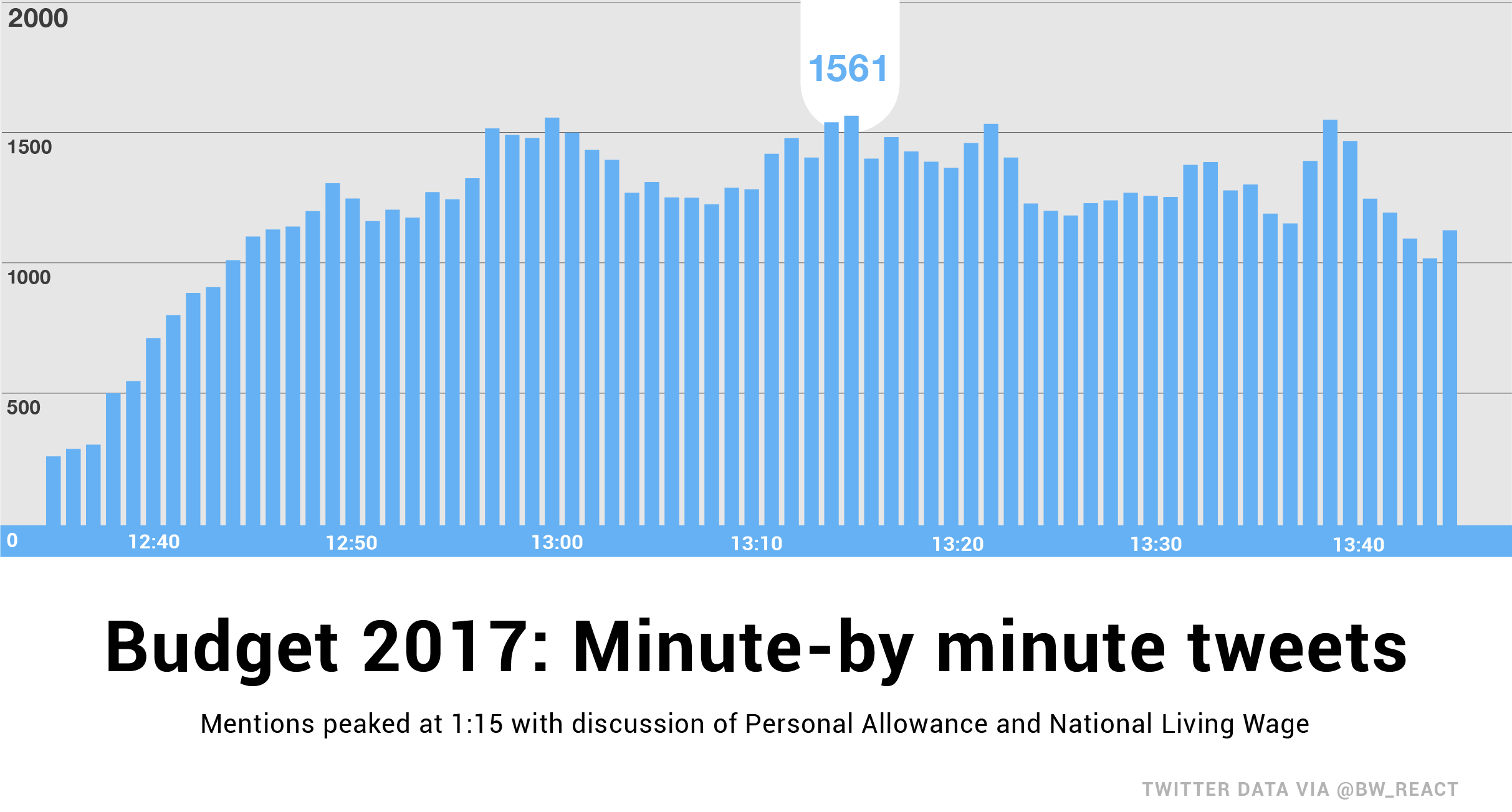 Breaking that down by gender, there was no massive difference in spike patterns or apparent priorities – the NHS was a huge topic in both conversations.
While mention volume can tell you a lot about the topics that were most discussed (we'll get to that later), sentiment can give you an idea of the public mood as the Budget announcements went ahead.
Awkwardly, they remained steadily negative throughout.
High points included discussion about the National Living Wage and Stamp Duty, but net sentiment rarely peaked above neutral (represented as 0 in this chart):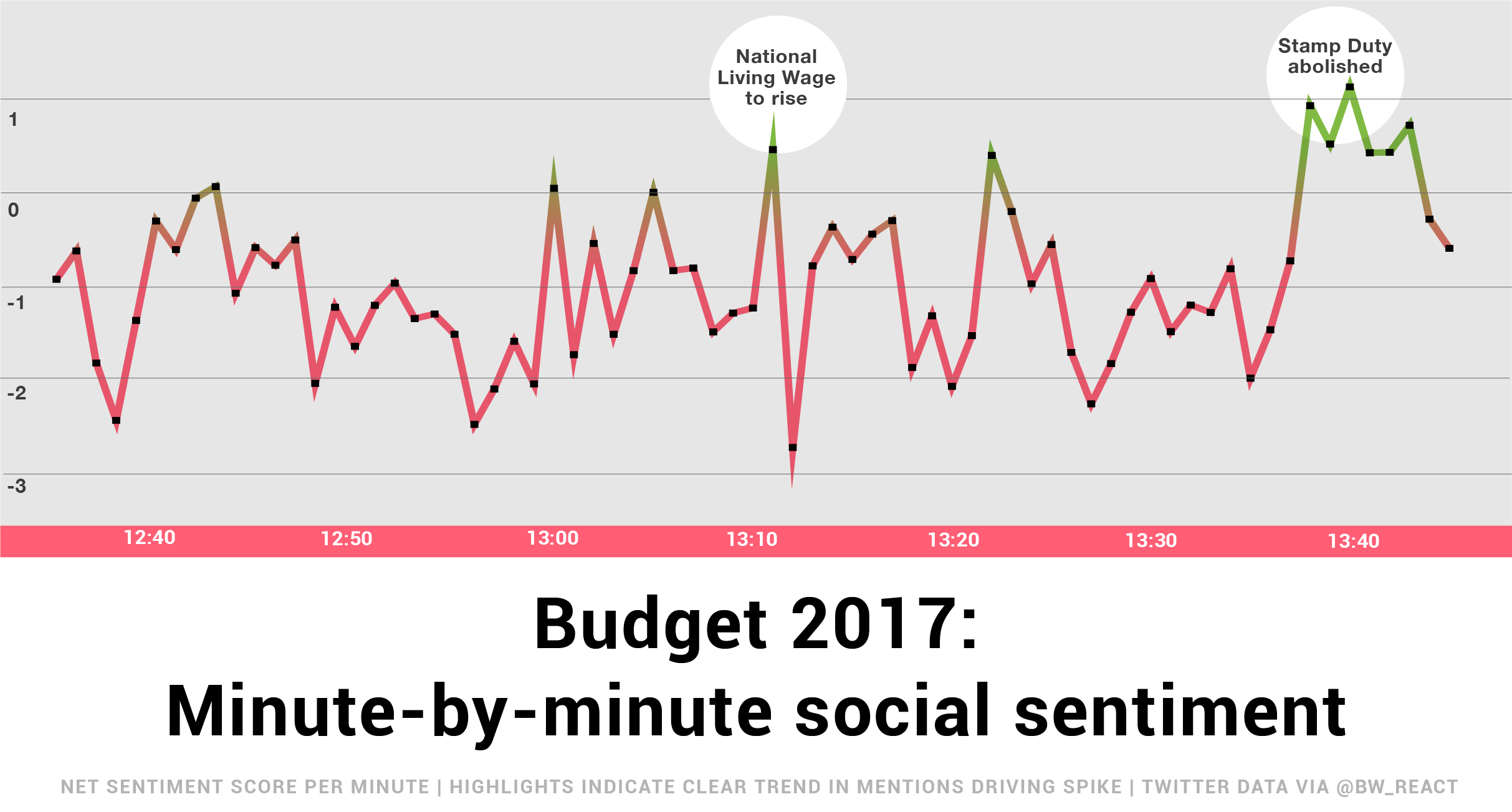 So what were people actually talking about? We gave you a bit of a hint when we said that the NHS was dominant in both male and female conversations.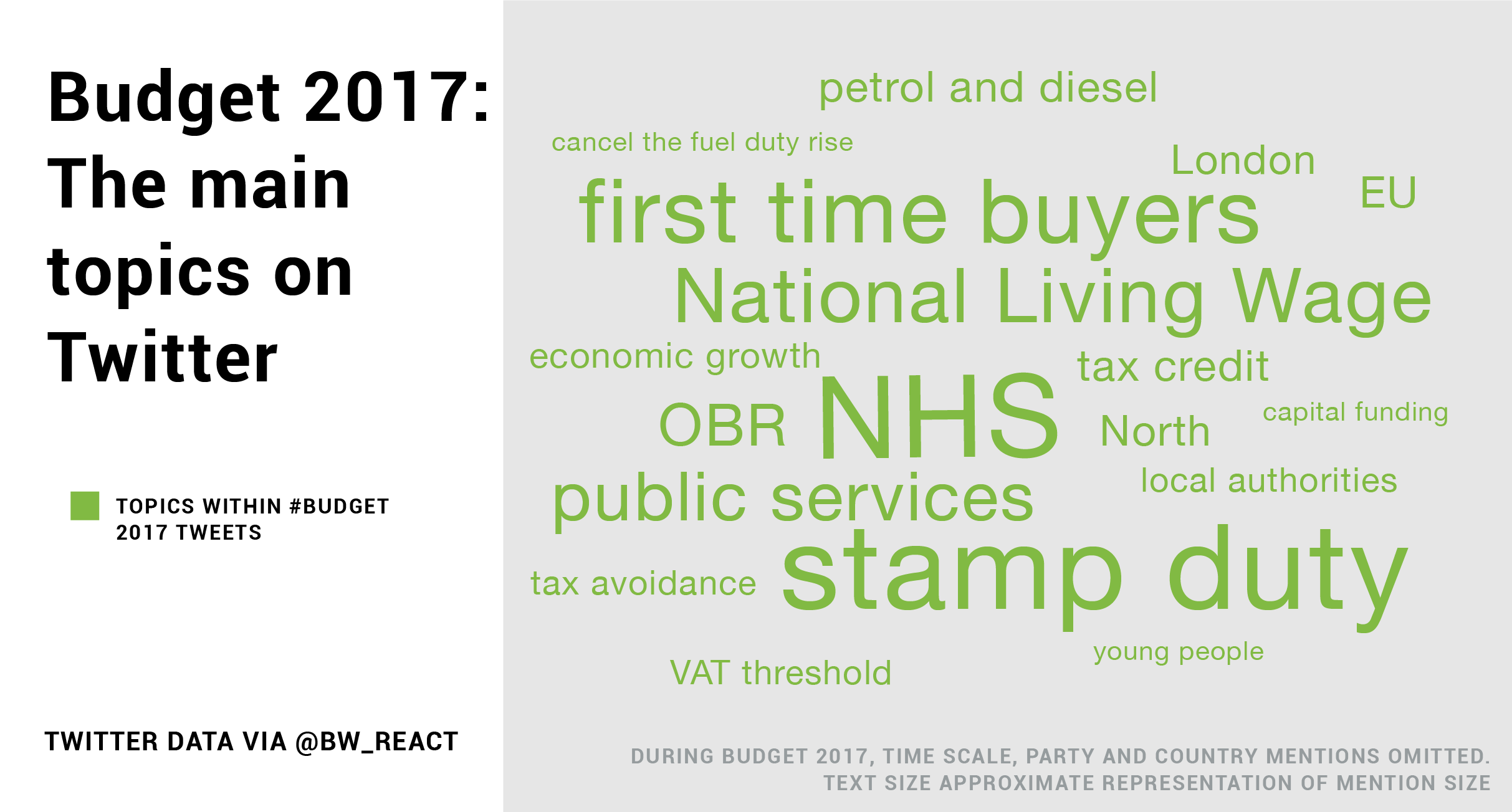 Also high on people's Twitter-priorities list were the National Living Wage, stamp duty, public services, tax avoidance, the EU and more. Remember that these mentions were from people tweeting about the Budget as it happened, so you can expect that this conversation changes as the day goes on and analysis continues.
---
You might like
"But Her Emails!" Unpicking the Social Media Phenomenon That Is Hillary Clinton's Emails
Read the Article
---
We're disappointed but it's also funny…
The Budget always presents different reactions depending on the listeners' circumstances.
Luckily, we now have the ability to monitor conversation by emoji so the most dominant emotional reactions are easier to measure.
Here, we looked at specific and groups of emojis used throughout Budget 2017. (E.g. poop emoji represents just mentions of poop emoji, smiley emoji represents a larger group of smiley emojis, eye roll represents eye roll and other disappointed looking emoji faces).
So, what was the biggest emotional response to Budget 2017?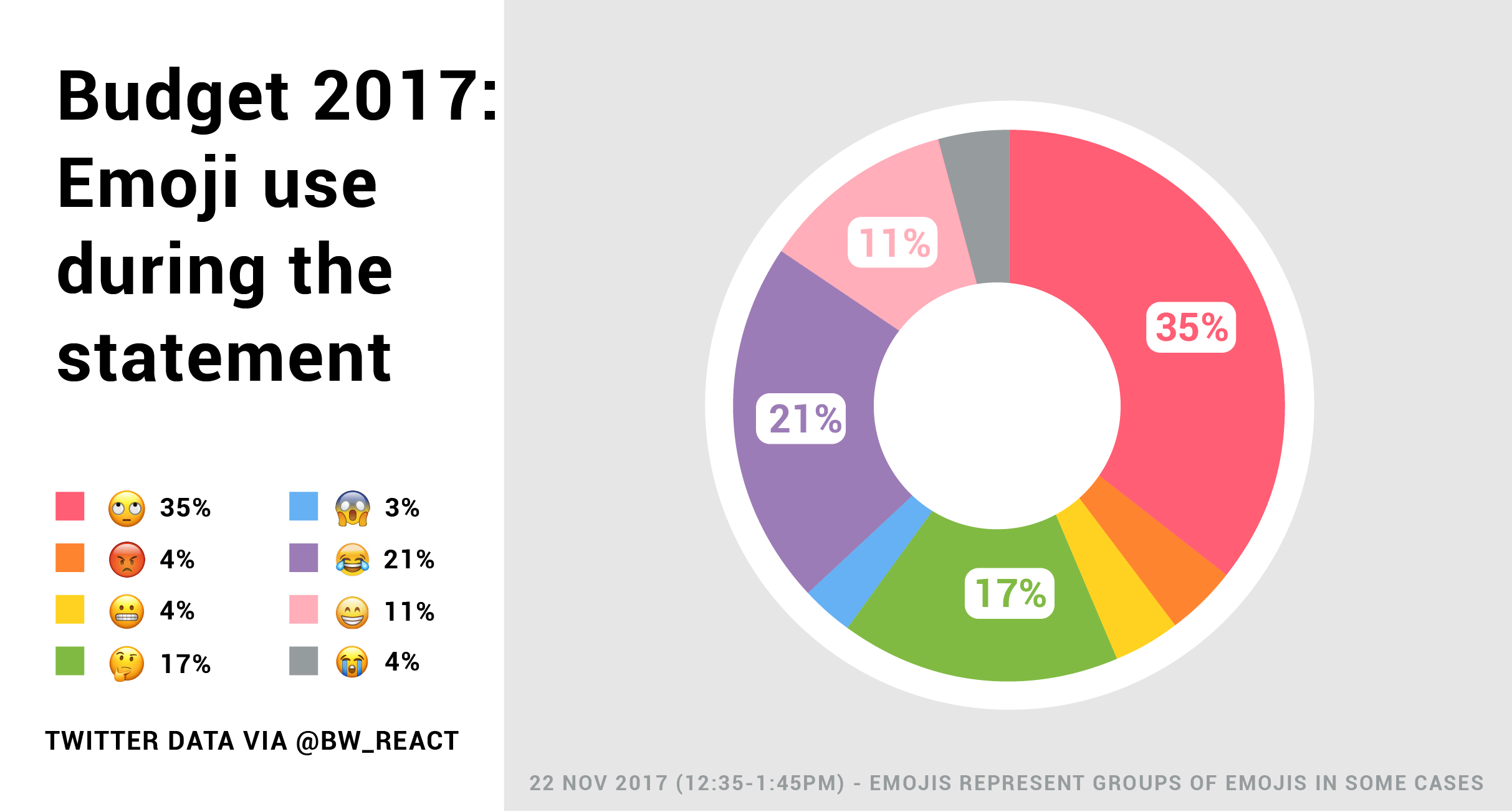 Yep, it was the eye roll. Followed by laughter at Philip Hammond's questionable humor.
Are you a journalist looking to cover our data? Email react@brandwatch.com for more information
---
Brandwatch Analytics
A faster way to powerful consumer and market insights.
Find out more