Measuring the Success of Charitable Celebrities on Social Entertainment
As humans we have never consumed so much information.
In a media-saturated world, celebrities must battle to stay relevant and their public image is important.
Depending on the type of image you want to create, a celebrity's next stunt might involve dusting off the old sex tape or, for something slightly different, doing something nice for other humans.
The Brandwatch React team decided to focus on the latter, measuring the positive impact of celebrity good deeds using social data.
Case in point: Tom Hardy
Hollywood star Tom Hardy is no stranger to an act of kindness, and his most recent might be the most adorable thing you've ever heard of.
The BBC's channel CBeebies might be aimed at children, but there was no age limitation on the Mother's Day bedtime story read by Tom Hardy on Sunday night.  
Hot off the set of filming Peaky Blinders in Liverpool last week, dreamy Tom made a third appearance on the bedtime story slot (having previously graced CBeebies fans' screens on New Year's Eve and Valentine's Day) to celebrate Mother's Day in the UK.
One more time?
👉 https://t.co/QS4v1urSV3 @BBCiPlayer#TomHardy#MothersDay pic.twitter.com/7ZpFBHWfio

— CBeebies Grown-Ups (@CBeebiesHQ) March 26, 2017
Let's just say that mothers of Britain were over the moon.
Wonder how many millions of ovaries exploded this evening? #TomHardy #cbeebiesbedtimestory

— MrsFBaggins (@MrsFBaggins) March 26, 2017
Twitter went into overdrive as the Hollywood A-lister read "There's a bear on my chair" to boys and girls everywhere. It soon became apparent that this wasn't just for the kids.
Four generations settled down to watch Tom Hardy on @CBeebiesHQ 💕💕 A Mother's Day treat 😍 #toddlerhaslefttheroom

— Amy Wilson (@miss_maymi) March 26, 2017
Tom Hardy isn't just loved for his dulcet tones and delightful good looks, although that is enough to make anyone fall in love with him [Editor's note – I think Frankie likes Tom].
He's a huge fan of dogs, with his rescue dog Woodstock usually seen with him on the CBeebies sofa. He's a long-time supporter of rescuing dogs and took time out his busy schedule last September to volunteer at Battersea Dogs Home, helping rehome a number of dogs. The response was astounding, and all of the dogs featured found a safe new home.
This isn't the first time Tom has helped out a charity. Earlier this year he supported Acorns children's charity by answering calls. As well as raising £8.2m on the day, the charity also benefitted from a personal donation from Tom himself of £7,000.
How can we measure the success of some of the non-cash related good deeds? Social data, of course.
Tom's Sunday CBeebies appearance received a huge reaction from women on Twitter with 72% of the authors categorized as female on Sunday. The overwhelming majority of that day's mentions were positive.
It also earned him a well-deserved spike in mentions that day.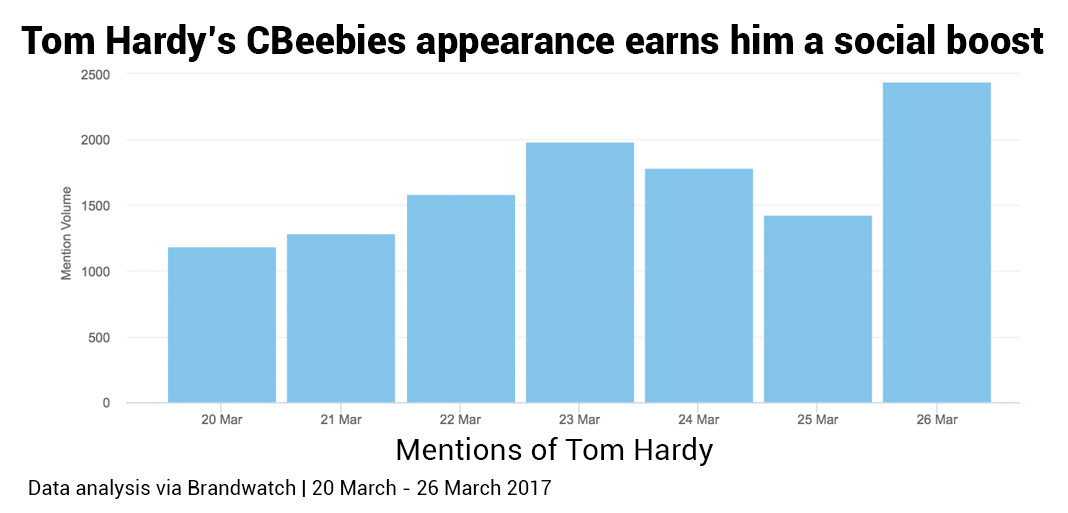 Nice work, Tom.
---
You might like
Why Should Celebrities Be Using Social Listening?
Read the Article
---
Ed Sheeran's red nose
Lots of celebrities are stripping down their egos and doing more for charity. 
As recently as Friday we watched Ed Sheeran in a scene filmed by the enormous UK-based charity Comic Relief, offering to help Liberian children who'd suffered a terrible ordeal.
Sheeran battled with his own conscience of leaving them, and decided he couldn't. He said, "It doesn't matter how much it is, we'll just get them in. We can't leave without sorting these kids out, these kids are just five in a million."
The influence of someone like Ed Sheeran can do wonders for a charitable organization, and Red Nose Day (a popular day of action organized by Comic Relief) was among the top mentioned words surrounding the pop icon last week – a huge achievement for the charity given how much conversation he generates.

For the likes of Ed Sheeran and Tom Hardy, sometimes random acts of kindness like this really support their positive image, as well as lend weight and exposure to charities.
Measuring the impact of influential figures on campaigns is just one way that Brandwatch Analytics can be used to understand the conversation surrounding good causes.
---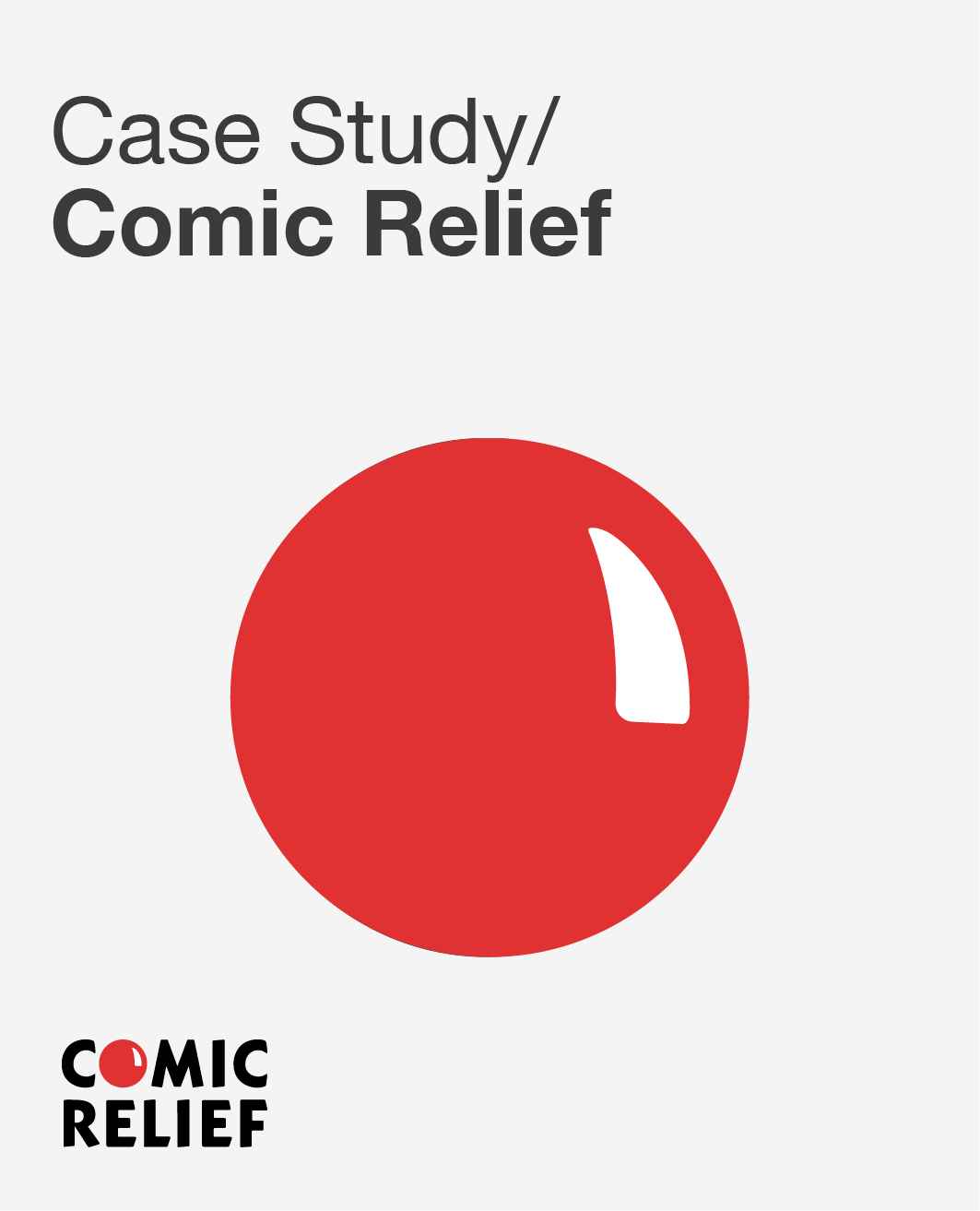 How Comic Relief used Brandwatch to uncover more insights
Discover how Brandwatch is helping brands across the globe make sense of social.
GET THE CASE STUDY