Eurovision 2018 Data: Everything You Could Possibly Want to Know Trending
It's not often that I volunteer to work Saturday night, but I couldn't resist bringing the Eurovision 2018 data to the people. The data they deserve.
We've been live tweeting all evening with the stats as the competition went on, and in this post we have a full run-down of the biggest data points.
The React team is stocked up with popcorn and chips getting ready to dish out all the musical data on tonights #Eurovision Song Contest. Prepare for fireworks, flag emojis, crazy outfits and some Vizia-tastic data. Keep your eyes on this thread for all the latest 📈🎤📉 pic.twitter.com/Lu3kS7OUlF

— Brandwatch React (@BW_React) May 12, 2018
I am full of popcorn. I am slumped in a beanbag in the Brandwatch office and it's way past bed time. This post may contain typos. Deal with it.
Here's all the data you could possibly want on Eurovision 2018:
Eurovision 2018 data: Methodology
The methodology was simple. We searched for Eurovision and related phrases and hashtags across public social media posts online.
We searched within English language conversations. All of these results are measured from the beginning of the Eurovision broadcast to the end of the final song (Italy) unless stated otherwise.
Top line stats
There were 1,353,393 mentions of Eurovision online from the beginning of the day up until the final song.
Twitter mentions during the show's air time (8-10:10pm UK time) were primarily by women. 54% of gender-categorized authors were female, 46% were male.
The top moments
Here are the moments that caused the biggest mention spikes along the way:
9.20pm – Denmark's performance (14,857 mentions) : People were comparing the performers to characters in Game of Thrones
Game of Thrones: season 8 (2019)#DEN #Eurovision pic.twitter.com/0JpKGi28Dc

— 𝙈𝙞𝙠𝙚 🐯 (@_MP88_) May 12, 2018
9.56pm – Netherlands performance (14,049 mentions) : People seemed to have a lot to say about the big singer
Waylon is my new fashion inspo forever ❣️ #ned #Eurovision

— Emmy☺ (@emmyisso___) May 12, 2018
9.52pm – Israel's performance (13952 mentions) – People were making plenty of Bjork comparisons
Bjork meets Adele meets Chicken Run. Intense #isr #Eurovision

— Sathnam Sanghera (@Sathnam) May 12, 2018
The top countries
Overall, the top-mentioned countries competing in Eurovision were thus:
UK ( 60,015 mentions)
Australia ( 27,075 mentions)
Israel (18,725 mentions)
That said, the countries who caused the biggest mention spikes during air time weren't necessarily the top mentioned overall.
Hungary, Moldova and the UK had the biggest mention spikes and the numbers are impressive – each saw more that 2.5k posts in a single minute.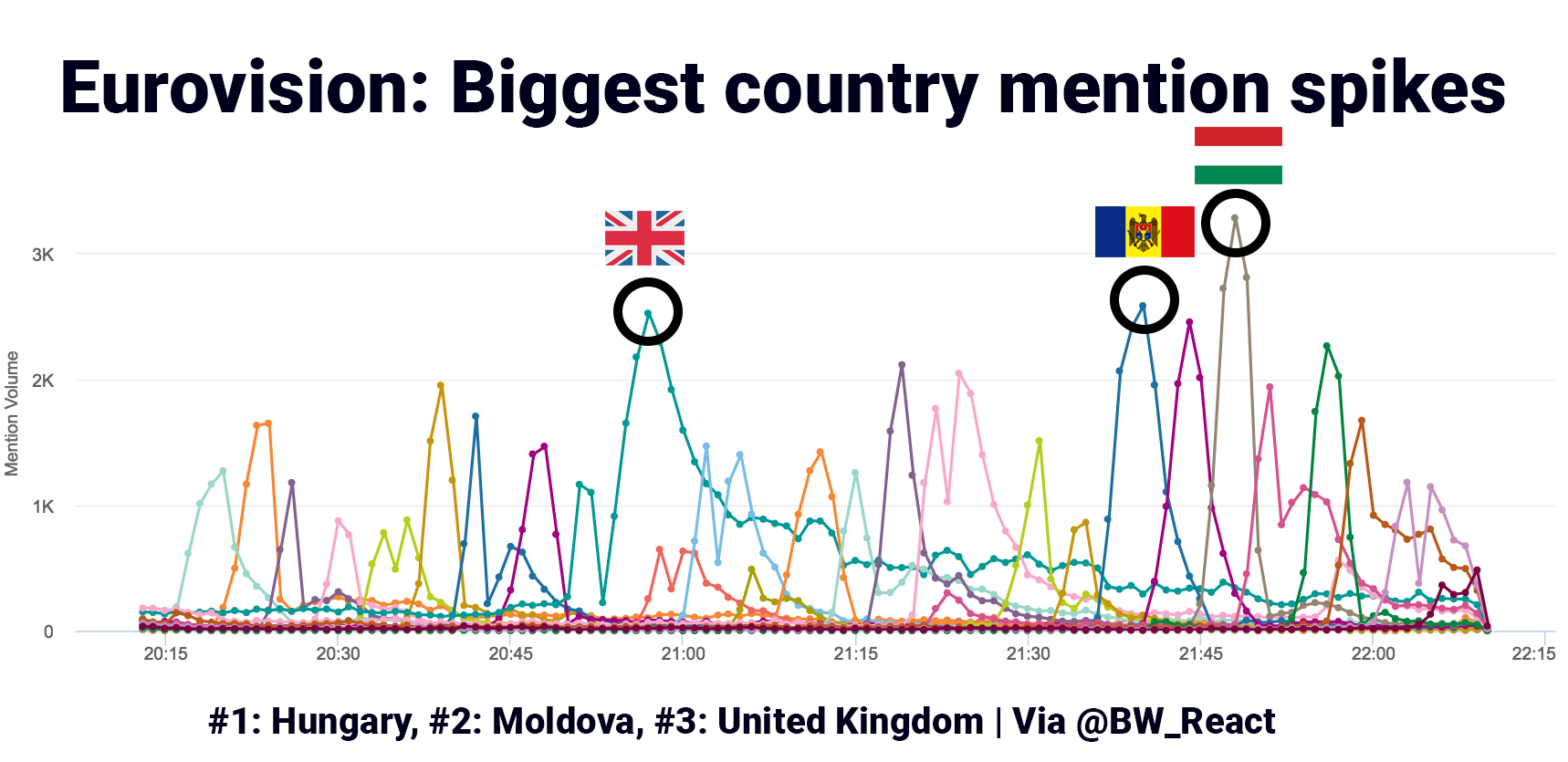 The biggest emojis
This very serious song contest requires very serious data analysis. So here are the top used emojis 😂😂😂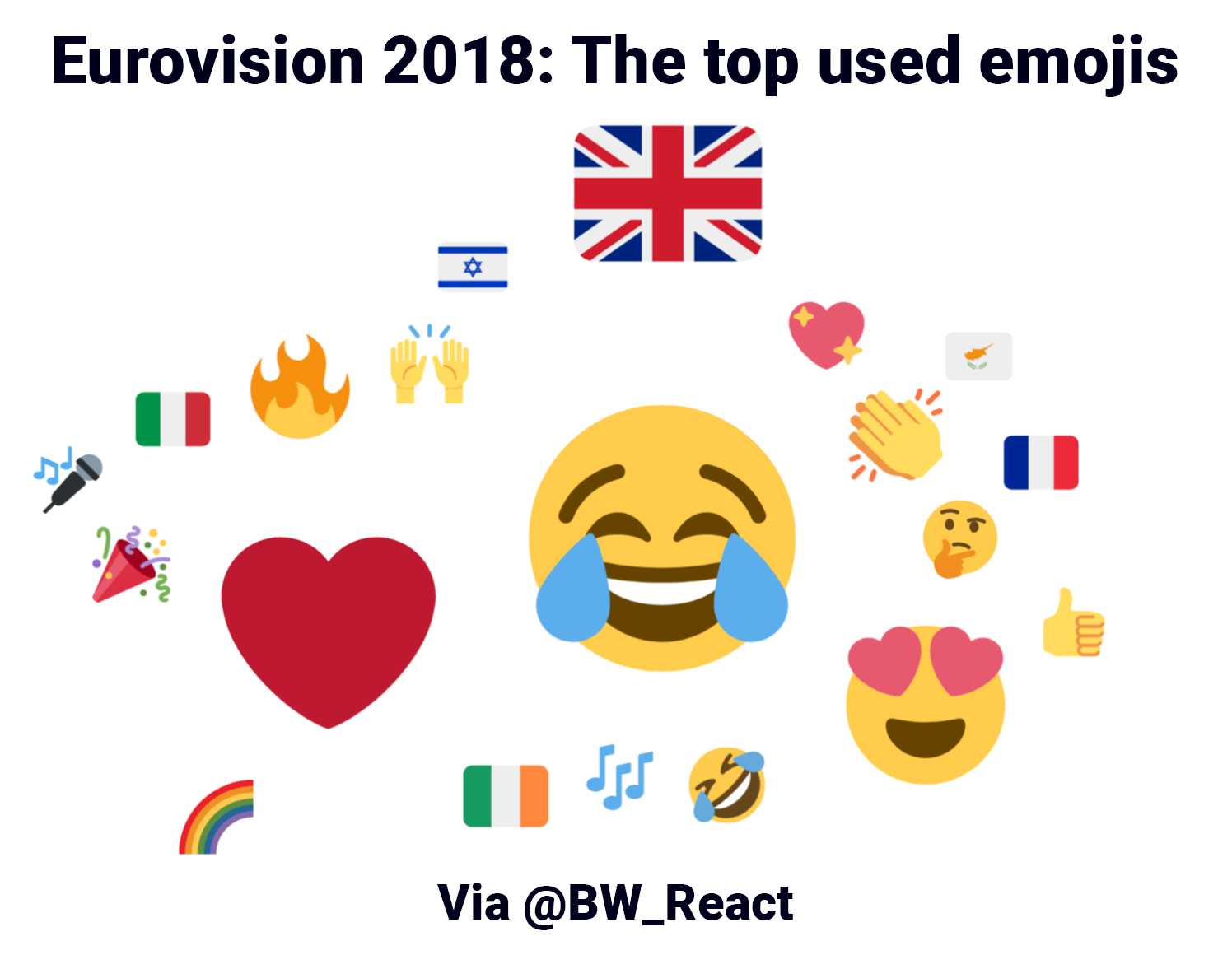 Graham Norton's biggest hit
And no serious analysis of Eurovision would be complete without a look at the incredible commentator Graham Norton's performance.
His jokes are always a hit, but his comment about the Spanish couple did particularly well this year.
That's it for our Eurovision coverage tonight, although if you'd like some more up to date post-point awarding data we can sort you out.
Email us at react@brandwatch.com for more information.
---
The Vizia Platform
Track your own campaigns in real time.
Find out more