Five Cool Things You Can Do With Unlimited Historical Data Topic Analysis
Brandwatch just launched Unlimited Historical Data, a tool that lets you collect three years of historical social data in just minutes.
It's the world's fastest and most comprehensive product of it's kind, and you can find out how it works here.
The Brandwatch React team decided to put it to the test. Here are five very cool things you can do with Unlimited Historical Data.
1. Track trends over time
Example: Dieting
Since it's January and the stream of dedicated souls heading off to the gym at lunch time is still going strong, we decided to take a look at some data surrounding diets.
After a tumultuous 2016, are we eating our feelings or ditching the holiday food for healthier options? We created a Query surrounding people talking about their personal diets on Twitter, waited a few minutes for the platform to work it's magic, and we had our results.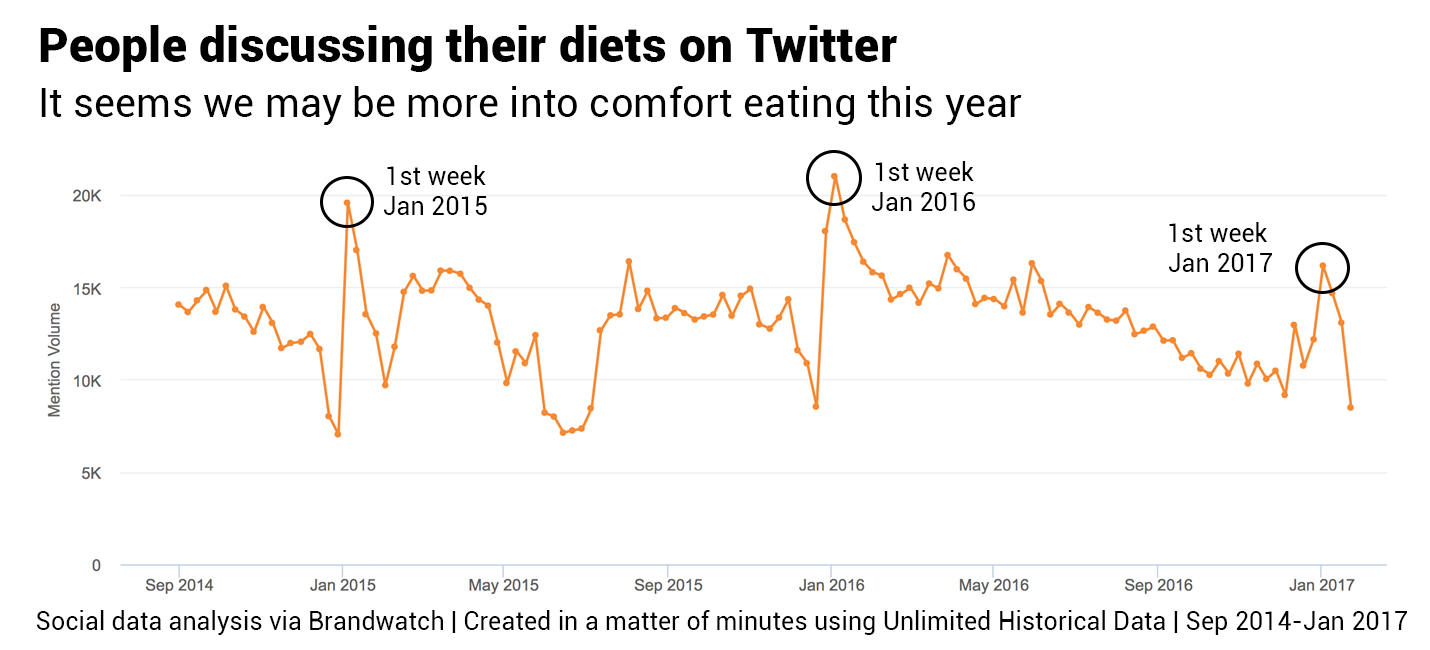 Compared to January 2015 and 2016, our dieting chat is a little droopy this year.
If you're a fan of dieting data you can find our analysis of people breaking their diets here.
2. Watch behavior change
Example: Binge watching
Searching for the term "binge watching" over time we can see how the phrase has grown in popularity. We can also see if people's binge-watching habits (or at least how they talk about them) are changing too.

Friday is now peak binge watching time, stealing the title from Monday in 2014, according to our data.
3. See a new phrase come to life
Remember when "Netflix and chill" became a thing? Now you can watch it become a thing in social data.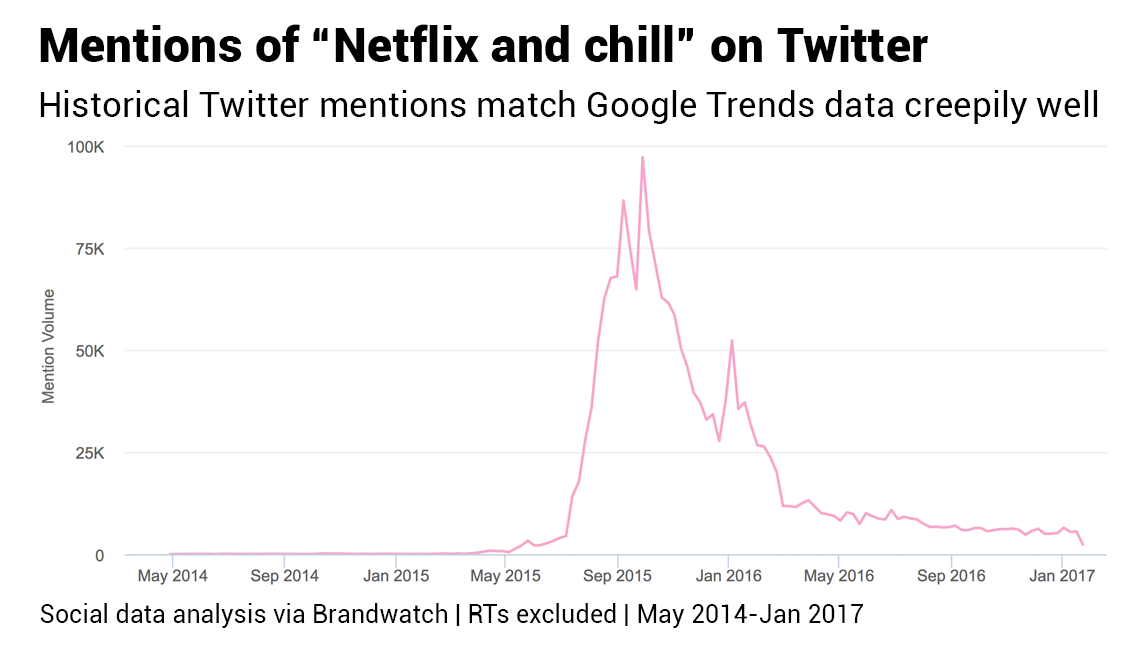 Now take a look at that phrase on Google Trends. It is spookily similar.
4. See how topics of discussion around a brand evolve
Example: Tesla conversation
Mention volumes aside, measuring how people are discussing your brand over time can indicate whether your audience is getting on board with your brand message.
As an example, we mapped conversations surrounding Tesla in 2015 and 2016 using Unlimited Historical Data. In both cases, the company was referenced alongside Google and Apple, though positive hashtags like #innovation and #sustainable seemed a little more pertinent in 2015 and Donald Trump makes an appearance as a prominent topic in 2016.
5. Mix social data with other data
Example: @Netflix mentions vs Netflix subscribers
Measuring social data against your other measures for success can help you identify correlations.
While this chart simply monitors mentions of @Netflix, you could just as simply map negative mentions of Netflix (using words like "too expensive", "really slow" etc) to see if they were prominent during slower quarters.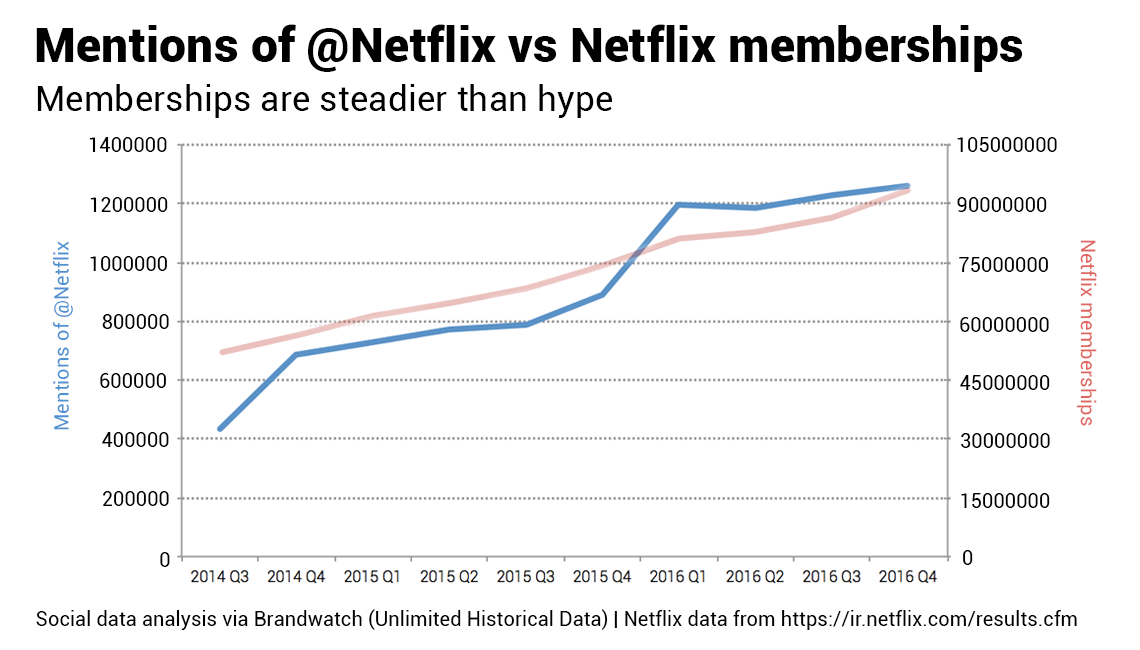 If you're a customer and want to see it for yourself, speak to your Brandwatch representative, or request a demo. 
Not a customer? Click below to find out how Brandwatch can work for you.
---