Get Your Selfies Here: Data Reveals #Selfie Hotspots in London Topic Analysis
We all love a selfie, regardless of the occasion. But where are the most popular places to take one?
The Brandwatch React team decided to get looking, this time in London.
We tracked mentions of #selfie on Twitter, excluding retweets from 1st December to 18th January. We chose Twitter as a source because it allows us access to geotagged tweets using GPS as well as locations tweeters manually "check in" at. (Not all tweeters opt in to geo-tagging their tweets or check in, but it provides a good idea of where the hotspots are). A large number of the collected tweets linked to Instagram posts in instances where people tweet their Instagram photos from their Twitter accounts.
The majority of tweeted selfies came from female-categorized authors, particularly around the Christmas period.
Get Your Selfie On
So, with a whole load of selfies in our dataset, we zoomed in on our geo-tagged tweet map to Britain's capital city.
Home of Buckingham Palace, the London Eye, Big Ben and a bunch of pretty bridges and museums, there's no shortage of opportunities to snap a selfie.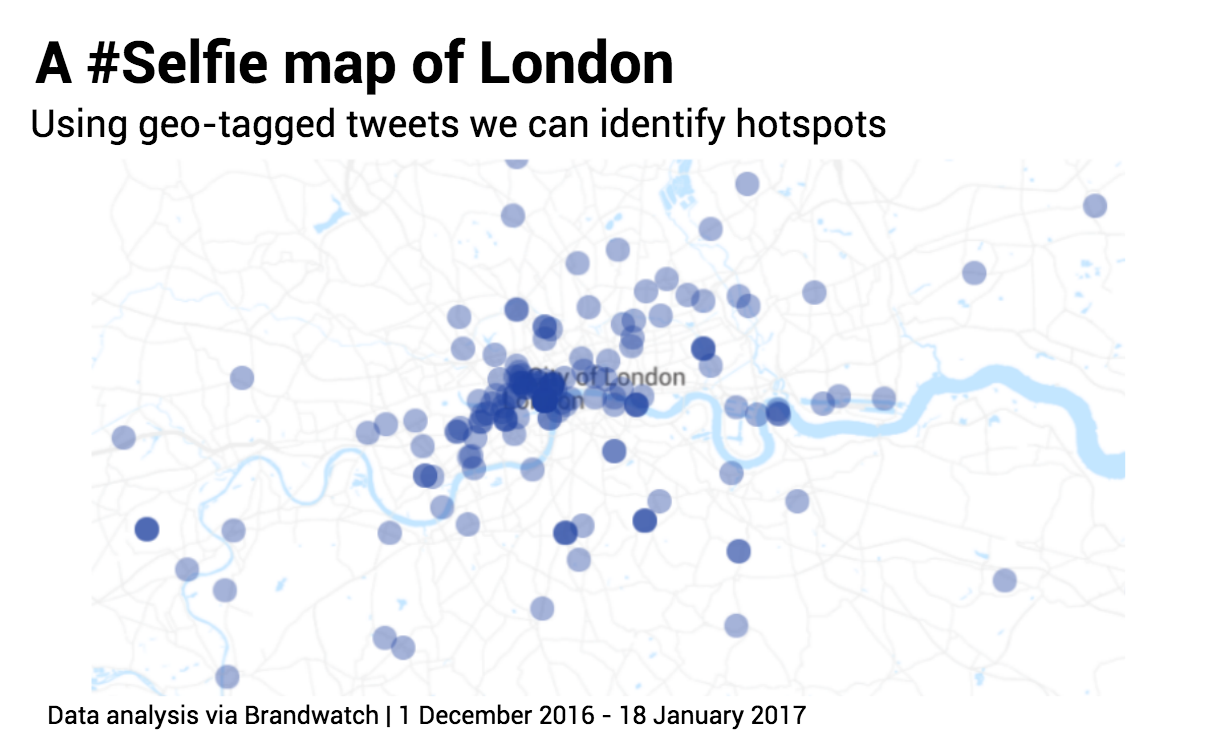 But where are people snapping them most? We needed to zoom in further to find clusters of interest.
Bridge selfies
At first glance it appears that some tweeters are floating around in the River Thames, but actually these selfies are being taken and posted on some of London's famous bridges.
Tower Bridge, probably the prettiest bridge crossing the Thames in Central London, is a popular spot, though to get a good view you might want to take the selfie from the riverside to get it all in.
Shopping
Given that our search took place throughout December it's not surprising that we captured some Christmas shopping selfies.
Oxford Street, adorned with beautiful lights and with enough swanky outlets to be any shoppers dream, caught a few festive selfes, as did Regent Street with many of the selfies capturing Christmas nights out.
Walking along the Thames
Strolls along the Thames were popular #selfie material in our data, with people keen to capture Big Ben and the Houses of Parliament as well as the iconic London Eye and the bridges that cross the river.
The Queen's House
There weren't many geo-tagged tweets outside Buckingham Palace but if you've ever been to London you'll know just how crowded the gates can get.
Our best advice is to take your selfie and get out of the way of the rest of the vulturous tourists trying to line up their faces with the enormous building.
Soho
Four selfies accompanied by bar/drink related hashtags in a perfect square.
Gentrification rows aside, Soho appears to be a good spot for a selfie and a good time.
Covent Garden
There's always something going on in Covent Garden, and plenty of characters and sights to get selfies with. We found a number of selfies posted there, with people are either taking pictures of their surroundings or taking a moment to relax and posting selfies from earlier in the day.
Celebrity watch
The team took a moment to have a look out for verified Twitter users and found a fair few well known figures sharing their locations both in the UK and around the world.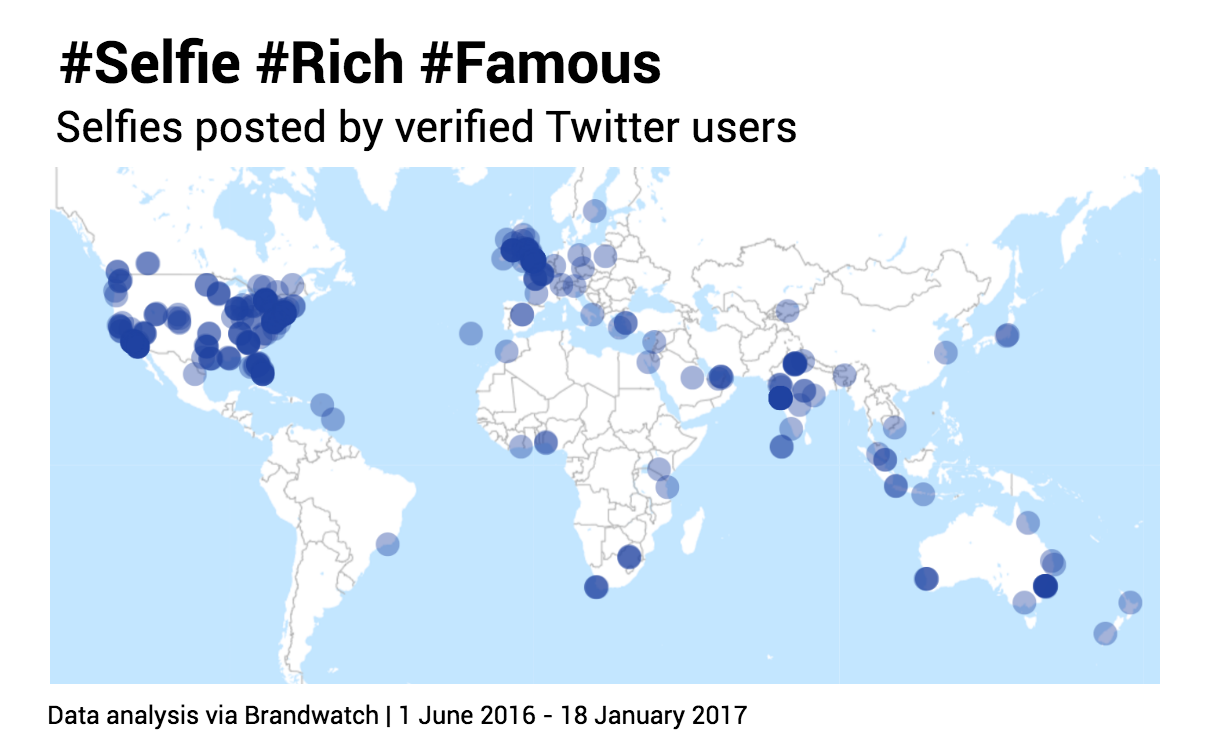 Of course, not all verified accounts are owned by the rich and famous, but sharing location data can be risky business for celebs. The Kardashian family are a good example of well known figures recently shaken by the potential dangers of sharing your location on social media.
Stay safe, everyone.
Are you a journalist looking to cover our data? We have plenty more. Email us react@brandwatch.com for more information
---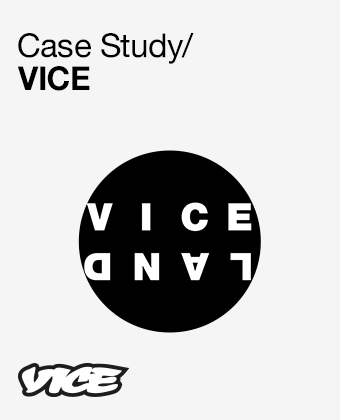 Uncover more insights
Find out how VICE used Brandwatch audience data for a smart VICELAND launch.
GET THE CASE STUDY