Social Outrage: Redheads Are Fighting For a Long-Awaited Ginger Emoji Topic Analysis
March 22nd 2017 heralded a highlight in modern day calendars; the news that new emojis were coming. The online community went wild in reaction to the proposed emoji update released by Unicode, which will be realized on iOS this summer.
The update will bring the masses an exciting array of mythical creatures such as mermaids, elves, vampires, fairies, and zombies. It even includes extinct creates such as dinosaurs. Of course, more food has been added too with steak, pretzels, and even the humble broccoli joining the ranks.
However, in amongst all this excitement, there was a group of people who were once again disappointed.
The gingers.
Hey @Apple, we're getting zombie, genie, mermaid, vampire, and wizard emojis but still no red-head emojis? We're mystical creatures too. https://t.co/oAJ8BZjz4r

— Chap Sparrow (@chap_sparrow) March 22, 2017
Why isn't there a ginger emoji?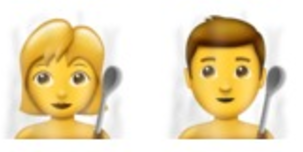 In fact, it was the content of the latest update which really got the flame-haired folk frustrated, with many taking to social media to lament the fact that mythological beings had precedence over real life redheads. The inclusion of more arbitrary emojis appeared to add insult to injury, with the addition of what appeared to be people holding 'spoons' in a shower igniting further fury.
https://twitter.com/juvenilehes/statuses/844902838031601664
So fairies, zombies, and people HOLDING SPOONS all get emojis but not redheads? 🤔🙄 https://t.co/G69WBokirq

— Christine (@xochristinerose) March 22, 2017
Redheads unite
The fight for redheaded representation has been steadily gaining momentum over the past seven months and with almost 15,000 mentions globally, the struggle has been real.
Every time Unicode release a new emoji update onto iOS, fiery redheads take to social media to exhibit their frustrations.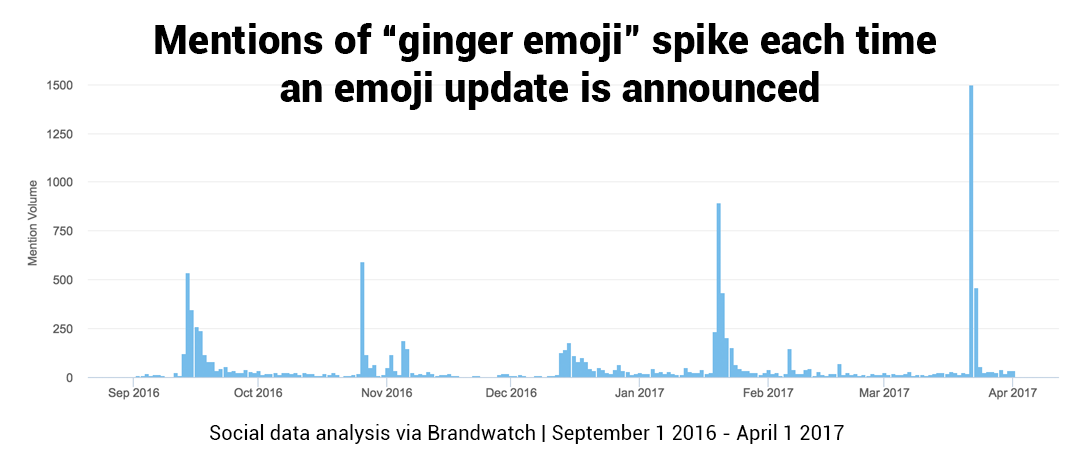 In the beginning, the demands were modest with redheads asking for a meager carrot as a way to express themselves.
Dear Apple, please consider making a redhead emoji… or even a carrot will do.
Sincerely:every misrepresented Ginger ever.

— Meagan (@meaganhendrson) September 24, 2016
However, with each update that passed and as the list of existing emoji became more complex, the auburn ambition began to increase.
When our humble demand for a carrot emoji was met, we got greedy. We wanted more. In the days leading up to, March 22nd 2017 there was buzz around the newest update. Would it include it the redheads? People were tentatively hopeful.
However, when news of the soon to be released update broke, auburn fury reached boiling point.
https://twitter.com/TomCrean4Prez/statuses/844876827269193728
@AppleSupport STOP LEAVING GINGERS OUT OF YOUR EMOJI UPDATES I AM SICK OF THERE NOT ACTUALLY BEING EQUAL REPRESENTATION

— claire 🦌 (@grandesinfinity) January 7, 2017
Again, some emojis were seen as surplus to requirement and authors irritated were by the latest magical and mythical inclusions.
Globally united gingers questioned what type of a world we live in where the undead, the extinct and those who shower with cutlery are represented before gingers.
Now, as a redhead myself, I am aware only we only make up 1-2% of the global population, but surely the volumes of redheads exceed the number of mermen? Or the current population of 'man fairy'?
So @Apple can make a god damn man fairy emoji but still can't make a ginger emoji

— Dan LarsoN* (@itsDanLarson) March 22, 2017
---
You might like
Emoji Data Reveals How Men and Women Illustrate Their Tweets
---
Is there a burning auburn light at the end of the tunnel?
Unicode, the company responsible for creating emoji for Apple, have promised to address the issue in their next meet-up in response to the rising online pressure.
Furthermore, YouTuber and ginger activist CopperCab, of 'gingers have souls' fame, added his voice to the fight for justice, stating in an interview that redheads have suffered enough 'setbacks because of our genetics such as being sunburned more easily.' Despite this, there are people out there that still dispute his claims that gingers have souls, with some going as far as to suggest that there is already an emoji in existence which perfectly represents us…
https://twitter.com/KirillWasHere/statuses/791375048921808896
Additionally, a petition started in the cultural home of the flame folk, Scotland, has gained almost 22,000 signatures thus far. Scotland has emerged as the frontier for this metaphorical battle, with the country boasting one of the largest percentages of redheads globally (the figure is estimated between 6-13%).
Perhaps we can be cautiously optimistic and perhaps, in the words of the infamous old Orange slogan, the future is bright, the future is orange? On that note, it is only natural to end on a tweet from my favourite corner of the web; Scottish Twitter.
https://twitter.com/Kirstyobrien_xx/status/844949976153276419
Are you a journalist looking to cover our data? Email us at react@brandwatch.com for more information.
---
Brandwatch Analytics
Measure and optimize your campaigns in real-time with powerful social insights.
Find out more