Amazon Echo v HomePod v Google Home: The Smart Speaker Data Showdown Topic Analysis
It was only a matter of time before the Brandwatch React team fired up Brandwatch Analytics to examine the smart speaker data and determine which of the most popular devices is social's favorite.
56.3 million smart speaker devices are expected to ship in 2018 and the market is tough, with Google, Amazon and Apple all offering up their own solutions.
Personally, I was put off getting any kind of voice assistant device after a colleague told me that Alexa said the cats speak to her while she is out of the house. My opinions aside, let's see what social media thinks of the three big players.
We searched for mentions of Google Home, HomePod and Amazon Echo/Amazon Alexa on Twitter going back to 1 January 2018. Here's what we found
Smart speaker data: Which device is most discussed?
Competition for the "most talked about" award is tight between the Amazon Echo and Apple's HomePod. Meanwhile, Google Home appears to be lagging on mentions this year.
Which device is talked about most positively?
Lots of mentions might be great, but that's not the case if they're all negative.
We took a look at the positive and negative-categorized tweets around each of the smart speaker brands to see which was getting the highest ratio of positive tweets.
Amazon came out on top, closely followed by Google Home. HomePod didn't do massively well here, but 63% positive mentions isn't too bad.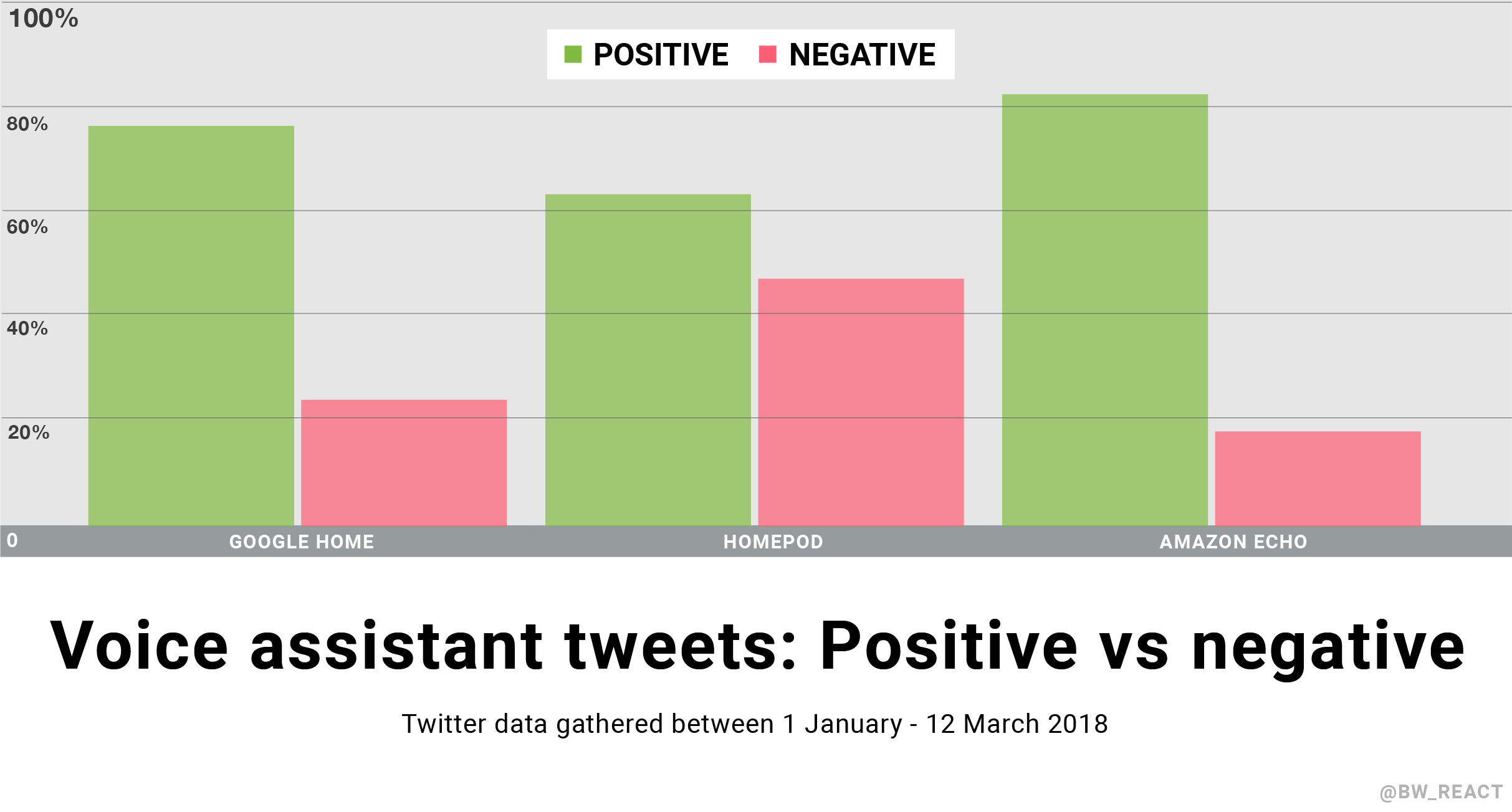 We were intrigued to see what people were complaining about for each brand, and took a look at popular tweets and themes within the negative-categorized conversation.
Amazon Echo
Reports of Amazon Echo devices letting out creepy cackles have not been met positively. There were lots of people talking about how it was freaking people out.
Amazon alexa scaring people with her hideous laugh pic.twitter.com/cxRXz86A5J

— Divergent.∞ (@Khadija__x) March 7, 2018
HomePod
A popular tweet from influencer Grayson Dolan drove a lot of the negativity surrounding HomePod, although whether he was serious is up for question.
I went to set an alarm on my HomePod and Siri told me to "stop f***ing talking" WTF IM SO CREEPED OUT

— Grayson Dolan (@GraysonDolan) February 17, 2018
Google Home
Meanwhile, coverage surrounding Google Home not being able to answer questions about Jesus was one prominent theme in their negative conversation.
'Who is Jesus?' Google Home couldn't answer and people weren't happyhttps://t.co/yAe3UQT9nF

— TIME (@TIME) January 27, 2018
Product comparisons
Something we noticed when examining topics surrounding each of the products was the prominence of the other products within conversations specific to one.
For example, 7% of the conversation around Amazon Echo also mentioned Google Home.
| | | | |
| --- | --- | --- | --- |
| | % of conversation that mentions Google Home | % of conversation that mentions HomePod | % of conversation that mentions Amazon Echo |
| Conversation about Google Home | 100% | 6% | 11% |
| Conversation about HomePod | 4% | 100% | 2% |
| Conversation about Amazon Echo | 7% | 2% | 100% |
Google has a particularly high number of mentions relating to the Amazon Echo. In fact, 14% of Google Home mentions reference either the HomePod or Amazon Echo.
Of course, there are lots of people reviewing the pros and cons of each device online, so this isn't necessarily something to worry about for Google.
The ideal situation, however, is a lot of positive conversation surrounding your brand and comparatively not a lot of attention paid to competitors. In this sense, Amazon is definitely the leader.
Are you a journalist looking to cover our data? We have plenty more. Email react@brandwatch.com for more information
---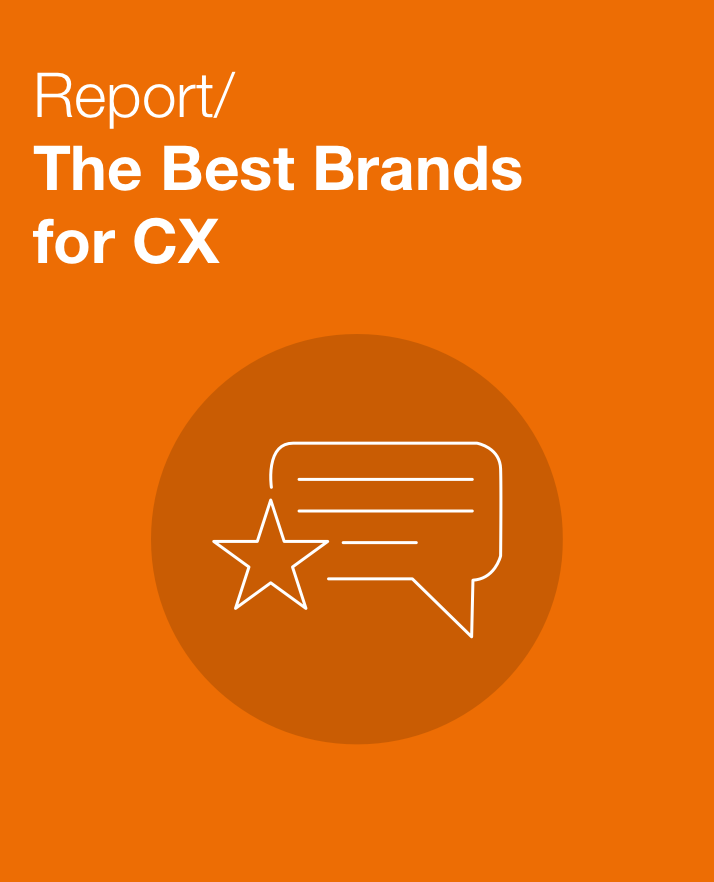 The Best Brands for CX
We found the top 100 brands delivering the best customer experiences. How do you compare?
Get the report