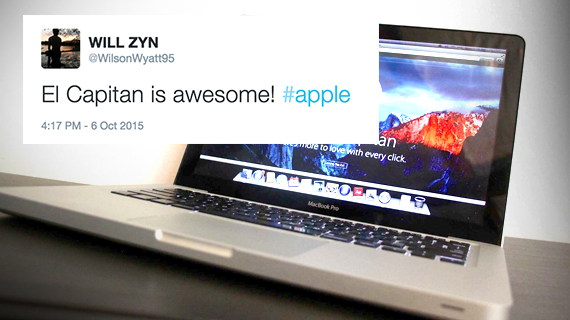 Too much time is dedicated to dismissing notifications saying "install important updates" in an average work day.
With most software developers working in two-week release schedule, the average person will receive a slew of incremental software updates on their phone every day.
Those apps you downloaded months ago to track your BMI, or notify you of bees in your area (that's a thing) all need their fortnightly security updates.
But there's every chance you'll continue to hit "remind me later" until the end of time.
There's one software update that, for most people, is too important and exciting to ignore.

When your Mac system software gets updated, you know it's big news – and definitely worth the 6GB download.
On Sept 30, Apple pushed out the full release of the newest version of OS X: El Capitan.
Like most major software releases, it hasn't been without hiccups – and we've got the data.
---
Breaking down the data
We've analyzed over 12,000 online mentions of OS X El Capitan to uncover the biggest successes and shortfalls of the software.
On the day that it launched, positive mentions increased by 30x.
Negative mentions increased by 50x – much more. At launch, the overall sentiment 28.95% negative, 71.1% positive.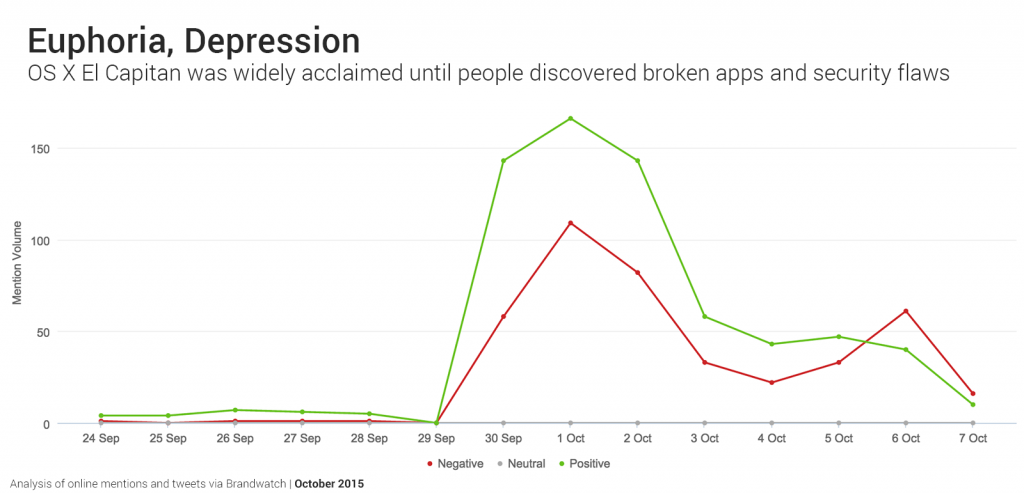 The negative mentions have worsened severely thanks to two major bugs, mentioned by hundreds of social media users and widely covered in the media.
Unfortunately, one of them was totally out of Apple's hands.
With a major system update, app developers have to update their code to conform to the new standard.
Microsoft didn't get the memo.
When El Capitan users tried to check their emails with Outlook 2016, it just plain didn't work.
It was a major knock for El Capitan's release, that Apple had absolutely no control over.
Apple did, however, have control over Gatekeeper. It's a virus-protection feature that is designed to protect your machine from unauthorized code.
The day after El Capitan rolled out, it was cracked by a Berlin based security firm. "We've completely bypassed this. To me, Gatekeeper is no obstacle at all," they said.
---
Hitting F3 like I hit the bar
Gatekeeper and Keychain are certainly the most disliked features. They've got a 97% negative social sentiment.
The biggest – and most longed for – feature of OS X El Capital was the one-two punch of split-screen multitasking and vastly improved Mission Control.
For those that don't know, Mission Control is that funny window view you get after hitting f3, and one of the best features of OS X.
These two features have had an entirely positive reception online.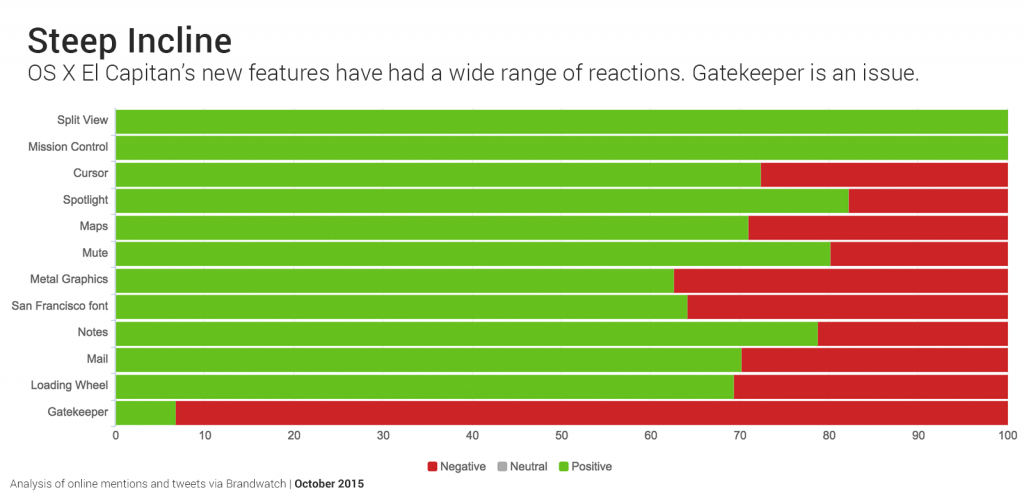 Spotlight, the much-improved system-wide search, garnered an 82% positive online sentiment.
Debuting on the Apple Watch, the new custom typeface from Apple has now rolled out on OS X.
There's been a lot of debate about the font – it has still maintained a 64% positive social media sentiment.

However, it's good to remember that the jump from Windows 8 to Windows 10 is a unmistakable increase in quality; the former operating system was almost universally hated.
OS X is different. It's already functional, fast and widely liked on most Apple hardware – they've got more to lose by making changes. That's where real-time feedback from social and online press is useful.
There's bound to be another patch for OS El Capitan in the next few weeks, and we'll look forward to seeing the improvements make a splash on social media.
---
Follow @bw_react for more hot data stories.
If you're a journalist and would like to use this data, please contact react@brandwatch.com.
Full data and methodology available. 
---
---
Brandwatch Analytics
Brandwatch Analytics: Insights you need
Find out more