React: How Londoners Reacted to The Great Fog of November 1st Trending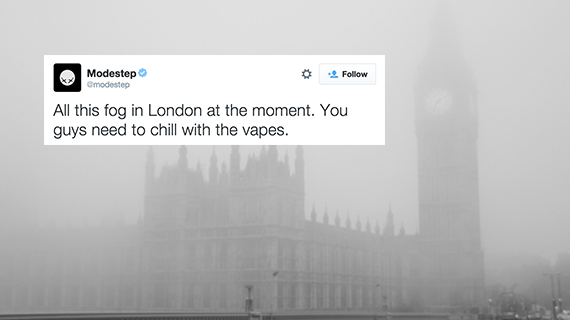 On the morning of the first of November, there's always a strange feeling coating city streets.
Most people have been partying all night, celebrating the spookiest day of the year. But when November strikes, that spookiness is over. Our lives have less skeletons and ghosts in than they ever did before.
As many walk back through the streets in early hours, they're hungover and tired.
Now, they're frightfully aware that 'Christmas creep' means that the red cups are already out and adverts will be pestering them to buy a turkey.

This year, something exceedingly spooky happened on the first day of November for Londoners. Just as the calendar ticked over, a dense fog descended on the city.
It stayed for the morning, then lifted. Then it came back, with a-vengeance.
At the worst of the fog, visibility was reduced to 50 meters (or, about 160 feet). You couldn't even see to the end of your road.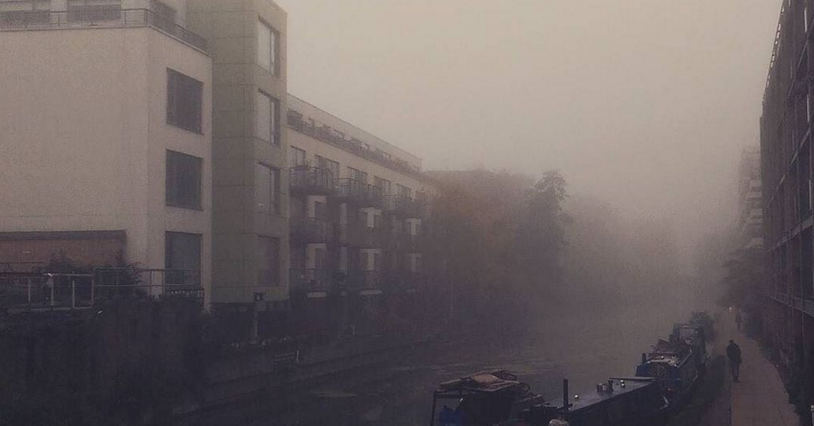 Of course, this meant hell for London's air transport.
Whenever there's slightly-worse-than-normal weather conditions, Britain's infrastructure seems to grind to a halt.
Flight after flight was canceled out of Heathrow and other London airports – which meant that many in our industry weren't able to make the Web Summit in Dublin.
It was a living nightmare. Precious Londoners are only just recovering. There's always one silver lining to return to when mild inconvenience is felt in unison across a nation: Twitter.
---
Let's talk about fog
Using the Brandwatch Analytics platform, we've captured every mention of The Great Fog of November 1st coming from London.
We found 4,000 individual tweeters from London who were talking about the fog.
They were 59% male, 41% female, in case you were wondering – British men have a propensity to talk about the weather.
If we represent each mention (with location data) as a little blue dot, it looks something like this: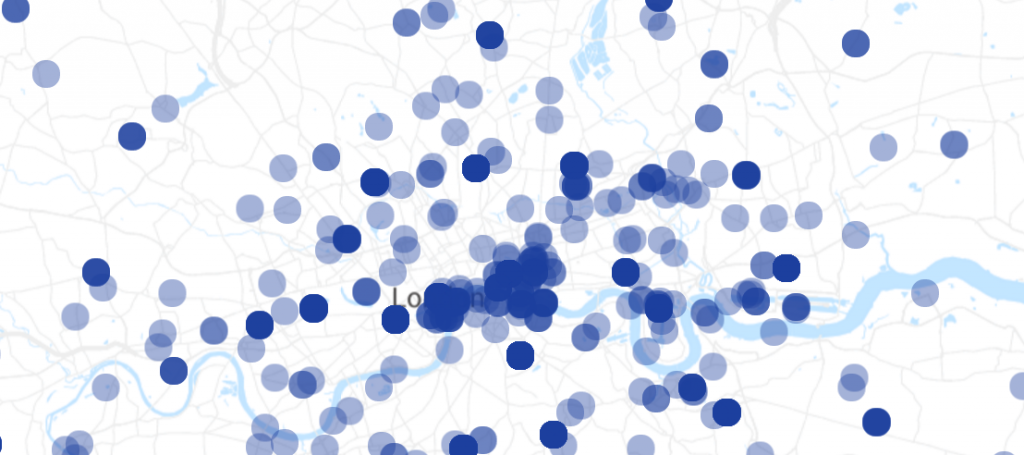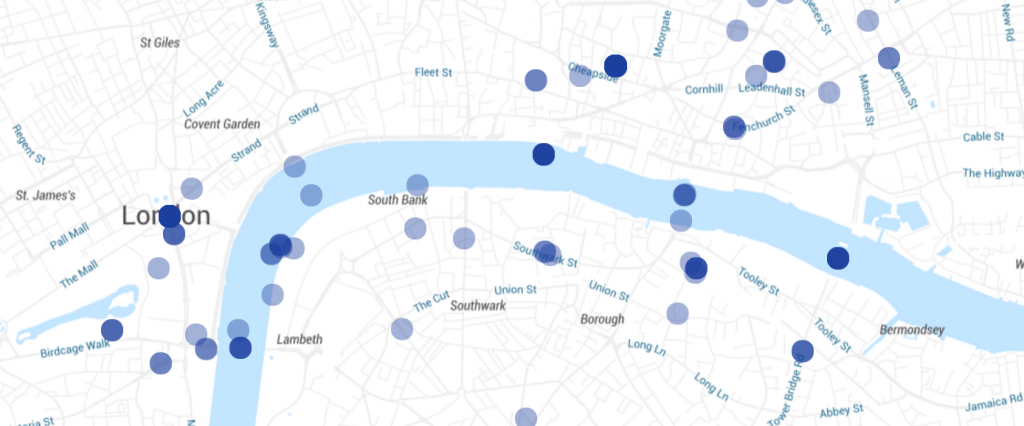 Conversation about the fog didn't peak on the first day, but the second. It was just as news broke that thousands of commuters would have their flights canceled.
Interestingly, this London-angst didn't result in its own hashtag.
Usually city dwellers will latch on to hashtag such as #tubestrike to keep abreast of the panic across the capital. This time, the topic 'fog' trended all on its own.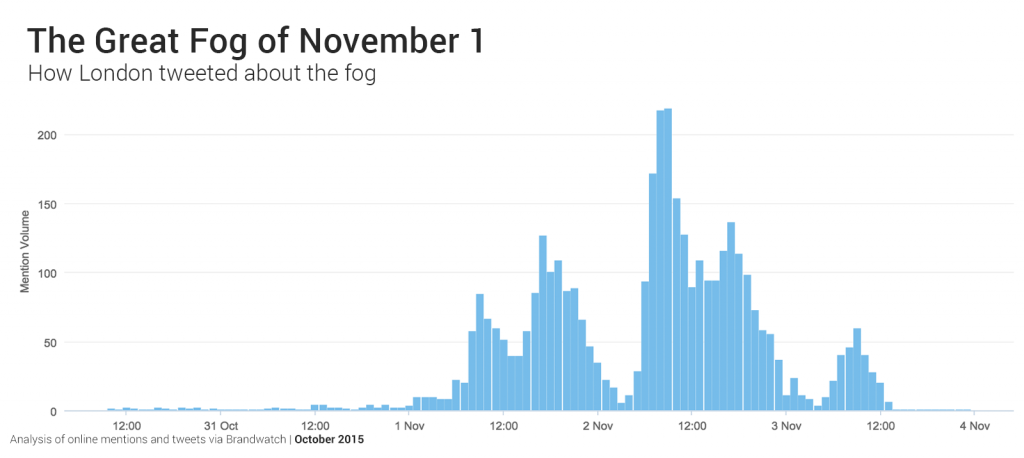 We've been talking a lot about going 'beyond keywords' at Brandwatch.
A big part of this is blending social data with other data sources. Some people are blending the data with business metrics from Salesforce, or real-time stock value charts.
The weekend presented an opportunity to blend hour-by-hour Twitter data with accurate weather information.
Plotting the two side by side, you can see how diminishing visibility (or, an increase in fog) sparked Twitter conversations.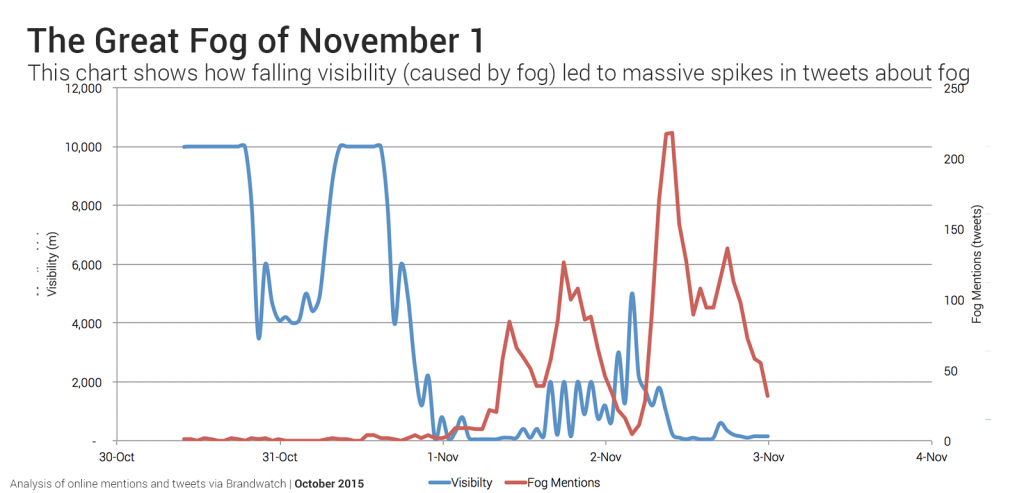 The descending mist started eating away at visibility from around 7pm on Halloween.
Twitter as a whole was far too busy bobbing for apples to care, even though a few eagle-eyed weathermen called the fog before anyone else.
Examining the chart, it's nice to know that Londoners weren't just complaining for the sake of it.
When visibility was good, tweets dropped off. When visibility was bad – so bad you could hardly see your hand in front of your face – tweets soared.
Planes flying out of thick fog at Heathrow Airport (VIDEO) https://t.co/wEVgZsUalt pic.twitter.com/AVVXfJL2GN

— RT (@RT_com) November 3, 2015
In this case, the external variable – the weather – influenced the volume of tweets.
But, we're frequently seeing the opposite happen: tweets and online mentions influencing real business metrics.
If you're interested in that, book a slot to talk to one of our platform experts. Until then, stick your headlights on at full beam.
---
Brandwatch Analytics
Brandwatch Analytics: Insights you need
Find out more