10 Influential Sports Journalists on Twitter Influencers

We love an influencer list, us. That's why the Brandwatch React team took to Brandwatch Audiences to rank influential sports journalists on Twitter these days.
While never free from politics, sport can bring people together and provide at least some respite from the friction and hardship of day to day life. The people who tell those stories, who get people excited and highlight the important things, deserve to be celebrated and, in a highly competitive field, those who make it to the top are worthy of the followings they have built.
Finding the most influential sports journalists
For this research we used Brandwatch Audiences to search for sports reporters and then rank them using influencer metrics.
We looked for sports journalists (defined by any of the key phrases outlined on the right within their bio) who were based in the US and were verified.
The accounts were ranked according to a selection of criteria that are added together to create their influence score. This is a measure of how influential an account is over time, based on the level of genuine engagement they are creating. While lots of followers, retweets and replies will help, the more influential the people they engage with, the better the score.
The follower counts listed below were correct and rounded to nearest million at the time of writing.
We should note that this is definitely not a perfect way of finding the most influential sports journalists – many big sports reporters might not include these words in their bios, for example. The upside of that is that you may find influential personalities you haven't already heard of in this list!
Here goes!
Now you know how we found them, here's the list itself. We were pleased to see an even split of male and female journalists, as well as multiple languages represented – the top two most influential people in the list may surprise you.
Tom is both a sports writer for the Associated Press and a prolific tweeter who gets great engagement on his tweets.
He's based in Cleveland.
#Browns coach Hue Jackson on QB Tyrod Taylor: "We view Tyrod as a perfect fit to lead our team. He possesses the qualities we want of a starting quarterback. He's smart, a leader, and an efficient passer that doesn't turn the ball over. He's a winner."

— Tom Withers (@twithersAP) March 14, 2018
Influencer score: 63
Gregg is a journalist based in Seattle working for The News Tribune.
If you want to know about the Seahawks you should join the 25k others who follow Gregg.
#Seahawks Insider: Team salutes Michael Bennett, tenders Dion Jordan, hosts Demarco Murray & Austin Seferian-Jenkins (more on that), sets Thomas Rawls, Mike Davis free–but has no signings. Not yet https://t.co/haGOYloIbn @thenewstribune

— Gregg Bell (@gbellseattle) March 14, 2018
Influencer score: 63
Tony is a long-time Boston sports reporter currently working as a host on The Sports Hub.
He's got opinions.
Give him the damn ball.https://t.co/w2qTViA62a

— Tony Massarotti (@TonyMassarotti) March 8, 2018
Influencer score: 65
Dana is a CBS sport correspondent based in NYC.
When we checked out her Twitter page she was sharing #MarchMadness stories with her 74k-strong following.
It's always the troublemakers in the back of the bus.. @Kevinharlan taking the 3rd seat so @ReggieMillerTNT Dan Bonner (not pictured) & I can ride in style. #Pittsburgh #MarchMadness Practices are over let the games begin! pic.twitter.com/CmWSgqAsQU

— Dana Jacobson (@danajacobson) March 14, 2018
Influencer score: 65
Lindsay has one of the most impressive followings of those on our list with 161k.
She doesn't over-tweet but she often shares behind-the-scenes looks at both her work and family life.
Talked to @Daniel_Suarez earlier about how he used to watch this race weekend on tv as a kid in Mexico. He is leading with 2 laps left. I have chills @JoeGibbsRacing pic.twitter.com/4fUAAlZhwo

— Lindsay Czarniak (@lindsayczarniak) February 17, 2018
Influencer score: 65
---
You might like
Which Football Sponsors Get The Best ROI?
Read the Article
---
NFL Network anchor James Koh sahres commentary and GIFs with his 37k followers.
SO MUCH IS HAPPENING pic.twitter.com/e0hhJbF0au

— James Koh (@JamesDKoh) March 13, 2018
Influencer score: 68
FOX News anchor and sports host Eboni shares content from lots of different people on her Twitter page.
She also promotes her work and book Pretty Powerful to her 68k followers.
Thank you for the support of #PrettyPowerful. I'm humbled to hear so many success stories of hardworking women💖 https://t.co/AJom7W8apB https://t.co/btDIZottLr

— Eboni K. Williams (@EboniKWilliams) August 23, 2017
Influence score: 70
Jeff is an ESPN sport reporter interested in telling the stories of sports and the people that play them.
While maybe not a household name outside NFL circles, Joe Thomas is one of the great players we'll ever see. And if you haven't already figured it out, he's also an awesome guy with a Hall of Fame sense of humor.

You will hear much, much more from him in years to come.

— Jeff Darlington (@JeffDarlington) March 14, 2018
Influencer score: 70
2. Goga Ruiz-Sandoval (@BiciGoga)
Goga Ruiz-Sandoval is a journalist specialising in cycling. She's based in Connecticut and tweets in Spanish to her 197k followers.
Here's a recent report:
📹 REPORTE última Etapa #TirrenoAdriatico Victoria de Dennis (BMC) en CRI, Kwiatkowski (SKy) con el título. Entrevista con Rigo, habló sobre funcionó el uso frenos de disco https://t.co/V0NDaiyHmu

— Goga Ruiz-Sandoval (@BiciGoga) March 13, 2018
Influence score: 71
And our number one sports journalist according to our influencer data is Carolina Guillen!
Like @BiciGoga she tweets in Spanish and has the latest on the soccer. With 739k followers, she's certainly earned her place at the top!
Sporting Intelligence revela que el sueldo de Neymar en el PSG, cifrado en 43,8 millones de dólares, equivale a la suma del de 1.693 futbolistas mujeres, todas las de las ligas más importantes: Francia, Alemania, Inglaterra, Estados Unidos, Suecia, Australia y México.

— Carolina Guillen (@caroguillenESPN) March 7, 2018
Influence score: 75
And here are our 10 influential sports journalists in a helpfully shareable list 😉 Why not give it a share?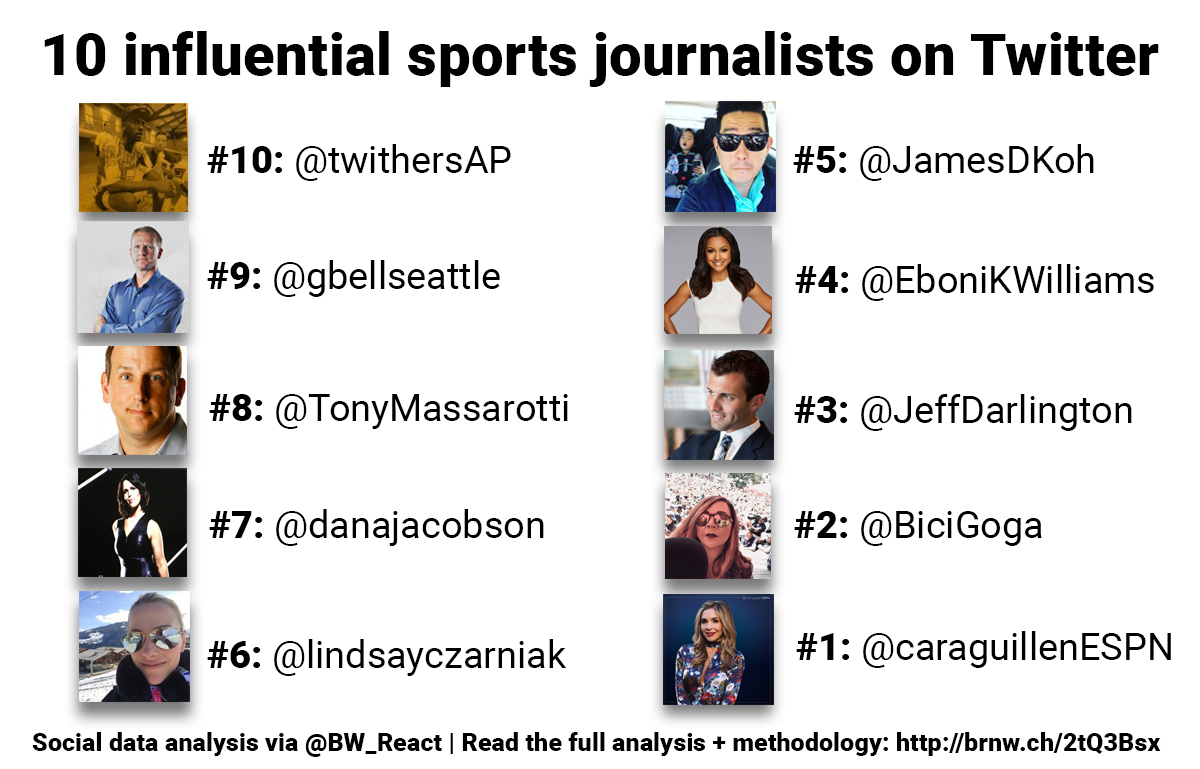 Are you a journalist looking to cover our influential sports journalists data? Email react@brandwatch.com for more information.
---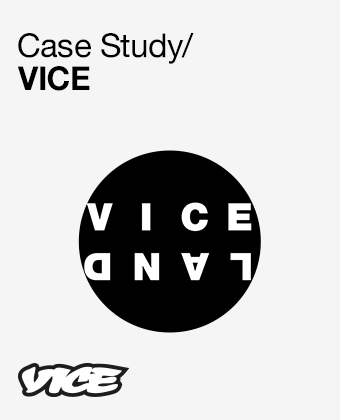 Want more audience data?
Read about how audience insights helped with the launch of VICELAND.
GET THE CASE STUDY