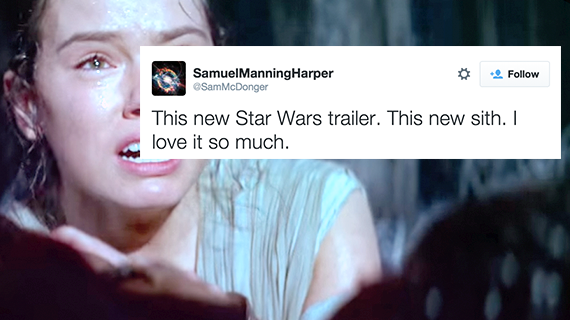 Somewhere out there, millions of movie fans sat silent and stared at their screens for exactly 155 seconds.
Immediately after, they opened up another browser tab. Flame wars began and they're still burning.
Star Wars fans are some of the most resilient and hardcore fans on the planet.
With a franchise stretching over 30 years, hundreds of books, dozen of TV shows and games, fans are never short of media to dive into.
A lot of their enthusiasm leaks out onto forums. The Force forums contain over 23 million user posts and almost 260,000 members. The official Lucasforums has over 151,415 members.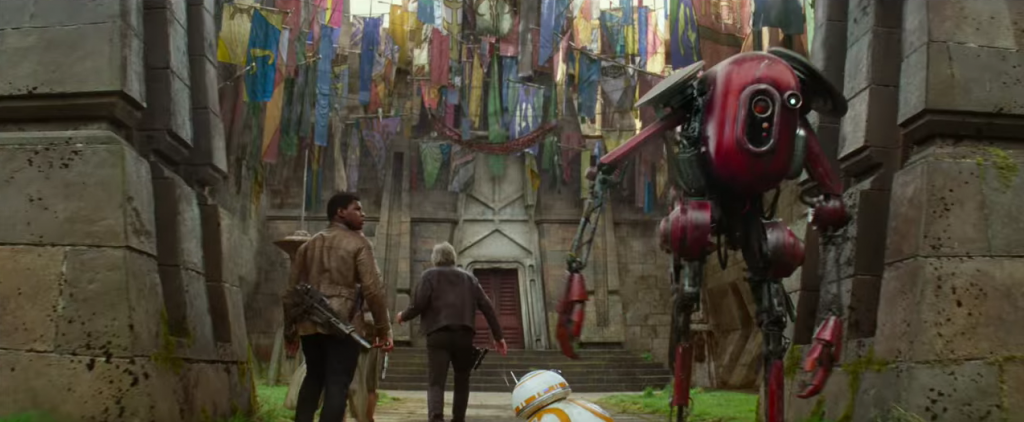 These are the die-hard fans. The ones that got exited about this poster, only to be severely disappointed in May 1999.
There's a whole new generation of people getting interested in the franchise, thanks to the release of the newest official trailer for Star Wars Episode VII: The Force Awakens on YouTube.
Trailer speculations, trailer liveblogging, trailer recaps and trailer analysis are all fair game for a generation glued to Twitter and starved of attention.
There's an interesting difference in the type of conversation, and we're looking at why.
---
The force is strong with this one
Launched on October 19, the dropping of the trailer spurred over 19,000 mentions in a single minute, and over 72,000 thousand in an hour.
A huge 97% of this was accounted for by tweets. In the last seven days, there have been 88,547 tweets about the trailer. This is likely because – unlike the other trailers – tickets went on sale shortly after.
The overall reception to the content was 73% positive – pretty good, considering how divisive trailers have become.
This trailer – the first full-length one – has generated lots more buzz than previous teasers.
The first teaser didn't even hit 10,000 mentions in total. The second, released in April, gained roughly 50,000 mentions.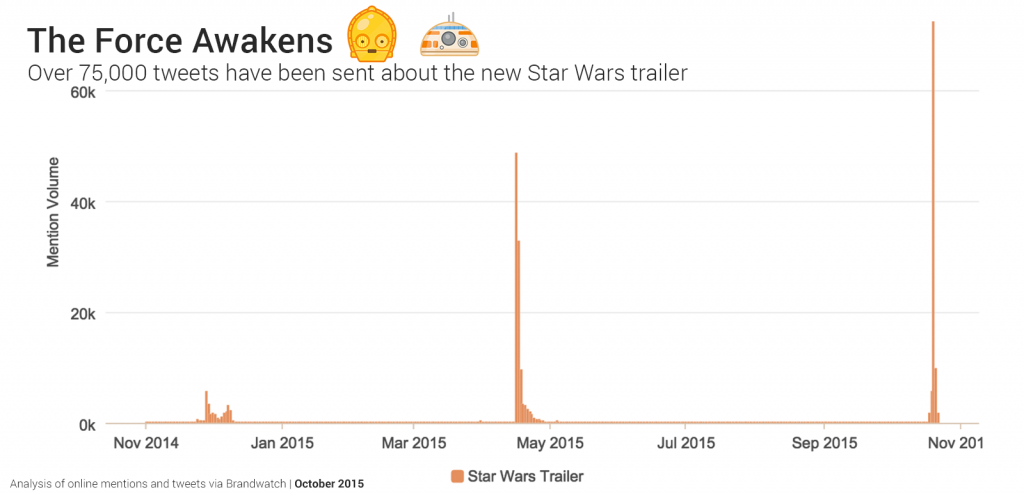 Unsurprisingly, the main drivers of the conversation were men.
They accounted for roughly 60% of the conversation.
The trailer aired initially in an ad break on Monday Night Football, which may have caused the male-dominated conversation.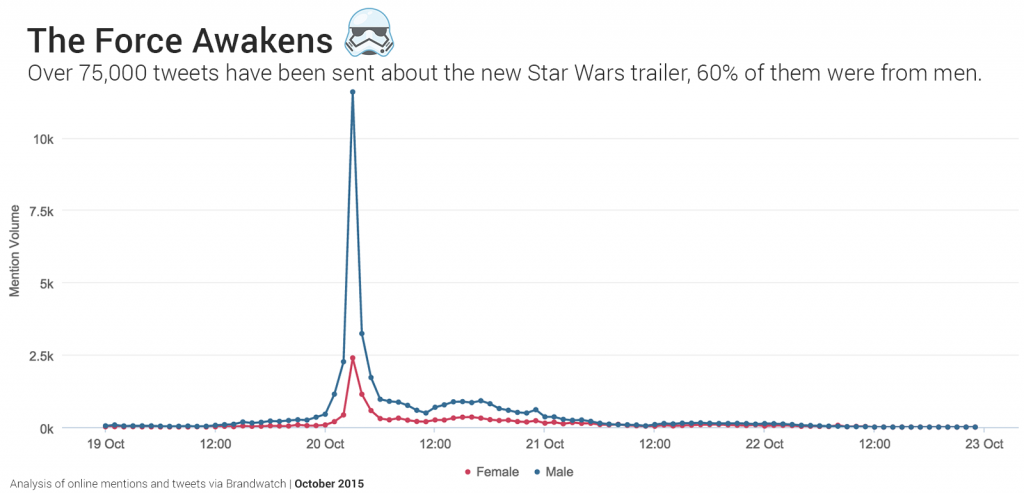 Thousands of people noted Luke Skywalker's absence from the trailer – people are wondering when he'll turn up. Some people are speculating that is Rylo Ken, the movie's protagonist.
---
Unleash the hype
Star Wars Episode VII: The Force Awakens is set to be released on December 18, 2015, which leaves three months of social media hype ready to unfold.
It's sure to be totally unavoidable on social media, so you'll have to watch out for spoilers. Since April, Twitter has been introducing custom hashtag emojis to celebrate the day.
Tickets are now on sale, and they're going so fast some sites have broken. We hope similar slip-ups don't happen around the film's release, or we will be most displeased.
---
Follow @bw_react for more hot data stories.
---
---
Brandwatch Analytics
Brandwatch Analytics: Insights you need
Find out more