A Shambles of Our Time: Learnings From The Fyre Festival, in Five Lord of the Flies Quotes Marketing

If you've been on social media in the last few days, the Fyre Festival probably doesn't need an introduction.
In case you need a recap, the event was organized by rapper Ja Rule and his business partner Billy McFarland, and was billed as a "transformative experience" on a private island featuring huge artists and sporting an exorbitant price tag.
It was endorsed by an array of some of the most influential people on social media (including Kendall Jenner and Bella Hadid), and hundreds handed over their cash for what looked to be two weekends of lavish indulgence.
Things didn't quite go to plan.
As guests arrived at the event it quickly became clear that things weren't ready.
Using the same platforms the festival organizers had used to relentlessly hype up the event, disgruntled guests didn't take long to tell their stories online, and the festival was quickly likened to the Hunger Games and Lord of the Flies.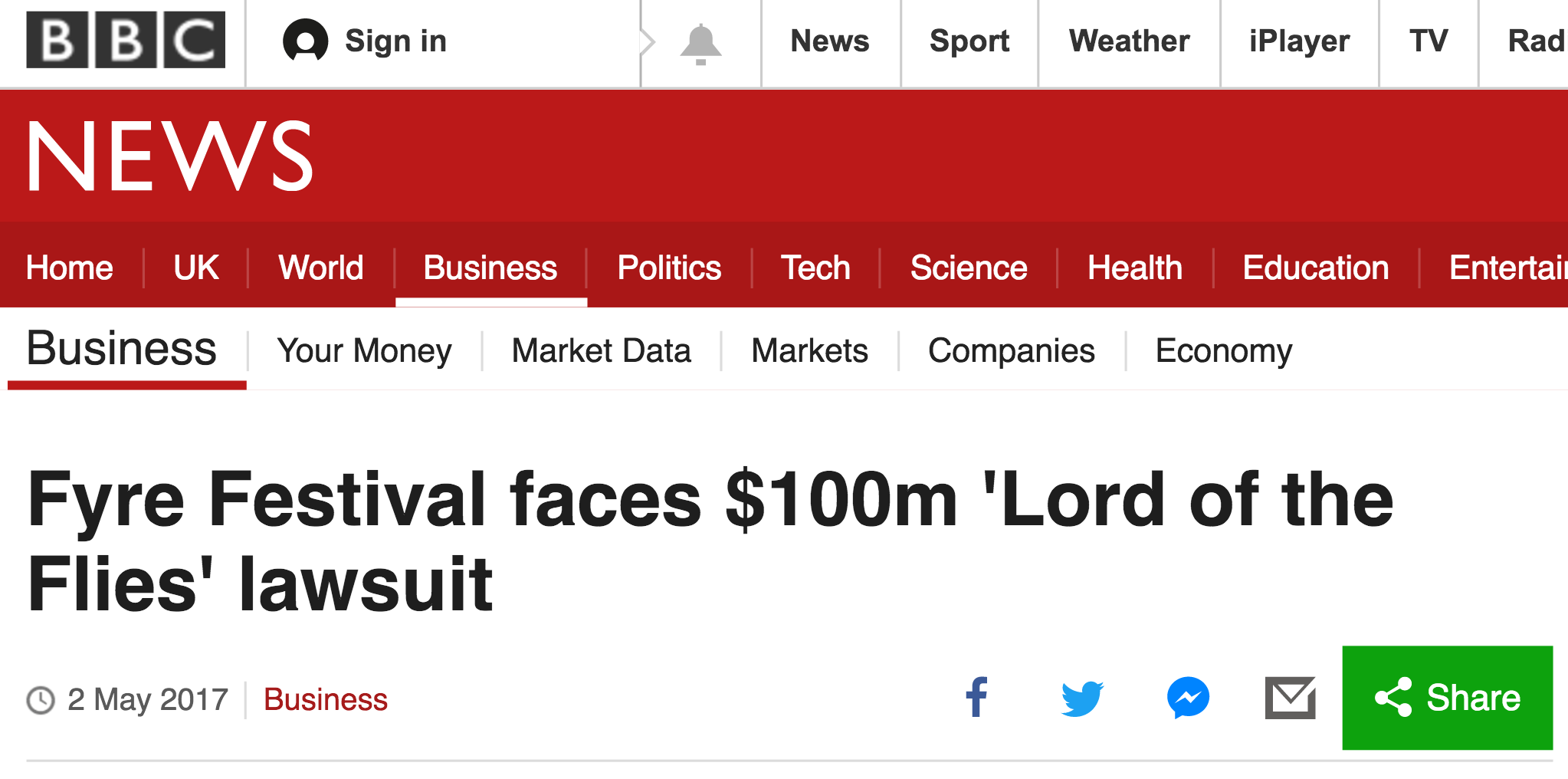 In the spirit of the social media reviews of the festival, the Brandwatch React team decided to unpick the Fyre Festival 2017 as it happened in social data, peppering our analysis with illustrative quotes from William Golding's classic story.
"The fire is the most important thing on the island"
Just as ship-wrecked Ralph prioritized the island fire to attract attention, the Fyre Festival organizers were all about the hype.
Vanity Fair released a fairly cringeworthy leaked pitch deck revealing business intentions for the festival, and reported that the organizers had recruited an army of 400 influential "fyre-starters" (in this case, big name influencers offered big incentives to promote the event) – more on them later.
According to the article, these influencers pulled in 300 million impressions on their promotional posts in 48 hours.
As expected, the festival generated healthy, excitable mentions in the lead-up, but as things began to go wrong the sentiment changed.
A few tweets about confusing travel details gave way to an enormous influx of anger as more guests arrived at the site to find that their tents weren't ready and their luggage inaccessible.
As anger grew, journalists and commenters reading the comments took notice, and it didn't take long for online outrage to peak (at one point we measured 20k mentions in a single hour).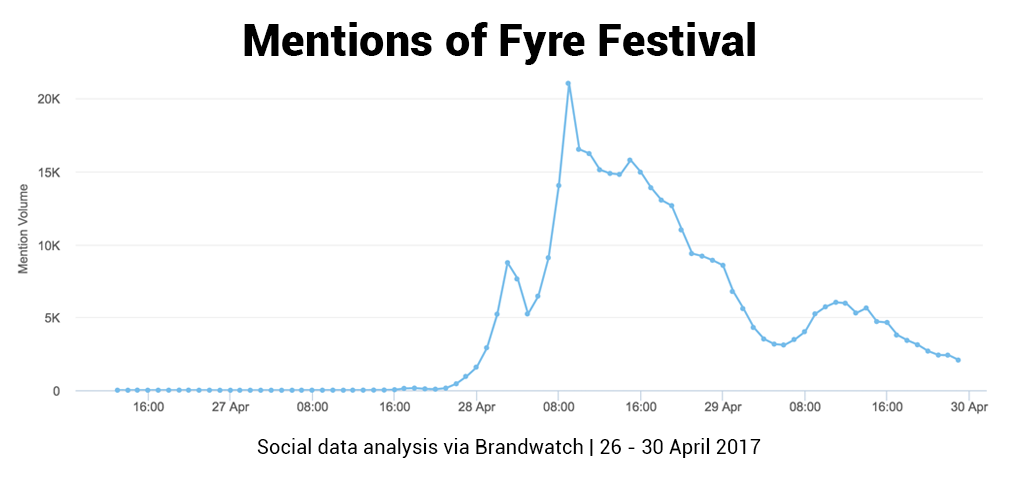 While the fyre-starters and other promotional material did an incredible job of creating hype and selling tickets, it was all smoke and mirrors. The reality of what was waiting for party-goers on the island compared to the inflated expectations is astounding.
"Within the diamond haze of the beach something dark was fumbling along"
Despite the mainly positive mentions, among our data preceding the event we found a number of skeptics with doubts about whether the festival would succeed. One of the most prolific was a mysterious tweeter who appeared to predict the chaos and disappointment a long time before everyone else.
The account claims not to be involved with the organization of the festival, but after joining Twitter in March 2017 they added a series of tweets criticizing the marketing and logistics.
More deliberate lies by #fyrefestival. Fyre Festival makes it appear to be its own island…marketing says private island…it isn't! Scam. pic.twitter.com/E4Gz8o3X0z

— FyreFestivalFraud (@FyreFraud) April 20, 2017
The luxury festival tents are left over disaster relief shelters from @USAID Fyre Festival scammed us! https://t.co/kW4olVKgzY #fyrefestival pic.twitter.com/8QYkQ3jIPR

— FyreFestivalFraud (@FyreFraud) April 25, 2017
Pagesix.com also predicted trouble, asking ten days before the outrage whether the organizers were in over their heads.
"He lost himself in a maze of thoughts that were rendered vague by his lack of words to express them."
"This is NOT MY FAULT" wrote Ja Rule in a tweet explaining the ensuing chaos of the festival.
Meanwhile, McFarland publicly described the events as the "worst day of my life".
The organizers acknowledged that they were unable to handle the situation and had to postpone the festival, but are keen to plug next year's iteration.
Their apologies weren't accepted too willingly by many of the stranded guests, and weren't much of a consolation for those who claimed they heard nothing from the organizers before the full shambles of the situation came to light.
@fyrefestival I have been trying to get in touch for several days, multiple emails, left several voicemail messages etc. No response! HELP!

— Janet Moreira (@janetcmoreira) April 19, 2017
@fyrefestival how I get ahold of a human to talk too?!!!

— ViolettaMTV (@VMilerman) April 21, 2017
@fyrefestival no one replys to me or replys with cryptic responses!!! whats going on???!!!

— Alister Toma (@alistertoma) April 26, 2017
We've covered lessons in crisis management in recent blog posts surrounding Pepsi and United Airlines. Generally, "NOT MY FAULT" in all caps is ill-advised.
"The world, that understandable and lawful world, was slipping away."
The role of the "fyre-starters" in all of this represents an interesting debate.
Do they have some kind of moral responsibility for the Fyre Festival disaster? After all, they were the ones encouraging people to get tickets for a festival that never really happened.
Perhaps more interestingly, are they legally responsible? In many cases, the influencers failed to signify in their posts that they were promoting an event in exchange for a reward, something that the American Federal Trade Commission isn't too keen on these days. If the Fyre Festival inspires any kind of crack down on influencers failing to make clear they are being paid for posts, some of the most well-known faces of Instagram could face severe consequences.
As Amelia Tait writes in the New Statesman, the real rich kids of the Fyre Festival aren't the ones who are suffering. Many of the unimaginably wealthy fyre-starters simply deleted their promotional posts and canceled their flights while those who bought tickets in good faith were left in a less than ideal situation.
---
You might like
Interview: Amisha Gandhi on the True Value of Influencer Marketing
---
On a separate note, had the festival been a success it would probably be held up as a concrete example of the ongoing power of influencer marketing (and that perhaps there's more to be said for celebrity influencers than advocates of micro-influencers let on).
Instead, it showed that we can literally trust no one.
"Maybe there is a beast…maybe it's only us."
Over-hyping, inflating the truth and downright lying appear to be becoming common practice in our post-truth times. At the same time, building trust around a brand and being authentic has never been more important.
As marketers (and, often, as competitors for eyeballs), perhaps this is something we should all be conscious of.
Are you a journalist looking to cover our data? Email us at react@brandwatch.com for more information.
---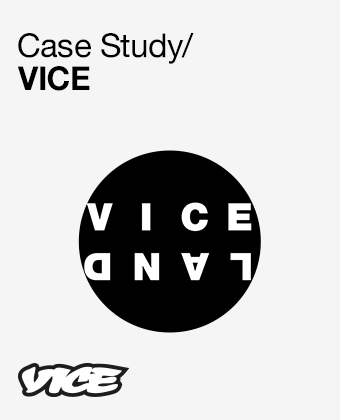 Using audience insights for a smart launch
Download the case study and learn more.
GET THE CASE STUDY