What Can We Learn From 500k People Saying They Want A Vacation? Topic Analysis

There's nothing like a sunny getaway. Escaping the work, the noise, the never-ending stream of appreciative tweets… Maybe that's just me.
Some say that we're spending less time on vacation, but surely that's not stopping us dreaming about getting away.
Well, according to our latest analysis, it definitely isn't.
Over half a million "I want a vacation" tweets
Using Unlimited Historical Data we were able to look back over the last 12 months of Twitter conversations relating to vacations. In just minutes, we were able to discover over half a million instances where people talked about wanting or booking a vacation, or simply stating that they needed to get away from it all.
We dove down into the data to unearth insights that can tell us more about the trends and behaviors relating to vacations. Here's what we learned.
Chasing the sun
June is undoubtedly the most popular month when people talk about wanting a vacation.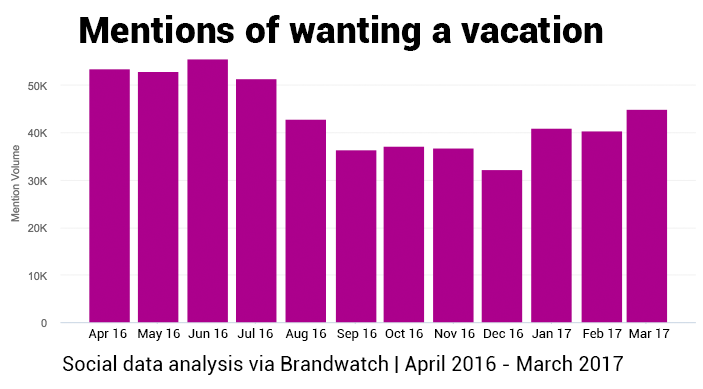 September, October, November, and December were not key times to talk about going on holiday. That's probably down to the weather, although there's definitely a boost in January despite the less-than-summery temperatures.
Perhaps, for some, the stress of the holiday season gets in the way of a relaxing break, or maybe travel-related New Year's resolutions spark vacation discussion online. We found that Christmas was a common topic amid mentions between 1-3 January 2017, with a number of tweets talking about wanting something new to look forward to.
---
You might like
Five Cool Things You Can Do With Unlimited Historical Data
---
Mid-week stress
Monday through to Wednesday are the most common times that people talk about wanting to get away. A coincidence, given that these are the start of the working week? We think not.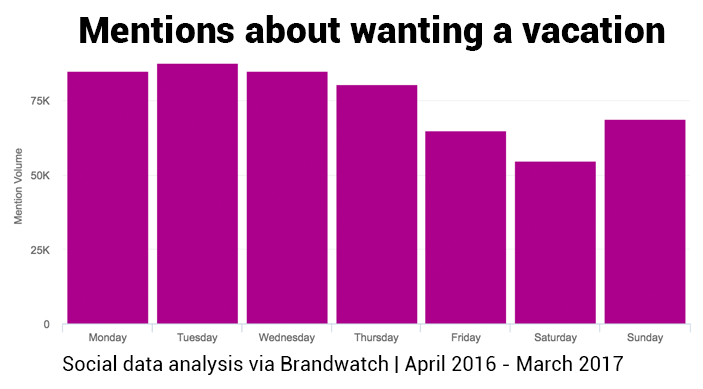 We might have predicted that the most mentions would occur on a Friday after a long week, but perhaps the proximity of a weekend break is enough to quell the need for a full on vacation.
Lunch time booking
12pm and 1pm ET appeared to be the most common times to discuss vacations.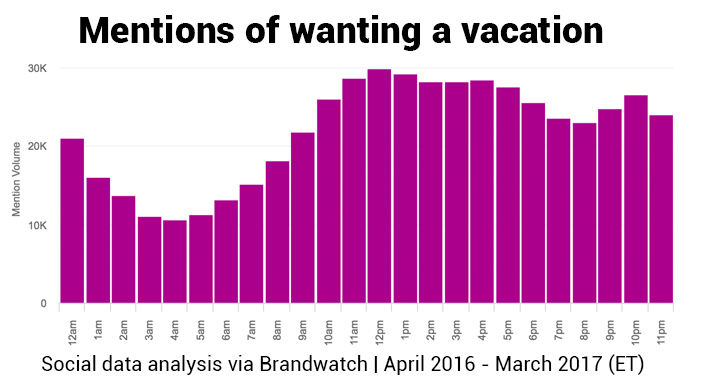 Since there were so many mentions in the work week, we'd imagine many of these are driven by long days with a brief break in the middle in which to dream about a better place…
When do people want a vacation most?
According to our data, it's Tuesdays in June between 12-1pm.
Why is this valuable?
Knowing when people are most tempted by a product is very different to knowing when people buy it most. That's why mixing social data and sales data can make a beautiful combination.
While most holidays might get booked over the weekend or in the evening, knowing that people are most susceptible to tempting offers on a Tuesday lunchtime is a great tip for marketers working in the hospitality industry. Timing content publication and advertising spend to match these spikes can help brands capitalize on increased consumer intent.
Breaking it down by location, profession, or gender can help make these campaigns even more targeted. For example, zooming in on female students shows that they're most in need of a holiday in April, with exams, stress and wanting a tan amongst the most common reasons used. There are multiple ways a brand could interact with these holiday-hungry students to get them an affordable deal that'll get them through their long hours in the library.
Are you a journalist looking to cover our data? Give us a shout at react@brandwatch.com for more information.
---
Brandwatch Analytics
Discover the online behaviors of your consumers.
Find out more