"I'm Quitting Social Media": Will We See a Shift in Platform Use in 2018? Commentary
Sometimes it all just gets too much, and you've just got to quit.
That humans are "social beings" has taken on a whole new meaning in the last few years, with the proliferation of different social media platforms on which to sculpt our carefully curated identities. Despite this wave of incredible connectivity and collaboration potential, social media can be overwhelming and many are citing the time they spend on social media and the anxiety it can provoke in them as reasons for taking a step back.
I must admit, I deleted the Facebook app on my phone a while ago because I was getting too many irrelevant notifications and spending way too much time staring blankly at Buzzfeed Tasty videos. I consider it to have been a very healthy move both mentally and for the food envy I was getting.
Of course, social media isn't necessarily a bad thing. When used in moderation and when used conscientiously, it can open new conversations and enlighten people. That said, I don't recall a time when social media platforms have been under more (often deserved) scrutiny.
The way social media makes us feel isn't the only reason we might quit. New updates, changing preferences and the movement of our peers and those we care about will also influence our decisions. With new platforms springing up all the time (remember Peach?) and a graveyard of old profiles from the long gone sites (RIP my adolescent Bebo account), there's huge potential for volatility in how people choose to take up and abandon even the most established of sites.
The Brandwatch React team decided to take a look at the sites we're talking about quitting most, and whether new players are well placed to take on the gigantic likes of Facebook and Twitter.
I'm quitting social media
We set up a query that tracked mentions of people quitting social media from across social media in January and February 2018. Meta.
We looked for mentions of the big ones – Facebook, Twitter, Instagram, Snapchat – as well as a new social network on the block – Vero.
The most common network that looked to be losing users (according to these conversations) was Facebook.
Two heavy blows for Snapchat
Looking at those mentions over time, there are a couple of obvious trends.
Twitter and Instagram are staying fairly constant, Facebook's getting more and more "quitters" and Snapchat had a bad February.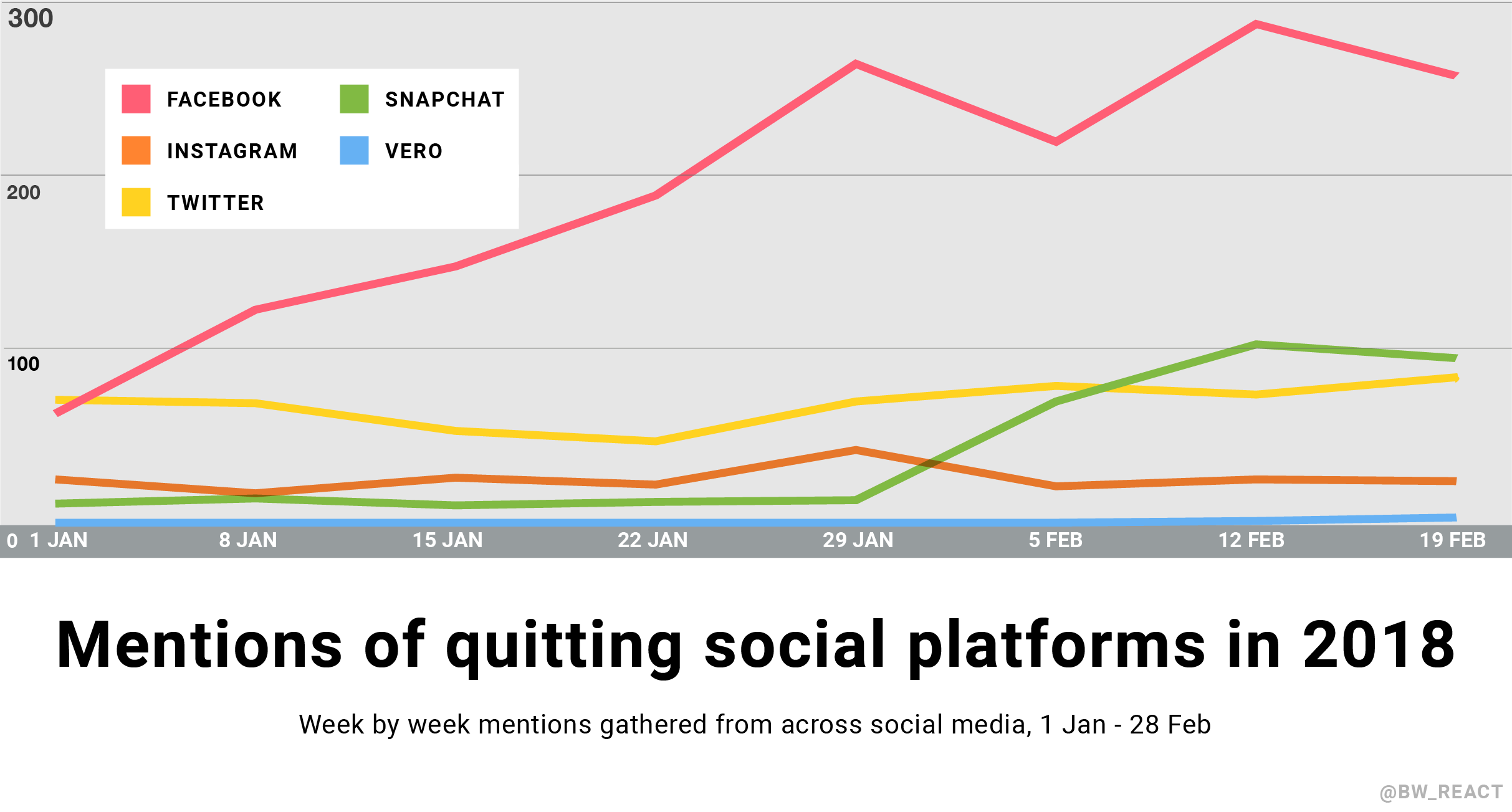 Snapchats February fails were down two key issues.
A very unpopular update
Kylie Jenner announced that she stopped using Snapchat
It's fair to say that Snapchat's early February update didn't go down great. We found nearly 100 "I'm quitting Snapchat" mentions that also included a mention of the word "update".
That's it. I'm quitting snapchat. This update is trash and completely unusable

— ilse (@imsofablmao) February 7, 2018
Then Kylie Jenner twisted the knife.
sooo does anyone else not open Snapchat anymore? Or is it just me… ugh this is so sad.

— Kylie Jenner (@KylieJenner) February 21, 2018
Her comment was blamed for wiping $1.3bn off Snapchat's stock market value, and a spike in mentions about people also quitting the app. We found a lot of people saying that they quit Snapchat before it was cool.
I would just like to say: I stopped using Snapchat before Kylie Jenner

— Washington Irving 🇺🇦 (@rondanger2016) February 23, 2018
A bad month won't necessarily define Snapchat's future, though. If they listen to their customers and their complaints on other platforms they may be able to pull back favor. The app has changed significantly since I first started using it in my university lectures three years ago, and it can continue to adapt.
A closer look at Facebook
Why are Facebook's "quitters" so high compared to the other platforms in our data? We dived into the mentions.
We found a number of people talking about mental health and how they felt it improved after quitting Facebook.
I quit Facebook about 5 months ago. Solid decision for one's own mental health.

— Jason Sammis (@jasonsammis) January 13, 2018
One Redditor said:
I quit Facebook about a year and a half ago and it's astonishing how my mental health and productivity has increased. I found myself like Pavlovs' dog constantly striving for Facebook likes and recognition.
Meanwhile, fake news and other issues that aren't getting the social media giant great press at the moment were also cited.
I call BS on that @robjective !! I quit Facebook after the election because of all the fake news and Russian propaganda that was on my feed before the election. Ignorant friends and family were passing it around like crazy…

— Justin (@utahsolartalk) February 18, 2018
Snapchat may not be having a great time, but one could argue the problems that Facebook faces are much greater.
Vero and volatility
We were very interested to see the emergence of a new social media platform recently – Vero.
We found thousands of people sharing the link to join the new platform, and were keen to find out more.
That's when we saw an uptick in people talking about deleting and quitting Vero (you can see it starting at the end of the week-by-week graph above).
yeh i stopped using vero bc of what i hear about it rip

— splatoot ✨ (@threedsboy) March 5, 2018
Among the common topics were Vero's CEO, Ayman Hariri – certainly a controversial figure within conversations around quitting Vero. It's interesting to see consumers being so interested in the CEO of a company, but since other social media bosses are now household names – I'm pretty sure my granny knows who Mark Zuckerberg is – it's a theme we can expect to continue.
Another thing that Vero's rise in popularity (and the sudden U-Turn some users made on using it) points to is the potential for volatility of social media platform use. As popular platforms and features like Snapchat and Instagram Stories and, to some extent, Twitter create more transient social connections very different to the more profile based traditional ones people are far more free to move between platforms without worrying about the profile they built up.
A big reason why I value Facebook is that it contains all my embarrassing teenage photos, but as visual connections become speedier and, on some platforms, dispensible after a short time there's really not much except a follower count keeping people loyal to social networks. For this reason, there's room for newcomers in the social media marketplace.
On a different note about volatility, we thought we'd cast our minds back to 2016 when we did a similar analysis.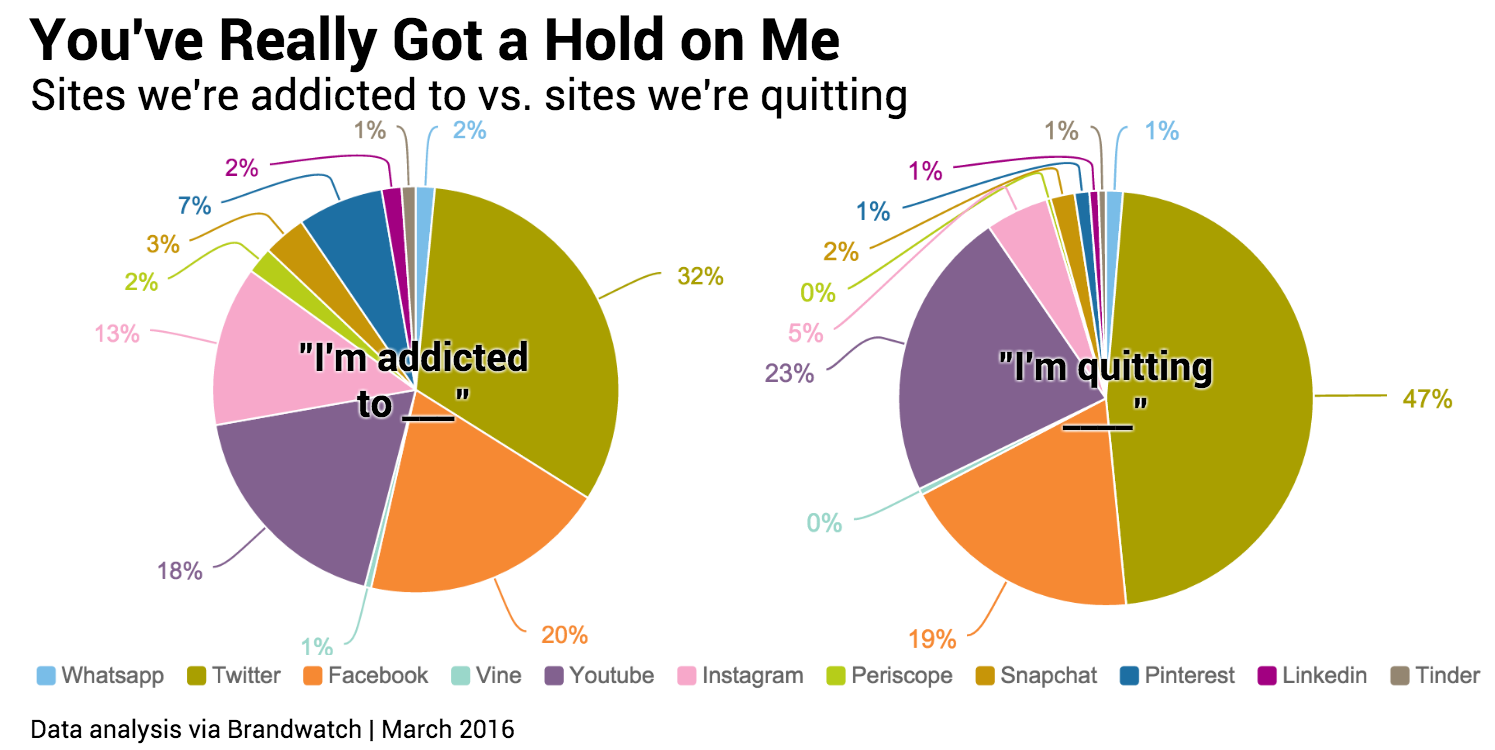 You'll notice the time difference both by the improvement in our graphic design skills and the platforms we included – RIP Vine.
Back then Twitter was the platform with the highest volume of supposed quitters, but fast forward two years and their quitting mentions are dwarfed by Facebook's.
If there's anything we know about social media it's that it's always changing. Snapchat's difficult start to 2018 won't necessarily spell long term trouble for them, but at the same time established platforms ought to keep their eyes on newcomers who can quickly gain fans.
A you a journalist looking to cover our data? Email react@brandwatch.com for more information