How to Break Down Social Data By Age: What Are 21-Year-Olds Talking About? Marketing

You don't need to accost a group of hooded youths in a skate park to find out what the kids are raving about these days. You just need to use social listening.
As business becomes more customer-centric, being able to segment your audience is more important than ever. Not only does this help marketers understand the way a brand's customer base is made up, it can also be used to identify the needs of those specific groups and to target them more effectively.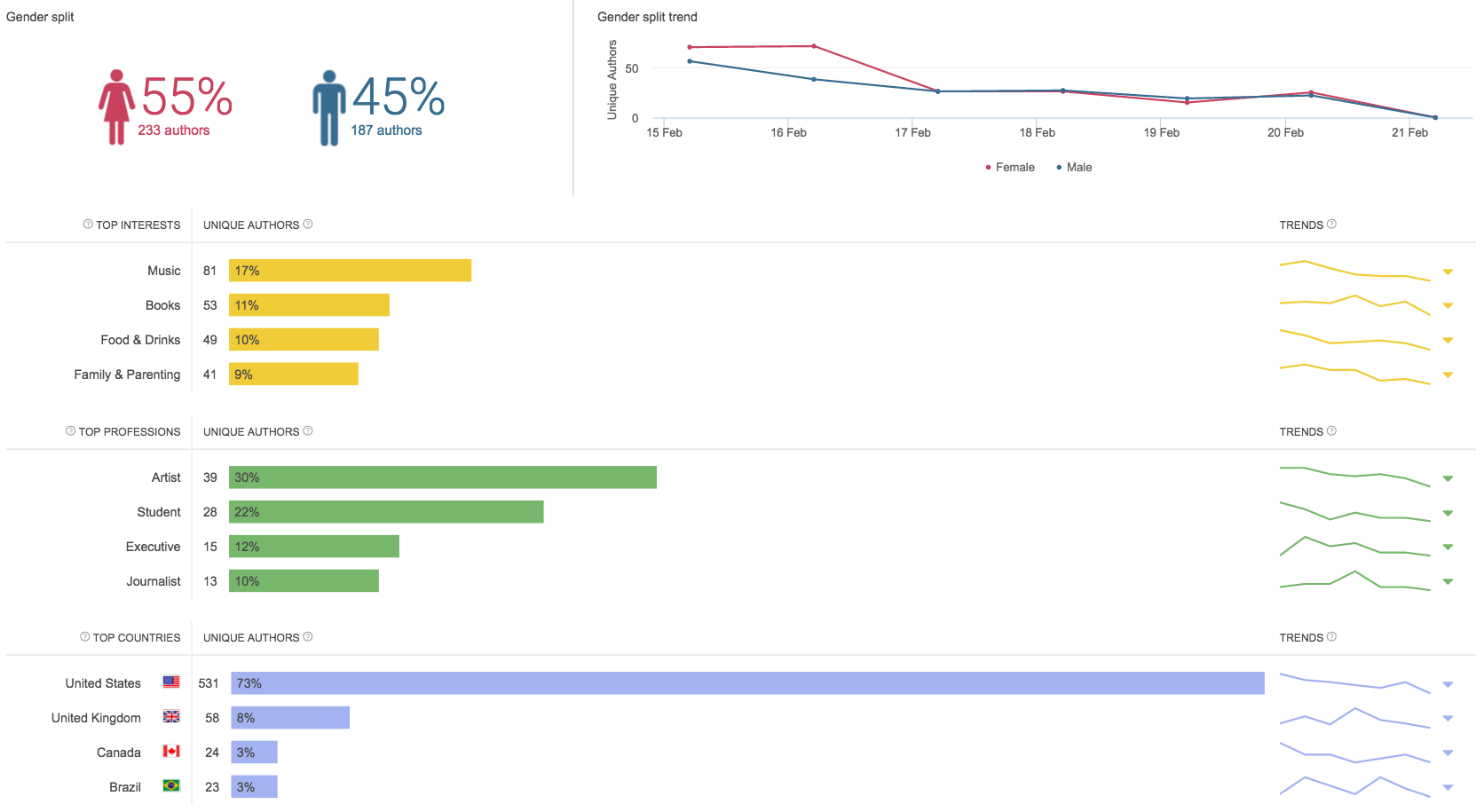 Social media, and good analytical tools, provide brands with an enormous pool of data that can be used to learn about the people they're interested in, what those people are saying about the brand/industry in question and what they're saying when they're talking about other things (which can be equally useful).
The Brandwatch Analytics platform provides a number of automatic ways to break down your data demographically. The gender split, professions, interests, and locations of the authors discussing the topic or brand are all available to you quickly and in just one component. All of the data can be manipulated and explored further.
While you can build up a solid picture of your audience with the demographic data the platform provides automatically, there's certainly a hunger for age or generation-related segmentation – and there's a lot of value in breaking down the data this way.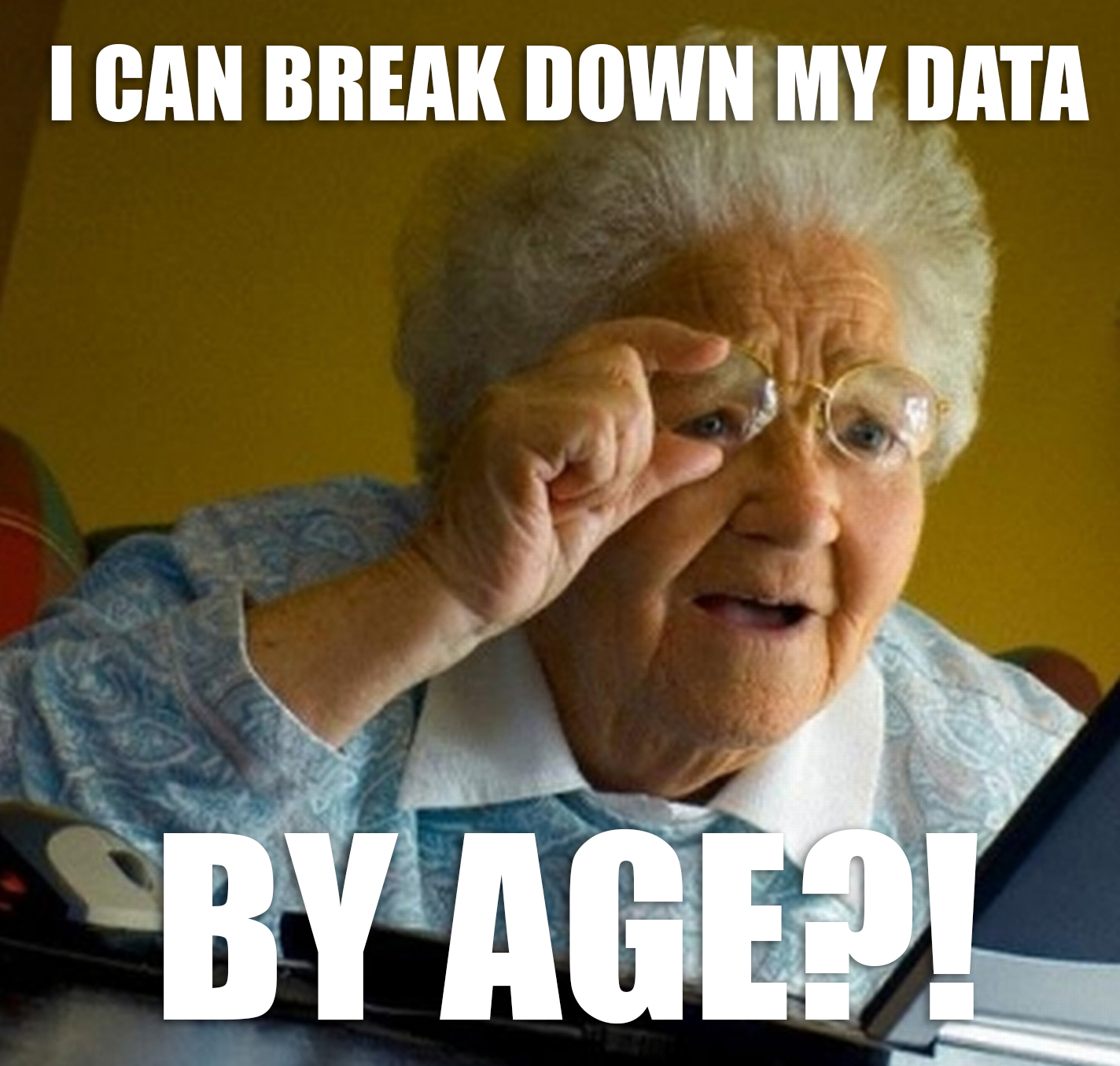 While a breakdown of the data by age isn't an automatic feature, it's still totally possible using Brandwatch.
To get to the age insights, you need to find an audience who self-identify as belonging to a certain age range or life stage and then search for what you want to know within that pool. There are various ways of going about it.
In a slightly different take on our usual style, the Brandwatch React team decided to share our data on what 21-year-olds are talking about as well as showing how we generated it. (If you're interested in applying this information to your own Brandwatch research, this article should be helpful in answering similar age-related questions regardless of the age range you're looking at).
Don't care about the how-to?
Jump to the insights here:
What have 21-year-olds been talking about today?
What are 21-year-olds interested in?
What do 21-year-olds say about Netflix?
What do 21-year-olds who talk about Netflix talk about when they're not talking about Netflix?
A how-to guide and some fascinating insights, all in one. A Brandwatch React long-read. A delight to your senses. Let's get on with it.
Fast insights: What have 21-year-olds been talking about today?
We'll start by getting to insights the fast way.
If you're looking to target a certain age group, it's worth looking at what kind of content appeals to them already.

This kind of insight is available almost instantly if you're a Brandwatch Audiences customer. You can search Twitter for people that fit into your target audience (by examining their tweets, interests, profession, gender, location and bio information) and you'll quickly be presented with a list of tweeters who match your search terms, listed in order of influence.

As a simple example, the search terms displayed on the left returns a list of over 28k active tweeters. (To be transparent, I also included some exclusion terms to filter out porn accounts. These terms include words like "18+", "21+", "looking for fun" and a few more colorful terms that don't make for comfortable reading in an office environment).
Once you're happy with your author list, click 'Trending' to view content that has trended within that audience in the last 24 hours.
Insight:
In this particular example we found musical charts and promotions, relationship advice, hair tips and a number of amusing tweets including viral videos. The majority of the content is humorous, and some of the top trending images are screenshotted news stories or messages.
Paying attention to the tone and content of the trending stories offers a good framework to base your content around if you're looking to get a particular group on board with your message, although be careful not to go too off-brand. The more you tailor your search to the people you're after, the more valuable this exercise will be.
Tip: If you're looking for influencers to work with, take caution when searching solely by age. While there may be a whole host of influential young people in your list, they may not be influential in the circles you'd like to target, and they may not influence people of the same age. For example, if you're looking to work with a young influencer who has weight in the surfing community, make sure that's reflected in your search.
The in-depth approach: What are 21-year-olds interested in?
It's possible to get deeper, longer term insights into what 21-year-olds talk about, too, using Brandwatch Analytics.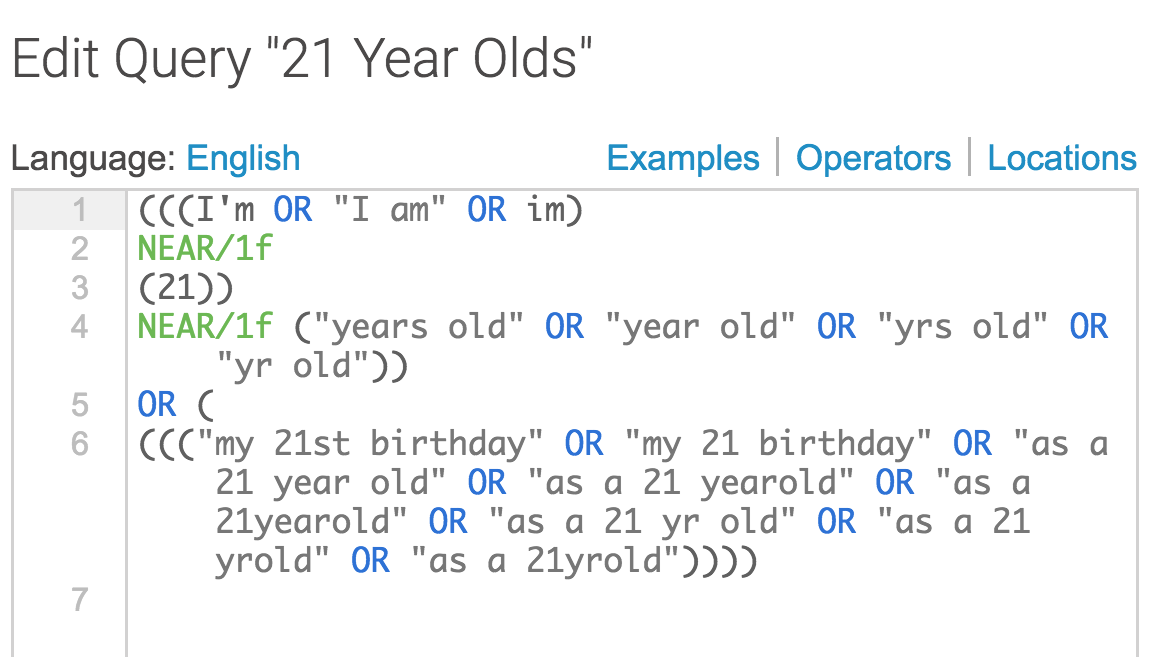 Firstly, you could export authors from Audiences and use them in a query in Analytics to see what they tweet about over a longer period of time.
You can also go beyond Twitter data by searching for people talking about their age in a query in Analytics (see left), and then identifying authors from across a whole range of sites, forums and blogs to use in a new query or author list. If you're interested in a very specific set of forums or blogs it's possible to get some really niche insights on what people of a certain age are discussing on them, but it's likely that the more niche you go, the less conversations you're going to have to work with.
For example, you could use the query on the right to search for people talking about being 21. Backfilling the data for a couple of months, you can then convert the authors using those terms into a query and explore their conversations. This query returns a fairly large amount of data, so you might want to select an appropriate sample.
Tip: To quickly turn an author list into a query, export the mentions/authors you want to use into an Excel spreadsheet and use the "concatenate" function to add " OR" to the end of each Twitter handle. Then copy and paste the list into the query editor, and you're ready to go.

While you can't explore bio data, using just Analytics you can search beyond Twitter and search for a longer time. The best results, in my opinion, come from combining Audiences with Analytics to get the valuable Twitter bio data and a pre-made list as well as being able to search for a longer time frame and to find authors on different sites.
As an example, we took the 200 most influential 21-year-olds from an Audiences-generated list of people who identified as 21 in their bio, were located in the US and weren't an organizational account, and looked at their tweets back to the 1st of January 2017 in Analytics.
Insight:
Among the top mentioned terms were, predictably, #GRAMMYS, #SB51, #GoldenGlobes and Lady Gaga. Beyoncé's pregnancy, Donald Trump, Black History Month, Snapchat, hair and drinking were also hot topics. "Video" is a really popular word in the tweets, with plenty of people sharing videos from across social media on their Twitter accounts. If we can learn anything about the long and short term mentions from 21-year-olds, it's that visual content does really well and definitely doesn't need to be professionally produced.
What do 21-year-olds say about Netflix?
Moving on to what an age group is saying about a brand, the Audiences method is the fastest way to find this out. That said, if you already had a set of 21-year-old authors set up in Analytics you could use the mentions and search component to find what they say about the brand or topic you're interested in.
In Audiences, start by searching for the age group you're after, then make sure that you've included tweets that include names and key terms of your brand/industry/products. For example, we made a list of people who identified (in tweets or their bio) as 21 years old who were located in the US and had also mentioned "Netflix" in their tweets in the last few months. Going beyond just searching for trends in the last 24 hours, we turned the author list into a query.
Insight:
We then searched within their mentions for "Netflix" over the last couple of weeks, finding that "snacks", "comfy", "chocolate" and "bed" made up large chunks of the conversation. A number of the authors, presumably students, mentioned skipping class, too. It seems the 21-year-olds talking about Netflix that we found aren't sitting on the couch watching an episode with their family in the evening. They're more likely to be slobbing out with junk food and a blanket, watching multiple episodes at a time. No judging here.
What do 21-year-olds who talk about Netflix talk about when they're not talking about Netflix?
If you want to know what people who are already engaged with your brand/industry are talking about when they're not talking about your brand/industry, you can use the same set up as above. Just check out the topic cloud or search for things you're interested in within the rest of their mentions.

Why would you do this? Firstly, you can find trends that you could engage with to reach people like those who are already engaged with your brand. Secondly, if you know your audience are big sports fans you can set up targeted campaigns that address them on a more personal level, creating a stronger relationship with more chance of a sale. Finally, you can identify potential co-marketing opportunities. Your target demographic loves this YouTuber? Why not get them on board.
Insight:
Looking at their mentions over the last 7 days, we found that US-based 21-year-olds who talked about Netflix were also interested in NASA's latest revelations and news surrounding PewDiePie, talked about their hair a lot, and loved music.
Got questions about the data? Drop us an email at react@brandwatch.com
---
Brandwatch Analytics
Understand your audience. Build better campaigns. Measure what matters.
Find out more