It's never been easier for marketers to learn about the people they're interested in.
Brandwatch Audiences offers the ability to break down an audience into really niche segments that you're interested in. Seriously, you can go niche.
However, the Brandwatch React team was keen to look at a wider audience. We can easily study a smaller audience – the ten most influential CEOs, for example – but why not take a look at something bigger? How about the whole of the tweeting USA?
What do they look like? What are they interested in? How do they behave? We delved into the demographic data on all active Twitter users based in the United States (people setting US as their location in their bio or who have geo-tagged tweets turned on and are in the US, who have tweeted in the last two years).
Want to know how it works? Check out Brandwatch Audiences here.
Boys vs. girls
Audiences categorizes male and female tweeters by consulting a vast database of names and determining the most likely gender of each account. If the system is unsure, it does not assign a gender.
Within our search we found 6,657,424 female and 7,440,572 male categorized tweeters.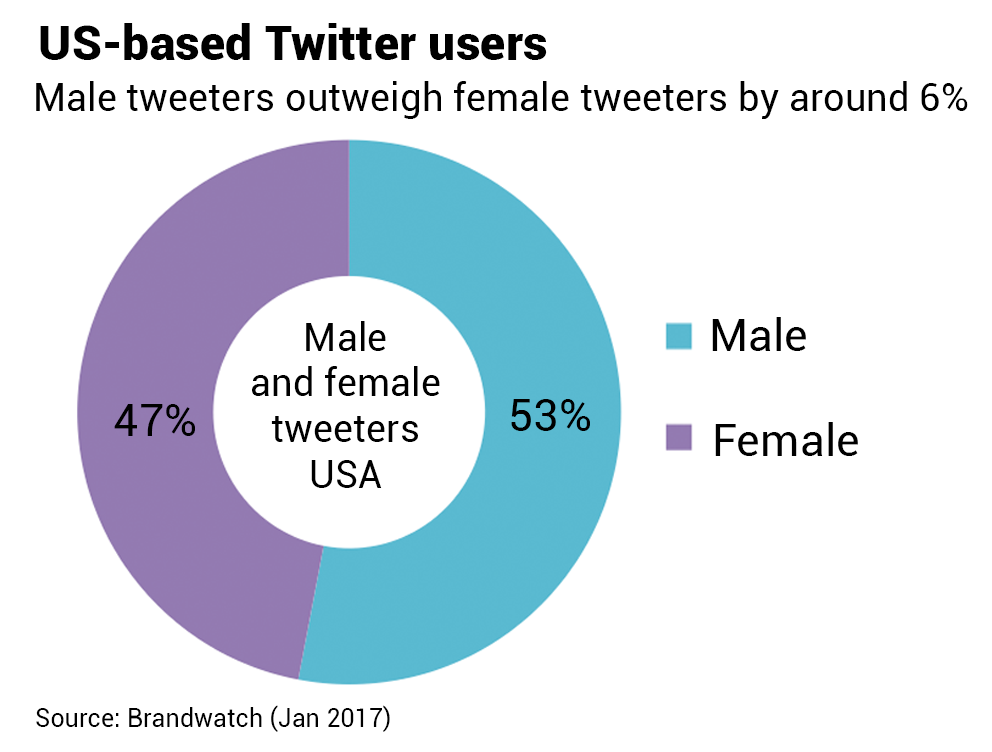 The reason for this male:female ratio is up for grabs. According to this data, women outnumber men in the United States overall and in all but ten states. Perhaps female users are a little less inclined to use Twitter because of ongoing trolling issues (though the social network has recently made efforts to address this) or favor other platforms for different reasons (this data suggests women prefer Facebook).
During the US Elections we found more male tweeters talking about the candidates overall but that women out-tweeted men when it came to televised debates. There certainly appear to be differences in the way men and women use Twitter that could warrant some closer investigation.
What are they interested in?
By analyzing users bios we are able to infer the interests that US tweeters hold close to their own identities.
Sports and family are the most common interests we found, with music, business and books coming in their hundreds of thousands afterward.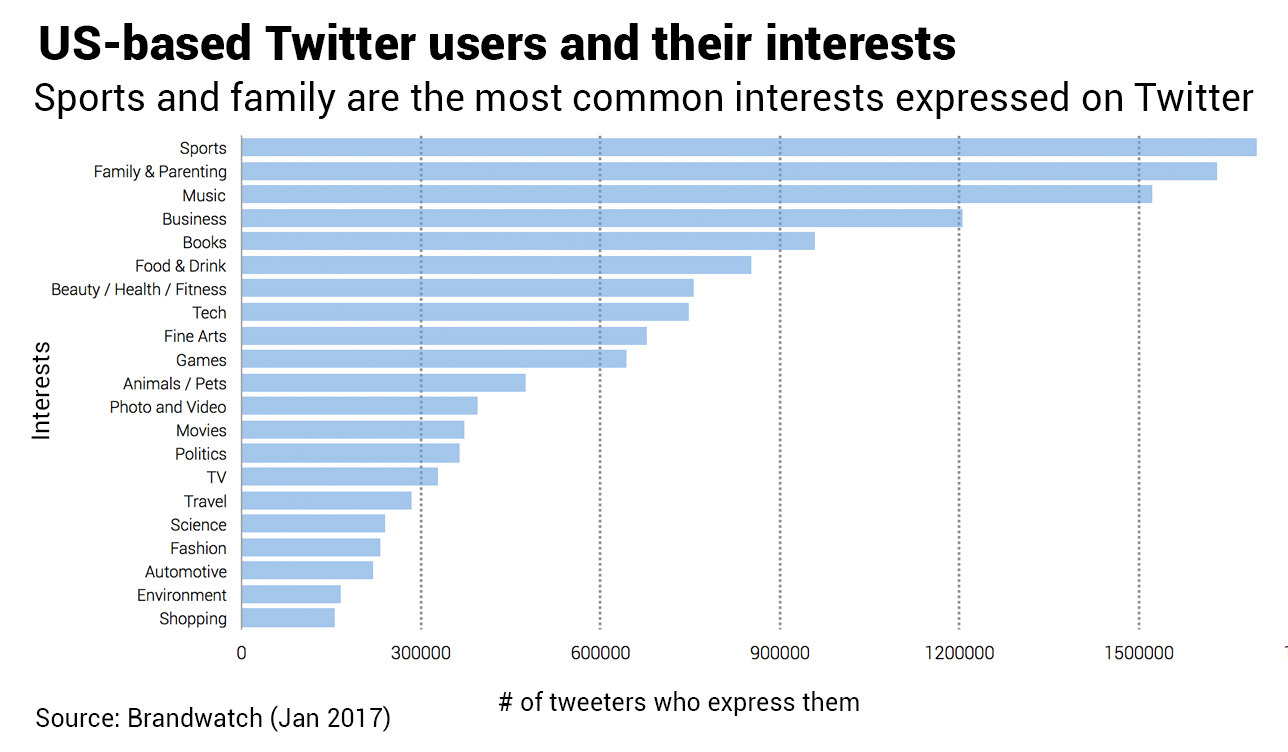 It should be noted that we also included organizational accounts in this data set, meaning that there are both individual tweeters who are people and accounts run by companies or groups. So, for example, the most influential tweeter interested in shopping was @Amazon and the most influential tweeter interested in sport was @WWE. That said, organizational accounts are in the vast minority in the USA – the most influential accounts with family and parenting as an interest were @AliciaKeys and @HillaryClinton.
The prevalence of sports is particularly interesting given Twitter's ongoing enthusiasm for streaming live sports. Perhaps more live music could be on the cards soon, too.
How many accounts are they following?
We were a little surprised with the low numbers of accounts people follow on Twitter, with the most common "following group" between 0 and 100.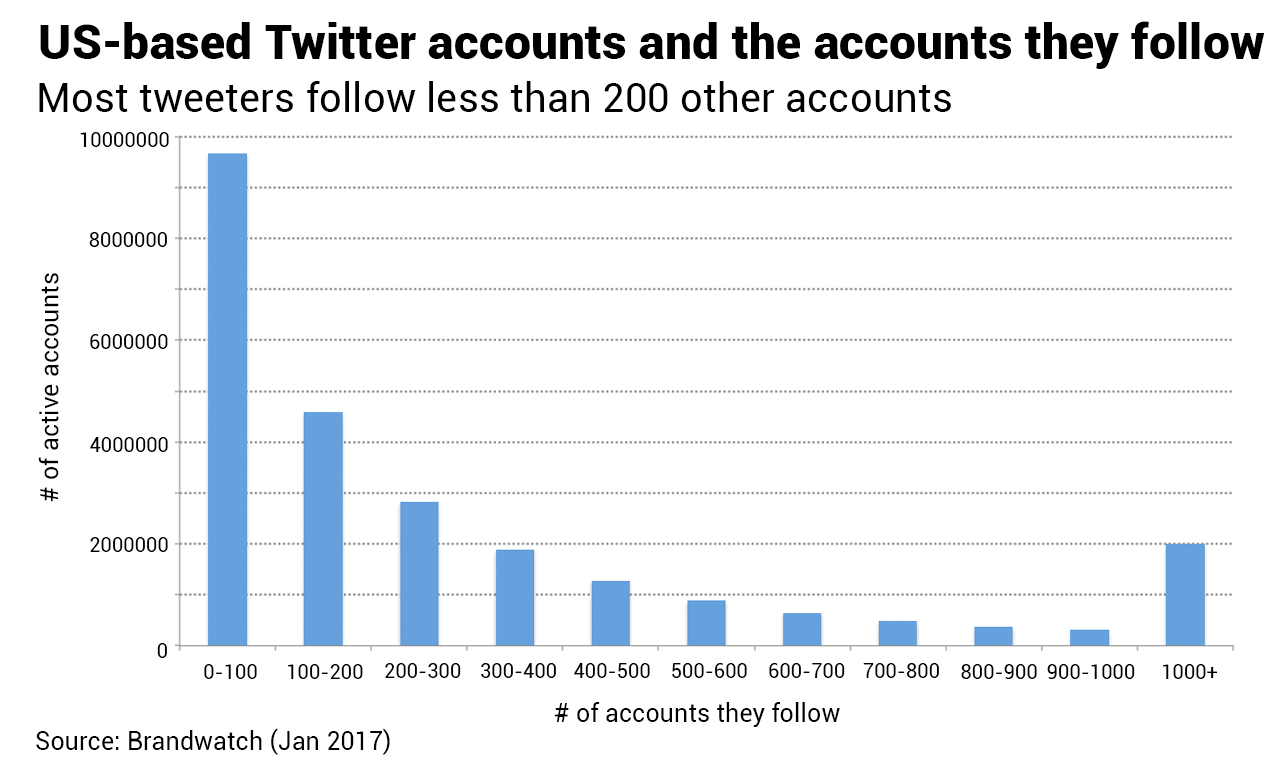 There's a lot to be said for following a smaller group of other tweeters – it can de-clutter your timeline and, perhaps, make it a little more predictable than following thousands of others. It could also be argued that following a small selection of other accounts can narrow your exposure to different viewpoints and sources. Perhaps a little further investigation into the kinds of accounts this selection of tweeters follows could provide some interesting data around "echo chambers", particularly after an election clouded by fake news.
We found one tweeter following 3,116,600 other accounts. We won't name them but would encourage them to find a new hobby.
How many followers do they have?
An enormous chunk of US-based tweeters are followed by less than 100 other accounts and, generally, as the follower count goes up the number of accounts achieving those hefty following numbers goes down.
In fact, if you have more than 500 followers and you're based in the US you're in the top 15% most followed tweeters.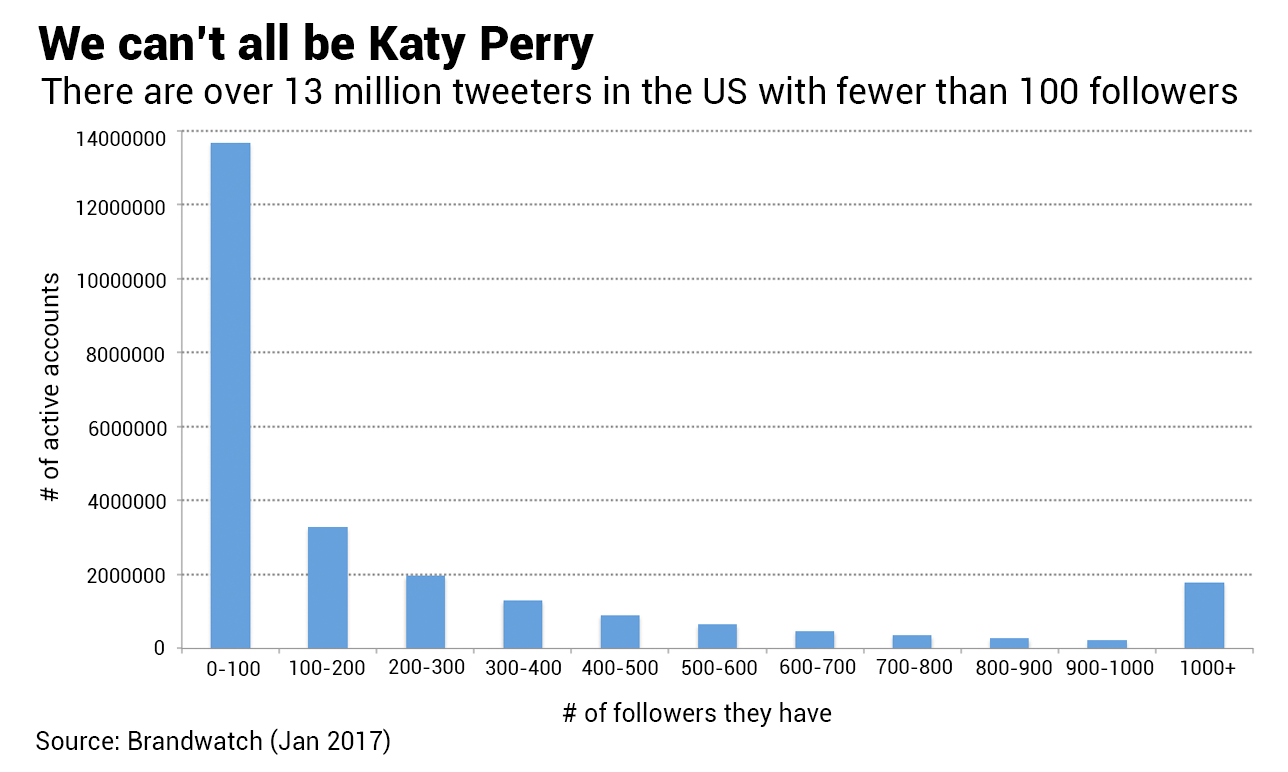 Does it mean that the majority of tweeters are just shouting into the abyss? Well, not really. A big following doesn't necessarily make you influential in your own circles, and many of these accounts could be "lurkers" – people who have an account and keep an eye on others but don't tweet very often or make much of an effort to grow their following.
Tweeters in the USA
What can be learned from all this? Across the whole of Twitter it seems that sports fans and men are some of the biggest segments, which makes it a prime platform to exploit if those are groups you're looking to target. Meanwhile, with many Americans choosing to follow only a comparative handful of accounts, it's important to provide value to and create genuine relationships with the followers you do have and the people you want to attract – growing your following on Twitter is no easy feat (unless you want to pay for some…) but with the right social strategy it's entirely possible to grow your Twitter fan base and turn them into valued customers.
Is this data useful? Perhaps, if you're a sports brand or someone looking to target every single person in the USA. Audiences may be great for providing country-wide data but, depending on your use case, it can provide a lot more value when you break your audiences down into more niche groups of interest. From there you can discover what they're talking about when they're not interacting with your brand to find potential co-marketing partnerships, as well as influencers and fan bases in particular fields, what their demographic make-up is, deeper insights into the content they're likely to share and when is best to engage with them.
Here's what Audiences looks like:

Are you a journalist looking to cover our data? We have plenty more. Email us react@brandwatch.com for more information