React: Twitter's Going Crazy for 2016's Biggest Superhero Movies Entertainment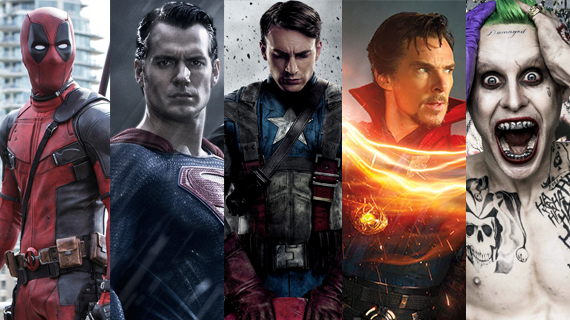 There's no shortage of people freaking out over the superhero movies coming out in 2016.
It's going to be an exciting year – from Deadpool in February to Doctor Strange in November, there's something for everyone and plenty of hype around.
We took a look at social data surrounding the six most hotly anticipated superhero movies to be released this year to see what Twitter was getting most excited about.
---
Big movies, big mentions
With over 500,000 mentions between them so far on Twitter this month (excluding retweets), the upcoming superhero movies we researched are generating a serious amount of hype.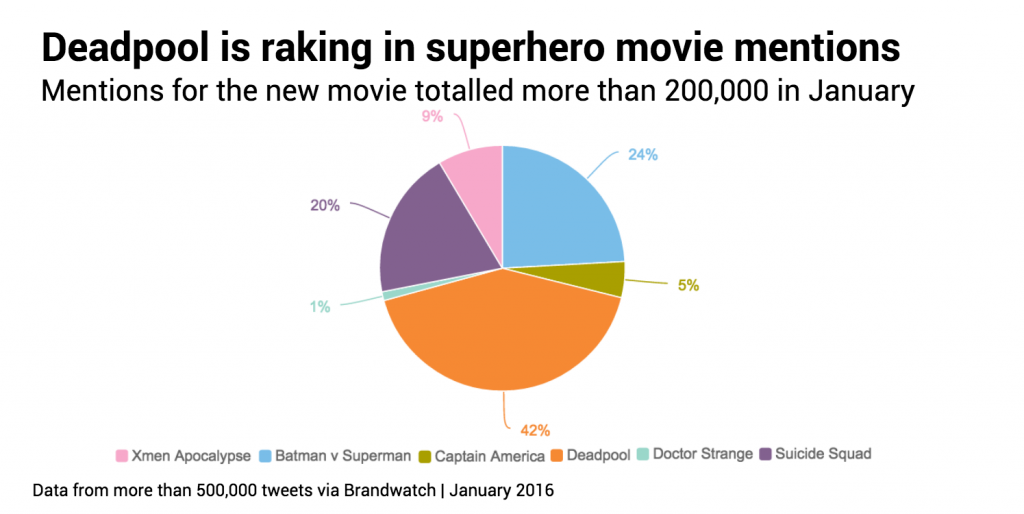 In terms of the overall share of voice for January, Deadpool is the undeniable winner.
Since it's coming out in February (sooner than the others) and has taken a pretty unconventional (but equally hilarious) approach to movie posters, it's little surprise that it's getting the most attention right now.
This Valentine's Day, fall in love with #Deadpool. pic.twitter.com/ScQWrpXXmx

— Deadpool Movie (@deadpoolmovie) January 11, 2016
The hashtag #Deadpool was the biggest superhero related hashtag of the month, garnering an incredible 575 million impressions.
Mentions for Deadpool and Batman v Superman were fairly consistent throughout the month and between them they claimed 66% of the share of voice in January for all six movies.
Suicide Squad scooped the largest peak by far with over 28k mentions on Twitter on the 20th of January when the latest trailer was released.
However, the movie failed to keep mentions coming in consistently throughout the month, earning it 3rd place in January's share of voice data with just 20% of overall mentions.
---
Batman has limits
While everyone's clearly freaking out about Deadpool, mention limit isn't always an indicator of success. Lots of people like talking about their job or Kanye West or their weird uncle – it doesn't mean they like them.
In fact, the leader of the pack in terms of social sentiment is actually one of the least talked about movies at the moment.
It may only take up 1% of the share of voice but the November release of Doctor Strange is stealing the show in terms of positive social sentiment.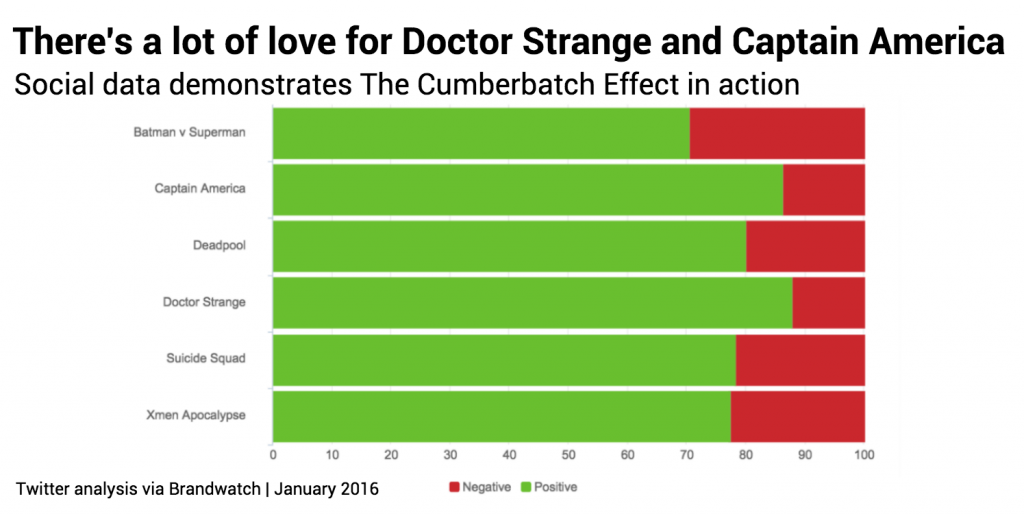 Meanwhile, Batman v Superman is trailing behind the others with just 70% of the positive categorized mentions.
That's not exactly bad – 10,000 tweets singing your praises shouldn't be dismissed – but many have criticised the movie's allegedly spoiler-filled trailer and claim to be more excited about Suicide Squad.
Audiences also seemed shocked after it was suggested Batman may be a murderer in the upcoming movie.
Batman is going to be a killer in Batman v Superman. I am so pissed right now.

— Becky Pontiff (@becky_pontiff) January 28, 2016
---
We're bad guys, it's what we do
Guys are definitely out-tweeting girls on every front when we look at the gender breakdown.
Captain America is the biggest hit with the ladies, while Batman v Superman has the most guys tweeting about it percentage-wise.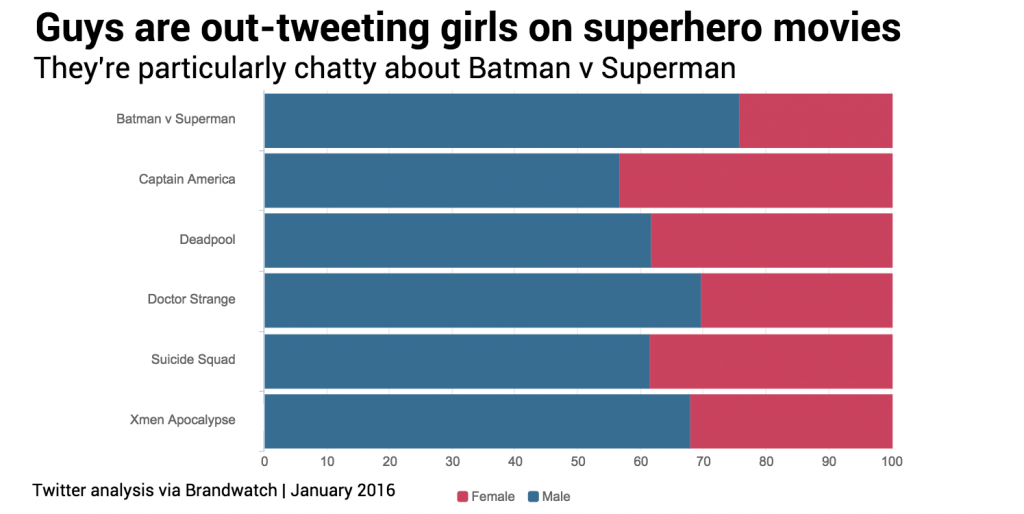 It's not that ladies aren't tweeting about their favorite superhero movies – there were just under 100,000 female authors counted – it's just that we found 177,000 male authors getting involved in the conversation overall, and they dominate discussion on every film.
---
A big year ahead for superhero fandoms
With so many huge movies coming out this year, superhero fans have a lot to be excited about.
Anticipation is growing as release dates edge nearer, and the conversation is global.
Which superhero movie are you looking forward to most this year?
---
---
Follow @bw_react for more hot data stories.
---
---
Brandwatch Analytics
Understand your audiences with Brandwatch Analytics
Find out more