React: Twitter's Incredible Reaction to House of Cards Season Four Entertainment

House of Cards is a Netflix Original success story like no other.
Time and time again it has proven itself to be the granddaddy of bingeable, tweetstorm stirring TV wonders.
Not only has it outshone it's Netflix Original brothers and sisters on social, the official Twitter account, @HouseofCards, has triple the number of followers John Kasich has – a guy who is actually running for President.
We put together some (spoiler free) social data charts to measure just how big social's reaction to the latest season has been.
---
Democracy is so overrated
First of all, let's talk about the reaction to House of Cards season four, released last Friday.
We monitored mentions of the show and found a whopping 150k mentions in a single day.
As if people weren't excited enough, @HouseofCards got involved with the conversation and generated over 420 million impressions in the days surrounding the release.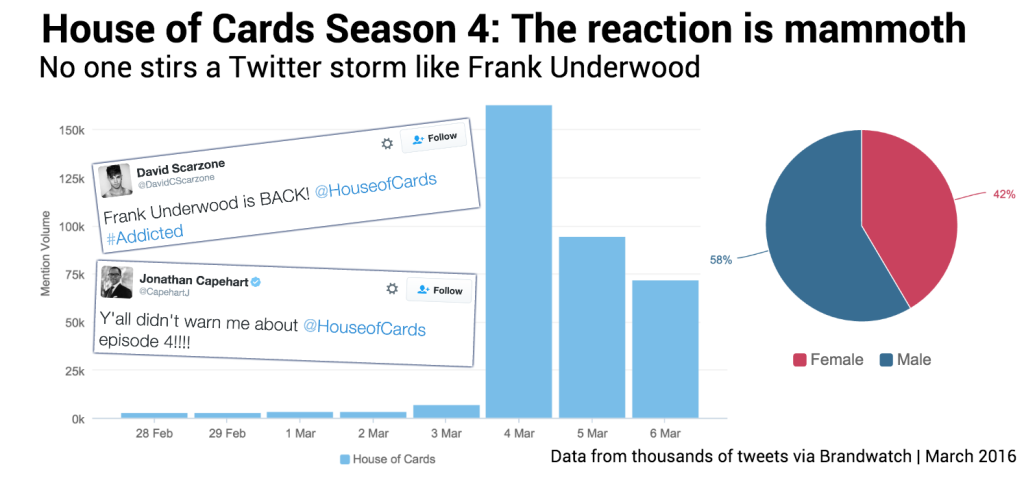 It's fair to say that the "opening weekend" has been successful.
---
You might like
React: How Netflix Originals Dominate Twitter
---
The court of public opinion
Without giving anything away plot-wise, Claire's gaining more and more attention from the tweeting public.
As the season was released on Netflix, mentions of Claire Underwood sat at around 19%, but since more and more people have watched she's gained 4 percentage points in share of voice between herself and her husband.
The couple are also sharing a fairly positive sentiment rating with Frank just 1% ahead of the fictional first lady. Will this change as more people get through the episodes? (We couldn't say because we're only on episode 4).
---
The big episodes
While we're remaining spoiler free, we were interested to know which episodes were getting people talking.
We searched for the episode numbers only (ep1/episode1/episode one etc.) to get an idea of which episodes we should save the popcorn for.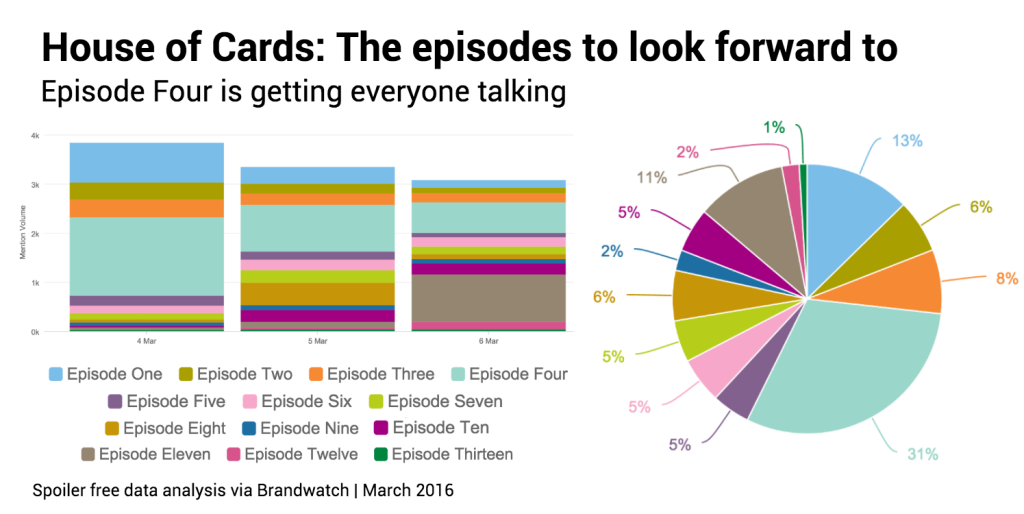 It looks like episode four has been the biggest hit so far and those who've made it to episode eleven are obviously giving us slow-watchers an indication that something big is coming.
Looking at percentages of people talking about tweets we're beginning to see the tweets on specific episodes fluctuate. Now the weekend binge is over, latecomers are beginning to tweet about episodes five and six while episode eleven continued to hold its own on Monday.
It was also on Monday that episode 13 started to emerge and we expect that to grow as more House of Cards fans reach the end of the season.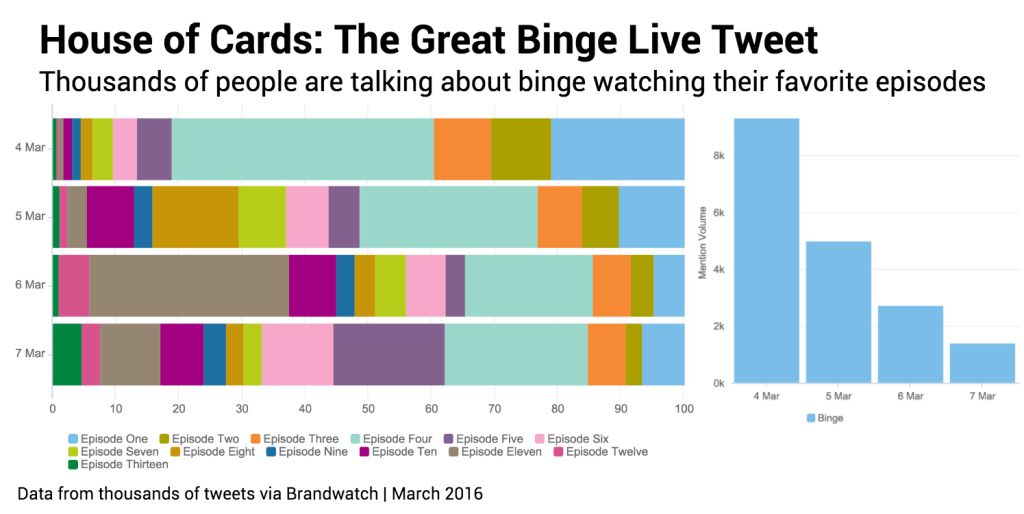 We'll keep an eye on how Twitter is reacting to each episode as the week goes on.
Enjoy House of Cards Season Four and remember to binge responsibly.
---
Follow @BW_React for more juicy data.
---
---