I Spent a Week With a Brandwatch Vizia Screen on My Desk. Here's My Review Opinion

Last week I spent four solid days face-to-face with a Brandwatch Vizia screen displaying all my key numbers, breaking news and more. It was a big change from the usual way I work and, as far as I'm aware, it hasn't been done before.
Your own personal command centre isn't generally how we pitch Vizia, (think C-Suite and global insight distribution), but I thought it would be interesting to give it a go.
My role as a social data journalist at Brandwatch React can be split out into two slightly more recognizable job titles – community manager (I look after the @BW_React Twitter account) and content marketing (I spend most of my time writing stories about, and visualizing, Brandwatch data). I knew that I could plug my own data into Vizia and display it on one of the screens on my desk so I decided to see how having that data in front of me would affect the way I do my job.
My week with Vizia was a really interesting experience and one that I enjoyed sharing by live tweeting my results. In this blog I'll give a fuller explanation of the experiment, how it affected my work and what I plan to do next.
Setting up
When I started setting up for my experiment I had a lot of ideas about what I wanted to display, but I also had very little experience in using the platform. I foresaw hours of complex set up and permission asking ahead but I was pleasantly surprised by how simple it was, especially with integrations. Plugging in Google Sheets and Google Slides was easy and while I needed a little help from the website team to get the right Google Analytics view for my particular needs (tracking solely Brandwatch React blog content as opposed to all of the blog content) it was a speedy process.
Getting social data in was also incredibly simple, and the visualizations were easy to move about. Once you've got your head around what a slide and a component is (much like with Google Slides and the objects that fill them up) the process of adding new slides and charts and visualizations becomes natural.
I started out looking at, among other things:
A network visualization of @BW_React and React link mentions
A line graph of React @ and link mentions, as well as a "top authors" visualization
A line graph showing unique page views on React content, day-by-day
A look at the topics surrounding React each day
Trending news and tech news from the Trending Now component, powered by BuzzSumo.
I added and played with the set up throughout the week, experimenting with adding different data sources (I'll get to that later).
Working with a Vizia screen by your face
So, with my initial set up, off I went into my week of intensive Vizia watching. I wanted to see how having numbers relating to my performance, as well as news and content inspiration, would affect my work. And it certainly did.
In the beginning
Day one was honestly a bit weird. It was strange working with another screen on my desk, but it became more natural as the day went on.
The novelty of this additional screen aside, I immediately saw things pop up that I hadn't noticed before.
For example, I hadn't yet clocked that @sarvikas, chief product officer at HMD Global had shared our MWC data with his network, making him a notable figure in my network visualization.
Here's some of my early set up (I'll be updating and adding as the week goes on depending on what's helpful). First up, the Networks component tracking mentions of @BW_React and shares of our content links. @sarvikas appears as he shared our #MWC18 analysis with his audience. pic.twitter.com/3incSGJLVS

— Gemma Joyce (@GLJoyce) March 9, 2018
In fact, our MWC data (which named Nokia as the brand that got the most buzz) had been shared by a lot of Nokia fans, and it was making up an enormous chunk of React-related conversation.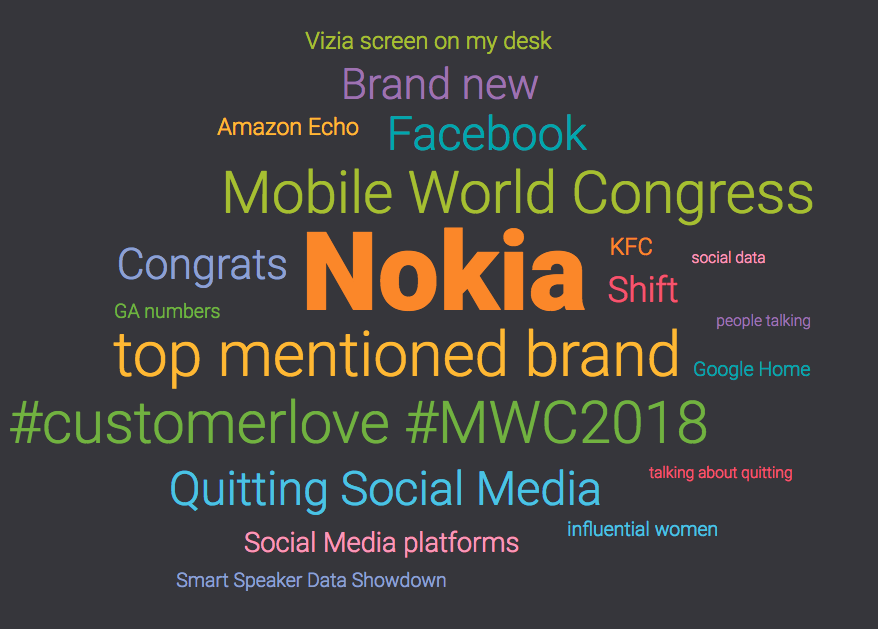 I also tried to look at my Vizia screen each morning before I did anything else to see what actions it could prompt me to take during the day. For example, on the Monday I had noticed an unusual spike in traffic to Brandwatch React content over the weekend. Upon closer investigation I realized there had been an uptick in interest for an older story of ours around a conspiracy theory about Avril Lavigne. I took the opportunity to re-share it on social to try to get more out of that interest.
Of course it wasn't all fine and dandy from the get-go. I realized that some of the news stories coming through my Trending Now component weren't all that relevant. I had set up a custom feed with social media and tech stories but it needed more refining. Once I'd got it right, it was hugely helpful.
Where will I get inspiration for social content? By looking at the "Trending Now" component, powered by @BuzzSumo. Here I've set up a custom feed of social media and tech stories. pic.twitter.com/xoE3Hf4WGX

— Gemma Joyce (@GLJoyce) March 9, 2018
Becoming at peace with my Vizia screen
After a couple of days my extra screen felt a lot more natural and I glanced at it regularly as I went about my work. I really enjoyed getting the latest news (seeing the trending news that Rex Tillerson had been fired fill up my screen definitely meant I was keeping up with current affairs!) and watching mentions come in live was really cool – I was more responsive than usual, since I'm not continuously aware of new mentions unless I'm alerted to them by Brandwatch as important.
The only time I had to really keep my mind off it was when I needed to do some intense writing. But I let Vizia become a major influence in the inspiration for what I wrote. For example, one morning I noticed a tech story about smart speakers was trending. One of the cool things about Brandwatch React is our ability to jump on these kinds of opportunities where we can add to trending conversations, so I quickly gathered data on the three biggest smart speakers and compared them across a range of metrics.
Bish bash bosh, content on a trending news story: https://t.co/q8nBWddgTl pic.twitter.com/ns8NGdTZpd

— Gemma Joyce (@GLJoyce) March 13, 2018
I often have difficulty deciding on what I might write about on a given day when there's so much going on, so in this instance being alerted to a story with shelf life but that was also currently trending was really helpful. My smart speaker post turned out to be the most popular React blog (in terms of unique page views) in the week since it was published.
The feedback
Part of the way I recorded progress throughout the trial was by noting down little frustrations that I could feed back to the team.
For example, I noted early on that the heatmap component was great for seeing when my audience were engaging with me over the last week, but I'd prefer to see more long term data here, which isn't currently available.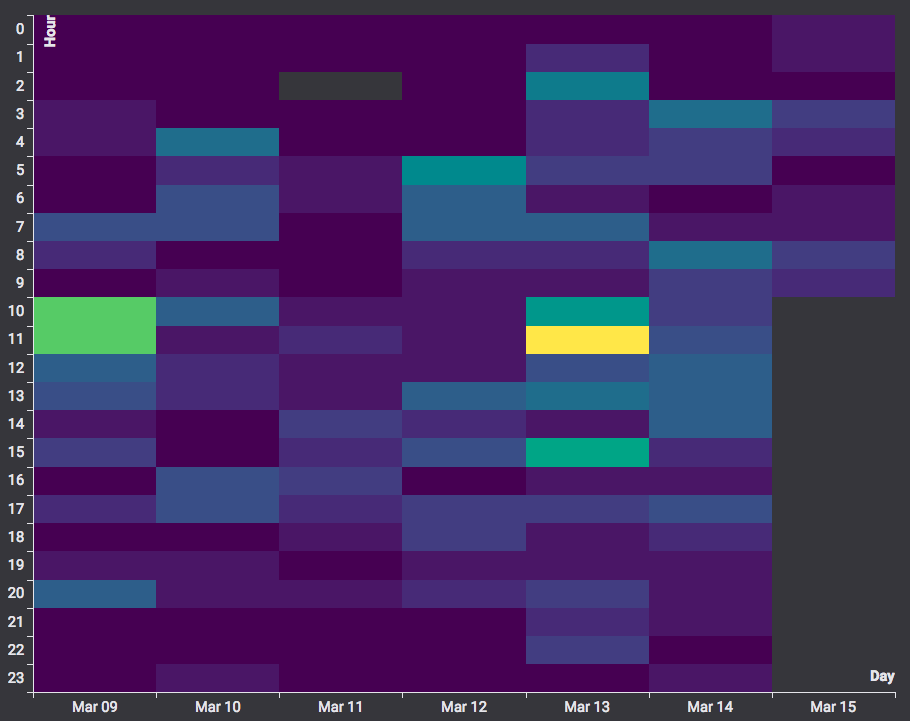 I also noted that the Trending Now component tended to dwell too long on the pictures without telling me the stories quick enough, meaning I'd be watching for a while waiting to see the story but often only got to glimpse them for a few seconds.
The best parts
My favorite thing about having my own personal command centre was having highly relevant data in front of me. I could constantly track the numbers that are important to me – the ones that help me contribute to wider team targets which are displayed up on the Vizia screen next to our desks for everyone to see.
Of course, all this data is available to me through other means. I can watch mentions come in on Twitter or Tweedeck, I can use BuzzSumo separately to see what's trending, I can see what my audience are saying about me in Brandwatch Analytics and I can track everything I need to in a Google Sheet. But having it all there, scrolling, gently reminding me of important things throughout the day instead of me having to click around constantly to see what's happening and what action I should take. This was so much better than my usual click-heavy, eye hogging processes. The insights from my Vizia screen were instant and useful because it allowed me to set it up exactly how I wanted it.
And finally, another of my favorite parts of the experience was playing with new types of data and visualizations. Towards the end of my week with Vizia I was plugging in Google Sheets data that tracked how much water I was drinking each day (I stayed so hydrated last week!) and I had my own to-do list with the week's priorities and reminders. I also had local news and weather so I knew what was going on in the city without having a guilty Twitter scroll.
Google Slides can also be displayed on Vizia, so I've been keeping a week-long to-do list under my water display as well as local news + weather in what I've called my "Gemma stuff" slide. You can pretty much track anything – loving how niche you can get pic.twitter.com/sbxF2cEV48

— Gemma Joyce (@GLJoyce) March 14, 2018
Again, it's super-relevant data that other people in my team wouldn't necessarily give a hoot about but assisted me with my work and wellbeing.
Will I continue using Vizia as my own personal command centre?
100% yes.
---