React: Will Twitter ever be Free of Misogynistic Abuse? Trending
A national campaign has been launched in the UK, bringing together multiple parties, to combat online misogyny.
People who weren't aware of it's existence (rock people) may have been shocked by today's revelations surrounding the widespread nature of misogynistic abuse online, with research pointing at high volumes of offensive tweets.
While anyone who frequents the internet regularly will probably be aware of the scale of the problem, the research appears to have become a call to action for many looking to stamp it out.
In light of these revelations, and the sudden interest in the subject, we decided to conduct our own Twitter analysis.
Omitting the phrases "shaming" and "shame" (to remove tweets like "slut shaming is wrong") we focussed our analysis on the words "slut" and "whore" used on Twitter for the month of May so far.
Aside from a predictable abundance of NSFW images, there are a whole lot of nasty tweets directed at people.
---
100k mentions in a month
Our analysis confirmed a huge mention volume, with over 100k mentions of the words registering in the month so far. We found more than 3k "slut" or "whore" tweets per day.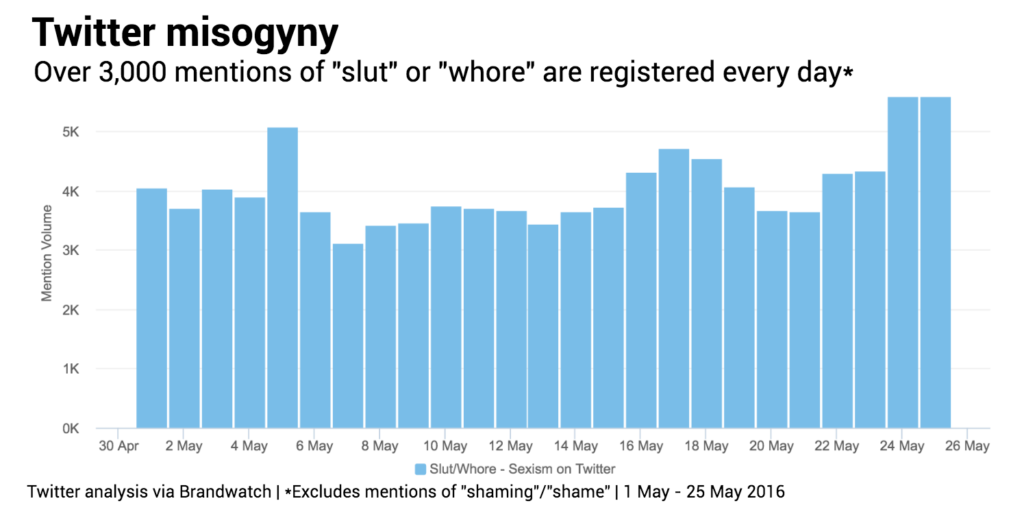 Breaking that down, in case you're interested, that's 62,968 mentions of "slut" and 39,168 mentions of "whore".
---
Mean Girls
We took a look at the gender break down of people mentioning "slut" and "whore". Perhaps surprisingly, women are tweeting them more than men at almost double the rate.
Gender is calculated by matching the first name in someone's Twitter info to a large database of names, which are then used to assign a gender. If an author has an ambiguous name (i.e. could be male or female) or one that does not match, we will not assign a gender. This dataset includes all gender-categorized mentions without any filters on authors, meaning there is inclusion of authors who regularly post NSFW content and mentions from spam accounts that may not have a real person behind the specific tweets.
The volumes here are lower than the overall month volume because we are only looking at gender-categorized authors.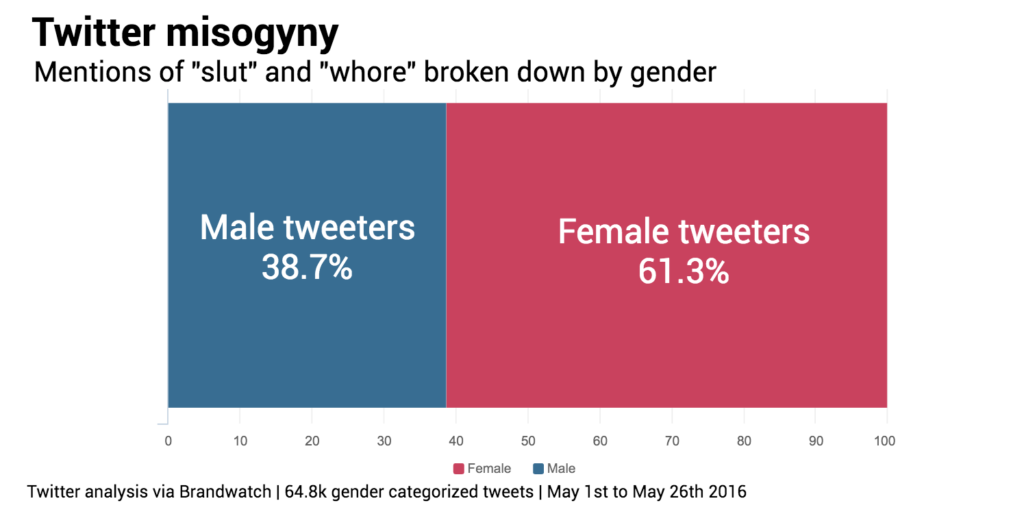 Twitter is basically the cafeteria in Mean Girls.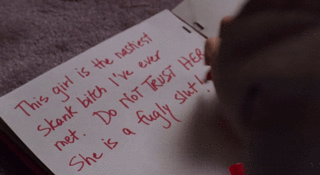 ---
Tackling the problem
An attempt to tackle online misogyny will be welcomed by some but treated with suspicion by others who dislike the idea of filtering some posts out if they contain unpleasant material. Whether this new campaign will stamp it out effectively remains to be seen.
Misogyny is the word of the day and certainly needs addressing. Abusive behavior online comes in many forms, and is something we will be looking at closely in the coming weeks.
Abusive behavior is something that has plagued Twitter for a long time. Last year then Twitter CEO Dick Costolo even claimed "We suck at dealing with abuse".
Apart from celebrities' anger at the unpleasant messages they receive, causing them to leave or take a break from the social network, nasty messages are directed at "normal" people every day, from young teenagers to teachers.
Some have said that if Twitter doesn't come up with some way of controlling the sheer amount of abuse it could be a serious problem for the platform. Joining this campaign, as well as other steps, it certainly looks like a problem they're keen to address.
---
Are you a journalist looking to cover our data? Email us react@brandwatch.com
---
---