Research: Analyzing the Twitter Buzz of TV Shows on Gambling Research
Having been in the iGaming and bookmaking industry myself for over ten years, I couldn't help myself in doing some research into the Twitter buzz surrounding the series 'Britain at the Bookies' that recently aired on UK television network the BBC.
The TV show followed sportsbook workers and head office employees tasked with turning around the fortunes of their branches.
Gambling is obviously a contentious subject – so how did it land with TV audiences on social?
---
Analyzing the Twitter buzz
From anger at the prevalence of betting shop roulette machines – Fixed Odds Betting Terminals (FOBTs) – to the issues the audience had with the exposure a gambling company was getting on free-to-air TV, here is the breakdown of how the viewership reacted.
What could TV networks learn about how their content is being perceived from social media? Quite a lot.
The final episode of the series provoked many reactions, much criticism and some praise from those watching along at home.
Many of you will know that the bulk of the reactions were negative towards the bookmaker featured, Coral, and the industry, but the breakdown of the data revealed some other interesting insights.
For example, journalists were the most represented profession among those tweeting about the show.
Key figures:
Data range analyzed: 19 July – 4 August 2015
Total number of tweets mentioning "Britain at the Bookies" or hashtagged #britainatthebookies: 8,200 (after having filtered out hashtag spam from x-rated accounts and other opportunistic black hat tweeters)
700 tweets identified as having a negative sentiment
5% of the tweets contained location data
86% of tweets came from a male audience
Largest represented profession amongst tweeters were journalists, artists and executives; followed by students and people involved in sports
The biggest interests amongst tweeters according to their Twitter biography were sports, cars and family, closely followed by pets, music and drinking.
The first episode aired on 20th July and saw just over 1,100 tweets attributed to it, while the second and third episodes got 2,700 and 2,400 tweets respectively.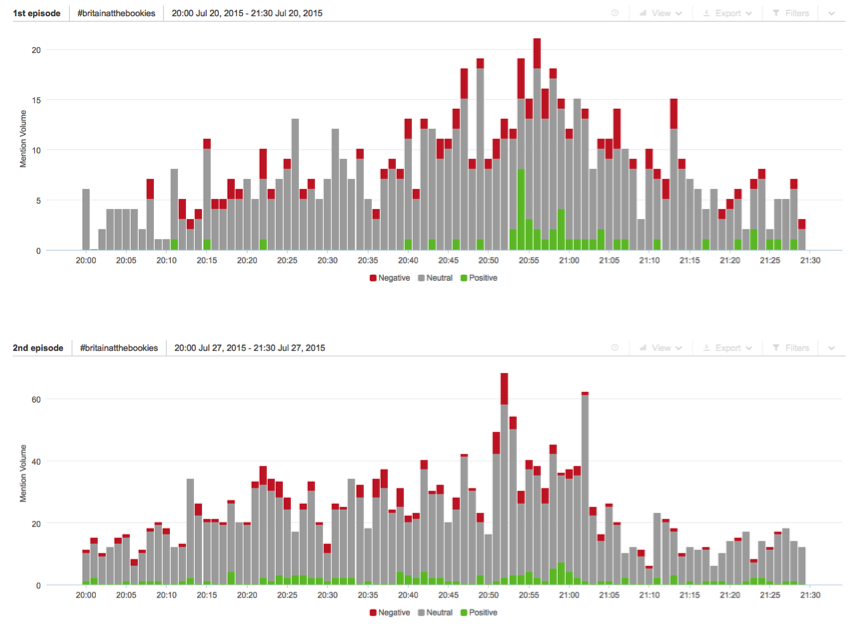 Tweets in-between broadcasts were a mix of people watching the replay, and tweets from charities raising awareness of problem gambling.
"Please gamble responsibly" = vulnerable young man loses everything #gambling on #FOBTs roulette #BritainAtTheBookies pic.twitter.com/lJ3SfXubQp

— reth!nk gambling (@rethinkgambling) July 23, 2015
Over the 17 days that we gathered Twitter data, 87% of the tweets were neutral, but 8% of them were negative (against 5% positive) and contained emotionally charged language, reflecting viewers' immediate responses to what they were watching.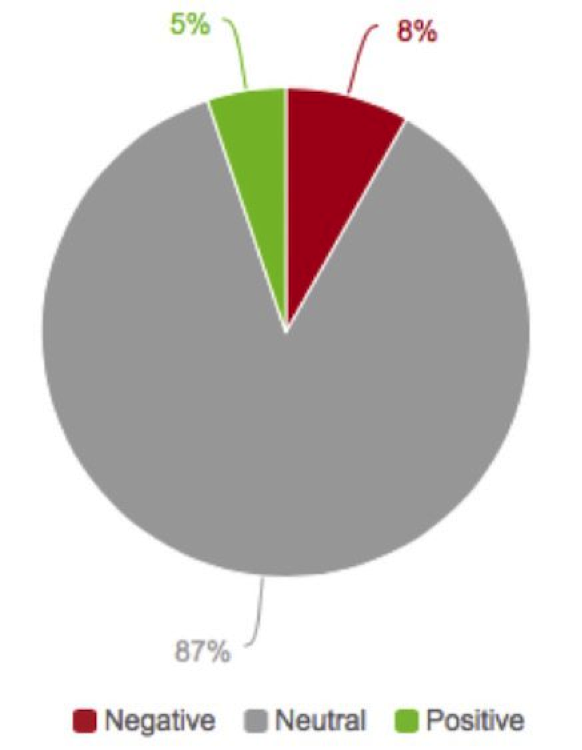 The 8% represents almost 700 tweets, most of them referred to problem gambling:
Sadly there will be 20000 people today who will lose their money like on #britainatthebookies #fobt

— Fobtfixer (@fobtfixer) August 4, 2015
Many similar tweets were posted from bodies like @TheGraspGroup, a charity set up to raise awareness of problem gambling.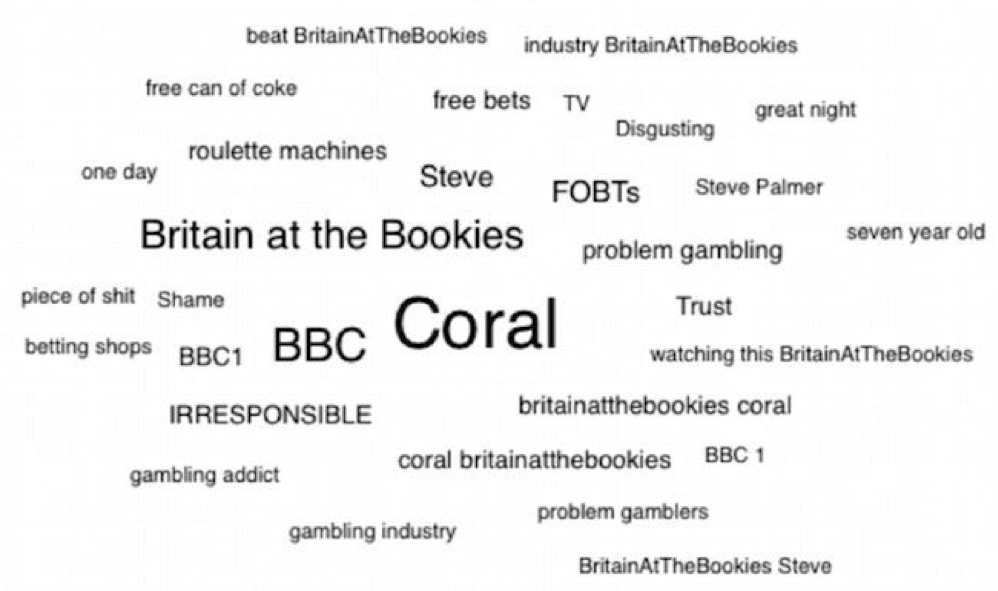 A topic cloud summing up these 700 negative tweets clearly shows problem gambling, FOBTs and gambling addiction as key topics.
As expected, Coral took some heavy criticism from viewers.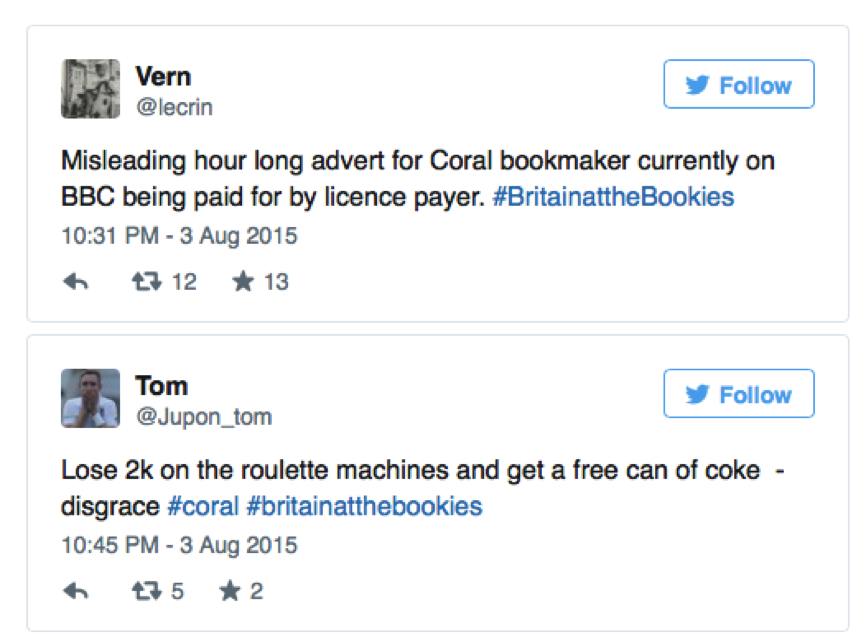 Since the show featured Coral it was no surprise that tweets including mentions of specific bookmakers saw Coral dominate the share-of-voice compared to its main competitors Betfair, Betfred, Ladbrokes, Paddy Power and William Hill.
Where demographic Twitter data was available we managed to identify sports, cars and family as the top interests by the people tweeting about the show.
Looking at their Twitter biographies, we can see that journalists, artists and company executives were over-represented, closely followed by people involved in sports, sales, marketing and public relations.
---
Clearly, networks face an imperative to identify, analyze and understand the social dialogue shaping the way their businesses and content are perceived.
Download the free Brandwatch Social Insights on the Television Network Industry report to find out:
Where discussions are taking place online
When brands and audiences communicate with each other
What format of content is most effective
The demographic composition of those who engage with networks as well as several specific TV shows.
---
---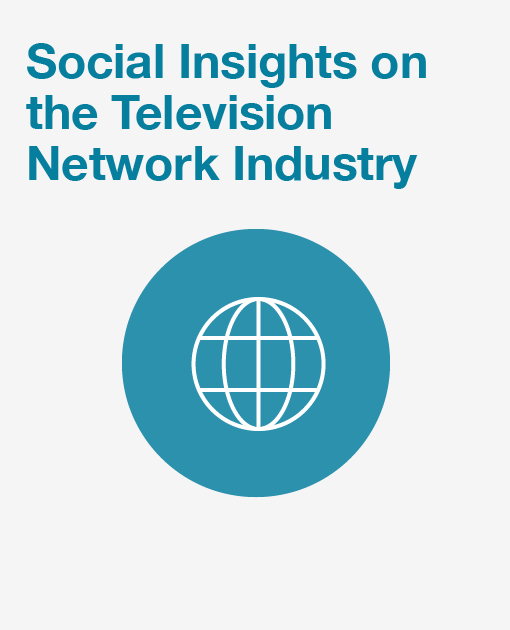 Understand the sector
Download the report and learn more.
GET THE REPORT