Uncovering the Most #Selfied Fast Food Chains in the USA Research
I think it's safe to say that year 2014 is going down in history as the year of the selfie. Ellen's (@TheEllenShow) Oscar selfie crashed Twitter earlier in April this year and introduced the whole world to the selfie-word.

Ellen's Oscar selfie was clearly great in terms of publicity both for the Oscars, her own show and the brand of the smartphone used to take the selfie.
But you and I, we're probably not going to the Oscars anytime soon. We probably still take selfies, but what kind of selfies?
I was so intrigued to learn more that I decided to study the phenomenon.
---
15,000 fast food selfies have been snapped this year alone
It's 1.30pm and you're in town shopping around for a birthday present for your mom. As you're running a tad late you opt for a quick bite at the nearby McDonald's.
Standing in line to order, you pull out your smartphone and fire up Twitter, your fingers start typing "Nuggets or BigMac… can't really decide", you make a funny face, snap a #selfie and attach it to your tweet.
Done. It's your turn to order.
Although that story is somewhat made up, it may not at all be that far from the reality. It all started when I randomly came across this McDonald's selfie in my Twitter-feed shared via shots.com.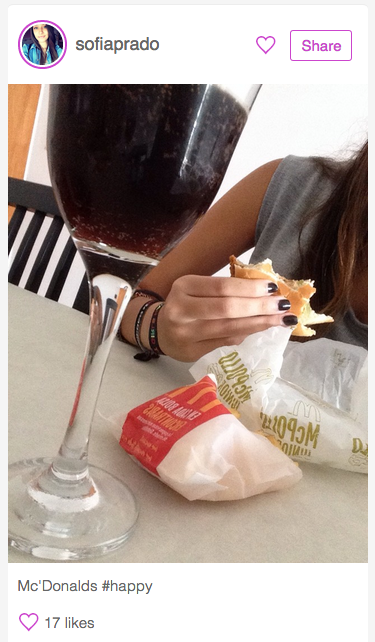 I really got inspired about the whole selfie-world after I'd met up with the leader of the Selfies Research Group on Facebook, Terri Senft.
After a long discussion in Paris, she made me think. In this McDonalds selfie, we're seeing a behavior of taking fast food selfies – not incentivized by the brand, but happening organically.
Following our chat, I decided to collect selfie-data from the some of the biggest American fast food chains such as McDonalds, Burger King and Pizza Hut.
Having collected data from the beginning of the year by looking at online mentions from Twitter, Instagram and Facebook that included any selfie related hashtag such as #selfies, #selfshot, #selfpic, #me etc, written in English language, I collected just over 15,000 mentions.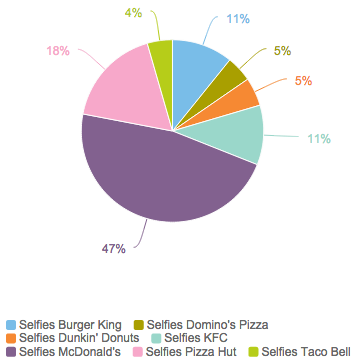 I guess it was not that surprising that the fast food giant McDonald's was the brand with the most selfies – almost 50% of the selfies posted were associated to the fast food giant.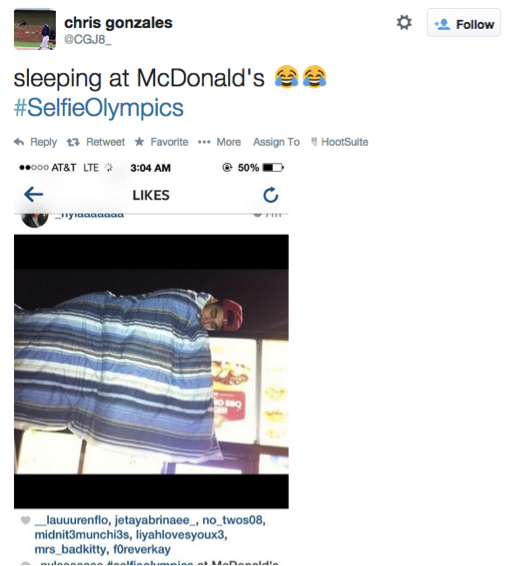 People love taking selfies and for fast food chains like McDonald's it only seems like it's doing wonders for their brand image.
---