New Research: The CPG Companies That are Leading The Pack Research

We use consumer packaged goods every day. CPG companies and products are everywhere, except on social media.
Many CPG companies are still skeptical about the value of social media and sharing intelligent, customer-inspired content online. I mean, who will go to social media and talk about or follow laundry detergent, anyway? Well, we may have answer for that.
As it turns out, there are millions of conversations about CPG product and brands, when companies give them something to talk about.
In the first of our new and exciting Social Snapshot series, we examined nearly 50 of biggest names in CPG brands and analyzed the conversations surrounding them. And we learned a lot.
Which CPG brands are doing the best on social
In our snapshot, we ran several key analyses to benchmark how the industry is approaching social media. We learned which CPG brands are excelling, and why.
Popular faces go places
Can one dad (from Modern Family) make detergent cool? https://t.co/uSw8fUJKI7 pic.twitter.com/c2yWpyulXW

— Mashable (@mashable) June 6, 2016
Spoiler, people do talk about laundry detergent on social media.
In our CPG Social Index for Q3 2016, Gain was our overall winner. This was due in part to their decision to select Ty Burrell as the face of their marketing campaign in both TV commercials and on social media.
Their decision to include the Modern Family actor sky-rocketed all engagement for Gain's posts that included him. From Kyle Richards to Jaime Foxx, celebrities across the gamut were sharing Gain's ads that featured Burrell, expanding the reach of their promotions by millions of followers.
For Kleenex, being highly responsive pays off
When brands effectively respond to their customers on social media, they strengthen their social community and build brand loyalty.
This is true regardless of the industry. However, when we looked at the top CPG brands, being responsive had other positive reverberations on social.
In the six months of social conversations we analyzed, CPG brand Kleenex was the quickest responder on social. You could expect a response to your concern from Kleenex in 2.5 hours on average, quicker than the CPG Industry's average and the average of all other industries.
Coming in #6 overall in our CPG Social Index, Kleenex also ranked #1 in Social Visibility and #6 in Reach Growth compared to the other brands we analyzed.

CPG Social Index, Q3 2016
The relationship between responsiveness and social visibility is understandable. It's expected that being responsive will make a company more visible on social media by increasing its owned-conversation.
Interestingly, however, when CPG brands engage with their customers, the companies actually grow their social community quicker.
Another example, Huggies was the 2nd quickest CPG responder we analyzed, taking just over 3.5 hours on average to respond. In our Social Index, they ranked #3 in Reach Growth.
Customers appreciate the companies that take the time to respond to them on social media.
Dove and Gain are giving the people what they want
In our Social Snapshot, we dug into over 900 Facebook posts coming from the leading CPG brands. Using Brandwatch Analytics, we found that videos perform extremely well with their audiences.
As an industry, CPG companies typically only devote a third of the Facebook real estate to videos, despite videos garnering three times as much engagement as photos do.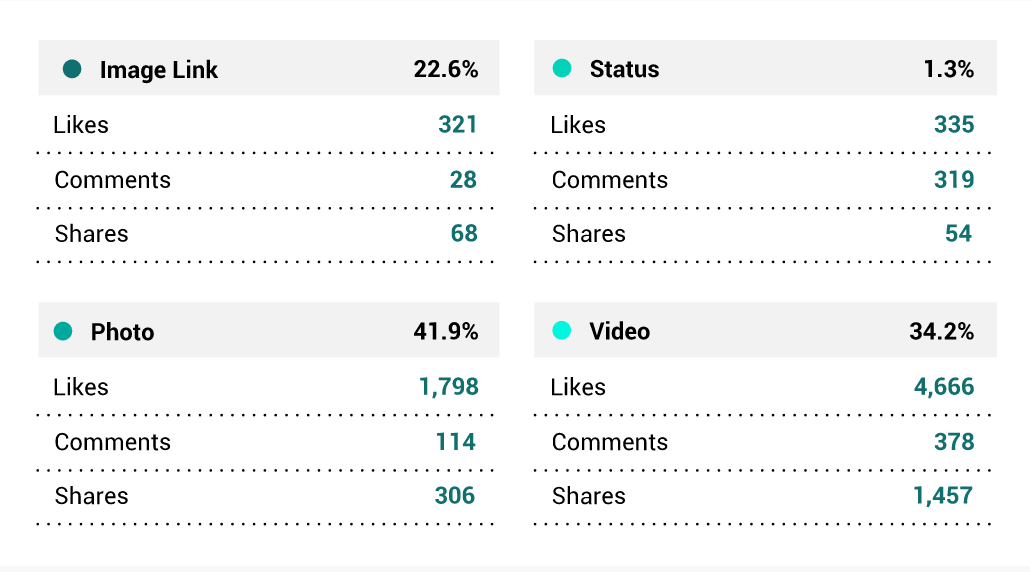 CPG Facebook Engagement by Content
Our Social Index superstar Gain, however, led the industry with 75% of their Facebook posts containing videos.
Dove, another brand high on our Social Index, invested in quality over quantity.
Its strong social mission to use its platform to empower women has proven very successful for social content. Because the brand's social initiative resonates with their audience, they build brand associations that transcend their products and garner more interactions per post than most other CPG companies.
Actress @arielwinter1 stands against cyberbullying.

Empower the girl in your life to #SpeakBeautiful and change the conversation online. pic.twitter.com/iKxK5mR3gp

— Dove (@Dove) November 2, 2016
Additionally, including another actor from Modern Family probably didn't hurt.
What you can do right now to get ahead
When you analyze six months of conversations between thousands of consumers and the biggest brands, you learn quite a bit.
At Brandwatch, we pride ourselves on not just delivering quality data and intuitive, useful platforms. We're solution-providers. What good would a world-leading social listening platform be if you couldn't act on all this information?
Without further ado, here are the top four things from our CPG Snapshot research to take back to your organization today:
Being responsive pays off, seriously! Whether or not your company is invested in social media customer care, the value of quickly and frequently responding to both the good and bad mentions your brand receives can work wonders for your company. Grow and strengthen your customer relationships by engaging with them on social.
CPG customers are always changing, keep track of who they are and what they like. Knowing your customers shouldn't be just a saying your company throws around. Put your money where your mouth is. Your customers will tell you who they are and what they want out of your social content, out of your products, and out of your industry. Listen to them on social, learn from them, and shape your business strategies around them.
Get an actor from Modern Family into your promotions. Jesse Tyler Ferguson, Brandwatch has an offer for you.
But seriously, the more you give, the more you get back. Turns out, many people will talk about your CPG brand or products on social media, but only if you give them something to talk about. Post content that your audience will find interesting. Respond to them. As questions, get involved in the conversations they're having. Once the conversations are happening the insights you can learn from them are so much richer.
Download the full report here.
---
Where now for CPG brands?
Discover how the CPG industry can compete against eroding brand loyalty.
GET THE REPORT