Uber, Amazon and Ken Dolls: Inside Our PR Team's Emails Trending

The rich appear to get richer as Amazon and George Clooney make big business moves in this week's headline roundup. If you didn't have time to read a newspaper, or visit your favorite news site, don't worry – we have you covered with the coverage.
MONDAY
Amazon – Amazon the tech giant/conglomerate decided to purchase Whole Foods at the price of $13.7 billion.
London – A person drove their vehicle into pedestrians near a mosque killing one person and injuring 10 more. This is being treated as a terrorist incident as the person was specifically targeting Muslims.
Bill Cosby – Bill Cosby's sexual assault trial was declared a mistrial as the jury was deadlocked, and couldn't reach a verdict.
Navy – Seven sailors have died after a Navy destroyer was rammed by a, much larger, cargo container ship. An investigation into the collision is underway to uncover more details.
Beyoncé – Beyoncé gave birth to her twins. Knowles father allegedly leaked the gender of the twins: a boy and a girl.
Are the #Beyhive right to be annoyed at @Beyonce's dad for revealing her 👶👶 have been born before she did? https://t.co/d6WF9rYSOk

— Capital (@CapitalOfficial) June 25, 2017
TUESDAY
Virginia – A 17-year-old girl named Nabra Hassanen was beaten to death outside of her mosque on Sunday. Her body was discovered in a nearby pond, and police are not investigating this incident as a hate crime. Instead, police are saying that Hassanen is a victim of road rage, as a group of people she was apart of got into a confrontation with a motorist. That motorist grabbed a bat, and killed Hassanen.
Otto Warmbier – The 22-year-old who was held captive for stealing a propaganda poster in North Korea, and sentenced to 15 years hard labor, has died after being held for 17 months.
Georgia Election – Much like the special elections before it, the Georgia 6th district is holding a special election today to fill the seat of a Trump appointee. This district is historically very Republican, but the Democratic candidate, Jon Ossoff, has a slight lead, and Dems are pointing to this as hopeful repercussions from Trump.
Data Leak – A GOP data firm accidentally leaked the personal information of around 198 million Americans. The information ranges from contact info and dates of birth to voter tendencies and leanings.
WEDNESDAY
Uber – Last night it was announced that Uber's CEO and co-founder, Travis Kalanick, has resigned from the CEO role. It is being reported that investors and board members called for a massive shake up in Uber's leadership in the wake of numerous sexual harassment allegations.
Health Care – Tomorrow a draft of the Republican answer to "Obamacare" will be introduced to the public for examination. Much of the bill, which has been crafted in private, is unknown, but it has received its fair share of scrutiny. The bill's Congressional Budget Office score is due next week.
Georgia's Special Election – the Republican, Karen Handel, won. The Democrat, Jon Ossoff, lost – dealing a blow to the DNC as it hoped to claim a seat occupied by a Republican for the past 40 years.
Daniel Day-Lewis – The Oscar-winning actor has announced his retirement from the craft at the age of 60.
Ryan O'Callaghan – A former tackle in the National Football League has come out as gay. This makes O'Callaghan the first male professional athlete from a major professional sport to come out of the closet in three years.
Ken Dolls – Received a makeover, and yesterday were introduced to the public. The internet had a lot to say about it.
A little extra:
Within the past seven days, Ken dolls have been mentioned around 39,000 times on social media (Twitter, Facebook and Instagram).
The bulk of these mentions occurred within the past three days as Mattel revealed Ken's new looks. June 20 had nearly 16,000 social mentions, the 21st had more with over 18,000 and today has registered around 4,000 mentions already.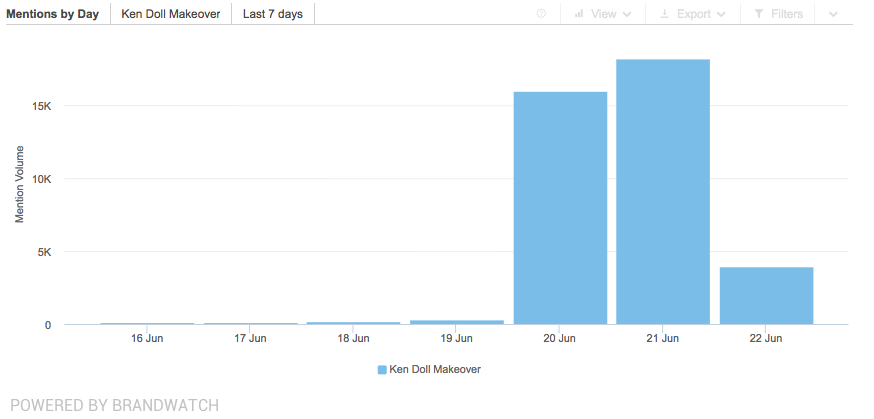 Mentions of the doll soared by more than 5,120% between June 19 and 20.
When we examine mentions hour-by-hour we can see how the conversation changed from an announcement to social's humorous reaction.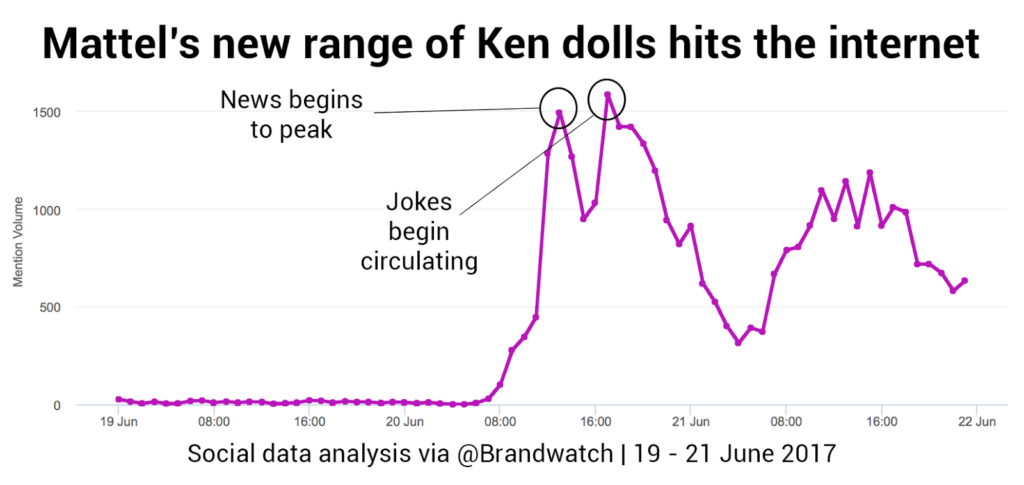 The first peak is just a couple of mentions short of 1,500 in one hour, while the second eclipses that total with nearly 1,600 mentions in one hour.
Ken's makeover was overall received and discussed positively on social with 57.1% of all sentiment-categorized mentions being positive.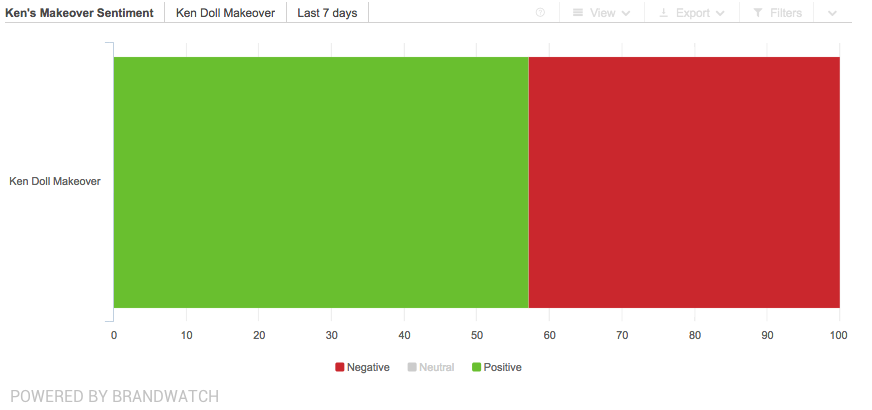 Most negative mentions took issue with one look in particular, and that look was the man bun. Additional negative mentions were asking why there wasn't an Asian Ken doll.
Having said that, the top themes within this conversation really zeroed-in on Ken's man bun.

Man bun hashtags were popping up in the conversation's most used hashtags. #ManBun and #ManBunKen accumulated over 2.3 and 2.2 million impressions, respectively.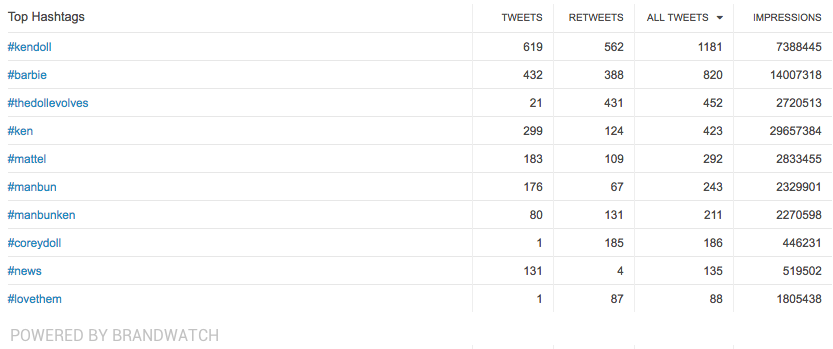 #TheDollEvolves is another interesting hashtag with more than 14 million impressions. Lastly, #LoveThem appears showing the internet's general approval when all jokes are put aside.
Lastly, women discussed the makeover more as 60% of all unique authors were female.
THURSDAY
AHCA – Everyone is waiting for the release of a draft of the Republican answer to "Obamacare" today. You can expect all the trolls to come out and play around this.
Flint, MI – The city of Flint, Michigan is in the news for a different reason today as a police officer was attacked in Flint's airport by a Canadian man. The man stabbed the officer after screaming something in Arabic, and talking about the US fighting in the Middle East. This is being treated as a terrorist attack. The officer is expected to be fine, and the suspect is in custody.
The Wall Street Journal – The Wall Street Journal's chief foreign affairs correspondent, Jay Solomon, has been fired after the AP discovered evidence of business dealings with an Iranian arms dealer. Solomon is also said to have been offered 10% stock from a source's company, although it's not known if he took it.
George Clooney – Actor, new father, extremely rich individual. I say extremely rich because Clooney just sold his tequila line to liquor mammoth Diageo for $1 billion.
Draft Day – The NBA draft is tonight, and it will probably be neat considering how crazy the off season has been with star players being shopped around by their teams.
FRIDAY
AHCA – Many headlines are attempting to break down the GOP's health care bill. It is being said that there will be massive cuts to planned parenthood and medicaid, and President Obama issued a statement on how the bill would transfer wealth from the poor and middle class to the wealthy.
Han Solo – The highly anticipated Han Solo film – which lost its directors this week – has named a new director, and that director is Ron Howard you boasts quite the movie-making resumé.
Uber – Employees at the ride hailing company are now circulating a petition to have their former CEO, Travis Kalanick, reinstated.
Trump – Johnny Depp is in trouble for some comments he made at Glastonbury regarding Trump, and Donald Trump himself has now publicly denied the existence of tapes of recorded discussions between himself and former FBI Director James Comey. Trump created the discussion of the tapes when he tweeted that he had them, and threatened to release them. During Comey's Senate hearing a couple weeks ago, Comey welcomed the release of said tapes.
---
Brandwatch Analytics
Measure the impact of your PR across the web.
Find out more