When Will April The Giraffe Give Birth? Trending
The internet has made stars of many animals – Grumpy Cat, the IKEA coat monkey, Harambe… And now we have a new distinguished mammal, renowned for prompting the question on every person's lips for the last month: When will April the Giraffe give birth?
Hundreds of thousands of people are keeping regular tabs on the beloved giraffe, who has been in the late stages of her pregnancy for what seems like a year. And, of course, many are posting their giraffe-related comments, thoughts, hopes, and fears on social media.
Naturally, the Brandwatch React team has been following the data closely. In fact, we even have a Brandwatch Alert set up so that members of our marketing team can run to their screens when conversation spikes about April giving birth. If you want to know about a slightly better use case for Brandwatch alerts, you can click here.
Tall numbers
Between 8th March and 3rd April, we tracked over 800k mentions of "April the Giraffe" (and related words) across social media.
Within those numbers, the father giraffe (Oliver the Giraffe) has got a solid 2.5k mentions. More on him later.
The gender breakdown of commenters is 72% female, 28% male.
Looking at the breakdown of interests associated with authors talking about April the Giraffe, family and parenting is undoubtedly on top.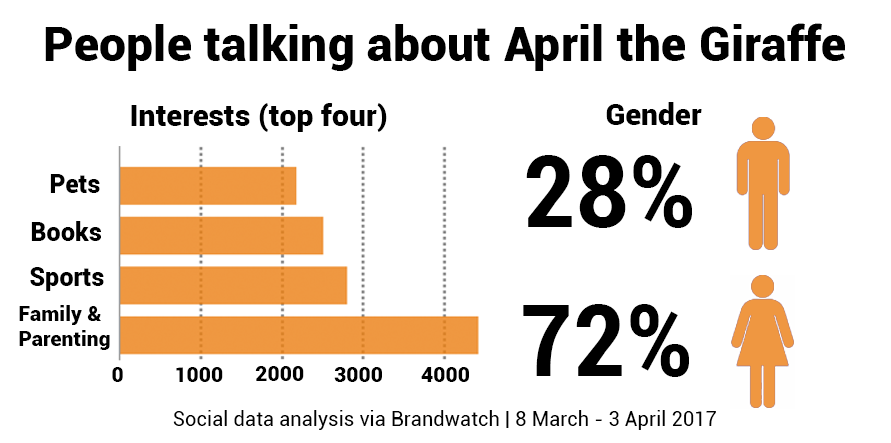 When will April the Giraffe give birth?
Social data has plenty of powers, but predicting the date of a birth with any kind of accuracy isn't really one. In all, we found 146 instances of people talking about the date/time of the birth online. A lot of people thought she'd give birth on April Fools Day, but alas she didn't. Some people have been far more specific.
#AprilTheGiraffe I got 100$if she gives birth on Tuesday. Come on April 2 more hrs.

— Anthony (@Anthony1994NY) April 4, 2017
https://twitter.com/jennypaggs/statuses/847547691097894912
With plenty of headlines reading that April could be "hours away" from giving birth, and a lot of people making fairly random predictions, the only way we'll know when April the Giraffe will give birth is when she actually does.
Neigh-sayers
Giraffes neigh, don't they??
Anyway, there's been no shortage of negativity and speculation around the hype for April's pregnancy. While some don't understand why watching her day and night is in any way a good use of time, others got to thinking about whether April's name and the timing of the hype around her could suggest the zookeepers were up to mischief.
This story was behind a significant spike in April the Giraffe mentions on 29th May.
Internet's latest conspiracy theory: April the pregnant giraffe is just an April Fools' jokehttps://t.co/BcgmeXcMnd pic.twitter.com/wHhRrBRK4d

— Mashable Australia (@mashableAU) March 30, 2017
When we shared an article that suggested April's pregnancy could be a hoax we were duly told off.
Just…. literally go fuck yourself.

— Unlikely Heroine (@sarahkmast) March 30, 2017
To be fair, we deserved it. April is still pregnant three days on.
Keep watching
The largest spike in mentions we've seen in the last few days was on 31st March, on which we were told "today is not the day to stop watching!". It turned out viewers would have been safe to stop watching that day. And the day after. And the day after that, too.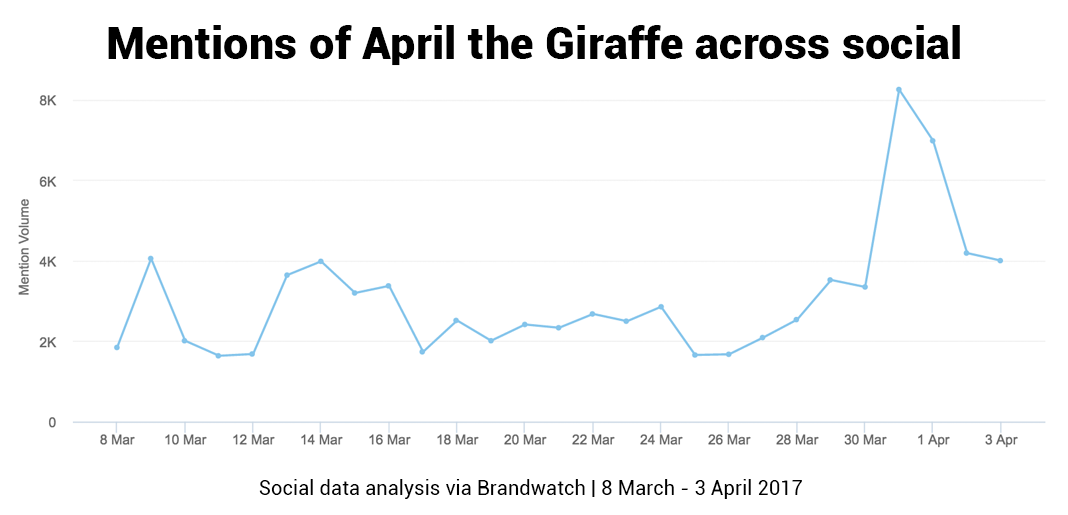 Another trending story that day was from Mashable, discussing how much money April was bringing to the park. It turns out a viral giraffe can be a lucrative creature – though the money will go towards good causes.

Toys'R'Us is sponsoring the live YouTube feed, and there's all kinds of April merchandise to purchase. As April clumsily rolls around in her hay, in her head she's rolling in money.
Oliver, Oliver
Zooming in on mentions surrounding dad giraffe, Oliver, we found some weird commentary.
Oliver's perceived thoughts and feelings may be more anthropomorphized than the animals of Disney's Lion King.
https://twitter.com/JustMusingAlong/statuses/848983887623663620
Oliver's like "you got this babe but while you do, I'll be laying over here taking a break" :) #AprilTheGiraffe

— Jennifer Crom (@JenniferCrom) April 1, 2017
https://twitter.com/fisherjf729/statuses/848602402567671808
Regardless, April speaks highly of him over at @AprilTheGiraffe…
We'll be keeping an eye on the April the Giraffe conversation and update this post once baby Apriloliver is born.
Are you a journalist looking to cover our data? Give us a shout at react@brandwatch.com for further information.
---
Brandwatch Analytics
Check out the Brandwatch Analytics platform in action.
Find out more