If Santa was a smart man he'd be investing in a social intelligence platforms to decipher what it is people actually want for Christmas. It's no job for elves.
Timmy's Christmas list that floated through the workshop window might contain dinosaurs, space ships, and burning laser guns, but his comments on social media probably tell a different story.
In the age of the customer, Santa would be wise to start listening to the swathes of smartphone-toting kids (and adults) or he might find himself falling out of favor with the present-hungry masses.
https://twitter.com/Sam_______Adams/status/810201292404641792
The Brandwatch React team decided to get Santa's social media research started for him.
What do you want for Christmas?
The team searched for "I want" or "I would like" near "for Christmas" (amongst other variants) across Twitter for December so far, filtering out mentions of famous Christmas songs and retweets to get a flavor of what individuals are after this Christmas.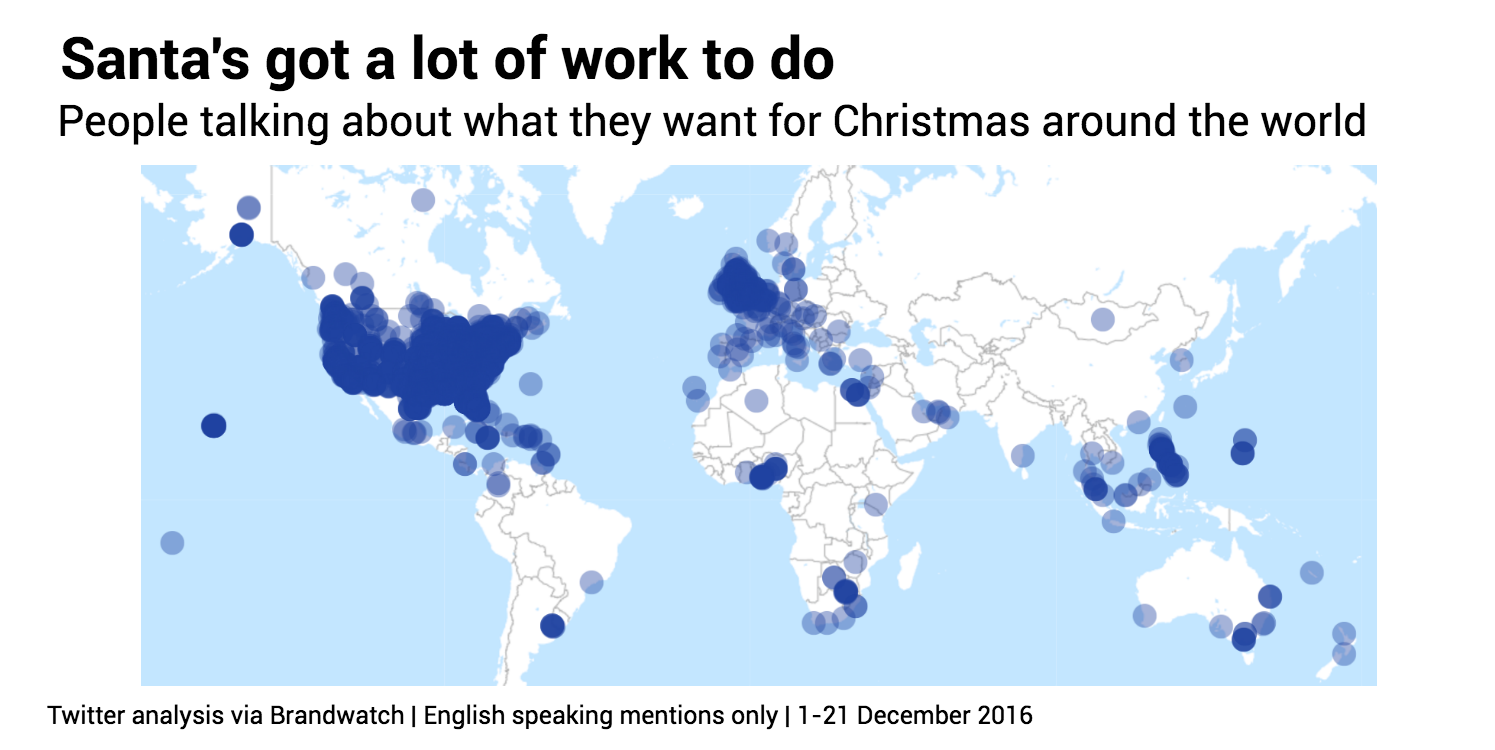 As is evident from the geo-tagged tweets chart, the US is responsible for the largest chunk of "I want x for Christmas" mentions. We also found female tweeters were more likely to talk about what they want for Christmas on Twitter than males and that music was the most prominent interest of tweeters in the whole conversation.
Prominent in the top mentioned tweeters were male singers and/or social media stars. Shawn Mendes, Cameron Dallas, Grayson Dolan and Justin Bieber were amongst the most wanted.
However, Santa has already made clear that celebrity kidnapping is not allowed.
For the last time I am not kidnapping a member of a boy band for you

— Santa Claus (@santa) December 24, 2013
---
You might like
The Best Christmas Movies According to Twitter Data
---
Most wanted gifts
Celebrities aside, we found the most wanted gifts tweeters were talking about by looking over mentions of our above search terms for each day of December so far, identifying top mentioned terms using the topic cloud component in Brandwatch Analytics.
Here are the most sought after items. Scroll down for tips on buying each.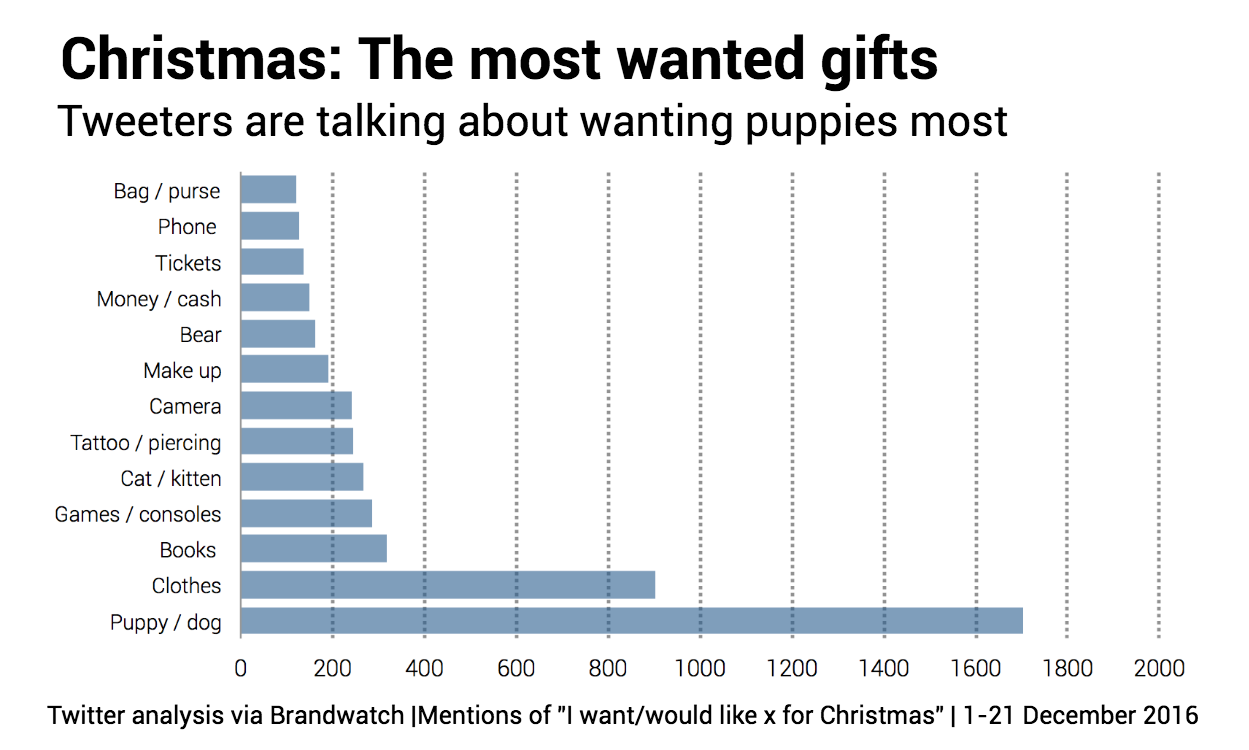 Some tips for buying
We may have supplied the most popular items, but who should you buy them for and what specific brands within those categories are most desired?
Puppies
Everyone loves puppies – it was the largest gift segment for both men and women.
Just remember to take this dog's advice:
Red would like to remind everyone that a dog is for life, not just for Christmas. Please love your pooches forever! pic.twitter.com/4RoimdJe3P

— Sonar and Reddington (@TheDobermanns) December 19, 2016
Clothes
While men were less likely to talk about what they wanted for Christmas overall they were more likely than women to discuss wanting clothes for Christmas on Twitter compared to the other gift ideas we searched for.
Jerseys were particularly popular in the clothes category (which also incorporated people wanting a dress, skirt, shirt, jacket etc).
I want a Jets jersey for Christmas! Please Santa???

— Donna K (@Dis4Donna) December 20, 2016
Just make sure you get the right team.
Books
Books were equally popular for men and women, but Gilmore Girls star Lauren Graham will likely do well out of her book 'Talking as Fast as I Can' this Christmas. She was mentioned more than Justin Bieber in the "I want x for Christmas" conversation.
Literally the only thing I want for Christmas is @thelaurengraham 's book

— Jamie (@theatregirl1998) December 21, 2016
Games / consoles
The gaming category was one of the only ones in which men out-tweeted women. The PS4 is particularly popular in their conversation.
I want me a PS4 for Christmas

— Captain For3st (@DudeRodri) December 19, 2016
Kittens
Like dogs, cats are not just for Christmas. But they're still very popular on tweeted wish lists.
I want a black cat for Christmas so I could pretend to curse old people with it.

— Mario Adrian Franco (@Perineum_Pope) December 21, 2016
Each to their own.
Tattoos / piercings
Tattoos aren't for everyone but they're a popular choice on Twitter. We found that many of those discussing wanting tattoos already had one and were asking for "another" or "more". If you know a tattoo fan you can't go wrong with getting them a voucher for another one.
i want more tattoos for christmas

— Alex Tartaglia (@twentyalex) December 19, 2016
Unless their current one looks like this.
Sometimes you better think before you ink ;). #t4aw #tattoo #fail #nugget #tattoofail pic.twitter.com/hFdwtGjuwf

— Tattooforaweek.com (@Tattooforaweek) December 8, 2016
Cameras
Recent years have seen incredible innovation in camera technology but in a bizarre twist of events Polaroids are particularly popular this Christmas.
I want a Polaroid camera for Christmas 😍😭

— KAKE™ (@kaylakirkland_) December 20, 2016
Makeup
Makeup was predictably more popular with female tweeters though we didn't see any particular brands coming the the forefront.
Instead, there was a lot of hint dropping.
https://twitter.com/_jewleeuhh/statuses/808174443205836800
Bears
It's a trap! We thought we'd got rid of the boy band members but apparently not. However, some of the bear mentions were for genuine bears like "baby polar bears" or actual teddy bears.
i really want a build a bear for christmas ☹️

— ash. (@AshleyVivianax) December 22, 2016
Money / cash
This guy says it all.
💵💵💵💵💵💵💵💵💵💵💵💵💵💵💵💵💵💵💵💵💵💵💵💵💵💵💵💵💵💵💵💵💵💵💵💵
💵💵💵💵💵💵💵💵💵💵💵💵 I want money for christmas!!!! 💵💵💵💵💵💵💵💵💵💵💵💵💵💵💵💵💵💵💵💵💵💵💵💵💵💵💵💵💵💵💵💵💵💵💵💵💵💵💵💵💵💵💵💵💵💵💵💵

— c & j 💛✨ (@itss_deann) December 16, 2016
Tickets
Tickets are great presents to get when you want to go to something yourself but can't justify the money unless you're spending it on someone else.
If you share that opinion you'd do well to search for your ticket match on Twitter.
I want mariah carey tickets for Christmas

— Bria Jones (@minniejones_) December 19, 2016
Phone
New phones are wanted all round this Christmas, and iPhones are particularly prominent in the conversation. Perhaps the iPhone 7 reveal wasn't so underwhelming after all.
I want a new phone for Christmas

I currently have the iPhone 5
I really wasn't the 6s or 7 🎁🎄🎅

— Mira (@miragotnochill) December 20, 2016
Bag / purse
Finally, bags and purses were particularly popular with the ladies. Tastes vary.
I Want A Louis Vuitton Bag For Christmas 😩😩😩❤️

— Ke ♊️ (@_XoKe) December 21, 2016
I really want a Michael Kors purse for Christmas 😭😭

— Elyssa Ruff (@ElyssaRuff1) December 21, 2016
Are you a journalist looking to cover our data? We have plenty more. Email us react@brandwatch.com for more information
---