Everything You Need To Know About International Women's Day 2017 On Social Trending

International Women's Day saw social media celebrate victories and highlight work that needs to be done. We have the data.
The React team used Brandwatch Analytics to examine the issues, influencers, and demographics on social during the day.
The team measured 4.9 million English-speaking social media posts mentioning IWD 2017 (and associated hashtags) on 8th March. That's a lot of data to get stuck into.
Who talked about #IWD2017?
Somewhat predictably, women were more likely to get involved in the IWD 2017 conversation than men. Mentions on the day showed that 68% of authors were categorized as female, while 32% were male.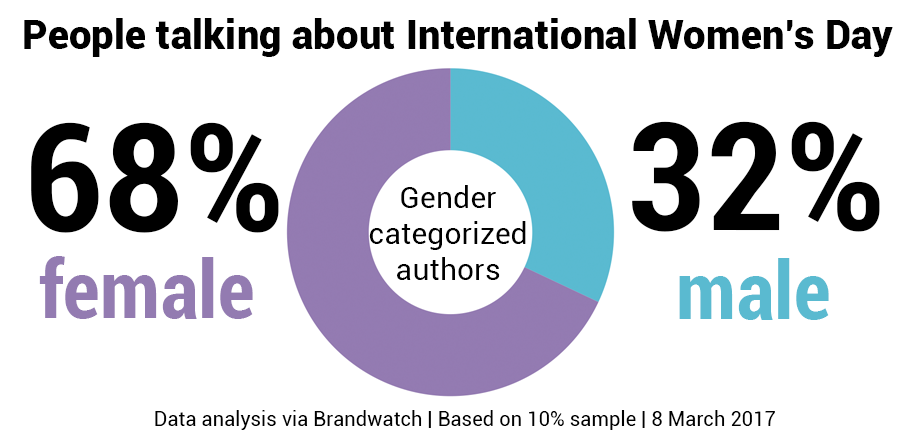 Last year the percentage numbers were 70% female, 30% male, indicating a subtle shift in how the conversation is made up.
Top topics for IWD 2017
The lead up
In the run up to IWD 2017 and in the early morning, the conversation is full of calls to action – "Join", "Stand", "Strike", "Sign", and "Speak" are all popular terms popping up in the data.

On Twitter, this statue opposite the Wall Street bull gained a lot of traction in the morning, with many waking up and retweeting it. While the bull appeared in the area in 1989 without permission, the new statue wasn't exactly an act of protest. It was erected with the permission of the city. As Quartz points out, "The girl symbolizes the future… That may be so, if the future looks like the past—with girls who are taught to ask for permission, rather than acting first and getting forgiveness later." Nevertheless, many have flocked to photograph the new statue and it wasn't a bad viral image to kick off IWD 2017 with.
A statue of a young girl staring down the Wall Street bull just appeared – a day before #IWD2017 pic.twitter.com/uz2TM3cblm

— AJ+ (@ajplus) March 8, 2017
The #GirlsCount campaign was also making waves, with hundreds joining Malala Yousafzai in counting from one to 130 million for every girl who doesn't have access to education. The resulting video, which will include contributions sent in by the public, is hoped to be the longest video ever.
130 million girls didnt goto school-Helping ONE Campaign count out loud #GirlsCount https://t.co/T6IqH1F1Ip #IWD2017 pic.twitter.com/h27PcNmTSs

— Ambarish Mitra (@rishmitra) March 8, 2017
Trends of the day
Looking solely at mentions on the day, the prominent calls to action remained, but were accompanied by a number of other popular hashtags and phrases. #BeBoldForChange was the most popular hashtag behind #internationalwomensday and #iwd2017.

#ADayWithoutAWoman was also especially popular, as many women opted to take the day off work, shop only in small businesses run by women or minority groups, and wear red in support. You can find more details about the day here. A counter-hashtag, #WhileTheFeministsAreAway, was used by lots of tweeters to criticize those who chose to strike on IWD.
Following the new rule of the internet in which Donald Trump must be a prominent topic in any conversation, he was one of the top mentioned tweeters and his name appeared as one of the top mentioned terms. This tweet (and many matching it) were particularly popular in the Trump mentions.
Happy #InternationalWomensDay to everyone except the 53% of white women who voted for Donald Trump

— @PiaGlenn (@PiaGlenn) March 8, 2017
Big brands getting involved
There were plenty of brands and news organizations adding to the conversation, although their prominence decreased as the day went on. While measuring the conversation between 3 March up to the early morning of IWD 2017, we found organizational accounts making up 19% of the conversation, while on the day itself they made up just 12% as individual comments accelerated.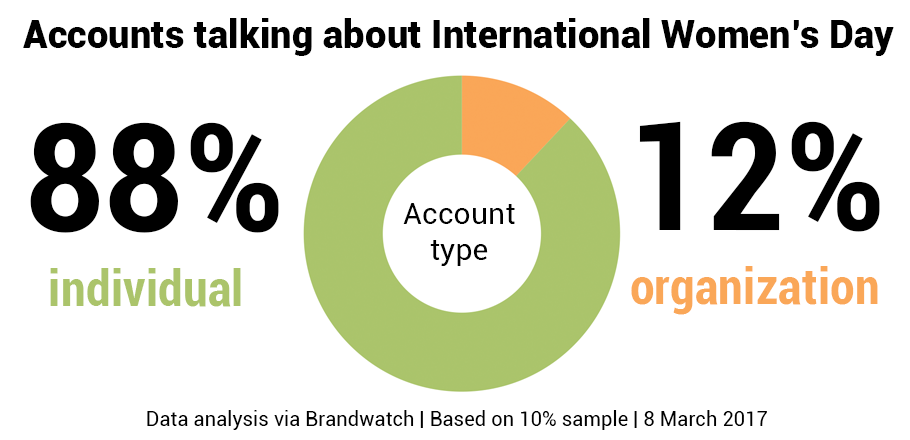 Microsoft, FIFA, and NASA were among the top mentioned organizational accounts in the lead-up and on the day.
Change the world, stay in STEM. #MakeWhatsNext #IWD2017 https://t.co/lahzoL2hWs pic.twitter.com/cqrzxAjU0D

— Microsoft (@Microsoft) March 7, 2017
Afghanistan's first captain tells us why she endured death threats to fight for women's rights & football.#IWD2017 https://t.co/d1i0HExmF5 pic.twitter.com/VvZgK4kmQs

— #FIFAWWC 🇫🇷 (@FIFAWWC) March 8, 2017
Meet some of the inspiring @WomenNASA, whose #STEM careers have advanced space exploration: https://t.co/JRaRy9Q6DQ#InternationalWomensDay pic.twitter.com/ay81GcC7np

— NASA (@NASA) March 8, 2017
Politicians & notable mentions
Of course, there was the hotly anticipated IWD tweet from President Donald Trump.
On International Women's Day, join me in honoring the critical role of women here in America & around the world.

— Donald J. Trump (@realDonaldTrump) March 8, 2017
Although, on our last count, Hillary Clinton triumphed on the retweet front.
On #InternationalWomensDay I'm thinking about this young girl, & all the others like her out there. 💪✨ https://t.co/u1fvzAt1BI

— Hillary Clinton (@HillaryClinton) March 8, 2017
In the end, Donald Trump was the 3rd top mentioned tweeter, Hillary Clinton the second and Michelle Obama the first.
So impressed by the extraordinary girls I met at @CardozoEC who represent the beauty and diversity of this country. #InternationalWomensDay pic.twitter.com/aGrmRuKsbR

— Michelle Obama (@MichelleObama) March 8, 2017
International Men's Day
It's come to be expected that there's a spike in mentions of #internationalmensday that goes along with #internationalwomensday.
Happy #InternationalWomensDay

or, as it's often called on here, #WhyIsn'tThereAnInternationalMensDay

(There is: November 19th)

— J.K. Rowling (@jk_rowling) March 8, 2017
If you look at the Google Trends data you'll find in 4/5 of the last five years, people have Googled "International Mens Day" more around the time of International Women's Day than they do around the time of November 19th.
That's not necessarily the case on social, though. Using Unlimited Historical Data, we tracked mentions back to July 2014, finding that there while IWD saw spikes in IMD mentions, most of them occurred where you'd expect. Both the Google Trends and Brandwatch data show that International Men's Day 2015 was the most successful of the last few years in generating online hype.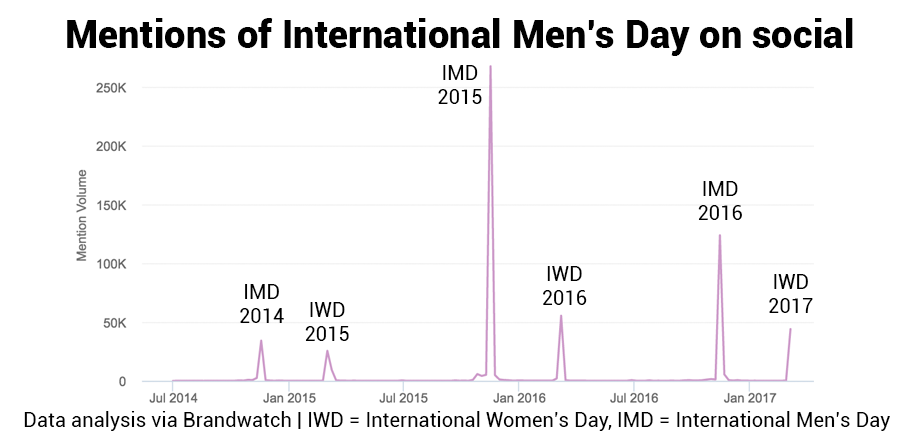 Good timing
Recent days have seen Emma Watson defending her right to be photographed however she wants and angry responses to a member of the EU Parliament claiming "women must earn less". There's also the small issue of a new President of the United States who has been repeatedly accused of sexist behavior and having dangerous attitudes towards women. It feels like IWD was well-timed this year.
On a somewhat related whim, ahead of International Women's Day we thought we'd take a look at the term "feminazi" and how it's used online. The top sites on which the term is used were interesting.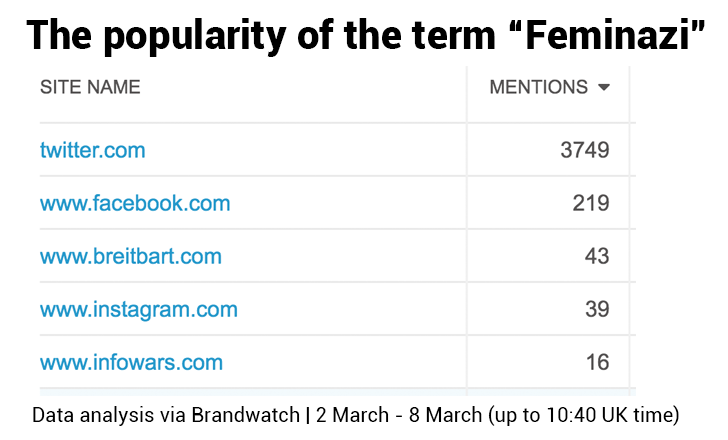 If you're a journalist looking to cover our data feel free to email us at react@brandwatch.com for more information.
---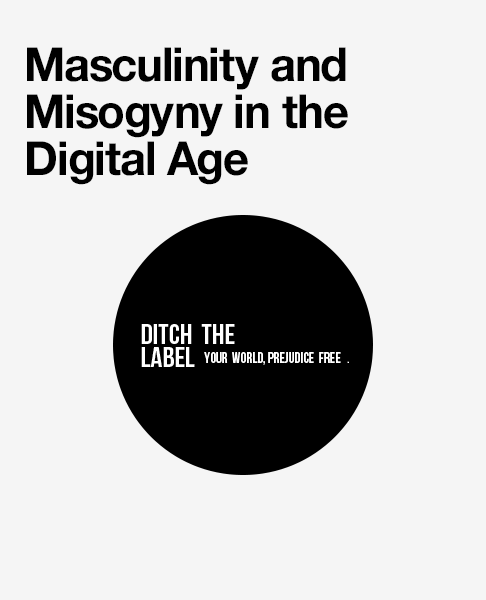 Understand the data on gender constructs
Download the report to learn more.
GET THE REPORT