The Internet Reacts to CES 2017 in Social Data Charts Trending

The future is here and CES 2017 has shown it off in spectacular fashion.
The Brandwatch React team has been keeping an eye on the social data behind the massive show, celebrating its 50th year.
With announcements involving driverless cars, cures for snoring and the latest in VR technology, there are relentless "oohs" and "aahs" jumping out of the data. But which brands owned the online conversation and what kind of tech captured social's imagination?
How CES went down on social
We tracked over 640,000 mentions of CES but, somewhat surprisingly, mentions of the show peaked dramatically on Thursday compared to the other days. It was the first official day, and a big one at that, seeing Intel, Samsung and Nvidia dominate the online conversation.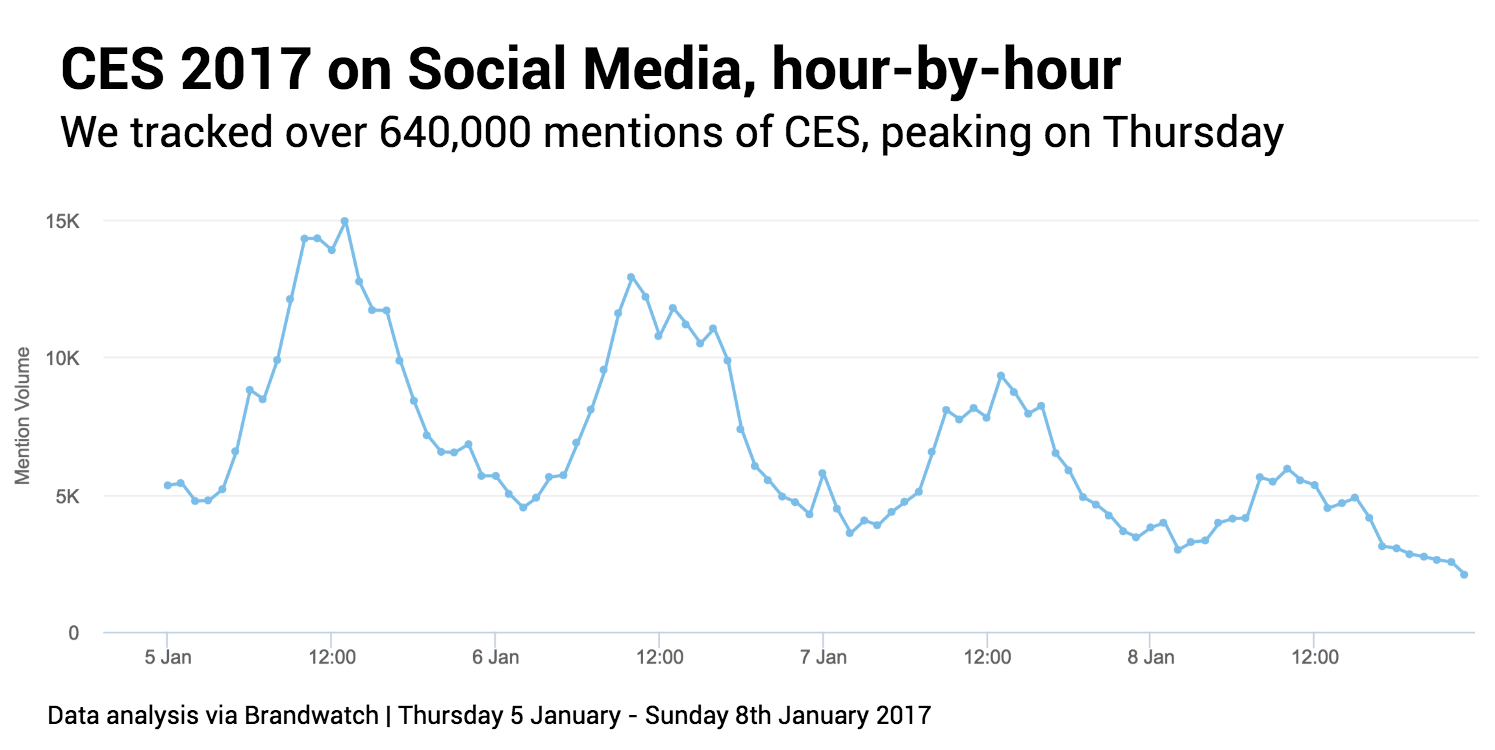 Still, there was no shortage of buzz surrounding the event on Friday, Saturday and Sunday. During each of the peaks the hottest topics included self-driving cars, the 360 smart bed from Sleep Number, Qualcomm's keynote and booth, Samsung's app for Gear smartwatches, general smart home technology and almost always VR. These trending topics were driven by a mix of organic comments posted by regular people and coverage from tech news outlets (Tech Crunch was the most popular on Twitter).
---
You might like
Report: Insights on Consumer Technology Brands on Social
---
Innovation wins
The React team identified the top mentioned brands within the online the CES conversation by finding the top mentioned Twitter accounts and the top words and phrases on each day, as well as brand names that sprung up during peak hours.
It's to be expected that the biggest brands will take up the largest chunks of the conversation. With big budgets, established mass produced products and many fingers in many pies, the five top brands were Intel (by a longshot), followed by Logitech, Amazon, Android and Nvidia.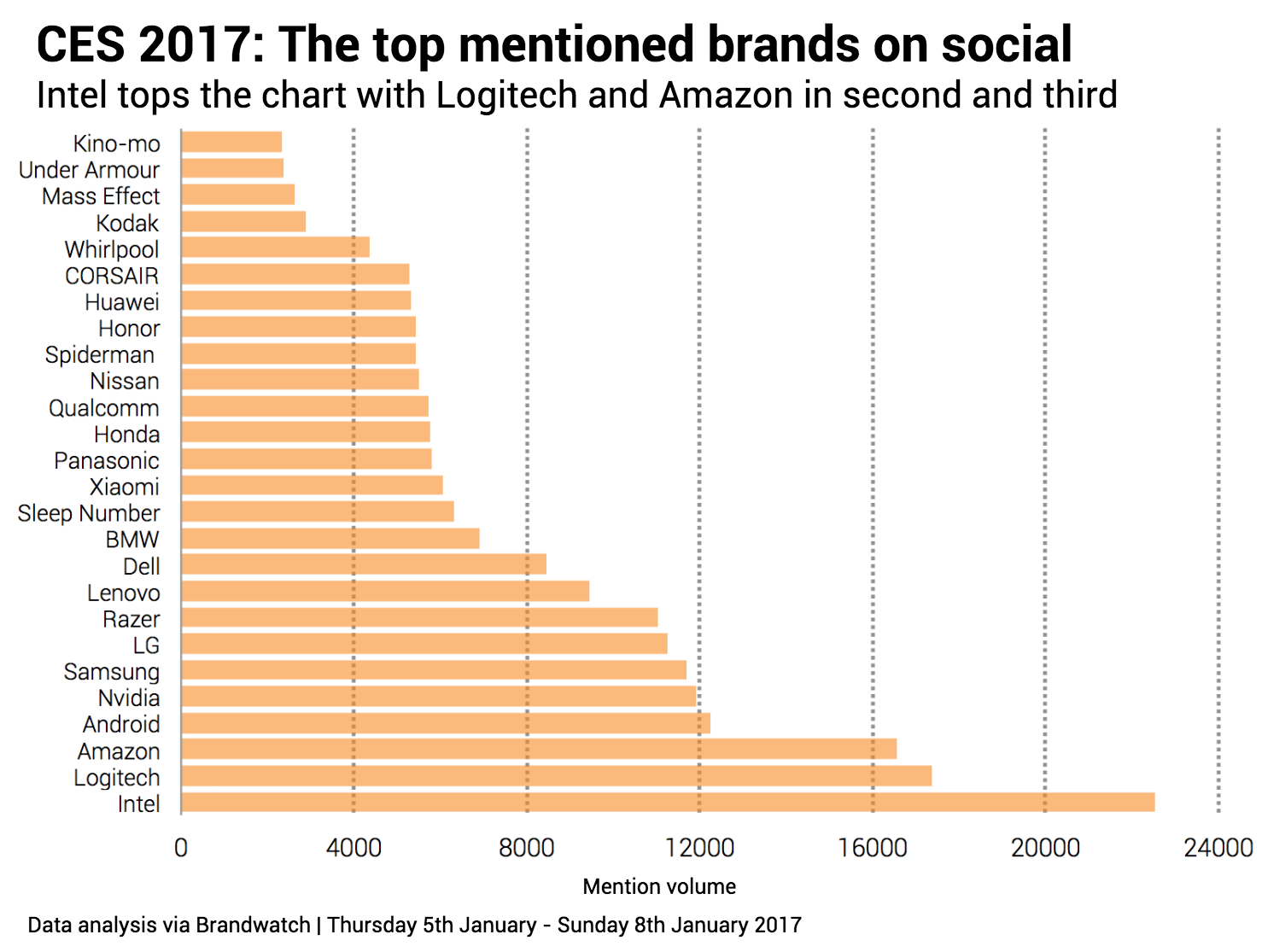 Perhaps more interesting is the prominence of smaller brands in the top-mentioned chart.
London-based Kino-mo, which develops holographic devices, was a real winner over the weekend with their 3D holograms stopping people in their tracks.
Cool #VirtualReality tech from @kino_mo_ at #CES2017 . #HypervisionCES pic.twitter.com/f72IdE6h1y

— Mike Puckett (@MikePuckett) January 8, 2017
Meanwhile, Whirlpool's domestic items caused a stir, (a lot of it thanks to some very effective influencer marketing).
Our convection-oven-meets-microwave named a #CES2017 Innovation Award Honoree. https://t.co/EONBG2BCkN #EveryDayCare pic.twitter.com/DX7JgHm2kI

— Whirlpool USA (@whirlpoolusa) January 6, 2017
Sleep Number's 360 smart bed that puts an insane amount of smarts behind optimizing your sleep also got a huge amount of attention in the news, as well as from astonished tweeters.
Raving reviews of the 360 smart bed at #CES2017 from @DigitalTrends @Yahoo @MensHealth @Refinery29 @PCMag & more! Check it out. #BedReborn pic.twitter.com/hjbRdGaU95

— Sleep Number (@sleepnumber) January 8, 2017
Whether it's a bright idea involving holograms or changes to everyday items that improve our lives subtly but importantly, the top mentioned brands and their products certainly go to show that innovation, not just a recognizable name, is the way to capture consumers' attention at CES.
Tech that impressed
Amongst the brand conversation, buzzwords like "VR" and "machine learning" were popping up all over the place.
These were some of the top-used terms (identified by their appearance in the topic cloud component in Brandwatch Analytics for each official show day).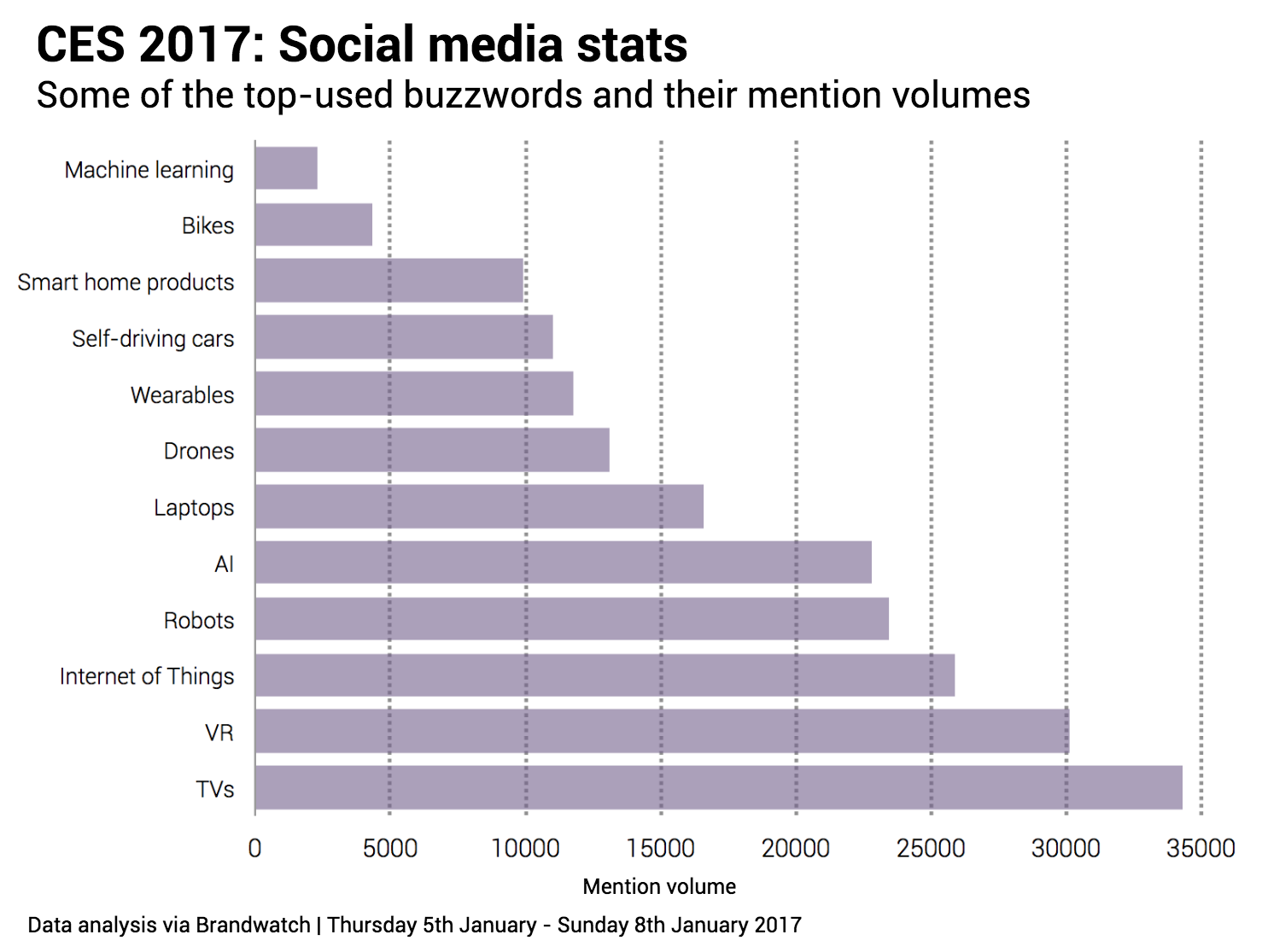 TVs, not to be outdone by VR, were the top mentioned topic we found, with just under 35k mentions. Smart, thin, 4k and OLED were amongst the top used terms in the TV mentions, and CES did not disappoint those who like to keep their home entertainment set up on point.
Who can resist a cuddly Panda, especially when he's sat next to the world's first IGZO 90" 8K TV at #CES2017 pic.twitter.com/BMvdirwwJN

— David Daniels (@dd1961) January 7, 2017
We were surprised that the more "exciting" tech terms like driverless cars weren't a little further up the list but, as we've shown above, the everyday innovations seem to be just as important to online commenters as the more futuristic ones. That said, the prominence of "robots" gave some indication of the excitement surrounding the future of human interaction with machines.
At #CES2017 ! The @WeAreLeka smart toy is a robot for children with developmental disabilities https://t.co/iKtb078ptk pic.twitter.com/56V2X1dgNv

— dive_event (@Dive_Event) January 6, 2017
With CES 2017 over, we can't wait to see how some of the incredibly innovative technology does with consumers. Our data found recently that the internet believes 2017 will be the year of intelligence (be that artificial or otherwise), and it certainly looks like the world is becoming ever more ready to adopt smarter devices into our lives.
Are you a journalist looking to cover our data? We have plenty more. Email us react@brandwatch.com for more information
---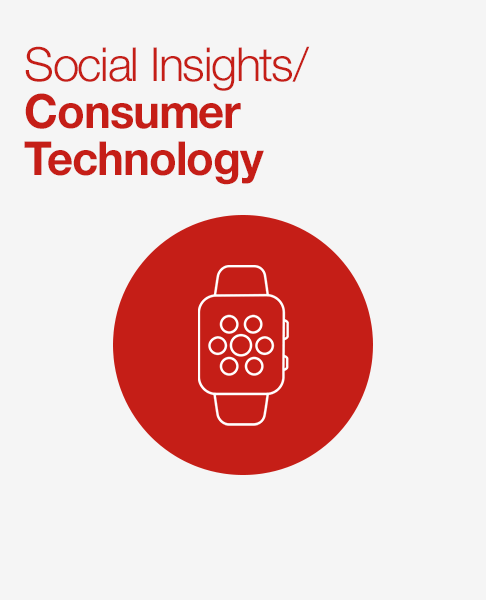 Consumer Technology Report
Download the report to learn more.
GET THE REPORT