BRIGHTON, UK October 11, 2017/PRNewswire/ Brandwatch, the leading enterprise social intelligence company, today announced its acquisition of BuzzSumo, the world's most popular content marketing and influencer identification platform.
The acquisition of the BuzzSumo business builds on Brandwatch's strengths as a group giving insights to marketers, adding both a leading position in the SMB market to complement its recognized leadership in the enterprise, as well as opportunities to take BuzzSumo's content and influencer marketing technology to Brandwatch's global client base.
BuzzSumo provides data-driven content discovery and performance analytics to nearly 3,400 customers and over 300,000 users worldwide including Expedia, BuzzFeed and Disney. It brings the world's most comprehensive database of content with social sharing data on almost every article published in the last five years. BuzzSumo is the go-to platform for content marketers, beloved for its ability to easily and instantly surface insights from trending topics, online influencers, and questions asked across hundreds of thousands of forums.
"Customer and market needs drive every decision we make at Brandwatch, which is why I'm so pleased to find such a complementary spirit in BuzzSumo," said Giles Palmer, CEO of Brandwatch. "BuzzSumo is a high performing and high-growth tech firm that fills an important need in the marketing world. Bringing together our strengths at serving either end of the market while maintaining our brands will only bring more value to all our customers."
The strategic partnership also brings to Brandwatch BuzzSumo's world-class founding team, who have grown the company from startup to one of the most popular solutions among content marketers and creators in just three years.
"We are delighted to be joining a company that shares our values and aspirations," said Steve Rayson, Director at BuzzSumo. "This is an exciting development which means we can leverage Brandwatch's expertise, data and resources to improve BuzzSumo for our customers."
BuzzSumo will retain its branding as its team continues managing all day-to-day functions of the business. The tool's highly successful trend identification and content discovery capabilities, along with an expansion of its content measurement offering will be enhanced with a hefty infusion of Brandwatch's data and analytics expertise, and global business footprint.
The combination of two companies' complementary technologies represents a formidable force in content marketing, one of the most rapidly growing marketing industries. According to Ryan Skinner, senior analyst at independent research firm Forrester Research, US companies alone spent upwards of $10 billion on content marketing in 2016*.
Brandwatch adds BuzzSumo to its social intelligence offerings alongside Analytics, its core listening product, Vizia, its revolutionary data communication platform and Audiences, the company's influencer and audience analysis tool. Audiences itself is powered by the data and influence technology integrated as a result of Brandwatch's successful first acquisition, PeerIndex, in December 2014.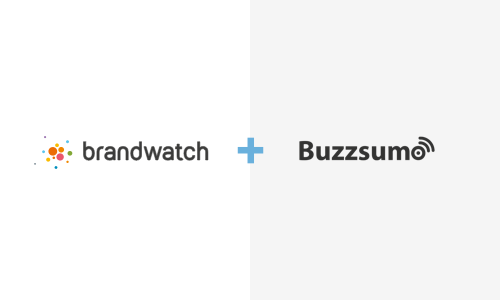 About Brandwatch
Brandwatch is the world's leading social intelligence group offering marketers a portfolio of social and content marketing technologies. The company's flagship products, Brandwatch Analytics and the Vizia platform, fuel smarter decision making around the world. With the addition of BuzzSumo's content marketing and influencer identification platform in October 2017, the company is positioned as a leading provider of insight-surfacing technologies across the enterprise as well as for SMB customers.
The Brandwatch Analytics platform gathers millions of online conversations every day and provides users with the tools to analyze them, empowering the world's most admired brands and agencies to make insightful, data-driven business decisions. The Vizia platform distributes visually-engaging insights to the physical places where the action happens.
The Brandwatch platform is used by over 1,300 brands and agencies, including Unilever, American Airlines, Whirlpool, Asos, Walmart, British Airways, and Dell. Brandwatch continues on its impressive business trajectory, recently named a global leader in enterprise social listening platforms by the latest reports from several independent research firms. Increasing its worldwide presence, the company has offices around the world including Brighton, New York, San Francisco, Berlin, Stuttgart, Paris and Singapore.
Brandwatch. Now You Know.
www.brandwatch.com | @Brandwatch |press office | contact
*Source: Forrester blog: "US Marketers Spent More Than $10 Billion on Content in 2016," January 2017.