How to Find Trending Content That's Actually Relevant to You Marketing

Staying abreast of the content making the biggest splashes online has obvious benefits to a brand.
The PR team need to know what's trending in order to craft well thought out responses to potential requests from journalists, or to keep an eye on public perception around an issue that's of interest to the company.
The content and social team need to know about trending content so as not to come across as tone deaf, to identify opportunities to get involved in conversations around a prominent stories or to find out what kind of content does well with their target audience.
Almost everyone in a business can benefit from knowing what the brand's audience are talking about and the content they are sharing and discussing. It's a way of looking at what's important to them.
But with an incredible amount of information flying around the internet, how are they supposed to find content that's relevant?
How to find trending content, and the problem with broad trends
Let's start with the basics.
Finding trending stories is easy, but that's not to say it'll be useful.
To speedily find trending content, you can go simple and just take a look at Twitter's trending box. As standard, this will give you an idea of what's trending in a certain location – and you can go broad here or just look at your own city. Another option is to get 'tailored' trending content which is location based as well as looking at who you follow. The former will give you a broad view of what's taking off (usually #WednesdayWisdom and celeb stories) and the latter will give you a slightly more niche view, but if you want a more comprehensive run down you're not in the best place.
To get a better look at trending stories online, BuzzSumo's 'Trending Now' feature is able to surface news that's taking off right now. It's definitely worth a look if you want a quick summary of the stories that are hot in the world without trawling through various websites or trying to make sense of hashtags in Twitter's trending section.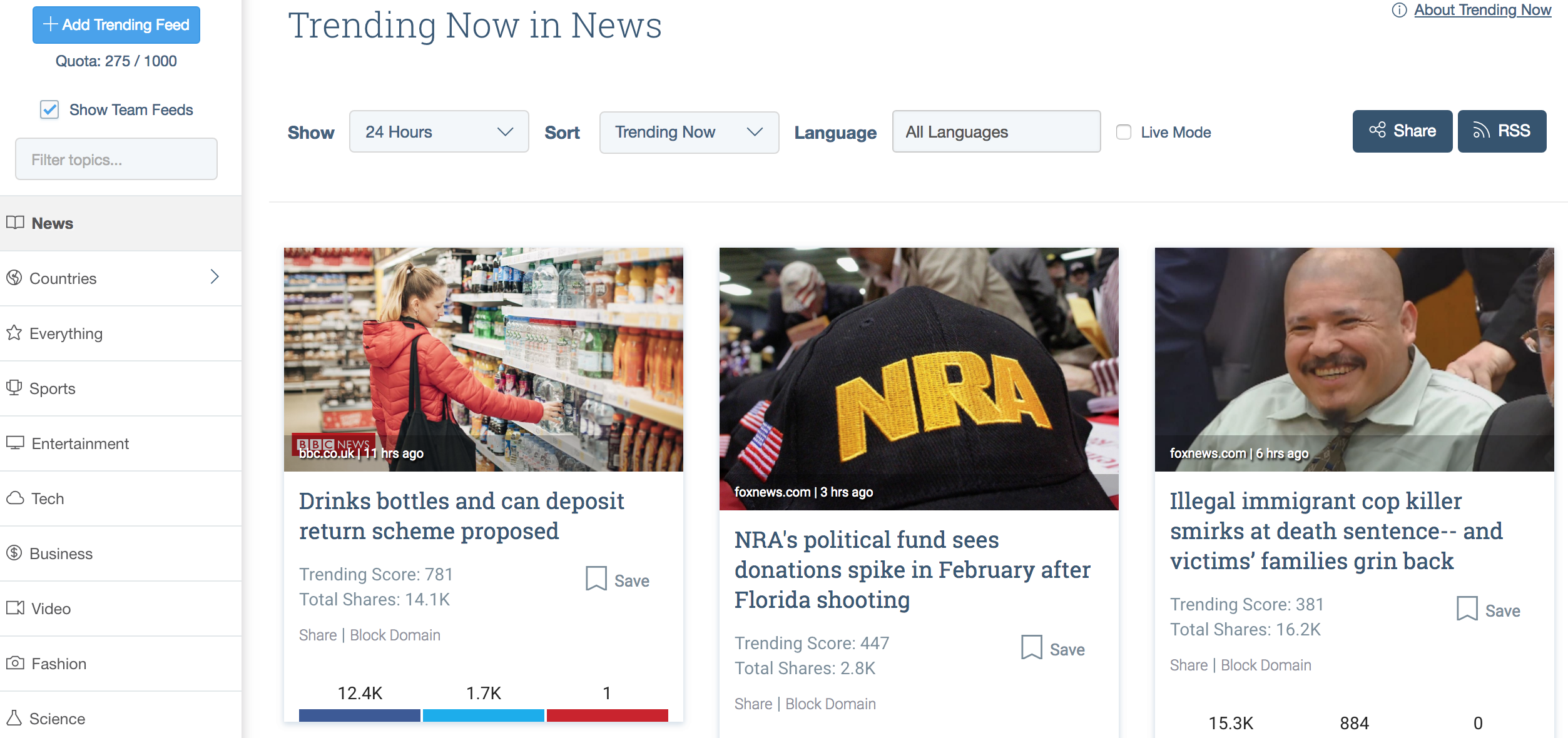 The problem with finding trending content in a broad sense is that while it's helpful to have an understanding of what the world is in to today it's not tailored to your audience or industry. How do you get to the stuff that's truly relevant to your work?
Finding trending content that's relevant
Lucky for you, you won't need to stray too far from where we've already directed you. BuzzSumo is able to give you trending content on pretty much any subject you're after, so if you work in tech and want to see what's new in your field today it's a great place to start.
Brandwatch's Vizia has a BuzzSumo integration that I have scrolling on my desk all the time. I have constantly updated tiles on breaking news globally as well as trending stories in tech so I'm able to stay informed on what topics I should avoid or engage with on social as well as get content inspiration.
My recent post on smart speakers was inspired by a piece of content that appeared on my Vizia screen, and it turned out to be the most popular Brandwatch React blog of the week.
---
You might like
I Spent a Week With a Brandwatch Vizia Screen on My Desk. Here's My Review
Read the Article
---
Finding content that's trending in your audience
So you've got general trending content and you've got content tailored to your industry – but what about trending content that's trending within your chosen audience?
There are a couple of ways you can go about doing this with Brandwatch.
Our new Popular Tweets feature in Brandwatch Audiences means you can take a look at what content is trending within your chosen audience in the short and longer term to identify trends that could turn into larger pieces of content, find influencers you've not engaged with or compare whats trending in one audience with another.
Here's a quick example that looks at trending tweets within an audience made up of teachers and lecturers in the US over the last week. You'll notice that Danny Steele, a principal with 30k followers is highly influential in the conversation. As are inspirational quotes and mottos and stories about people who impacted the education system.
Something interesting about the teaching trends is that almost all of the tweets here actually relate to teaching (we're not seeing a lot of tweets about TV shows or politicians). If you want to create content for teachers, go straight in with content about their profession – co-marketing with non-teaching-related organizations may not be so effective.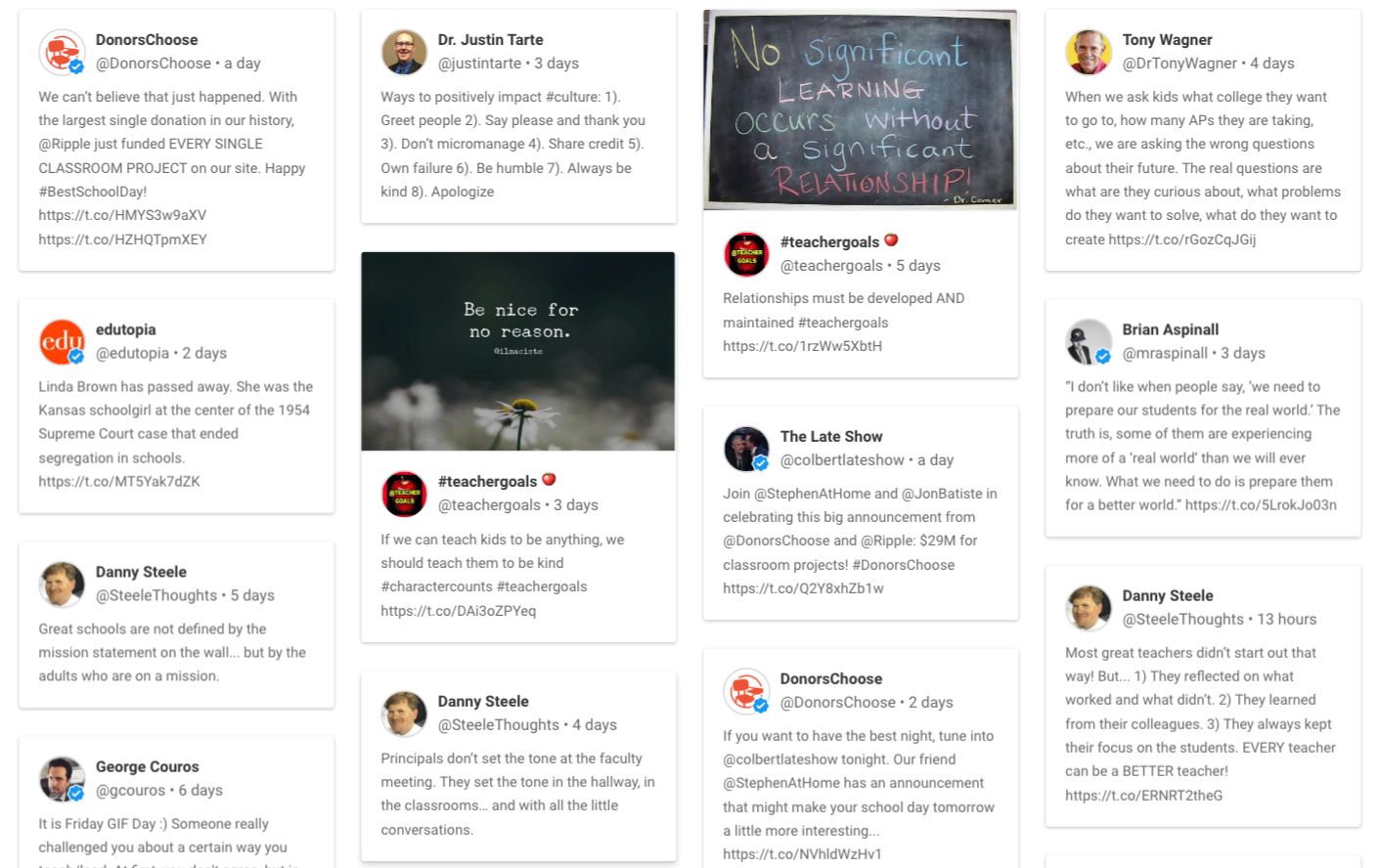 Audiences also allows your to look at popular hashtags within a given audience. I took a look at people who follow big content marketing accounts to see what hashtags were popular among content marketers. It turns out they LOVE quotes, tweeting #quote and #ThinkBIGSundayWithMarsha (which is a hashtag stream full of inspirational quotes) more than most tweeters.
Another way to go about this is to download the handles of your audience members from Brandwatch Audiences and then create a query in Analytics using those handles. Using this, you can track what your audience members are talking about over time and search for mentions of things you're interested in getting their views on.
---
You might like
Audience Content Intelligence: Know What Your Audience is Talking about Right Now
Read the Article
---
An intelligent way to research what content might resonate
There are infinite potential stories that marketers could jump on, but taking time to check whether there's a good chance something will resonate with their audience could save a lot of production and sign off time on something that doesn't quite work.
It doesn't have to take long, either – I was able to bring up the trending content about teachers and lectures in a couple of minutes, and if you already have audience panels set up in Brandwatch Analytics you can quickly search for the topic to see what your audience are saying (or not saying) about it.
So, by all means stay up to date on the broadest possible trending content, but don't forget to check what's trending in your industry and in your audience if you're going to get involved successfully.
Brandwatch, coupled with BuzzSumo, offer a solid solution to content marketers in search of content that's trending in their industry and their audience, whatever the topic.
---
Brandwatch Analytics
Find out what Brandwatch Analytics and Brandwatch Audiences can do for your content marketing
Find out more