Hello and welcome to day one of the Now You Know Conference, Denver!
If you've followed along before for the Europe and Chicago conferences you'll know the drill – I caffeinate myself to an almost dangerous level and type really fast and share all the best insights and tidbits from our Now You Know Conference.
Follow along on Twitter and Instagram with the hashtag #NYKConf. Get strapped in. Get a massive coffee. We're going deep into the world of fake news, AI, the truth, and more.
If you're here, don't forget to get your all-inclusive guide to #NYKConf Denver by downloading the app. Handy link time! Android: http://bit.ly/2pGUsP0  Apple: http://apple.co/2pcBz3a.
Latest updates will appear at the top. Off we go!
4.00pm – Main Stage – The Product Team, Brandwatch
Following an exciting half hour on the case study and masterclass stages we're all gathered back where it began. Not 68 Middle Street in Brighton, but the Main Stage.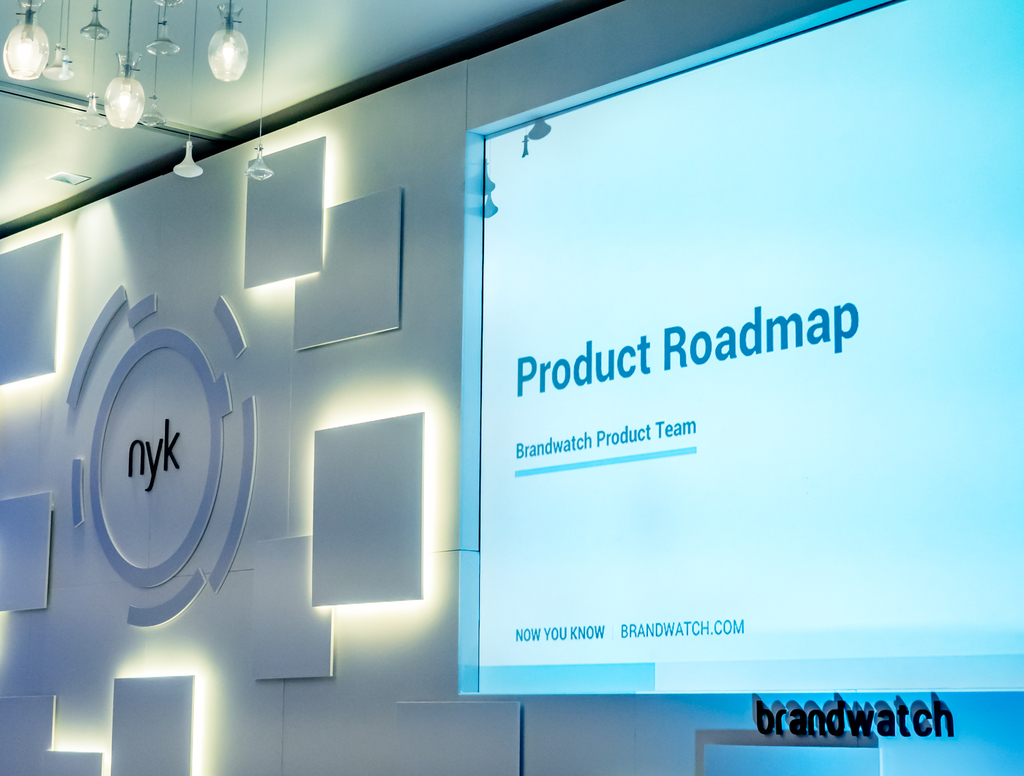 Caspar Atkinson is Brandwatch's Chief Product Officer and he's joined on stage by the allstars of the Product Team – Amy Collins, Bex Carson, Mark Rogers, and Mike Brackpool – presenting the Product Roadmap.
This is where I have to bid you adieu. It's all TOP SECRET INFORMATION and if I share it on here I'll be receiving my P45, or if you're not from the UK, I'll be getting my pink slip. Which sounds incredibly rude.
We'll all be back tomorrow. Over and out.
3.12pm – Masterclasses: Brandwatch experts
Over in the masterclass track we've had Nichole Walsh hosting 'Emergency Preparedness', and now Tallest Man At Brandwatch (yes, even taller than Giles), Ben Schaefer, is telling everyone the secrets of the quick-serve restaurant industry and how they use social listening to discover what their customers really want.
It's a really neat piece of research.
Perhaps even more exciting than that is that we just handed out some prizes. Got to give props to this lady who has been a top tweeter. We love you!
Boolean champion!!!!! #NYKConf pic.twitter.com/T8g8mxZm7j

— Dr. Liz Gross (@lizgross144) May 8, 2017
Also a big thanks to Will for braving the golf-ball sized hail to get me a Diet Coke. You're a brave and fearless leader.
Denver weather is pretty intense pic.twitter.com/EXcD57j20Q

— Natalie Kate M (@Natalie_KateM) May 8, 2017
2.55pm – Case Studies: Joshua March, Conversocial
Our partners Conversocial are obviously pros at using social intelligence to make light work of many situations.
Presenting to a packed crowd is Founder and CEO of Conversocial, Joshua March. As an aside, this is how bad my typing has now got.
Joshua's session, "The Future of Social Customer Care is – Effortless", is showing how, by becoming a pro at social listening, you're able to connect with your customers better than ever before.
Packed house at @joshuamarch's Future of Customer Service session at #NYKCONF! pic.twitter.com/YumTN7FoDA

— Jaclyn Fu (@jaclyn_fu) May 8, 2017
.@JoshuaMarch @Conversocial is talking about the Return On Ease [my term] of social customer service, at @Brandwatch #NYKconf. pic.twitter.com/SWTdGFnqMx

— Seth Grimes (@SethGrimes) May 8, 2017
2.31pm – Case Studies: Shawna Polivka, The Ohio State University
"On November 28, 2016, a terrorist vehicle-ramming and stabbing attack occurred at 9:52 a.m. EST at Ohio State University(OSU)'s Watts Hall in Columbus, Ohio. The attacker, Somali refugee Abdul Razak Ali Artan, was shot and killed by the first responding OSU police officer, and 13 people were hospitalized for injuries." – Wikipedia
There's a #highered case study at #NYKConf! Learning how @OhioState uses social listening in a crisis.

— Dr. Liz Gross (@lizgross144) May 8, 2017
The first thing the social media team heard was the campus emergency notification system.
They put a shelter in place, and were seeing videos of the situation and reactions on Snapchat campus stories, but they weren't able to reach them. They emailed every social admin on campus to tell them to stop posting anything other than campus safety information.
Much to learn from Ohio State on crisis management, including what we usually call a crisis in not in comparison #NYKCONF Thx Shawna Polivka

— Tracy Bell (@TBellwether) May 8, 2017
They then added new Queries for social listening, and contacted us here at Brandwatch to let us know that mentions would be peaking – and the mentions shot up to 80,000 in just one hour, and almost 400,000 in a day.
Social listening also allowed them to report sentiment and allowed them to see what news stations were covering the crisis.
They also looked at the conversation by geography. The President had an international trip planned – did he need to be prepared?
What @ShawnaFPk and @OhioState learned about using social listening in times of campus crisis. #NYKconf pic.twitter.com/asgMd5NBF6

— Dr. Liz Gross (@lizgross144) May 8, 2017
It's an incredible story of how social really can be used for good.
Meanwhile:
Quick #VR test @HC2K_ #NYKCONF pic.twitter.com/RyXOeS5GWl

— angela berger (@abergs) May 8, 2017
1.58pm – Brandwatch VR Labs
If you're here at The Curtis, make sure you visit the VR Lab.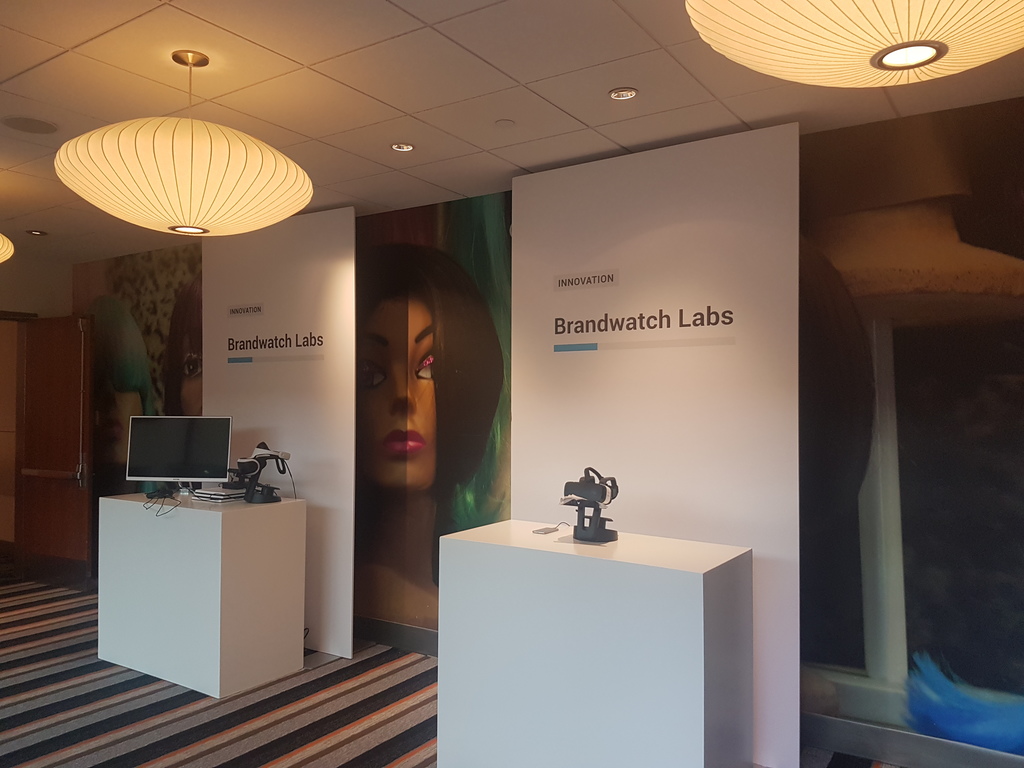 Our Creative Technologist Matt Pearson has built what he describes (under pressure) as: "I can't think of anything without cliches in it. Can't say immersive. Erm. I know, a novel way of looking at a network." Thanks Matt!
You pop the fancy goggles on your face and explore the networks surrounding NYK Denver. Here it is in action.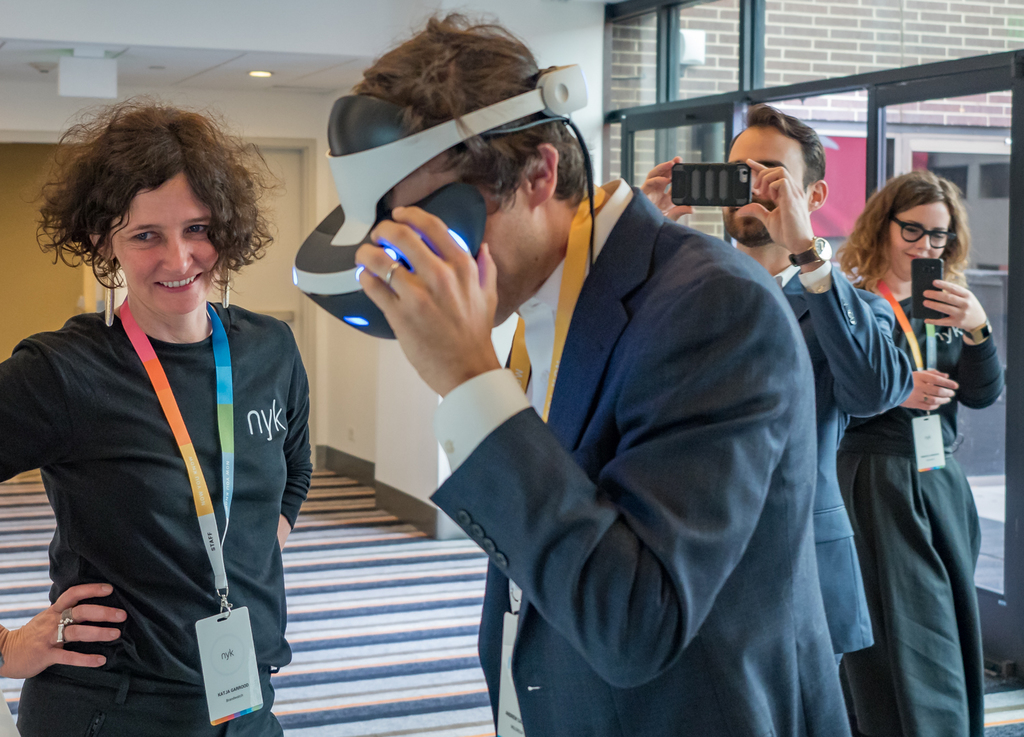 1.46pm – Case Studies and Masterclasses
After a much needed, delicious lunch – oh, you'd like a rundown of what we had? OK GLAD TO BE OF SERVICE – of salads, steak, parmesan chicken, gnocchi and cannolis (I'm really full), we've split into three rooms.
Hungry data folks. Nourished by @Brandwatch. #NYKconf pic.twitter.com/CBCbDbUl2H

— Leigh Fatzinger (@lfatzinger) May 8, 2017
We've got a case study track, a masterclass track, and roundtables.
The agenda is looking 'lit', as Brandwatch's Product Marketing Manager, Phill Agnew, would say (whilst dabbing).
We won't be back at the Main Stage until we hear Caspar Atkinson present the product roadmap at 4pm. Between now and then I'll be sharing the best insights and tweets from the case study and masterclass tracks.
Our topic cloud gives a taste of what's been covered during the first morning of #NYKConf. Much more to come! pic.twitter.com/bMRRIqAo29

— Brandwatch (@Brandwatch) May 8, 2017
12.15pm – Main Stage – KEYNOTE: Charlene Li, Altimeter
Charlene's sharing her knowledge on how to be an engaged leader.
You have to listen, and share, to be able to grow and deepen your relationships.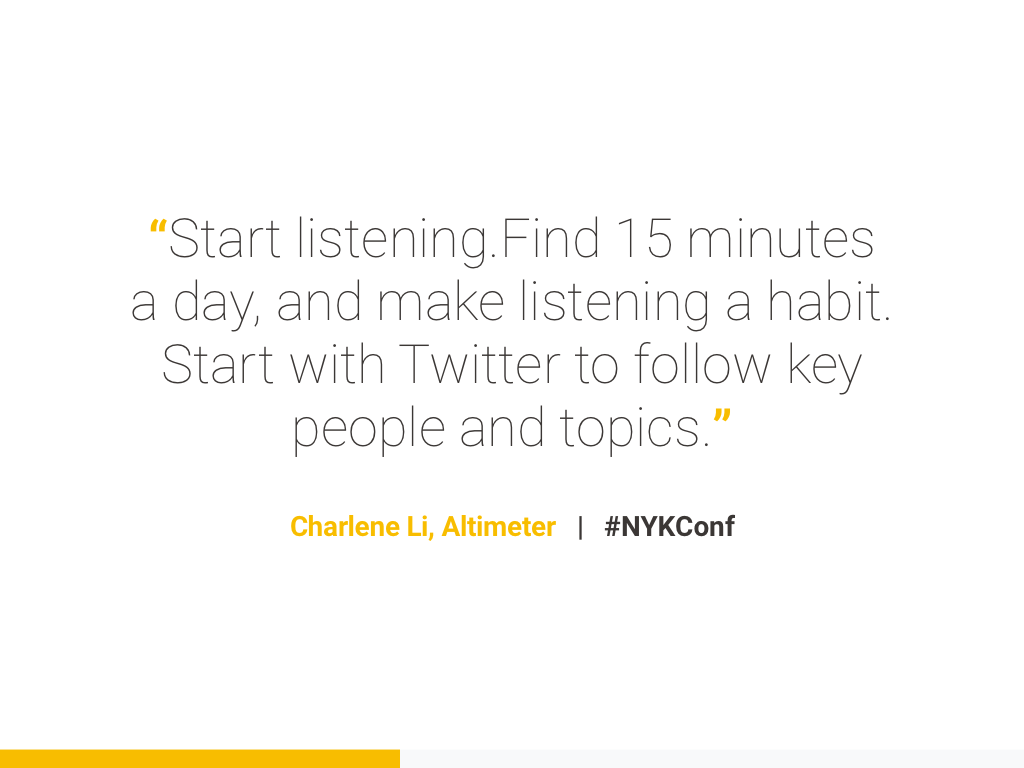 She's also giving real examples from Red Robin, Telstra and UPS on how sharing helps people connect.
Before we break for lunch and I treat my imminent RSI, let's see what our awesome NYKConf audience are saying.
We are wide-eyed and ready for knowledge at #NYKCONF! pic.twitter.com/ylaGMQM3IS

— Daniel Brian (@DanielBrianAdv) May 8, 2017
Nuff said…#NYKCONF pic.twitter.com/0S7Xkfp7Jq

— Kris Russell (@HC2K_) May 8, 2017
Many of today's business leaders have been told not to share. That's such a foreign concept to me. Millennial gift, I guess. #NYKConf

— Dr. Liz Gross (@lizgross144) May 8, 2017
12.00pm – Main Stage – KEYNOTE: Charlene Li, Altimeter
Closing the morning's content is Charlene Li.
Charlene is a principal analyst at Altimeter. As one of the foremost experts on social media and technologies, Charlene's deep knowledge of leadership, strategy, interactive media, and marketing makes her an indispensable ally in today's rapidly evolving marketplace.
She is the author of the bestselling books, Open Leadership and Groundswell and The Engaged Leader. Before starting Altimeter Group, Li was vice president and principal analyst at Forrester Research. She was named one of Fast Company's "100 Most Creative People in Business" in 2010, and one of their Tech Evangelists in a 2009 profile of the most influential women in technology.
Excited to take the stage soon at #NYKCONF. It's like coming home, talking with people who speak the same language of Social.

— Charlene Li (@charleneli) May 8, 2017
Her talk today is going to touch on relationships, leadership, and the future.
Digital and social technologies have revolutionized relationships—and leadership is not immune. Despite the pressure to engage, leaders remain on the sidelines, paralyzed by fear and the unknown. In order to be truly effective today, leaders must adapt to the demands and opportunities of digital leadership. To be a truly honest digital leader requires a metamorphosis: you must connect directly by listening, sharing and engaging using digital technologies. This metamorphosis is not easy, comfortable or painless.
It seems our guests are as excited she's here as we are.
Im star struck, my hero @charleneli author of the best book ever "Groundswell" #NYKCONF pic.twitter.com/ExxXjdjLj8

— Joakim Nilsson (@JoakimNilsson) May 8, 2017
Keynote from @charleneli at #NYKCONF. So stoked. pic.twitter.com/9kajCQiW6N

— Dr. Liz Gross (@lizgross144) May 8, 2017
11.47am – Main Stage – Panel
We're so lucky to have such incredible minds from the world's biggest brands sharing their secrets about social right on stage here with us.
Giles is asking the panel what hasn't worked in terms of trying to take social and make it work, globally.
Trying to police the sheer volume and ownership of production of content at a global level – there have been internal battles.
torod neptune, lenovo
I'd say what hasn't worked is trying to implement something by saying 'this is the one way we are doing things.' 3M is entrepreneurial, we have an inherent need to have ideas come from the bottom up, and then have the continuity from the top. We're constantly trying to figure that out.
suzy maul langlois, 3m
A lot of things haven't worked, we've been doing it a long time! I'd say trying to be able to support the entire business without enough headcount is tough.
lisa grimes, dell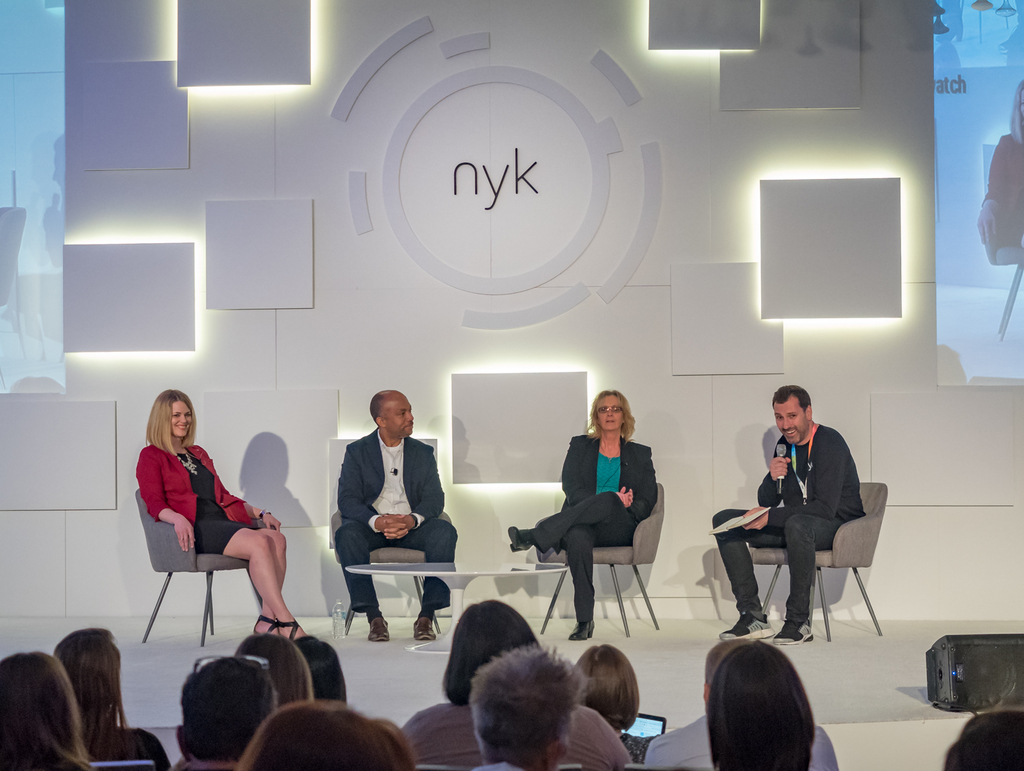 11.30am – Main Stage – Panel
The next panel sees CEO and Founder of Brandwatch, hiker of mountains and rider of mechanical bulls, Giles Palmer, moderating this zinger:
Borderless Intelligence: Global Social | Suzy Maul Langlois, 3M | Lisa Grimes, Dell | Torod Neptune, Lenovo 
Social is so much more than just Facebook, Twitter and the English language.
We recognize that remaining at the forefront of innovation and complexity in social intelligence is a global challenge. Do you understand the Chinese consumer and their social networks?
How do you manage the dozens of different languages your business cares about, and how do sentiment context and meaning change in each dialect? Culturally, what's different in practically providing insights to different markets?
Data isn't the problem anymore, it's insight we lack–.@torodneptune
Couldn't agree more! 👏👊#NYKCONF pic.twitter.com/4GuSfdjzIT

— Kris Russell (@HC2K_) May 8, 2017
ANOTHER phenomenal panel. Largest companies in the world sharing opportunities and challenges with social on a global scale. #NYKCONF pic.twitter.com/J58jc1MBPZ

— Paul Giardina (@pgiardina) May 8, 2017
11.15am – Main Stage – Panel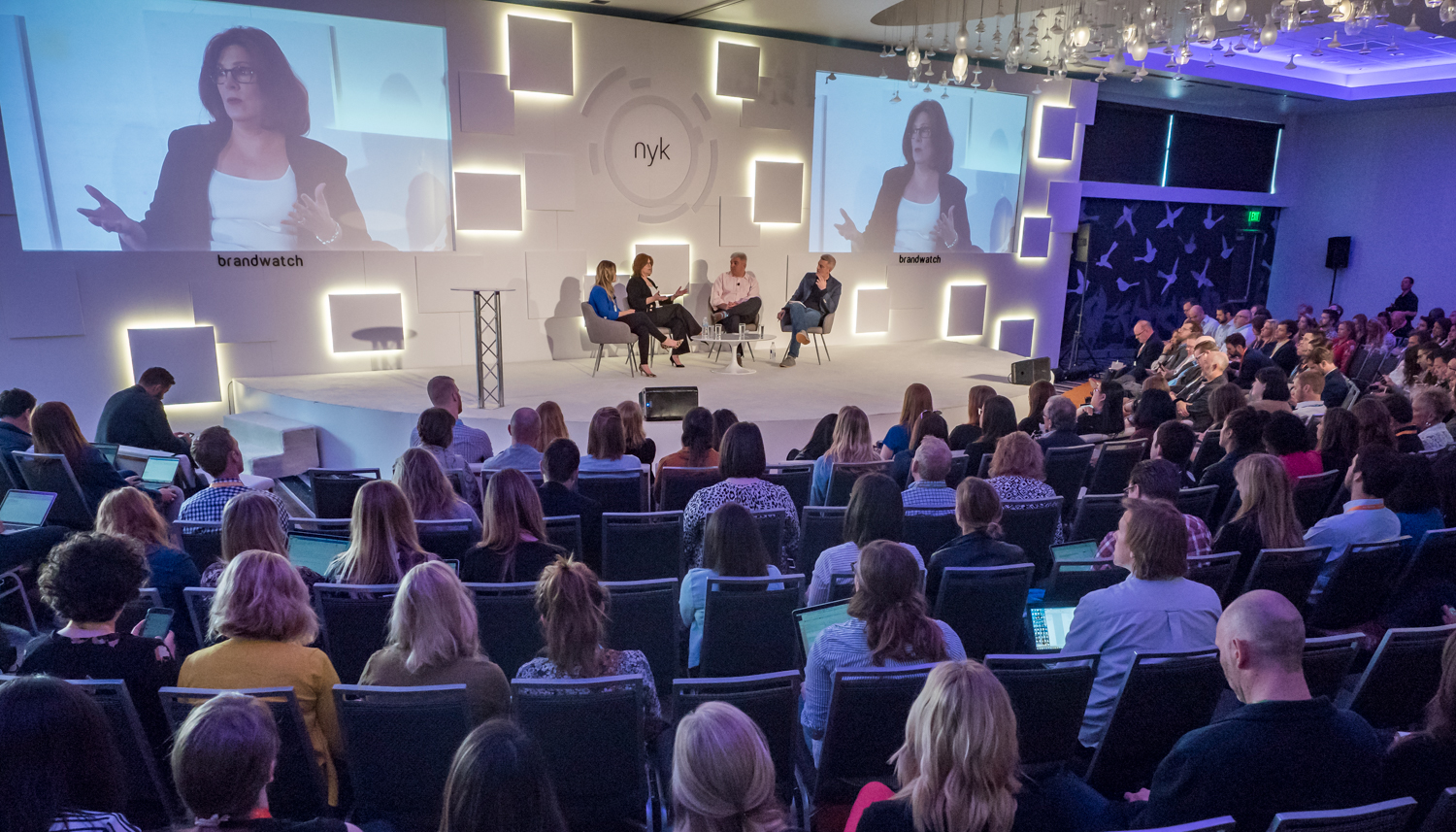 Pat closes by asking the panel: if there was one piece of advice you'd give to our audience on social ROI, what would it be?
Forget what you're doing on social – start with your corporate objectives, work back, and see how social supports that. Cant see a link? You're probably looking at the wrong data.
Tracy Bell, Bank of America
Social is relatively new, so just try stuff! Be willing to go out there and play with the data. We don't know what doesn't work yet! Get out there and share your experiences.
JOhn trenholm, toys r us
I agree with John. Allow yourself to be creative, we're often pressured to come up with something instantly – but there's always new things coming, so be flexible and set expectations to those you're delivering results to.
angela berger, walmart
10.58am – Main Stage – Panel
GUYS, WE JUST HAD A MAGICIAN ON STAGE. He blew everyone's MINDS.
I was put on the spot by a magician.. and yep! He guessed my number in over 500+ ways! #amazed 😱 #brandwatch #NYKCONF #Denver pic.twitter.com/e8i4HgBRDr

— Dj Kick iT! (@Saboramexico1) May 8, 2017
Now, blowing our minds, is the "Discovering ROI in Social" panel featuring our clever pals from Walmart, Bank of America, and Toys R Us, moderated by our favourite Irishman, Pat Phelan.

Tracy Bell of Bank of America is sharing the story of how social analytics has been implemented at BoA – they've been working in social analytics for quite some time, so Tracy is extremely well placed to drop nuggets of wisdom on this crowd.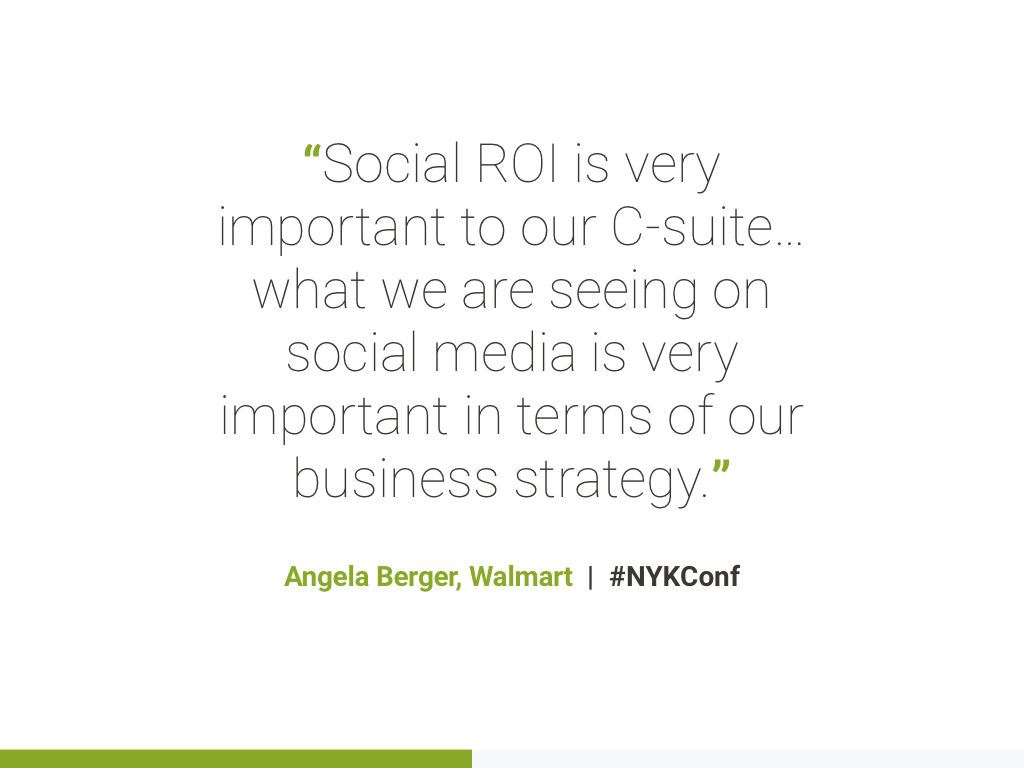 Here's what the crowd are saying about the panel, because, I'm not going to lie, liveblogging panels is extremely hard.
Hey @cmmitchell4 – your colleague @abergs is doing a great job talking ROI at @Brandwatch #NYKCONF pic.twitter.com/nuuAaQ7Vbc

— JenX73 (@JenX73) May 8, 2017
Bank of America, Toysrus & Walmart on the same stage. #nobiggie #nykconf https://t.co/JWKih0PfWs pic.twitter.com/Yf0MQdVP9x

— Jim Reynolds (@jimmyrey) May 8, 2017
Speed of delivery impacts speed of resolution. In the world of social data, minutes make a difference. #NYKCONF #ROI

— Allison Treharne (@allysquires) May 8, 2017
Top analytics & customer focus folks from @ToysRUs + @BankofAmerica + @Walmart on social data and ROI panel @Brandwatch's #NYKconf pic.twitter.com/QxVRwTkamm

— Jo Jensen (@JoJensen) May 8, 2017
Social ROI in theory is easy, but not in social. Panel w/ @TBellwether @abergs John Trenholm
& moderated by @pat_phelan #NYKConf pic.twitter.com/dyR6yVPod0

— DeAnna Jacobsen (@deannacmj) May 8, 2017
10.25am – Twitter Terrace, Hootsuite Terrace
Our first two talks have closed and we're enjoying some Denver sunshine on the Twitter and Hootsuite sponsored terraces.
Thanks for the #coffeebreak, @Twitter! Beautiful morning to learn about the latest on #analytics and #socialmedia. #NYKCONF pic.twitter.com/ubK2gW3nXq

— Maddy (Wold) Cross (@maddywold) May 8, 2017
When I say Denver sunshine, I mainly mean some delicious apple pastry type things and a re-up of caffeine.
Our VR Labs area is packed with people trying out our exploration into VR networks. Witty repartee is bouncing off every surface.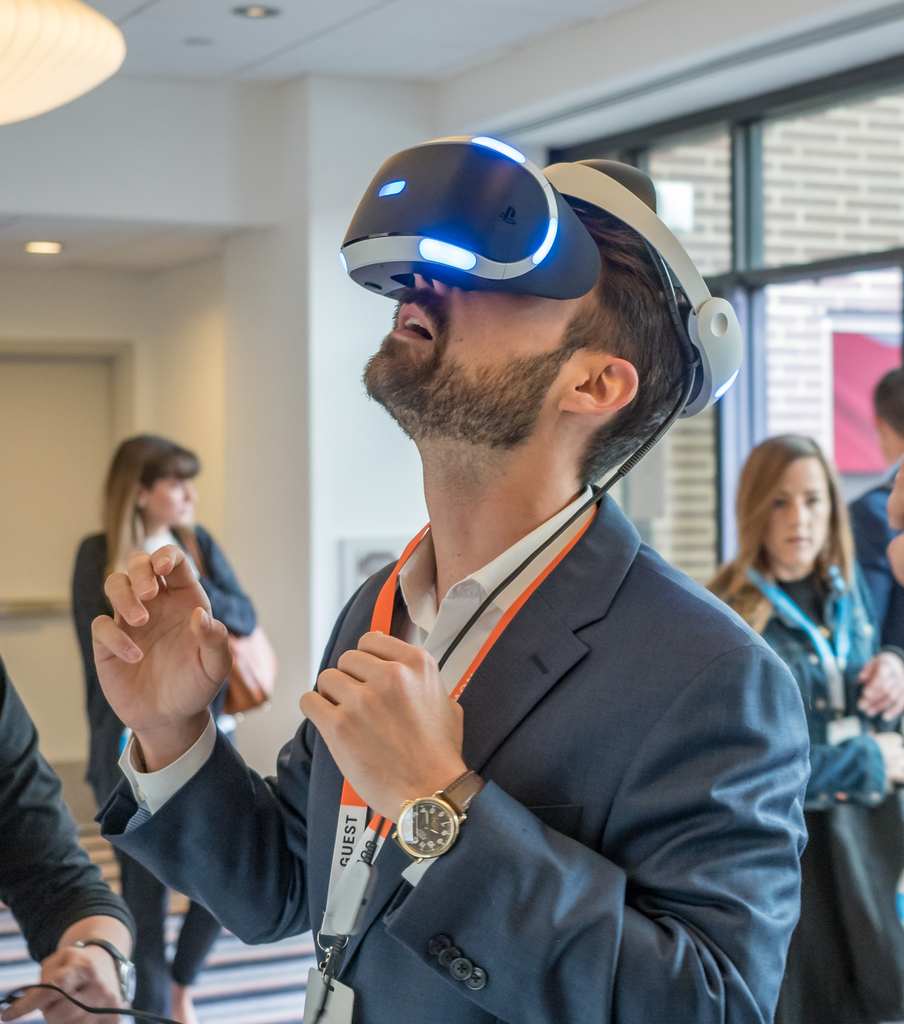 🐦🐤🐔🐧🐣🐥🦆🦅🦉 #nykconf https://t.co/4TPQdxRFf7 pic.twitter.com/fdCIQbtpwh

— Andrew Dawson (@LittleMrDawson) May 8, 2017
09.55am – Main Stage – Misia Tramp, Metia
Misia is closing her talk by summarising her key epiphanies.
Design based on the outcomes not the outputs. Think about the higher order problem you're solving, for that will create emotion moments.
Speak to the tribe, not just the individual.
Ensure your data is contextual.
Integrate the actual language of the customer into your insights to explore what's meaningful
Find the 'mutual truth', and focus on the fair exchange of value.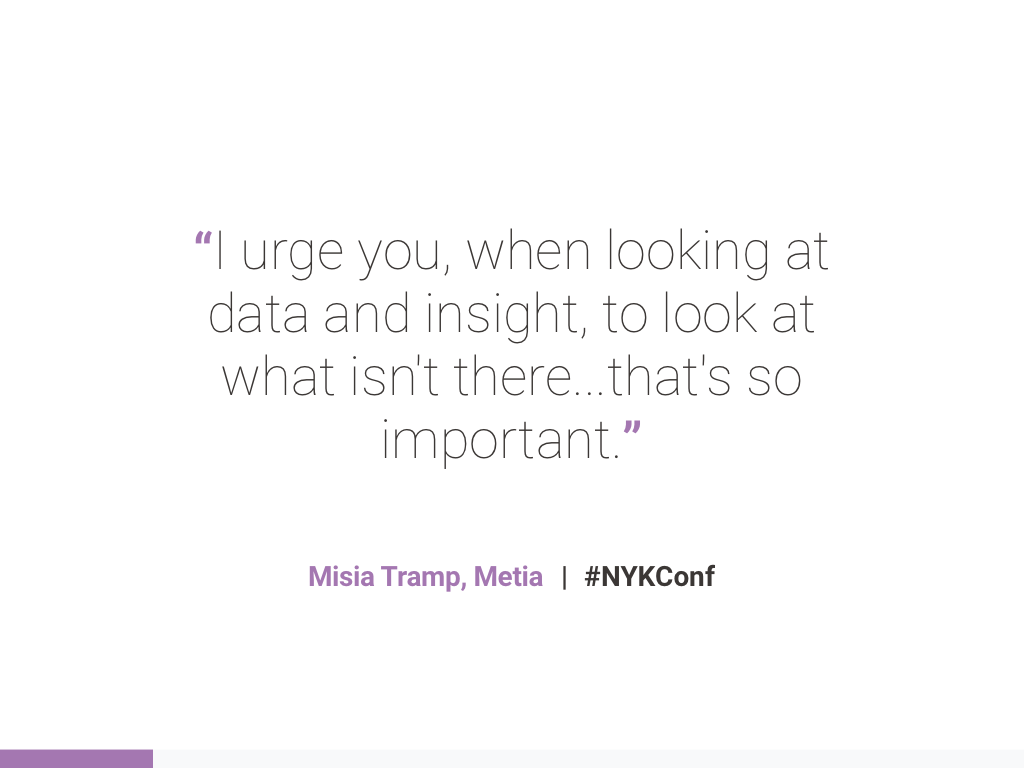 09.48am – Main Stage – Misia Tramp, Metia
"There's what matters to brands, what matters to audiences, and then there's the truth." Misia is giving a great talk on the overlap, the mutual resonance, of the two worlds of customers and brands.
"Look for affinities. That's when you'll find the truth."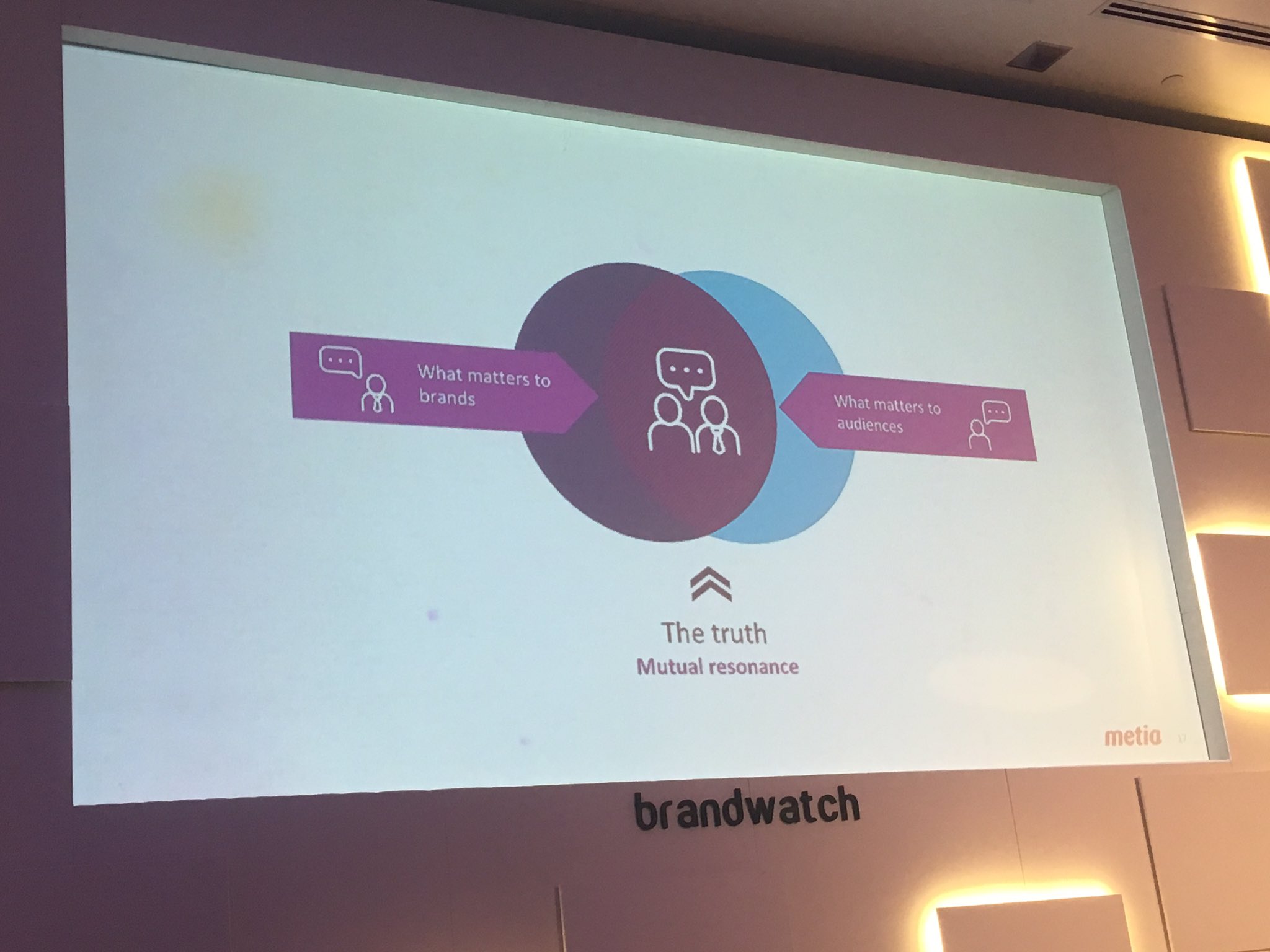 Absolutely love @misiatramp point about paying attention to silences and what isn't said as much as what is #NYKCONF pic.twitter.com/gMyyVCgbGL

— Will McInnes (@willmcinnes) May 8, 2017
@MisiaTramp of @Metia shares advice around getting to the truth here at Brandwatch #NYKCONF. What's your higher order? Get to your why. pic.twitter.com/IFemg9KaQ6

— Metia (@Metia) May 8, 2017
09.39am – Main Stage – Misia Tramp, Metia
Matt's talk gave us a lot to unpack, and it's only 09.30am! Next up we have the excellent, 'gin drinking', Misia.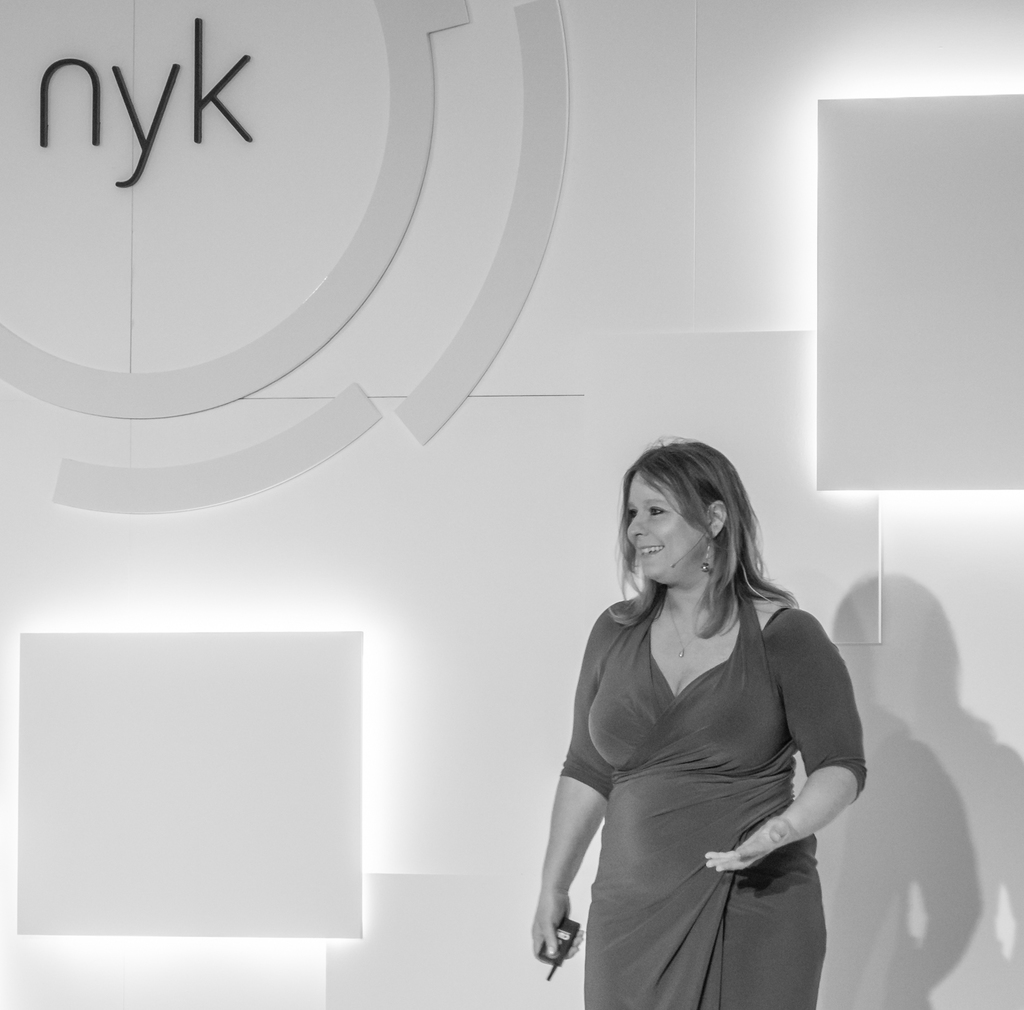 Misia Tramp on strategy & insights- "Find the truth: data that's mutually beneficial to both brands and audiences." #NYKCONF

— Emily Brandon (@emilybrandon6) May 8, 2017
Social Truth: Revealing what Truly Matters to Customers | Misia Tramp, Metia
"Working in an era where customers are creating data all around us, it is becoming increasingly critical to understand how to use unstructured data to ensure a 360 degree view of audiences. Do you understand the key attributes that drive the customer experience? Can you afford to let the potential of its value go untapped? To discover 'social truth', marketing professionals require a system that gets beneath what customers say to what they really mean. Find out how linguistic and visual data is changing the future of research to deliver deeper engagement and lifetime customer value."
Dont jump to conclusions based on one piece of the elephant. Use data to ensure you see the full picture #NYKCONF @misiatramp pic.twitter.com/D7JIuTjbiS

— Allison Treharne (@allysquires) May 8, 2017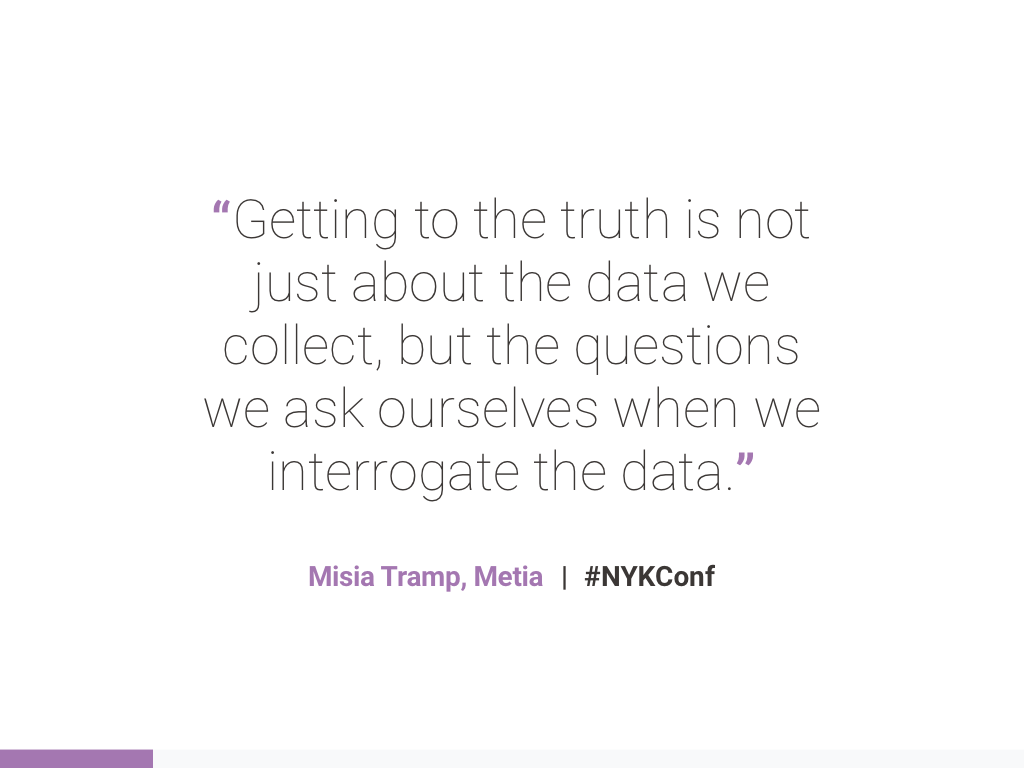 09.24am – Main Stage – KEYNOTE: Matt Locke, Storythings
Matt's giving us a history of storytelling, and how organising content into a schedule came to be.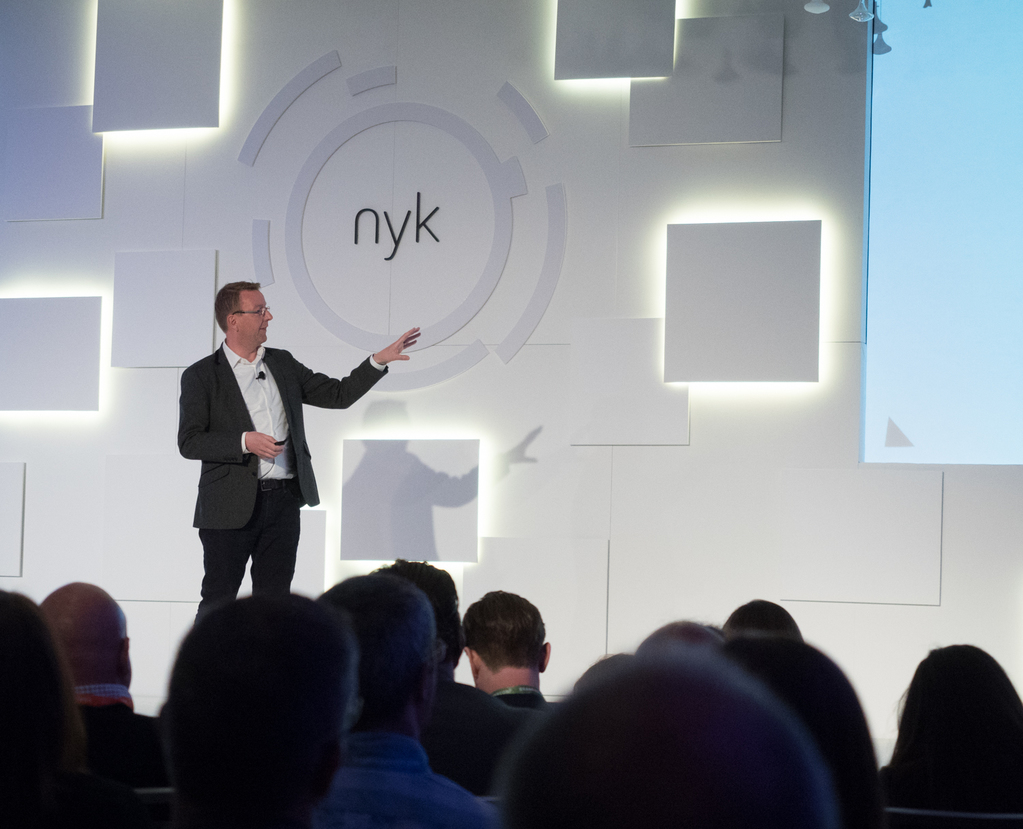 A lot of what we recognise as formatting and scheduling of radio and TV today was invented back in 1907 – Matt is explaining how in his opinion, the 'schedule' was the most important concept of the 20th century.
In the last decade, a new concept has come about which Matt argues is going to be equally as important as the schedule – the stream.
Only 45 minutes into #NYKConf and we're already addressing the important questions https://t.co/fch3bNvLo4

— Brandwatch (@Brandwatch) May 8, 2017
Before the Facebook newsfeed, you had to check out what your friends were doing by going to their 'walls' – but with the newsfeed, and thus the stream, we suddenly had access to more content than ever before.
The stream has four distinct qualities that are different from the schedule:
1 – It's personalised
2 – It's mobile
3 – It's de-contextualised
4 – It's endless.
Contrasting The Schedule vs The Stream, from @matlock's #NYKConf keynote. pic.twitter.com/x7QO5RXIKX

— Dr. Liz Gross (@lizgross144) May 8, 2017
Matt is underlining how the stream allows for fake news to spread. Here's how:
How the Stream enables fake news #NYKConf pic.twitter.com/knoyM2zKy1

— Rebecca Carson (@bexcarson85) May 8, 2017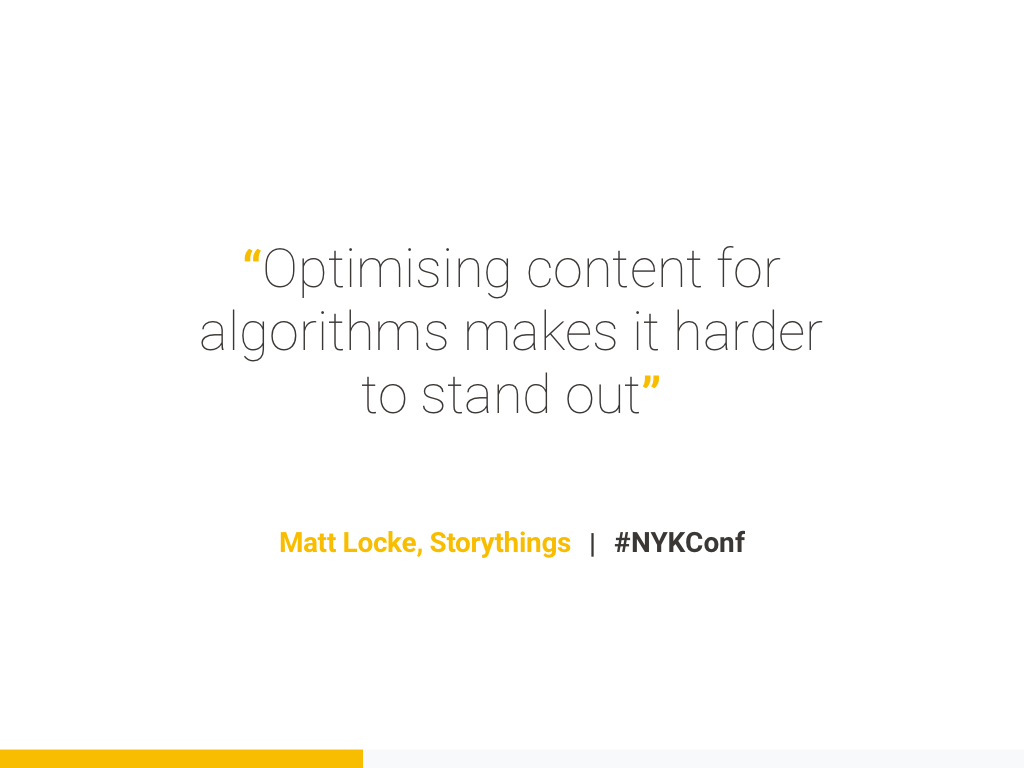 Is content optimization killing creative storytelling? Do algorithms define content now? Here's some further reading on the schedule and the stream. 
Powerful closing: president @realDonaldTrump might be the first politician in the "stream era" #NYKCONF @matlock

— Joakim Nilsson (@JoakimNilsson) May 8, 2017
09.00am – Main Stage – KEYNOTE: Matt Locke, Storythings
After a rousing opening talk from CEO Giles Palmer (see below in custom fancy rainbow lanyard!) we're straight into our first keynote of the next two days.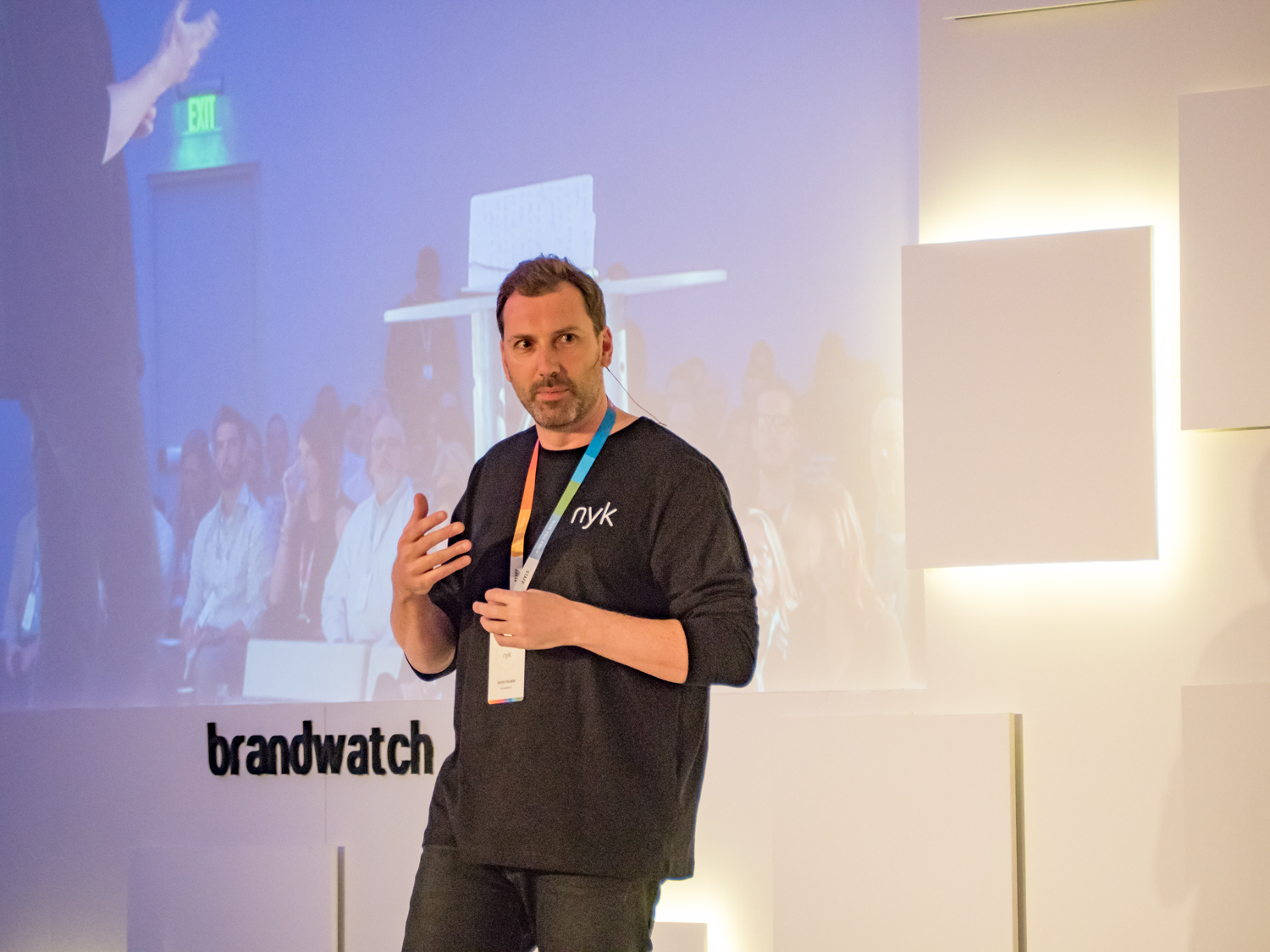 Up on stage is Matt Locke of Storythings.
Matt Locke is a digital storyteller, founder of Storythings and an expert in the role of new tech in media development, having led groundbreaking innovation projects at the BBC and Channel 4.
He's currently researching the history of how we measure attention – from applause in 19th century music halls to the digital networks of today. Here's what his keynote's about:
In 2017, we're at the tipping of two concepts that have defined how we discover, share and engage with media. One concept has lasted over a century, whilst the other is just a decade old. These concepts can help us look past technology and platforms to understand the truth about audience behaviors, business models and media policy. In this talk, Matt Locke will give a brief history of how the schedule and the stream were created and came to dominate different media eras, and what this means for how we tell stories now and in the future.
08.45am – Main Stage
And we are OFF.
CMO Will McInnes is introducing the event and welcoming us all to the next two days of HOT CONTENT – the theme we're going to be exploring for the next two days is 'the truth', and we've got guests in the audience from as far as Paris, Costa Rica, Guatemala, and…Canada! Canada doesn't really count.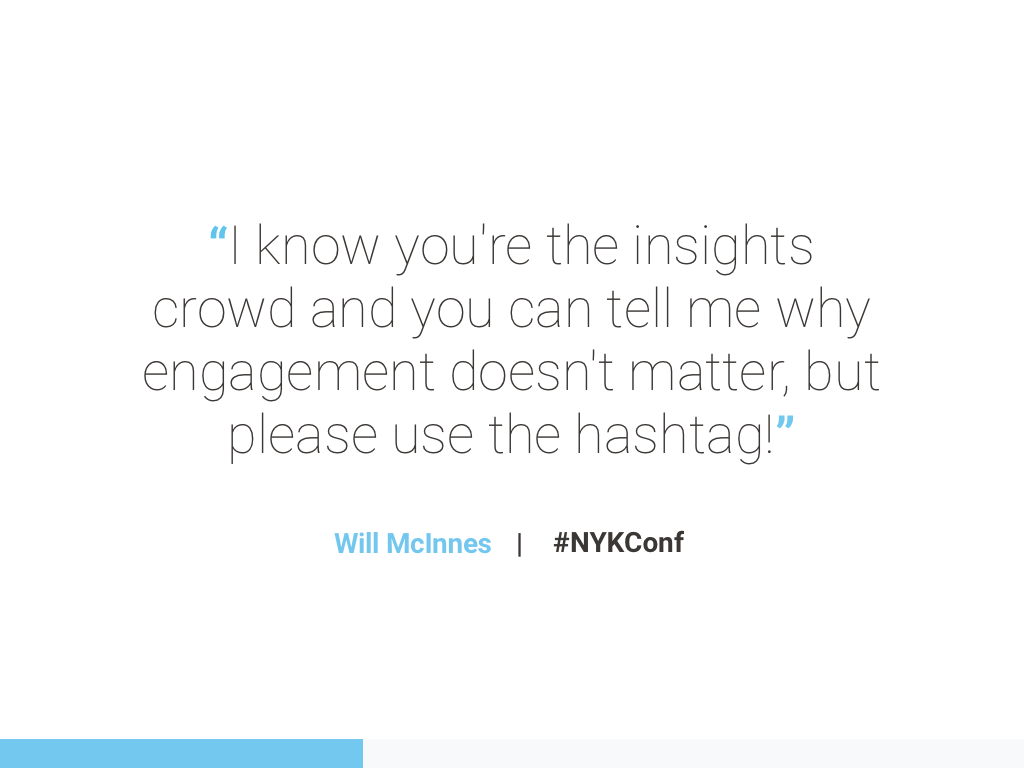 this charming man #nykconf pic.twitter.com/NaA9bxGein

— Benjamin Schaefer (@BenjamisRex) May 8, 2017
08.11am – Main Stage
While last-minute preparations are going to plan (of course! We're pros!) let's have a quick look and see what our friends coming to the conference, and some of us here already, have to say on Twitter and Instagram.
Good morning from #NYKCONF. Excited to hear the latest from @Brandwatch over the next two days. pic.twitter.com/kGwvtOxxbt

— Maddy (Wold) Cross (@maddywold) May 8, 2017
Let's do this! #brandwatch #nykconf pic.twitter.com/FcIEVFeBB7

— Josh Mackey (@joshmackey) May 8, 2017
On the plane to Denver for the #NYKconf .@Brandwatch pic.twitter.com/VdXWt8GbVV

— Lisa Grimes (@LisaGatDell) May 7, 2017
Sunrise flight to #NYKCONF pic.twitter.com/AiaXIHrDMm

— Dr. Liz Gross (@lizgross144) May 7, 2017
On the plane, headed to Denver for #NYKCONF to hang with my @Brandwatch and @drgdigital peeps and talk social in pharma. See ya there!!

— Steve Reeves (@Reeveseey) May 8, 2017
What up #Denver! Pumped for the #NYKCONF – plus it's my #firsttime here. pic.twitter.com/1e5VEgvdbq

— Victoria(Tori) Ellis (@_VictoriaEllis) May 7, 2017
And it wouldn't be a Brandwatch event without hearing from our BFF, Ben Donkor. We miss you, bro!
Me going thru #NYKCONF tweets trying not to feel at all jealous. #justsaying #whataboutmyfeelings #ithoughtwehadsomething #notoverreacting 😒 pic.twitter.com/bV3aa88lrW

— Ben Donkor ⚡️ (@FR314) May 8, 2017
07.49am – Breakfast
It wouldn't be a Brandwatch liveblog without me commenting on the breakfast.
Registration opened at 7.30am and the food hall is already buzzing with clients and Brandwatchers stocking up on eggs, bacon, french toast and the like.
Here's what's coming up first this this morning: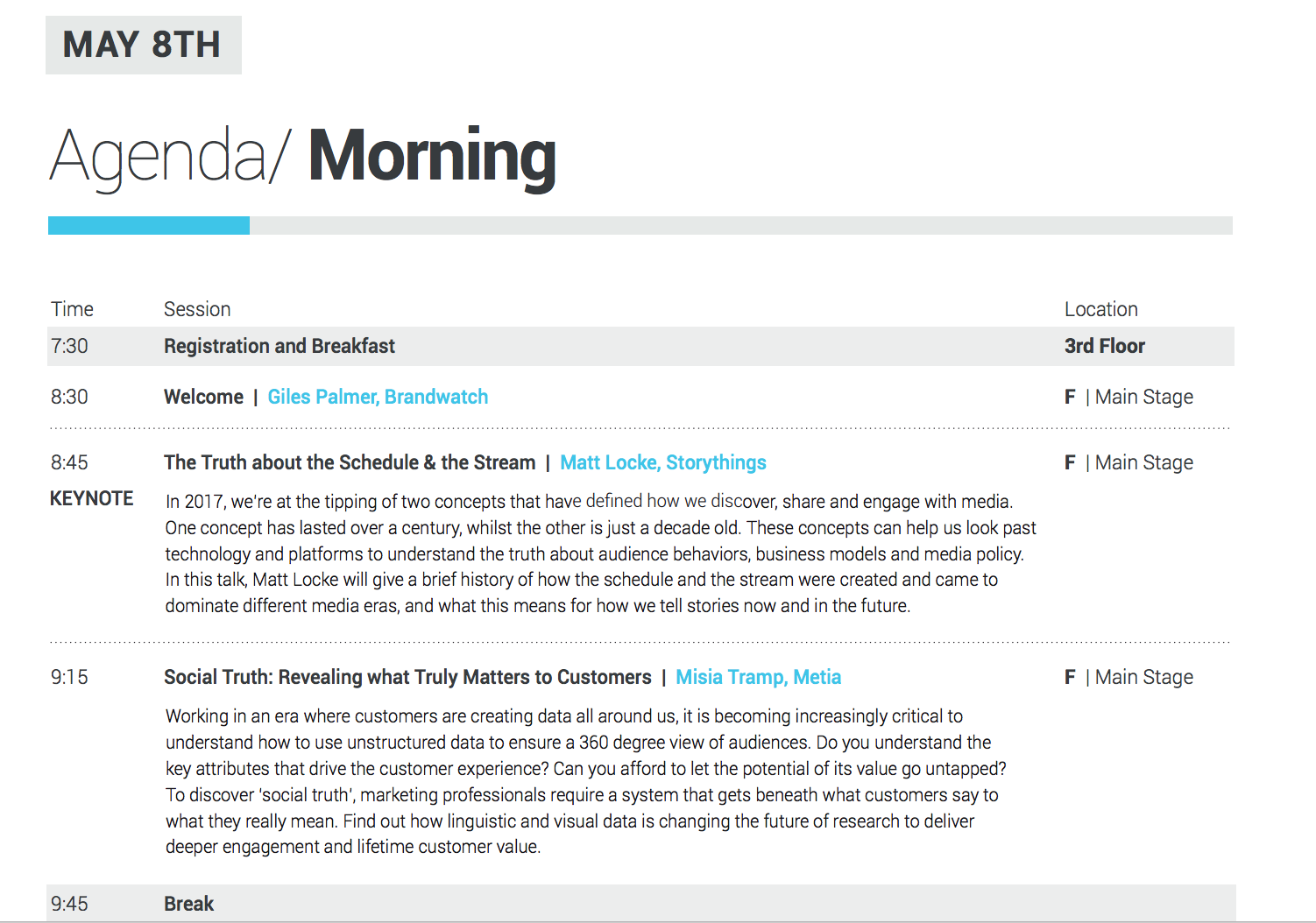 While we wait, here's a sneak peek of the main stage.
We're at The Curtis in downtown Denver, and this year we've basically taken over the whole joint. It's looking super fly.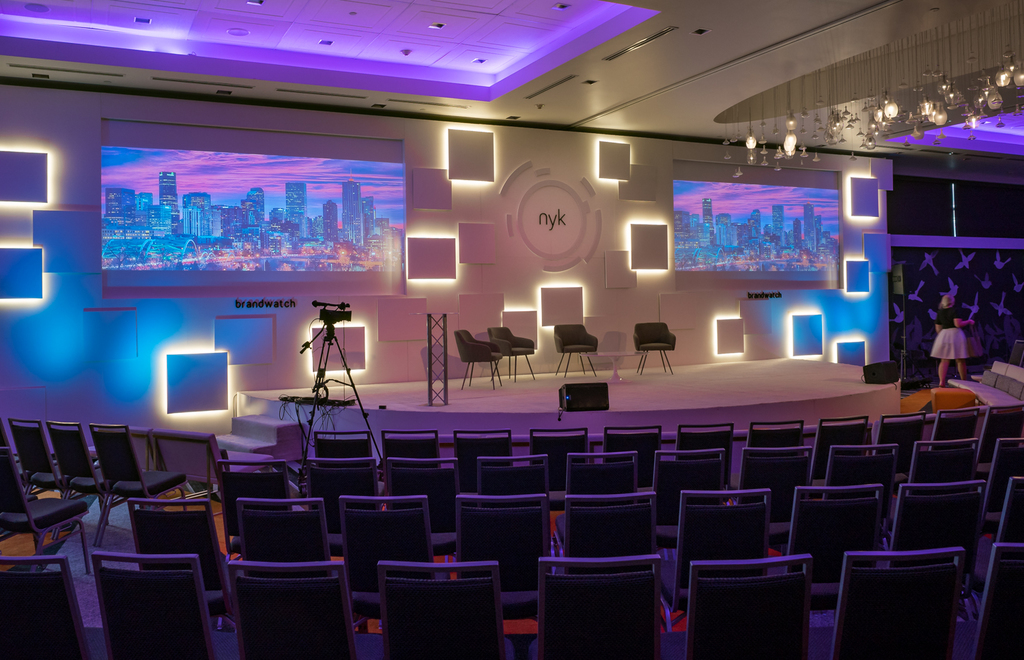 And here's a peek at the Hootsuite Terrace: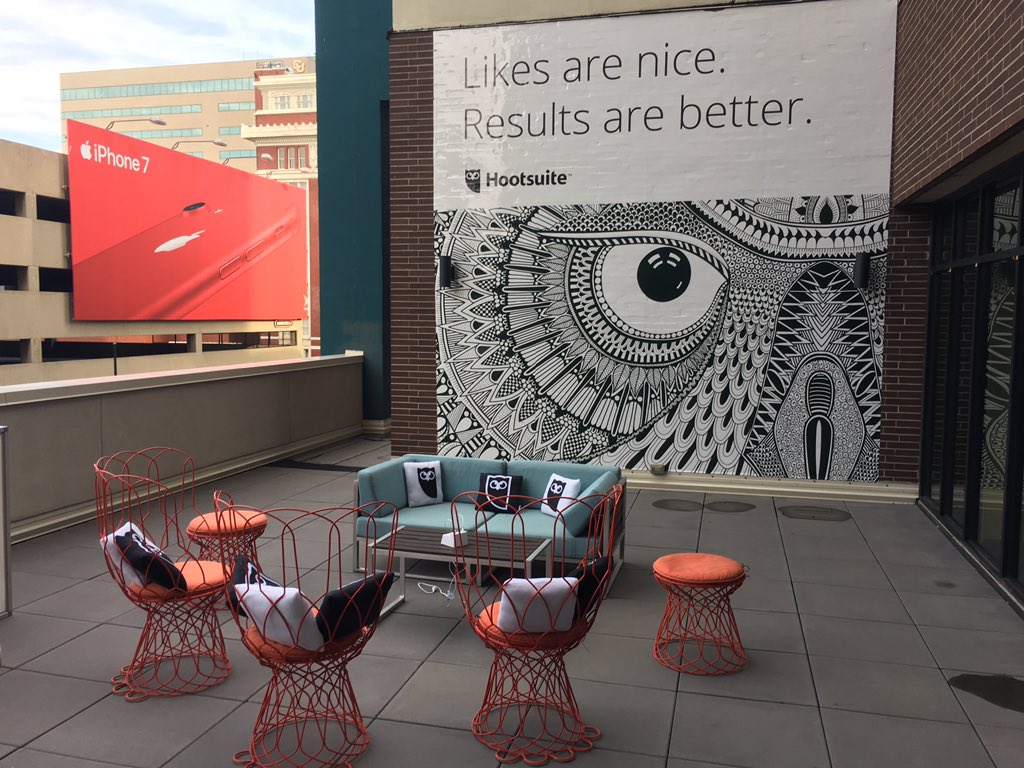 How's our CMO, Will McInnes, feeling? Glad you asked.
me rn#NYKCONF pic.twitter.com/ML7eowRtBl

— Will McInnes (@willmcinnes) May 8, 2017
Updates to follow – check back for more and follow @Brandwatch and the #NYKCONF hashtag on Twitter and Instagram
Now You Know™
---
Brandwatch Analytics
Get a demo of Brandwatch Analytics
Find out more