Event Recap: NYK Chicago 2018 Highlights, Day Two Culture
You asked for it, so here it is: our recap of day two of our third annual US edition of Now You Know. 😃
We brought hundreds of the smartest folks in marketing, research, technology and social media together for two days of mind-blowing magic (literal and figurative magic) and intelligence.
And if you attended day two of our US event in our Now You Know conference series, you'll agree "now you know" is an almost offensive understatement.
Not only do you know the importance of democratizing intelligence, you have the tools to apply those learnings to your company today.
And now you know the effect of bias on algorithms, you're worrying (if you're like me) how those algorithms influence everything from your credit rating to your chance of landing your next job.
In part two of our #NYKConf recap (day one is here), I'm diving into our second day in Chicago.
We cover bots, algorithms, collectives, and trust, and what all that means for what we call "intelligence."
Day two: mo' intelligence, mo' problems
Just like day one, we started with a hearty breakfast, which was much needed after our action-packed first day and a long night of ping pong at our happy hour.
Good morning #NYKconf pic.twitter.com/557QfsYuCI

— Kamil Jopek (@kkamilio) May 8, 2018
But once breakfast was eaten and our hangovers were dwindling, we were right back into our jam-packed NYK agenda, where we learned about the fascinating, beautiful, and scary sides of intelligence.
NYK Humans #NYKconf We are commited pic.twitter.com/KxfBqNRf9o

— Kamil Jopek (@kkamilio) May 8, 2018
(Special thanks to our creative engineering team lead, Kamil, really bringing our conference acronym to life. Want a job on our marketing team?)
Thoughts on: trust in collective intelligence
To kick off our intelligence-filled lineup, Clay Shirky, our first keynote speaker of the day, presented us with a rhetorical question to get us thinking about how collective intelligence is born, and what role technology plays.
With a side-by-side look at the Wikipedia page for Chicago, Illinois from a decade ago and the same Wikipedia page today, he asked the audience, how did the page go from simply saying "a city in Illinois" to this: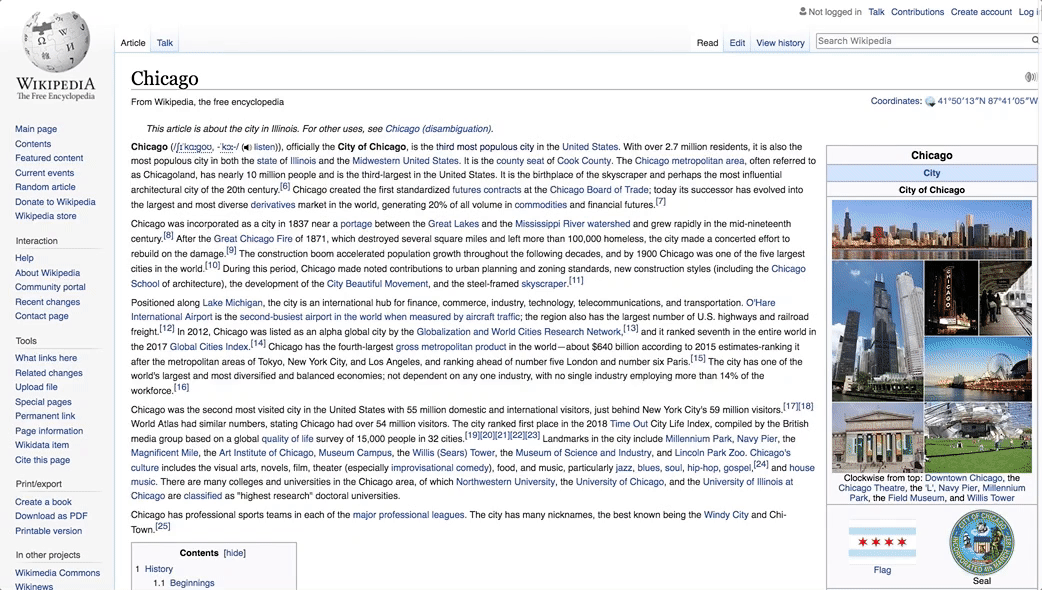 "…the same way the city of Chicago was built," Shirky answers, "a little bit at a time."
In his presentation, Shirky discusses how synchronization, integration, motivation and trust can produce rather beautiful collective intelligence.
Shirky described one example of the power of these four forces that stuck with me:
A individual on Thingiverse, a website for sharing user-created designs, shared his almost-functional, Mario-inspired toy design. In a matter of days, other users on the site tinkered with his design, adding to it little by little, and ultimately brought his idea to life.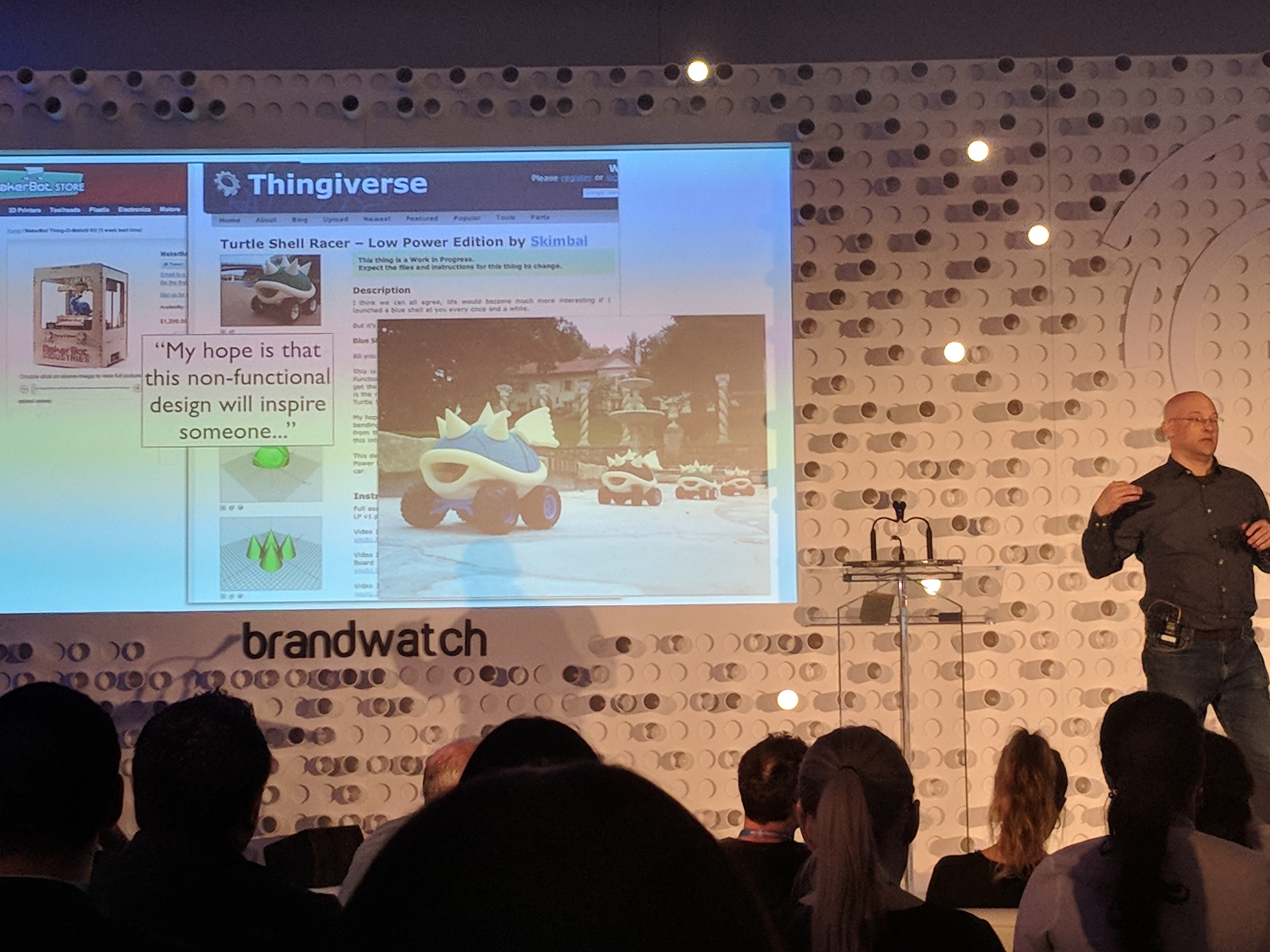 Some of these forces are natural tendencies of humans or the inevitable side-effects of social media and the internet.
However trust, he warns, might be both the most important and the hardest to come by.
As the information economy and technology rocket us towards a collective society—for good or for bad—trust will be vital in shaping the way our world's organizations, and ourselves, work.
"The culture that got broke stayed broke." #NYKConf

— Rochelle Kulas (@KulasRochelle) May 8, 2018
The theme of trust continued into our afternoon as we explored the future of intelligence, and what trust means to both individuals and businesses.
And on the future of intelligence
How can we trust computer programs to be impartial or objective, when the humans writing them aren't?
And in the world of bots, fake news, and misinformation, how can you trust the stories that are shared online?
To tackle the first question, our second keynote speaker of the day and best-selling author Cathy O'Neil showed us how mathematical models shape our world.
On the surface, this sounds peachy and a great way to eliminate the bias of human intervention. But as O'Neil explained in this captivating talk, these models just reinforce the same tendencies and prejudices we have as a society.
Before I heard her speak, I didn't realize just how pervasive algorithms were in every day life. Mathematical models score teachers and students, sort CVs for recruiters, grant or deny loans, evaluate workers, target voters, monitor our health, and contribute to prison recidivism.
Was incredibly lucky to hear @mathbabedotorg speak at #NYKConf

Are #algorithms really as biased as the people that made them or the #data that was used?

Maybe you should pick up her book #WeaponsofMathDestruction and find out. #fangirling pic.twitter.com/0wdJDLUi2V

— Amber Fletcher (@Perpetual_Bore) May 8, 2018
#fangirling. Same, Amber. Same. Buy O'Neil's book and learn more.
A bit later, in our panel on "fake news, bots and misinformation", Ryan Butner added to this discussion of the flaws in trusting technology to be unbiased.
While misinformation has always been spread and utilized by people with agendas, the "attention economy" created from social media has created monsters not seen before.
Fake news is 'new' in that, now we have a term for it. But urban legends and chain letters have been around as long as there have been two people in a room.
Ryan Butner, Data Scientist, Monsanto
Butner shared how algorithms on social media and search engines can be exploited by people trying to share very polarizing (and often misleading) content with very targeted people, at a scale we've never seen before.
His biggest advice for companies was to invest in robust social listening paired with true data science.
(We know a good place to start.)
What trust means to business intelligence
Finally, towards the end of the day, these themes culminated in several talks related to the impact of intelligence and trust on companies.
Many interesting questions were asked, with even more interesting answers; I picked out two:
How can companies trust data from social media?
How can we build trust with our audience as digital and social marketers?
Our panel discussion with folks from Uber, Walmart, and USAA helped us answer the first question.

Our three guests talked about the importance of merging social data from Brandwatch with other datasets so they could trust the story social media.
My favorite tip on the topic of merging datasets came from Kris Russell at Walmart:
Don't be afraid to get your hands dirty [in the data]. You probably won't break it… so go in there and try to break it!
Kris Russell, Director, Insights & Analytics-Public Affairs, Walmart
Democratization of data at @Walmart means better people to people relationships, better nuanced conversation, better service. #NYKCONF pic.twitter.com/JFbgGBjXLo

— Ricki McCarroll (@NUNAGroup) May 8, 2018
Then, Erling Amundson from UnitedHealth reinforced these themes, as he discussed democratizing datasets at UnitedHeatlh.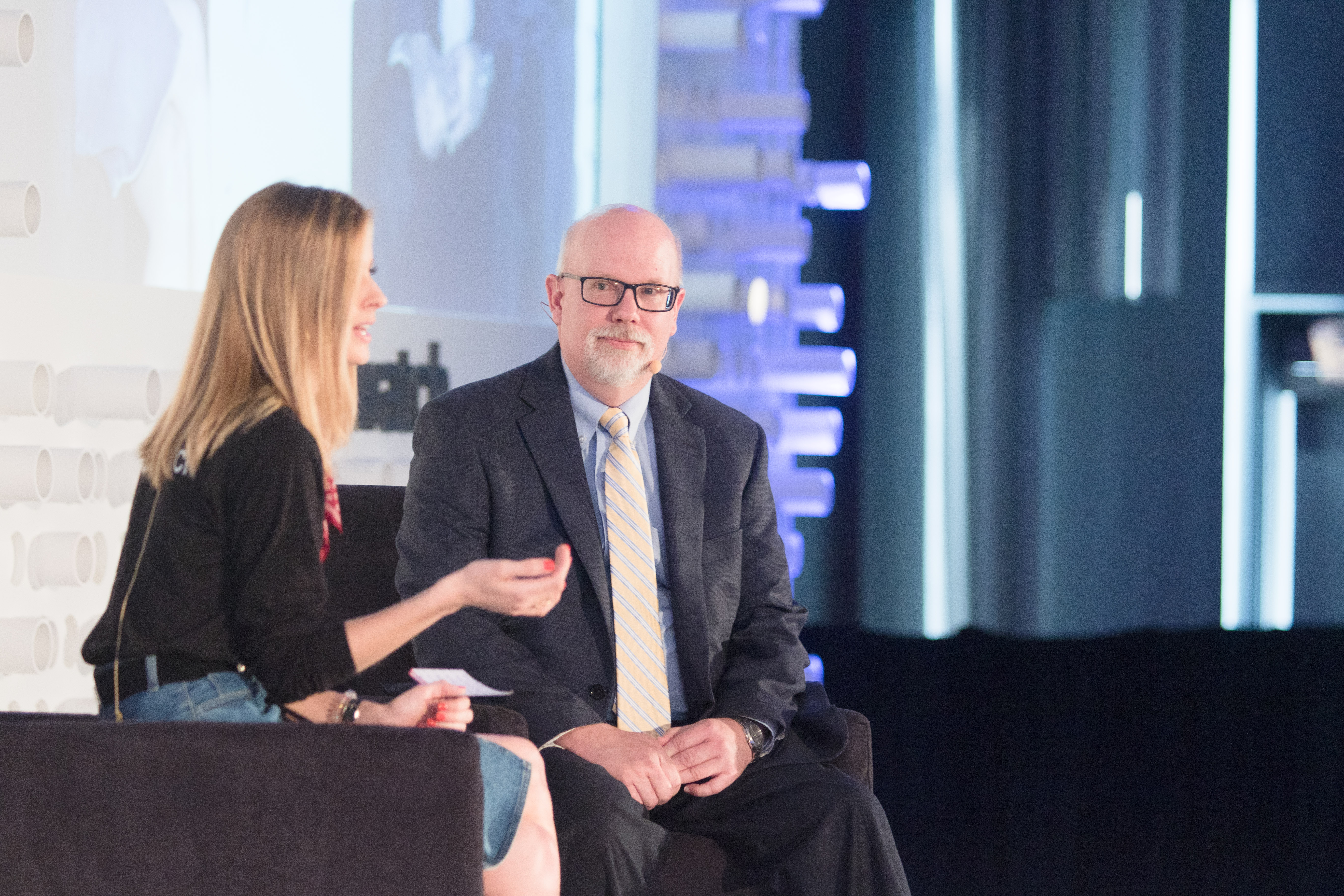 Data can't be a scary or siloed entity. Given its ability to answer so many business questions, in an ideal world, there isn't a team that social data doesn't reach.
But you can't assume others in your organization know or trust the value of social media. A big part of this responsibility is not just finding the insights, but intelligently communicating them with teams and executives.
But how do you even know if the insights you're finding are valuable to your company?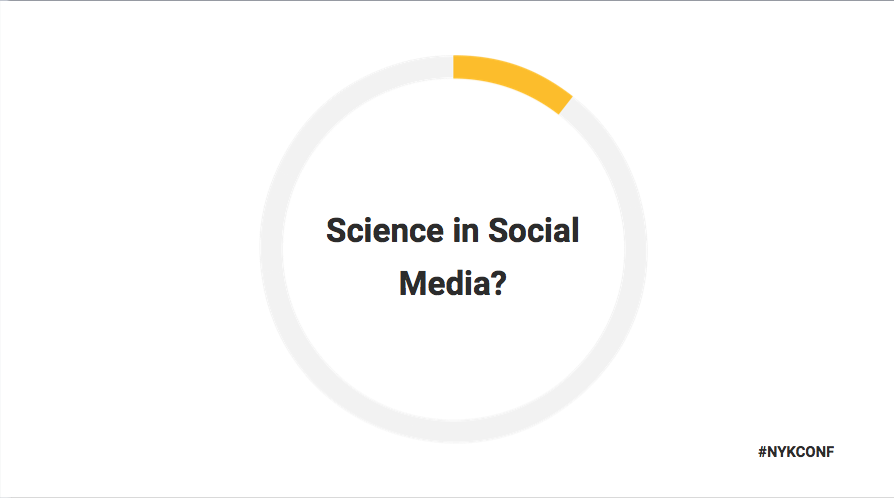 As always, our very own Seth Rogen Dr. Paul Siegel wowed our stage, comparing social intelligence to other scientific studies, and gave his perspective on the possibilities social intelligence can hold for us if we treat it right.
It's possible, he argues, to get true intelligence from social data. By combining the fundamental variables of social media—people, content, and time—the questions we can answer as businesses and as a society are truly mind-blowing
But, he urges us all to view insights from social data like any other scientific endeavor, by seeking simplicity and testing our assumptions.
Dr Paul gives us a look behind the opaque wall of math and instructs us all to challenge our own assumptions #NYKConf amazing as always pic.twitter.com/tKYtgHVvhH

— Tracy Bell (@TBellwether) May 8, 2018
Building trust with our audience
In addition to trusting the data they're collecting, we also need to make sure we're actively building trust with our customers and audiences.
Our friends at Spredfast led a fascinating talk about the responsibility of marketers to build trust, in the age of misinformation.
How do we build trust as social marketers?
– Engage meaningfully
– Elevate social/cultural conversation
– Activate our audiences to be agents of change@sedmoore @Spredfast #NYKConf

— Traci Koller Mazurek (@heytrace) May 8, 2018
Sarah DeRocher Moore, VP of Revenue Marketing at Spredfast, laid out how to build consumer trust by engaging our communities meaningfully, as humans and not be afraid to taking action beyond words.
---
Guest highlights from day 2
There was no way we could sum up our two days of action in Chicago in two blog posts.
I personally still have about a half dozen pages of notes I didn't scratch the surface on.
Check out some of our guests' favorite moments from day two, and keep your eye out for even more Now You Know content in the next coming weeks.
Social has taken the storytelling power from traditional media and given it to the audience. @sedmoore @Spredfast #NYKConf

— Traci Koller Mazurek (@heytrace) May 8, 2018
I wish all book previews were like the talk @mathbabedotorg gave today @Brandwatch #NYKconf… looking forward to the flight home learning about WMD pic.twitter.com/k07W0ZFbrP

— Heather Mavencamp (@hMavencamp) May 9, 2018
A few highlights from day 2 of #NYKconf:

– @cshirky's stories on collective intelligence, and how fragile the trust on which it is built can be.
– @mathbabedotorg frankly terrified me about the implications (certain) algorithms have/will have on our world. pic.twitter.com/G0GkSU26UJ

— Nick Hnatiw (@hoothootnick) May 9, 2018
And that's a wrap! From the product roadmap to the staff and leadership @Brandwatch #NYKconf was by far the most informative, innovative and customer centric conference of it's kind. pic.twitter.com/O7E88kHquS

— Lisa Grimes (@LisaGatDell) May 9, 2018
How your brand can survive + thrive in the age of #AI: https://t.co/OLygo2ySLu #NYKconf #machinelearning pic.twitter.com/HHEyQ1ZA8s

— Timothy M Weinheimer (@tweinheimer) May 8, 2018
Totally illuminating talk from @mathbabedotorg at #NYKCONF – If the inputs to an algorithm are historical info + definition of success, there's inherent subjectivity in creating an algorithm–algorithms repeat the past, they don't ask *why*.

— Amber (@amber_sandall) May 8, 2018
And finally, if you find yourself in Berlin, London, or Mexico City.. 😏
Now you know.
The entertainment highlight of conference. #NYKconf pic.twitter.com/V29ipZEIpu

— Kamil Jopek (@kkamilio) May 8, 2018