Change how data drives decisions, engage everyone with magnetic visuals
NEW YORK, March 1, 2017/PR Newswire/— Brandwatch, the world's leading social intelligence company, launched the Vizia 2 platform today. Now analysts, marketers and executives can communicate powerful insights to every department and every office around the world, in real time.
The variety of datasets used by businesses — including sales, social, web analytics and many others — offer a plethora of insights which are often lost in spreadsheets and presentations, sitting dormant in files. Despite being strategically valuable, insight from data rarely reaches or engages the people that can act on them. Vizia 2 solves this engagement challenge by bringing business insight to life.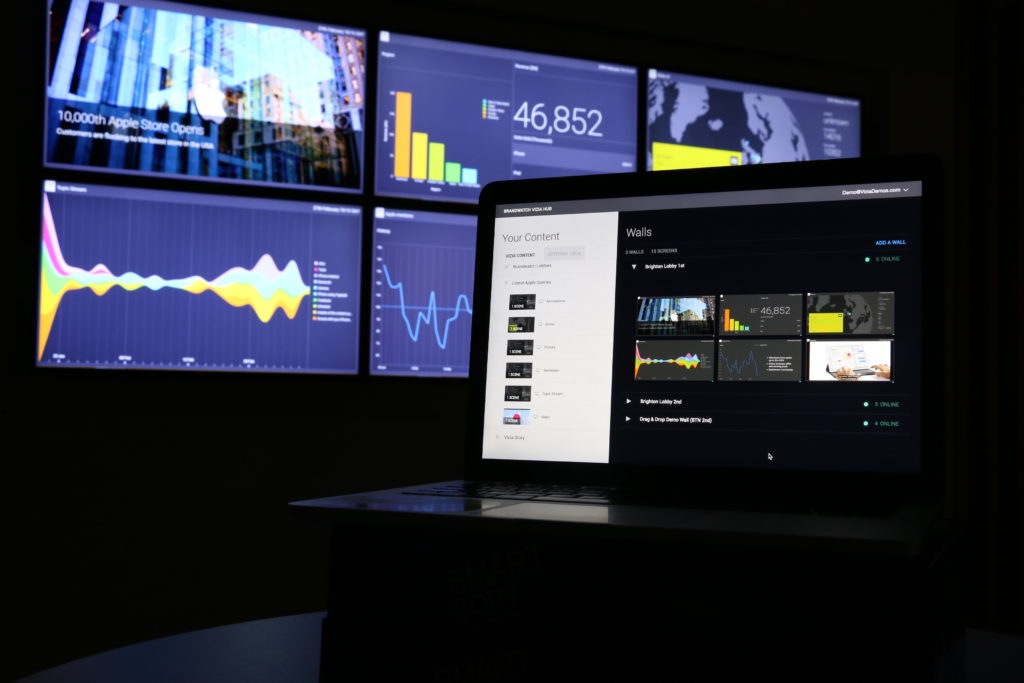 Vizia 2 elevates data-sharing and storytelling throughout the entire enterprise. It is a data communications platform that transforms how insights are distributed and drives smarter decision-making. With design as a priority, Vizia 2 takes that missed insights, and turns them, into engaging and meaningful stories that can be shared across the business.
"Our vision at Dell is to really understand our customers and as a result, how our business is aligned to needs and impact," said Alison Herzog, Director, Global Social Business Strategy at Dell. "Vizia 2 leverages the power of visual content to deliver insight to our business from all sides of the house. We recognize the ability to mentally process images 60,000 times faster than text and this helps our people to quickly assess and take action."
Brandwatch CEO Giles Palmer comments, "I am extremely pleased to announce the launch of the Vizia 2 platform. We've been hard at work taking what many of our customers already know as Vizia, a social media command center that was, and still is, the best in the market, and building on it to create a rich new experience.
Our goal with Vizia is to help businesses share insights in a massively better way."
Want to learn how you can engage every employee in your business with beautiful, accessible visualizations that tell the story of your brand, campaigns, and industry? Read Giles's blog with details on the new features, backend data science, and capabilities of the Vizia 2 platform.
In our most recent customer survey, 95% of respondents disclosed that they think Brandwatch technology is superior to their last social intelligence platform. Discover how you can do more with your business data.
About Brandwatch
Brandwatch is the world's leading social intelligence company. The company's flagship products, Brandwatch Analytics and the Vizia platform, fuel smarter decision making around the world.
The Brandwatch Analytics platform gathers millions of online conversations every day and provides users with the tools to analyze them, empowering the world's most admired brands and agencies to make insightful, data-driven business decisions. The Vizia platform distributes visually-engaging insights to the physical places where the action happens.
The Brandwatch platform is used by over 1,200 brands and agencies, including Unilever, Whirlpool, British Airways, Asos, Walmart and Dell. Brandwatch continues on its impressive business trajectory, recently named a global leader in enterprise social listening platforms by the latest reports from several independent research firms. Increasing its worldwide presence, the company has offices around the world including Brighton, New York, San Francisco, Berlin, Stuttgart, Paris and Singapore.
Brandwatch. Now You Know.
www.brandwatch.com | @Brandwatch | press office | contact