Hello and welcome to day two of the Now You Know Conference, Denver!
Yesterday's liveblog is right here, so make sure you catch up on the happenings, and follow along on Twitter and Instagram with the hashtag #NYKConf.
Latest updates will appear at the top. Get your beverage of choice and join us on a journey through time and space (sort of). If you missed our announcements yesterday, let me direct you to this thread by Microsoft analyst and all round good egg, Ben Donkor. Let's go.
Looking through these #NYKCONF tweets I can only come to one conclusion: @Brandwatch is not in the mood to be mediocre. Like, at all.

— Ben Donkor ⚡️ (@FR314) May 8, 2017
3.30pm – Main Stage – Will McInnes
Will's about to step on stage and close the day, and therefore the event as a whole.
It's been a mind-boggling two days of insights, storytelling, mathematics, hailstones, data, and even a touch of magic.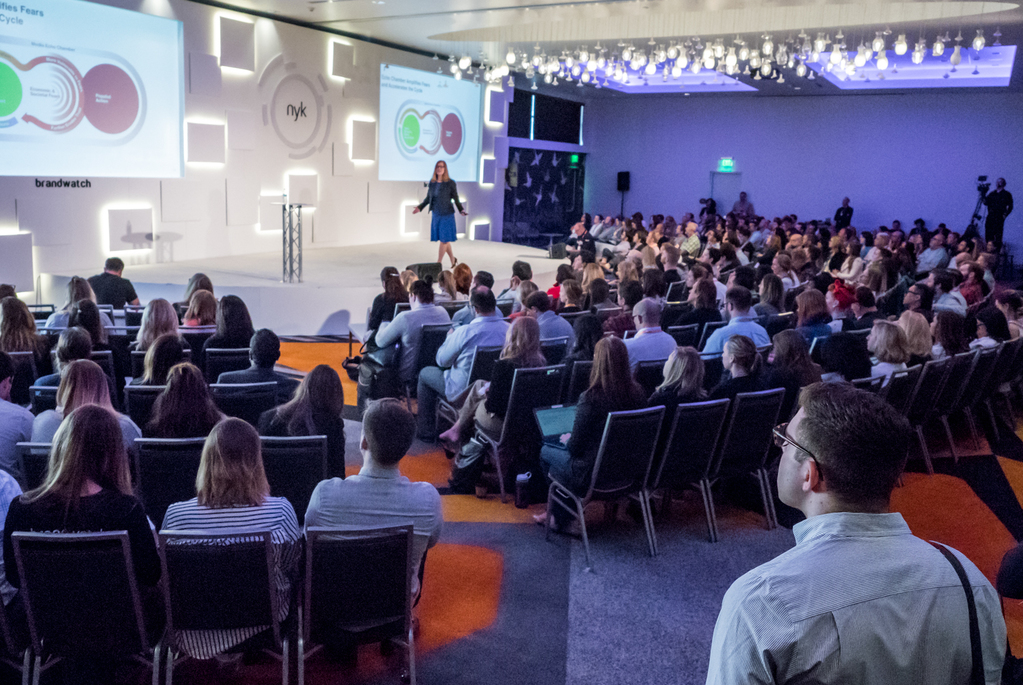 Thank you for following along, and if you're here, for being a part of NYK Denver.
2.37pm – Further reading
While you're here, I thought I'd compile a list of further resources based on today's content. I'll keep updating it.
You can find the 2017 Edelman Trust Barometer here.
Nick Bostrum's website is here – don't freak yourself out too much, though.
You can sign up for our webinar with Misia Tramp, who spoke yesterday, here.
Enjoy Dr Paul Siegel's slideshare on '
The three books Paul recommended everyone read are: The Theory That Would Not Die, Weapons of Math Destruction, and Social Physics: How Good Ideas Spread – The Lessons From A New Science.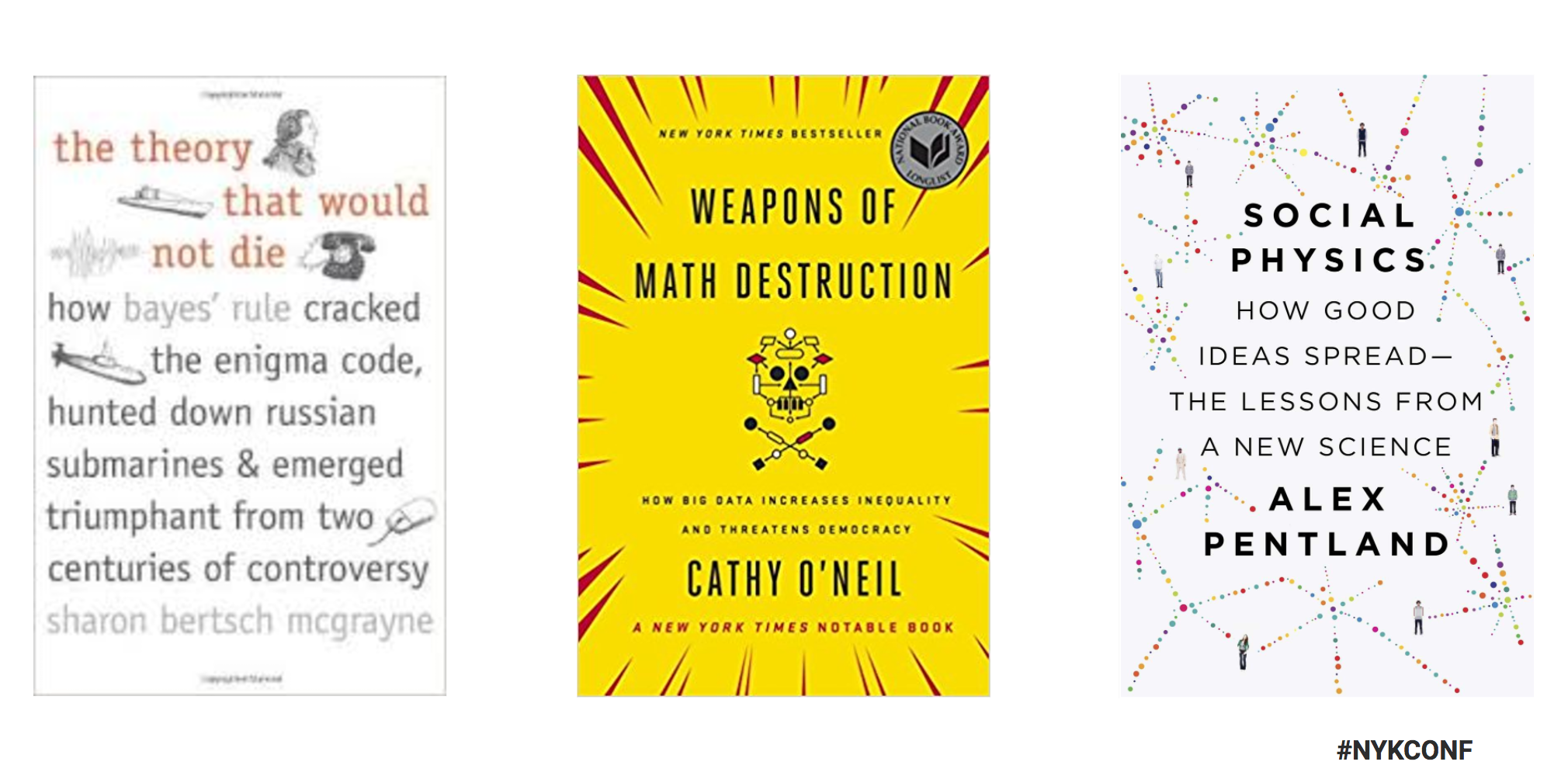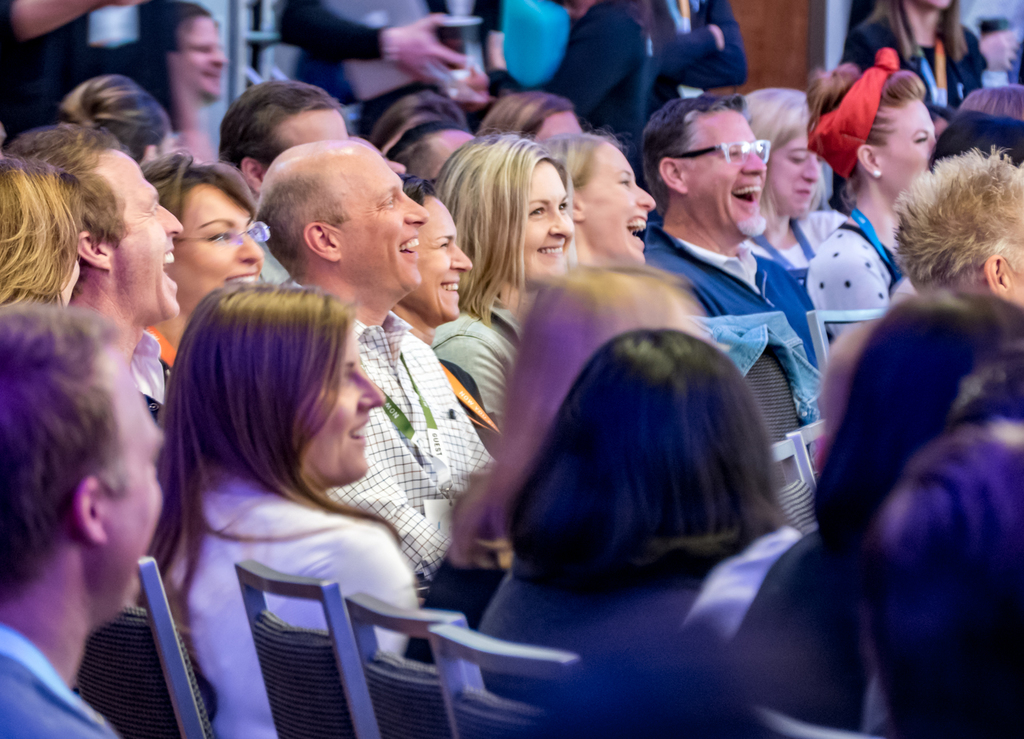 2.20pm – Main Stage
While everyone enjoys some pretzels with hot cheese sauce (GOD BLESS AMERICA) I'm catching up on some tweets and what people have had to say before we close out for the day in an hour and a half.
I also had a quick go on the VR lab we have here – if you're about, and aren't headfirst into a plate of pretzel and cheese sauce, then please do go and have a try. It's super trippy.
Another shout out if you're here – we're filming short chats with attendees over by the Vizia wall. Hannah would love to talk to you.
What I did at work today. pic.twitter.com/QBc0uRctoZ

— Natalie Kate M (@Natalie_KateM) May 9, 2017
Loved learning about employee trust fr. Pauline Draper Watts.
Must-read ➡️ 2017 #Edelman Trust Barometer. #NYKCONF pic.twitter.com/VP3nN2P3Bn

— Kristine (@hello_kristinee) May 9, 2017
Fantastic keynote by Nick Bostrom of @FHIOxford at #NYKCONF in #Denver #superintelligence #AI – Juxtaposition of the Exit sign is foreboding pic.twitter.com/hhJjhzMyO5

— Drew Hackman (@DrewHackman) May 9, 2017
#CarnegieConf isn't the only conference with a hot pretzel break!! @MeghDale #nykconf pic.twitter.com/fvuvhznvd6

— Dr. Liz Gross (@lizgross144) May 9, 2017
1.20pm – Case studies and masterclasses
You know the drill by now, after lunch we split into two rooms for the masterclass and case study tracks.
The afternoon slots are ready to go! Drop into Red Rover for Masterclass sessions or find the workshops in Hopscotch #NYKConf pic.twitter.com/pBG9848sMn

— Brandwatch (@Brandwatch) May 9, 2017
Here's what we have – a great mix of our awesome clients, and expert Brandwatchers.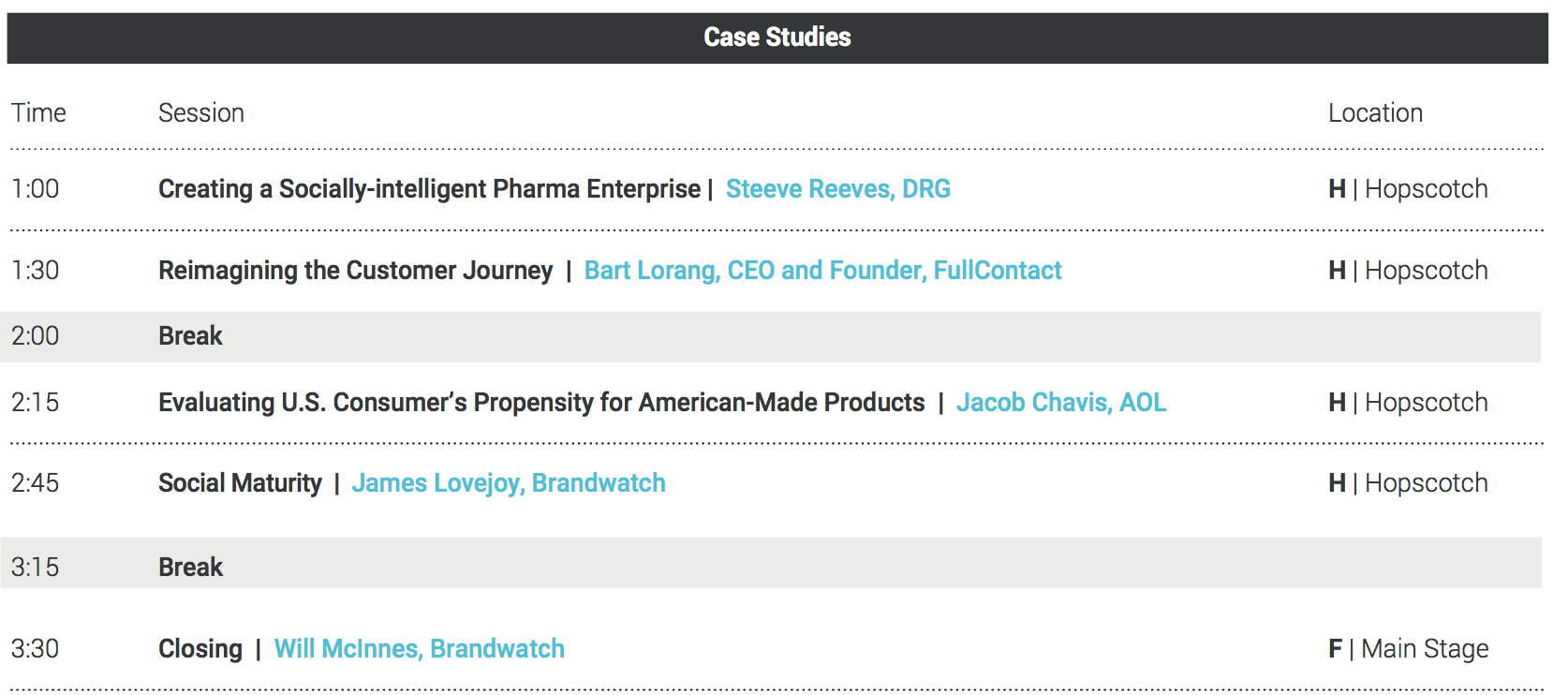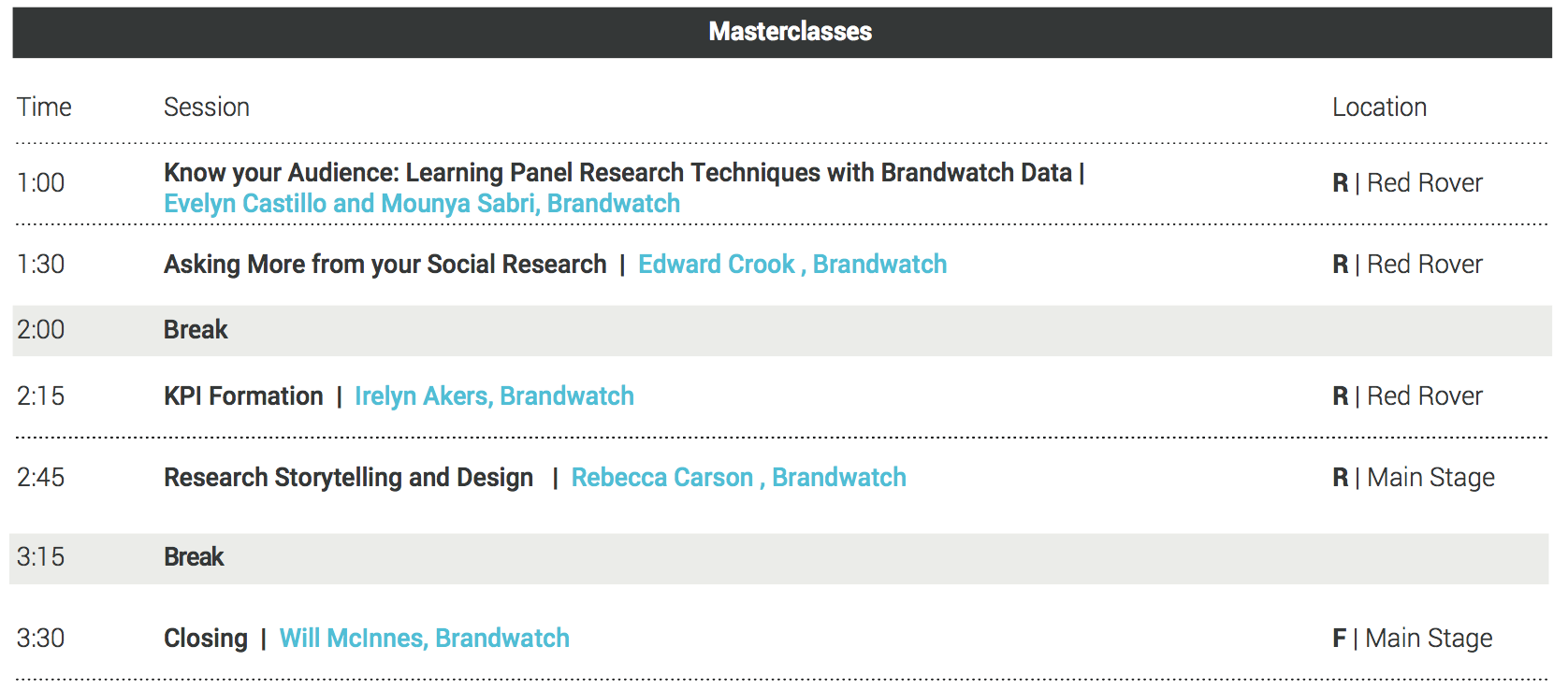 12.20pm – Main Stage – Data and Creativity Panel
Today data is the new abundant natural resource, but how do we think about using it creatively and responsibly to unlock new opportunities for our business and for our customers?
This panel will shed light on the critical areas that we should all be thinking about as we move closer to a world driven by data.
On the panel are Becky Wang of Crossbeat, Joanna Pena Bickley of ThinxMachine, and Alex Sinclair, Global Creative Director at IBM Interactive Experience. Brandwatch's own Bex Carson is moderating.
It's an all woman powerhouse panel. I'm in my element.
Loving the all women panel! #NYKCONF https://t.co/aURIhX9dfD

— Georgia T (@geeteemagee) May 9, 2017
Feeling #inspired at this panel about creativity and data here at #NYKCONF #womeninstem #womenintech @jojobickley, @adkrim and @gnostica pic.twitter.com/OUmScYveeJ

— Stephanie Wahlers 🦊 (@waaalers) May 9, 2017
11.37am – Main Stage – KEYNOTE: Nick Bostrum, Future of Humanity Institute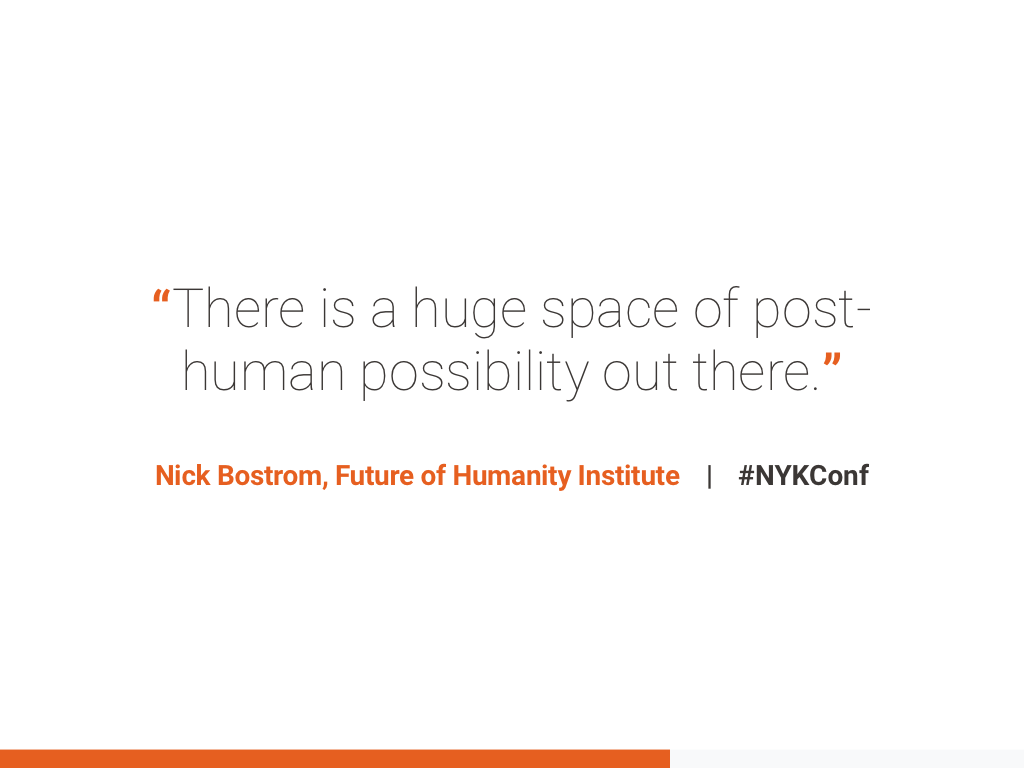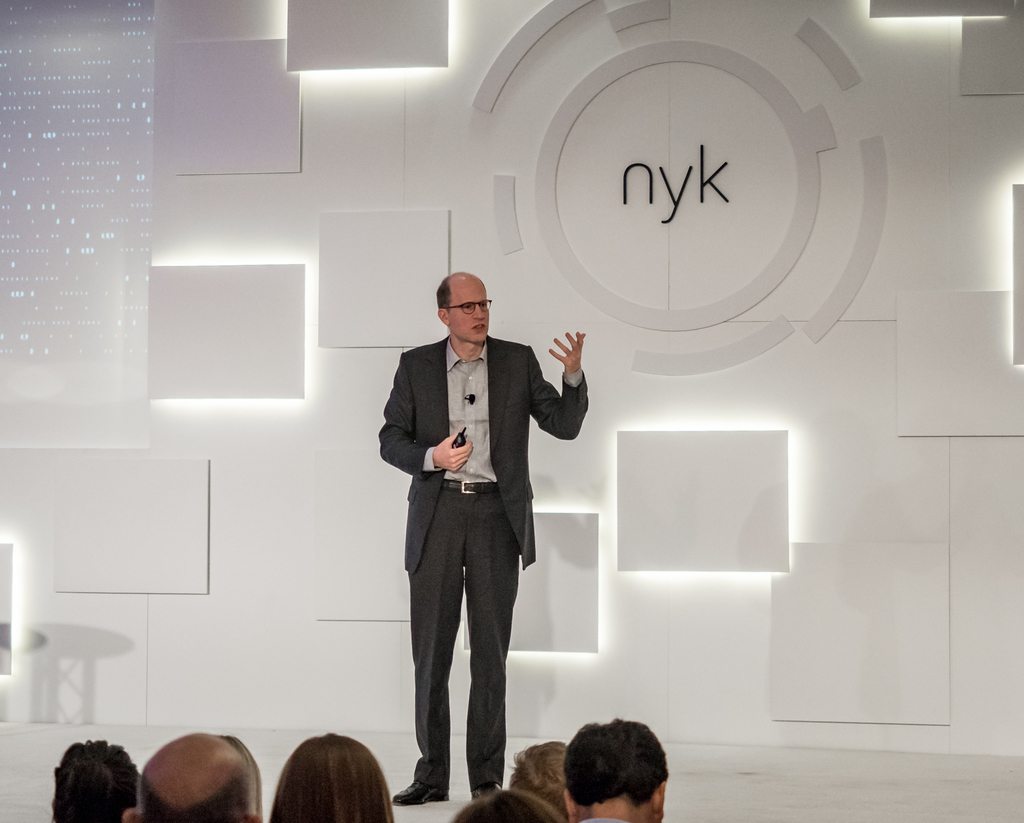 If human level general AI is developed, then what are the likely outcomes?
Nick is talking to us about the game Go. It's been played for thousands of years, and around two years ago Google's DeepMind worked to apply its algorithms to see if they could beat human champions.
In October 2015 Lee Sedol, a legend in the game, played the AlphaGo. The algorithm was ok, but not great. In six months time, the AI won.
6 months of machine learning and the best of the best goes down #NYKCONF #alphaGO #datasmart pic.twitter.com/QP2xyAkF5p

— Chris Albert (@chrisalbert7) May 9, 2017
The moral of the story is the over six months the AI went from being human level to superhuman level. It doesn't prove that this will happen with general AI, but the transition really could happen quite quickly.
SuperIntelligence… Challenges to Make AI Smart #NYKCONF pic.twitter.com/v9IuROsv1j

— ANDRES NAVARRO (@ANDRESN69) May 9, 2017
My brain hurts.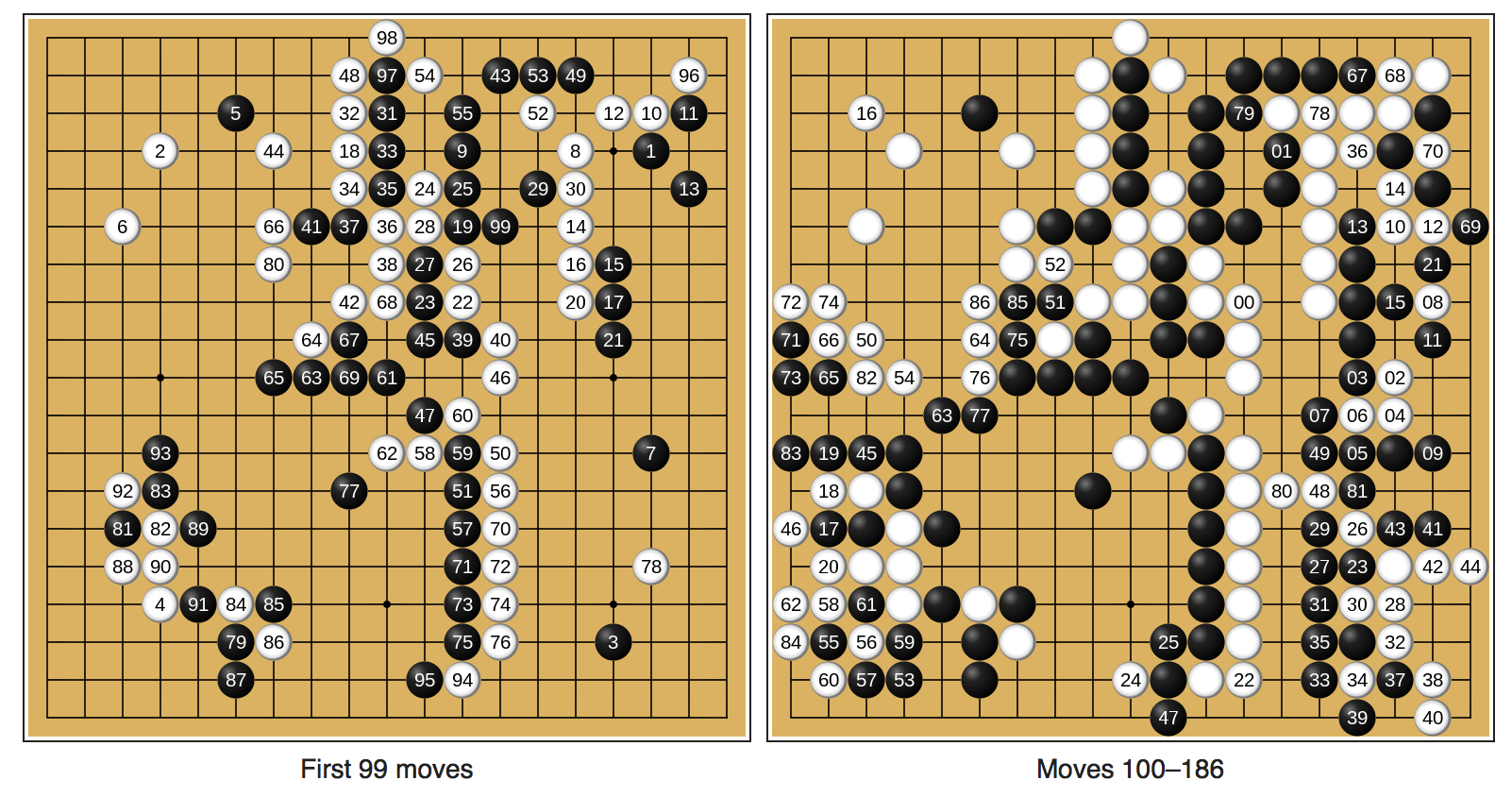 11.10am – Main Stage – KEYNOTE: Nick Bostrum, Future of Humanity Institute
So, what happens when machines get smarter than us?
Nick Bostrom is taking us through his views on the human condition and the transition to the machine intelligence era.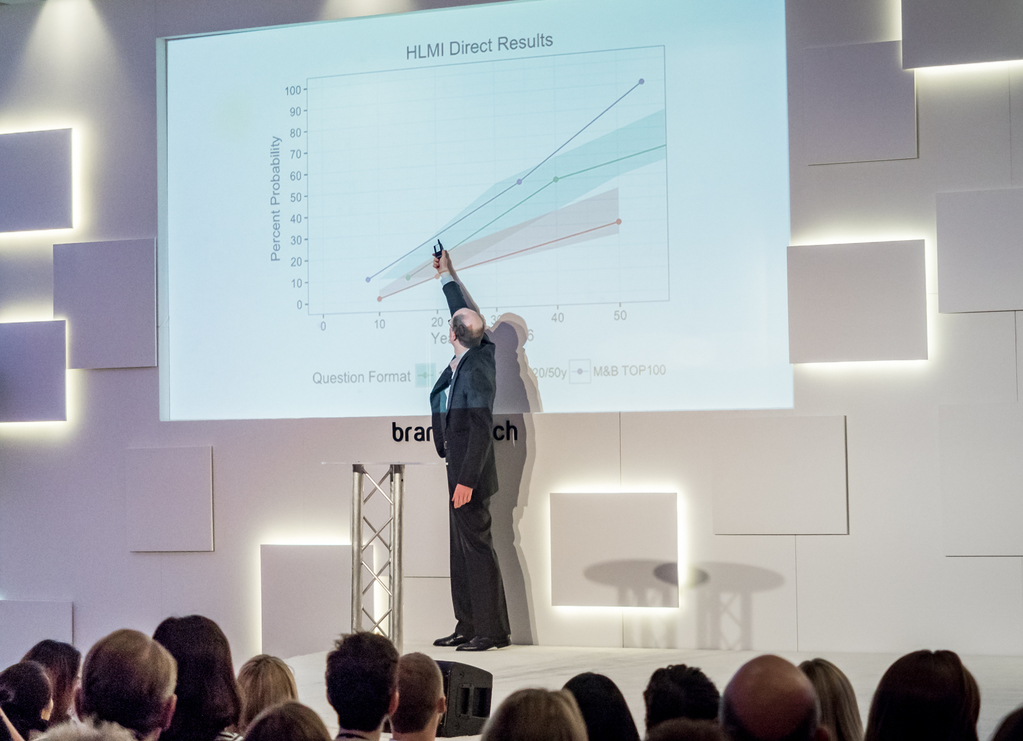 He's suggesting that the agriculture revolution changed the world and accelerated the pace of development and that A.I. might be the next accelerator.
Nick Bostrom @FHIOxford thinks the machine-intelligence revolution could be greater than the agricultural & industrial. #NYKconf #AI pic.twitter.com/NLr8e25mzb

— Seth Grimes (@SethGrimes) May 9, 2017
AI has only existed for a few decades, comments Nick.
In the early days there were high expectations that pioneers would get AI 'cracked' quickly, but it was far harder than these pioneers hoped. Then followed the first 'AI winter of disillusionment' followed by another wave of excitement in the 80's.
We're in the third spring, says Nick.
Well looks like I may need a better retirement plan. 25% chance that AI takes over in 25 years. #NYKConf

— Chris Albert (@chrisalbert7) May 9, 2017
10.55am – Main Stage – KEYNOTE: Nick Bostrum, Future of Humanity Institute
We've all really been looking forward to this keynote.
Nick Bostrom asks big questions: What should we do, as individuals and as a species, to optimize our long-term prospects? Will humanity's technological advancements ultimately destroy us?
Since 2005, Bostrom has led the

Future of Humanity Institute

, a research group of mathematicians, philosophers and scientists at Oxford University tasked with investigating the big picture for the human condition and its future. He has been referred to as one of the most important thinkers of our age.
ted.com
We're so excited to welcome Nick Bostrom on stage. Get ready for a whole new perspective on #AI & machine intelligence #NYKConf

— Brandwatch (@Brandwatch) May 9, 2017
10.50am – Twitter Terrace
After a coffee break on the Twitter Terrace (see our always adorable Customer Marketing Manager, Hannah Tregear, repping below) we're getting ready for our keynote today.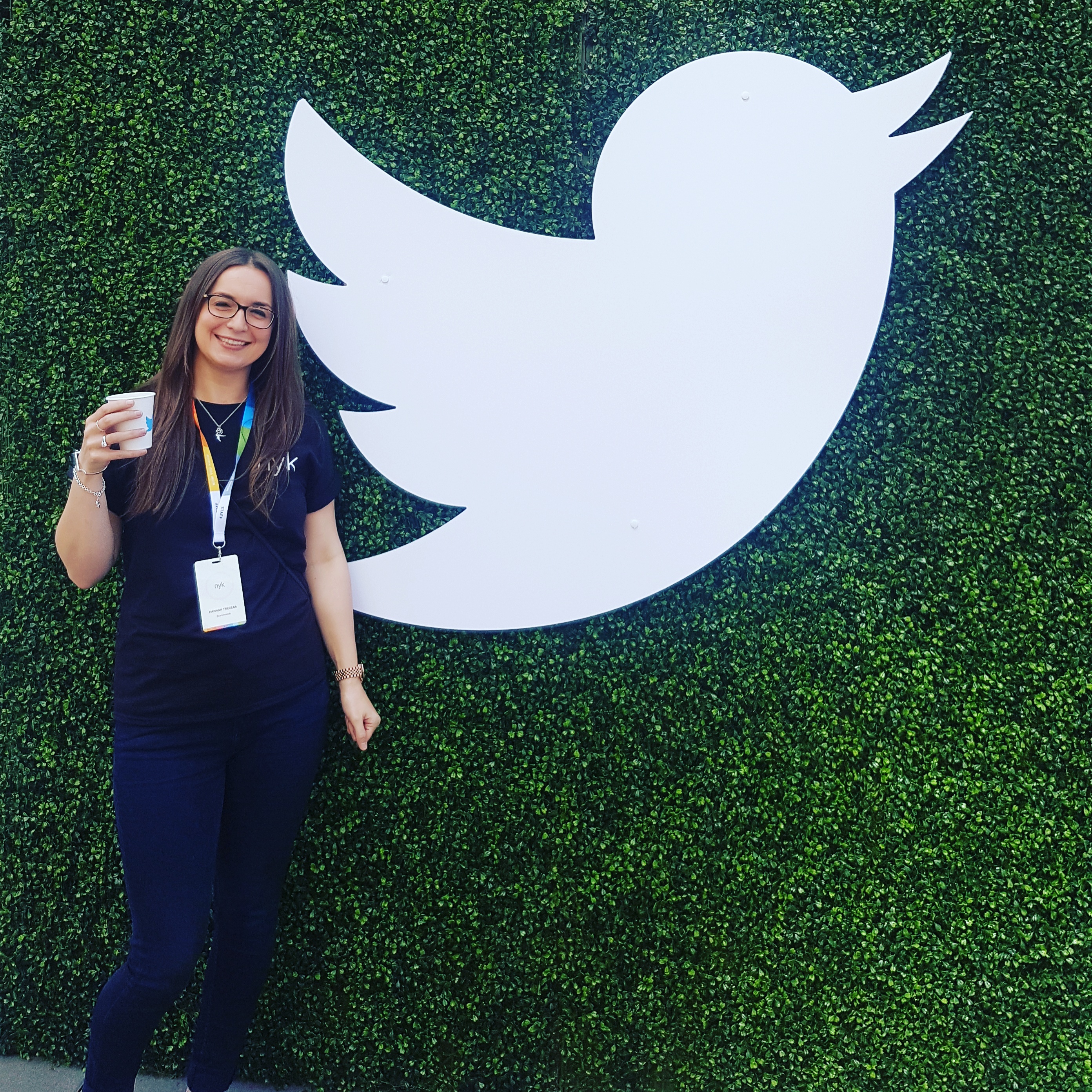 What Happens when Machines get Smarter than Us? | Nick Bostrom, Future of Humanity Institute
Machine learning is currently advancing at a rapid rate. We will look at some current capabilities, and consider some longer term prospects of artificial intelligence.

The transition to the machine intelligence era is likely to have profound consequences for human society. We will also discuss some issues that arise when considering the possibility of machine superintelligence.
10.10am – Main Stage – Dr Paul Siegel, Brandwatch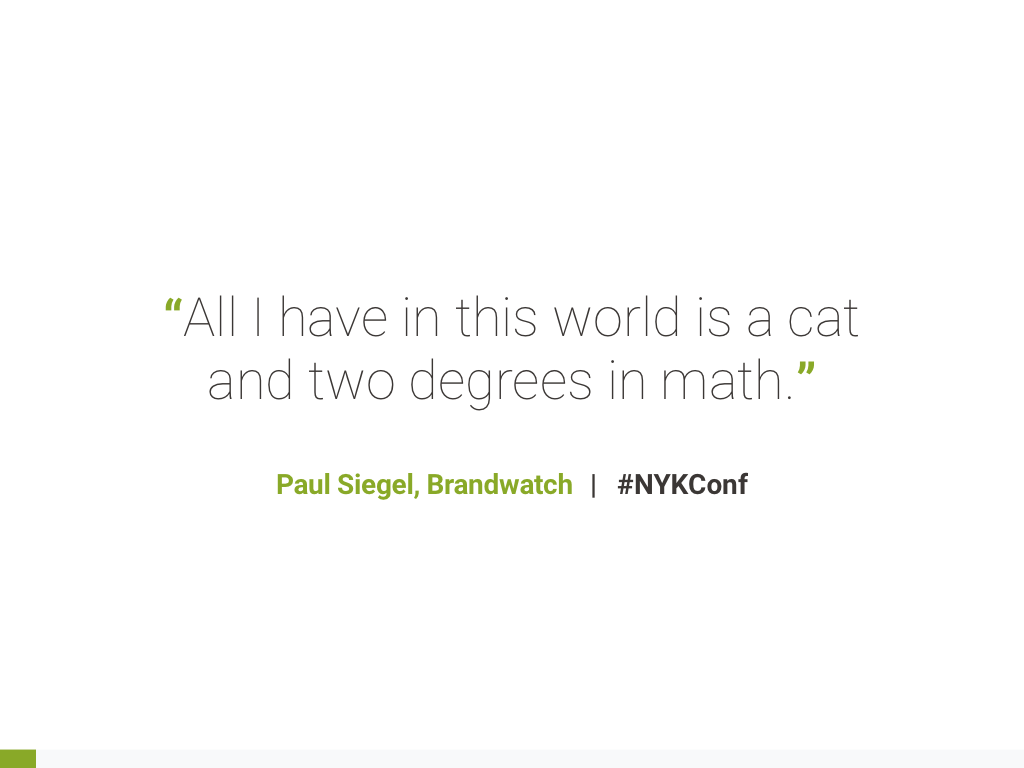 Bank of America's Tracy Bell says what we're all thinking.
Only the amazing @pw_siegel can transform math into thought provoking entertainment #NYKCONF pic.twitter.com/HzSLOtxPWn

— Tracy Bell (@TBellwether) May 9, 2017
10.01am – Main Stage – Dr Paul Siegel, Brandwatch
Fun fact: Every Brandwatch employee is also a TED grade professional speaker 🎤👌 How do they do it? Amazing… #nykconf pic.twitter.com/dqerudSRJp

— Joakim Nilsson (@JoakimNilsson) May 9, 2017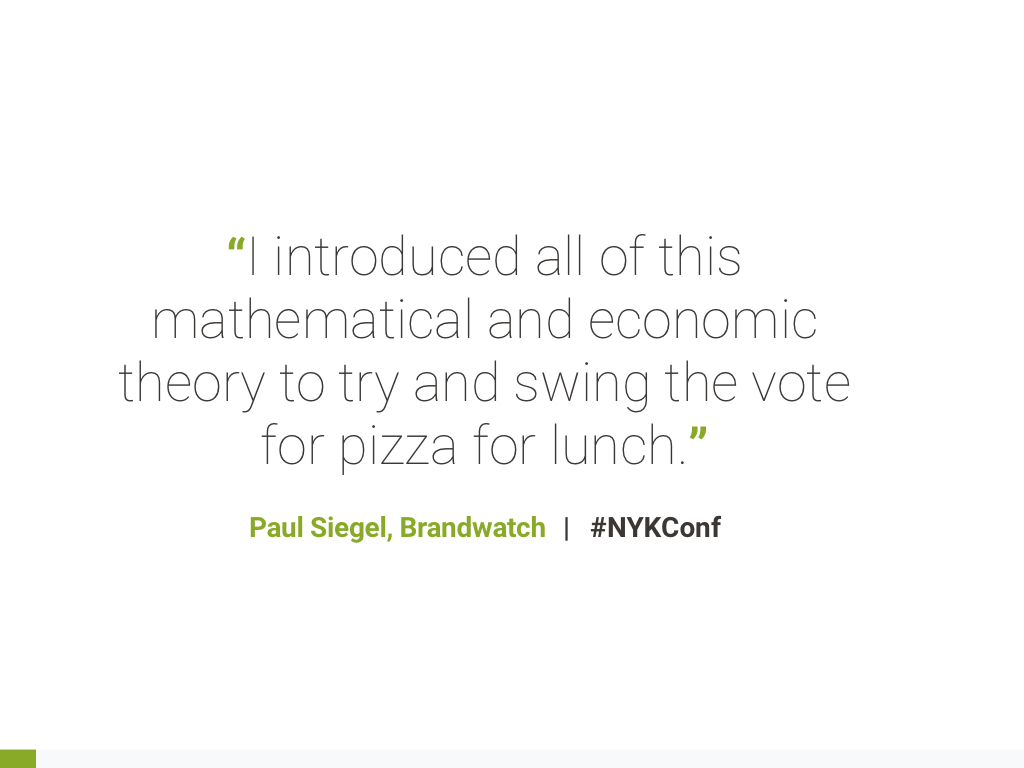 As always, Paul is tickling our brains and making us LOL at the same time. Yes, I wrote LOL. I'm 1100 words deep and I need a coffee.
He's covered making data driven lunch decisions, the COMPAS algorithm, and Arrow's Impossibility Theorum. He's now moved on to Minority Report. I can't really keep up because he's just so incredibly whip-smart. We are all LEARNING.
If I had Paul as a math teacher at school I'd be a genius by now. #NYKCONF pic.twitter.com/endWhsRNuF

— Chris McCormick (@the_chrismc) May 9, 2017
Did not realize this social intelligence conference would also teach me about my state's biased criminal justice system. #NYKCONF https://t.co/cgTJCgpjxv

— Dr. Liz Gross (@lizgross144) May 9, 2017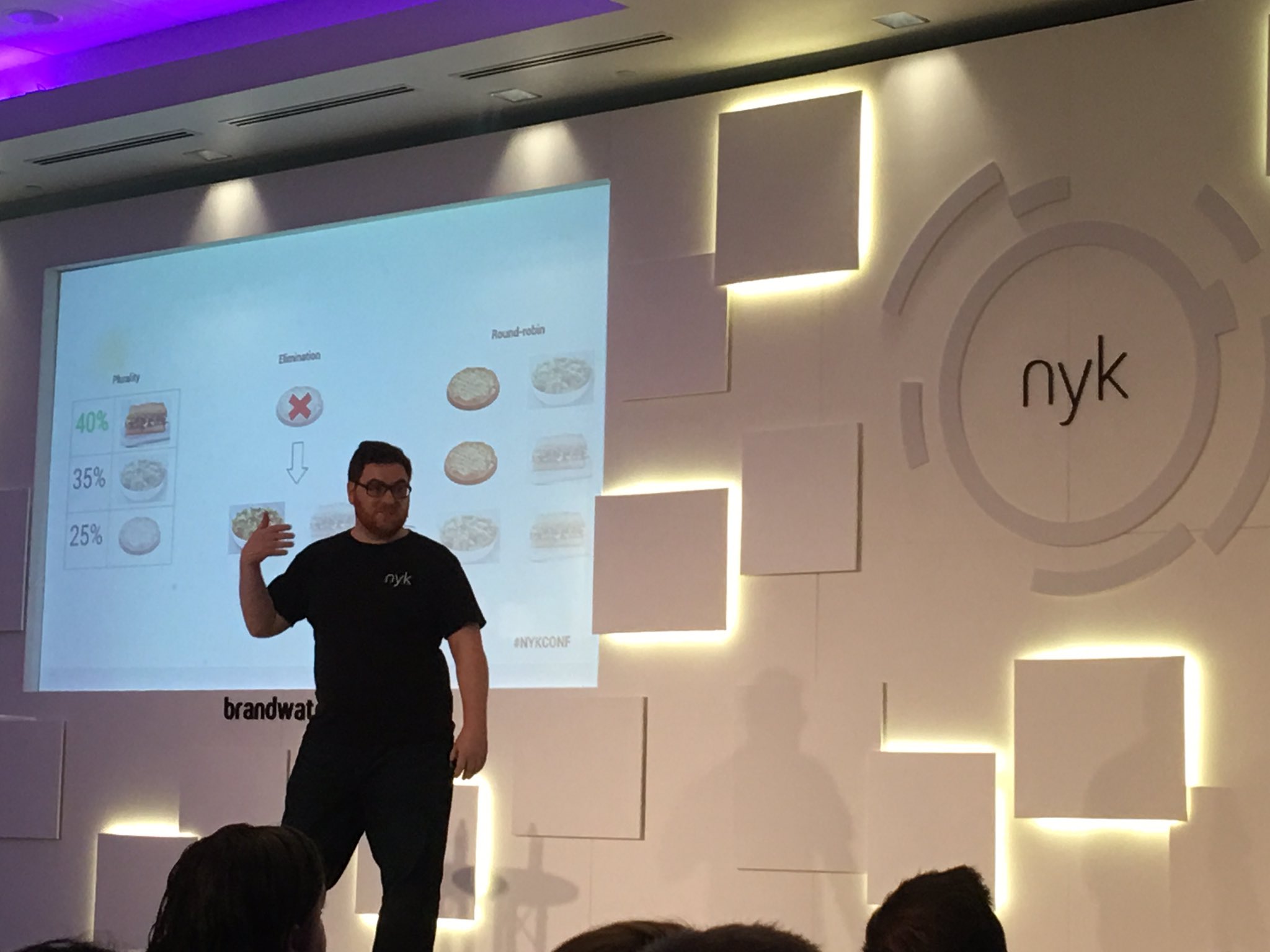 09.48am – Main Stage – Dr Paul Siegel, Brandwatch
IT'S DOCTOR PAUL SIEGEL TIME!!!!!
…And now the crowd favorite: Dr. Paul Siegel talking about The Dark Side Of Data 📈😱 #nykconf

— angela berger (@abergs) May 9, 2017
YES it's Dr Paul time #NYkConf 🙌🤓 pic.twitter.com/edBrFQIiJ2

— Hannah Tregear (@hannieteee) May 9, 2017
When Numbers Fail: The Dark Side of Data | Paul Siegel
Our daily lives are filled with indices, scores, statistics, metrics, and KPI's. Somehow we are supposed to assemble these mountains of data into a straightforward business decision, like what feature to build or where to advertise our products.
How can we construct a single metric which captures all of this complexity? How can we find the perfect line chart which summarizes market trends?
The answer is simple: we can't, and we should stop trying. The structures which actually govern people's wants, needs, identities, and behavior are just too complex for one-size-fits-all solutions.
In this presentation Paul Siegel will explore some of the disastrous real-world consequences of overly simplistic metrics and suggest how tools from information theory and statistics can help us tell the right stories and make better decisions.
09.32am – Main Stage – Pauline Draper Watts, Edelman
Next up is 'global citizen' Pauline Draper Watts of Edelman to share some key insights in the 2017 Edelman Trust Barometer.
Now we're going to hear findings from the 2017 Edelman Trust Barometer. I ❤️ this study!! #NYKCONF

— Dr. Liz Gross (@lizgross144) May 9, 2017
The 2017 Edelman Trust Barometer reveals that trust is in crisis around the world. The general population's trust in all four key institutions — business, government, NGOs, and media — has declined broadly, a phenomenon not reported since Edelman began tracking trust among this segment in 2012.

With the fall of trust, the majority of respondents now lack full belief that the overall system is working for them. In this climate, people's societal and economic concerns, including globalization, the pace of innovation and eroding social values, turn into fears, spurring the rise of populist actions now playing out in several Western-style democracies.

To rebuild trust and restore faith in the system, institutions must step outside of their traditional roles and work toward a new, more integrated operating model that puts people — and the addressing of their fears — at the center of everything they do.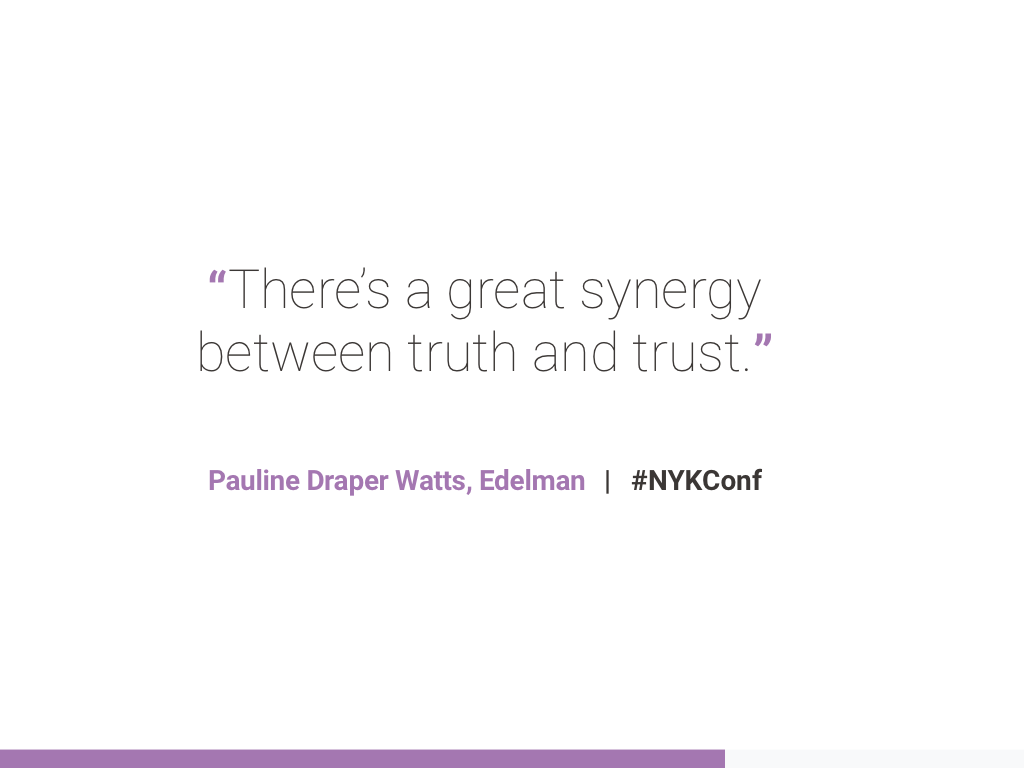 Edelman's latest study is showing that worldwide trust is in crisis.
For the first time, trust in NGOs, Business, Media and Government have all fallen. Trust in media has lunged to an all-time low around the world, and our audience is rightly concerned.
I need a stiff drink after this @EdelmanPR keynote on the erosion of trust. #NYKConf

— Juice Fong (@jgfong) May 9, 2017
Trust in media falling, online media and search engine trust growing #edelman trust barometer #NYKCONF #Woodruff pic.twitter.com/qPBK2GqOJz

— Rob Koch (@RobKochmedia) May 9, 2017
Yikes: according to the @EdelmanPR Trust Barometer, the mass populations distrust their institutions in 20 of 28 countries. #NYKCONF

— angela berger (@abergs) May 9, 2017
09.19am – Main Stage – Chris Moody, Twitter, & Giles Palmer
After discussing how Twitter helps brands in so many ways, Giles has asked Chris to tell us all about the partner program and why they embarked on it.
Chris is explaining how it's really important for Twitter to partner with companies who are experts in their areas in order to build exceptional products.
Candid insightful conversations, exactly what we came here for @joodoo9 @chrismoodycom #NYKCONF pic.twitter.com/119dMrBJHW

— Tracy Bell (@TBellwether) May 9, 2017
Giles is asking, how can this audience feedback about what's important to them?
The thing you should know is that Brandwatch is now an extension of Twitter. The drumbeat of product collaboration is intense and ongoing, so the easiest way is to talk to the folks at Brandwatch.
Finally, we asked Chris about his new role coming up soon.
Well, I'm going to become a venture capitalist – I've been down on them for 10 years and I've seen so much bad behaviour in VC, but the reality is that there are a few really great firms out there and one is Foundry Group. They asked me to join, and although i feel like I have the best job in the world already, now I get to work with people with ideas and dreams and a lot of energy. But first I get to take a summer off!
We wish you well with that, Chris! Enjoy your summer off, and thanks for speaking with us here at NYK Denver.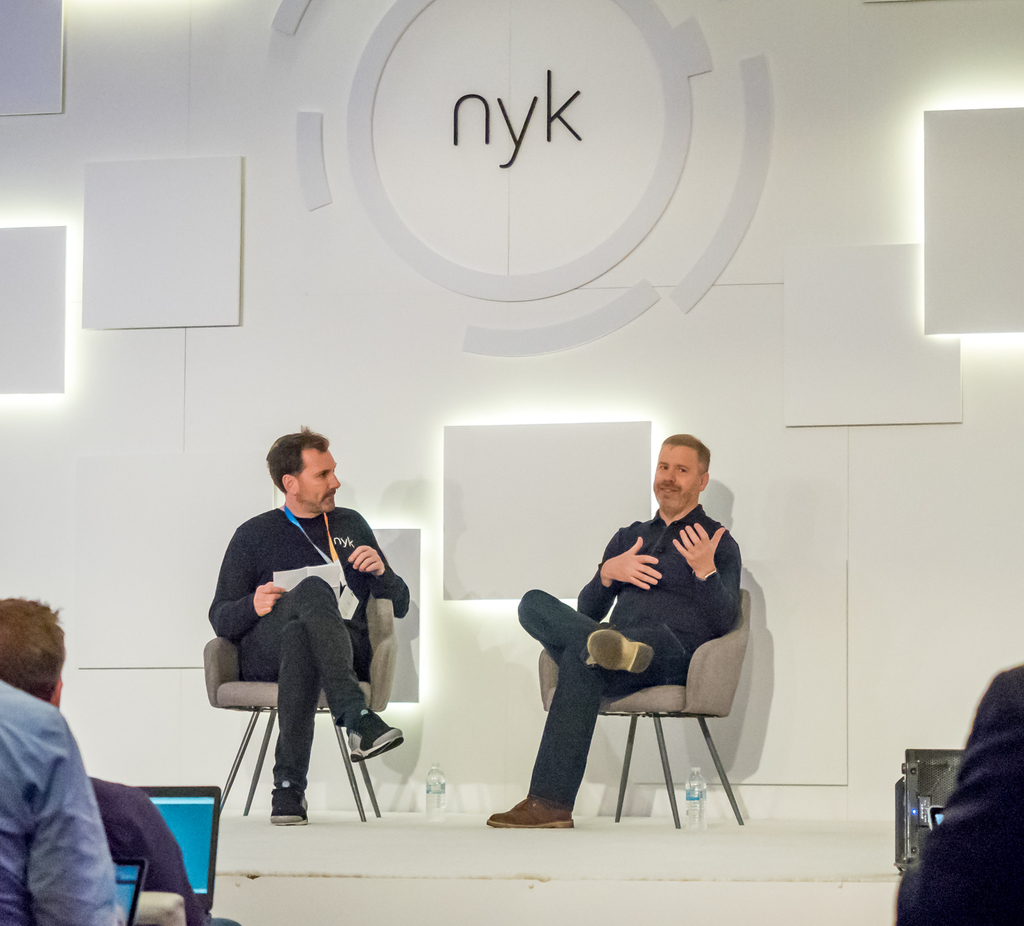 09.02am – Main Stage – Chris Moody, Twitter, & Giles Palmer
At Brandwatch we are extremely proud to be a Twitter partner, and in this talk our CEO Giles is sitting down with Chris Moody to talk all about our partnership and the future of Twitter.
Chris joined Gnip six years ago, bringing social data to the world and helping people innovate. Gnip and Twitter joined forces in 2014 and since then have been on a 'rocket-fueled ride'.
For more than two decades, Moody has been involved in the enterprise either as an executive or consultant. He's worked at Oracle, IBM, and Aquent before joining Gnip as chief operating officer in 2011 and then assuming the role of CEO at the big data platform in 2013, leading up to its acquisition by Twitter in 2014. Since then, he's served as a vice president and general manager of the company's data and enterprise solutions.
venturebeat
He's talking about how Twitter is more relevant than ever, and how recent results have been on the rise.
@joodoo9 and @chrismoodycom take the stage, day 2 #NYKCONF – I agree that #Twitter has never been more relevant! pic.twitter.com/oaIGtH7o8J

— Georgia T (@geeteemagee) May 9, 2017
"We're much more focused, we've added a bunch of new things…We're focusing on streaming live content and video."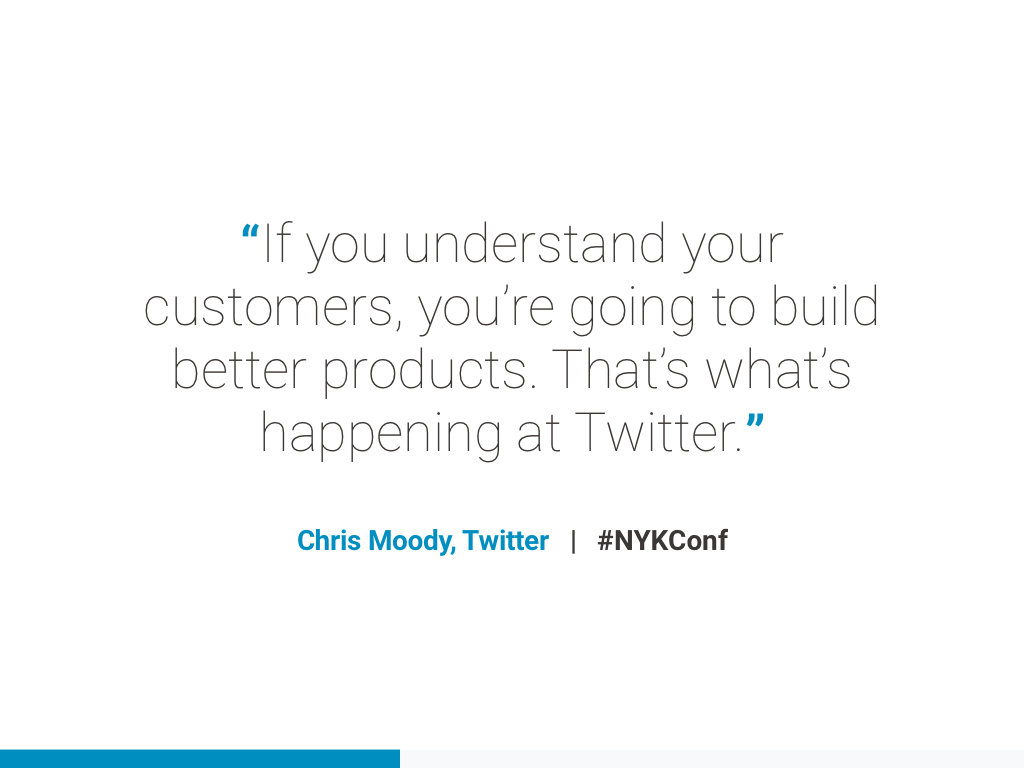 08.40am – Main Stage – Will McInnes, Brandwatch
Will's introducing day two, so I thought I'd share the agenda for this morning; it's a banger.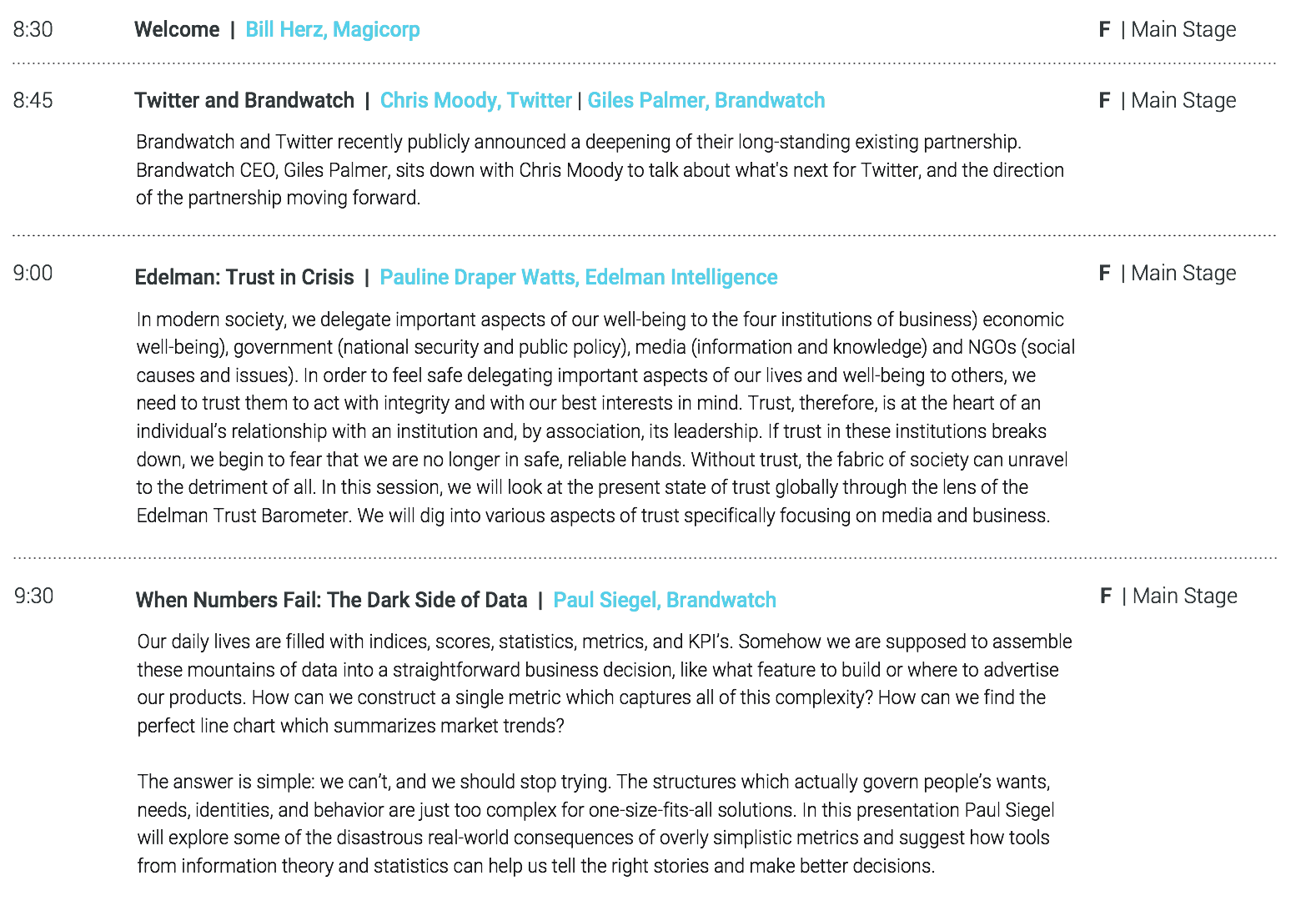 08.10am – Main Stage – Preparations
Good morning! we're setting up for day two in the main stage, and at 8.30am we'll be kicking off with some magic from our resident magician Bill (not joking) and then strapping in for a talk with Twitter. It's all go.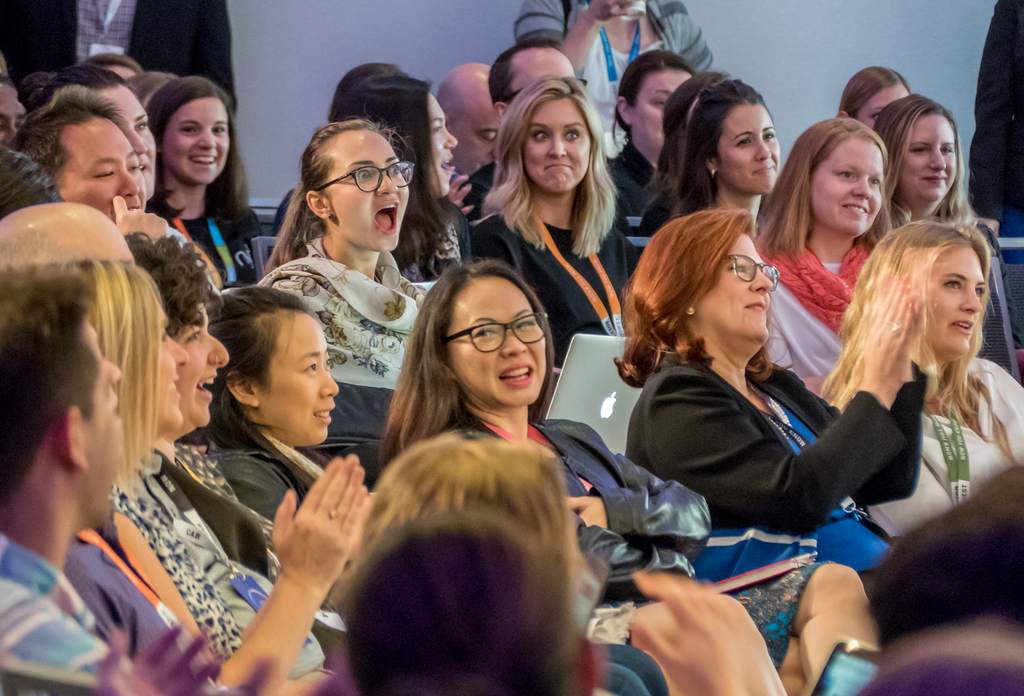 I've just had a venti iced coffee with extra espresso shots so I'm feeling productive.
While we wait, let's ruminate on the awesome news we announced yesterday, through the medium of tweets! Image insights. The Reddit firehose. It all went down.
Wait what. @Brandwatch can image search and analyze better than the google graph search. #NYKCONF pic.twitter.com/yLiFX30EvV

— Katie Thompson (@KatieTThompson) May 8, 2017
Now bringing in the #Reddit firehose. An industry first. Thank you @Brandwatch!!! 👊🏻📈 #NYKCONF pic.twitter.com/oKo1d7oxbd

— angela berger (@abergs) May 8, 2017
IMAGE. RECOGNITION. #NUFFSAID #NYKCONF pic.twitter.com/HGHnHsbOO7

— Chris Ee (@TheChrisEe) May 8, 2017
Updates to follow – check back for more and follow @Brandwatch and the #NYKCONF hashtag on Twitter and Instagram
Now You Know™
---
Brandwatch Analytics
Get a demo of Brandwatch Analytics
Find out more