Sugar Tax: The Social Data Around the Raging Debate Research

As of April 2018, the UK has joined a small group of countries who have introduced a "sugar tax", specifically on soft drinks. Manufacturers are now required to pay a levy on the high sugar drinks they produce, with many brands cutting back on the sugar they include in their drinks ahead of the tax being enforced.
In many cases it's consumers and not manufacturers who will bear the brunt of this tax, and questions are being raised over how much raising the cost of sugary drinks will do to tackle obesity.
| | |
| --- | --- |
| Tax | Sugar content |
| 18p per litre | Drinks with more than 5g of sugar per 100ml |
| 24p per litre | Drinks with more than 8g of sugar per 100ml |
The sweet-toothed Brandwatch React team can't resist a juicy debate and began analyzing the social data on the sugar tax and general perceptions on sugar free goods.
In this post, you'll learn:
How the sugar tax has gone down with consumers, and the roots of the debate
The brand being mentioned most in sugar tax conversations, and where brands find themselves
How popular #SugarFree is amongst other popular diet hashtags.
Sugar tax data: Quick maths
We tracked more than 31,000 public mentions of "sugar tax" or #sugartax on social media on 6 April, the day the tax came into effect in the UK.
58% of gender-categorized authors tweeting about the tax between 2-8 April were men and 42% were women. When we looked at sentiment-categorized tweets during that time, men were more likely to be tweeting negatively about the issue.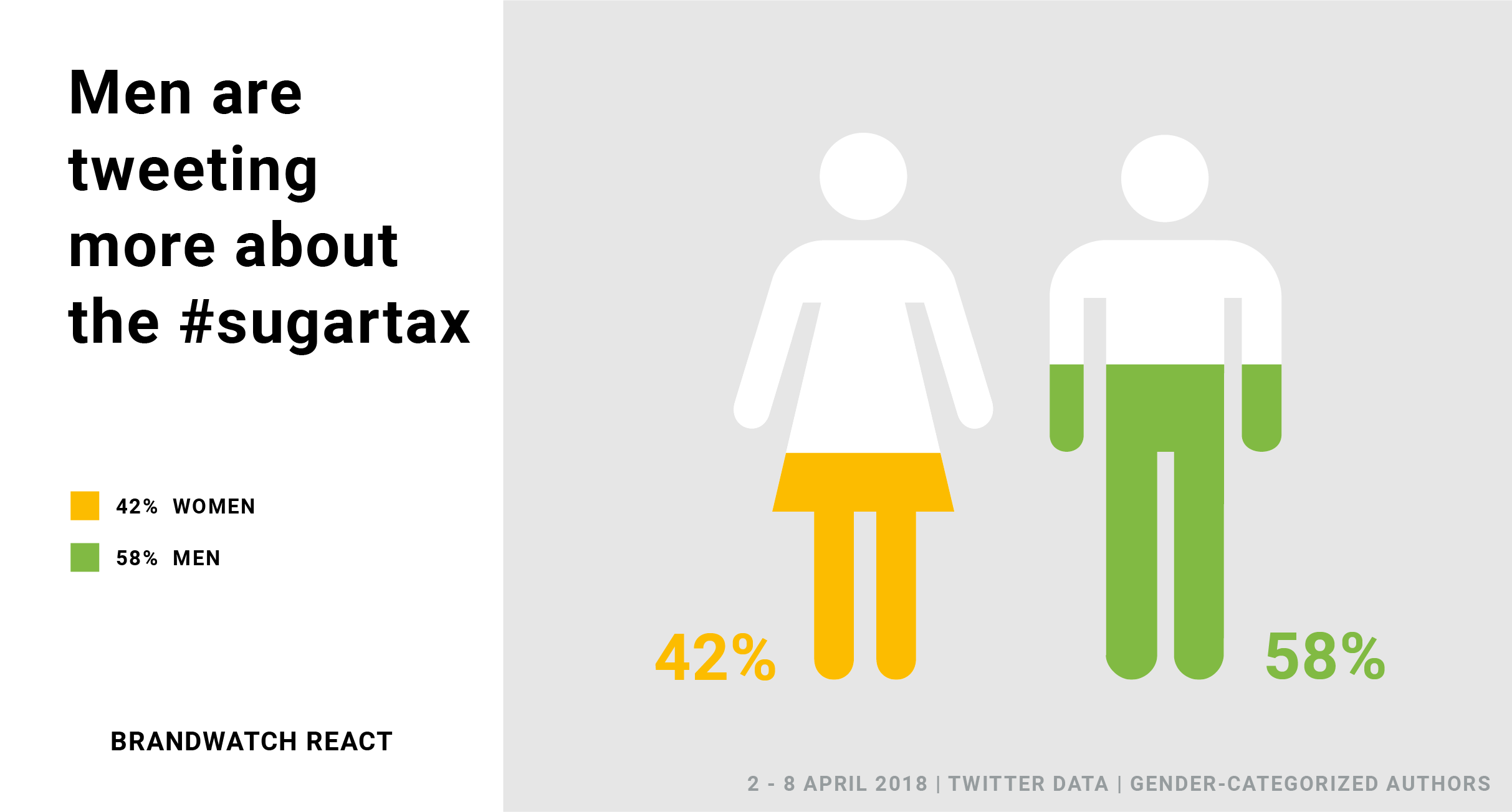 A look at the most used topics within the conversation revealed that health issues like diabetes, obesity and tooth decay were key, but there are clearly oppositional views surrounding whether the tax will be enough to help with those issues, or whether the tax should be in place in the first place. (As context, as well as having the effect of putting consumers off buying more expensive sugary drinks, the money gained from the tax is to be put aside to go towards health initiatives.)
Artificial sweeteners also took up a chunk of the conversation, with many complaining about replacing sugar with artificial sweeteners that could also have adverse health effects.
The roots of the Sugar Tax argument
There are all kinds of views on the sugar tax, but from our read of opinions on social they mostly come down to responsibility. Is it the responsibility of the government to make sugary drinks harder to consume? Is it the responsibility of the sugary drinks companies to reduce the unhealthy content of their products? Is it the responsibility of the individual to exercise self control when it comes to their sugar intake and pay more for unhealthy soft drinks?
3.5% of the sugar tax mentions we captured between 2-8 April contained the term "Nanny State".
#SugarTax
Two litre full sugar Pepsi now costs £1.95
An increase of 45p.
A whopping 30% increase overnight.
£240,000,000 a yr to the Gov.
This huge tax won't stop obesity
A #SugarTax has not worked anywhere in the world.
It is just more #NannyState nonsense from a Tory Gov.

— Cllr.Brian Silvester (@CllrBSilvester) April 6, 2018
Meanwhile, others called for wide food industry changes. One popular post read:
Having a "sugar tax" on sugary drinks isn't going to stop obesity. How about making healthy food cheaper and making them more available for people who are on lower incomes? Putting tax on everything isn't helpful while the healthier food is much more expensive.
While many agreed, others claimed that healthier options are in fact more affordable than unhealthy ones. The point is very much up for debate.
In short, the issue is messy and any proposed solutions are plagued with political disputes.
A trend towards health and wellness
"X free" diets are seeing something of an explosion right now, as the internet connects the health conscious and food influencers guide the uneducated through the latest trends in dietary excellence (rightly or wrongly).
The market for alcohol free versions of traditionally boozy beverages is gaining traction fast, and the younger generation is drinking less than their parents.
The gluten free movement is huge – we found more gluten free than vegetarian mentions within food influencer conversations last year.
Meanwhile, dairy and meat free alternatives are enjoying a boom in sales.
People aren't just reducing the perceived dietary vices of the day, they're cutting them out all together.
What does #sugarfree look like on Instagram?
It might not strike you as the most fashionable of hashtags but we found 11k mentions of it on the site during the same time period as we measured Sugar Tax conversation (2 – 8 April 2018).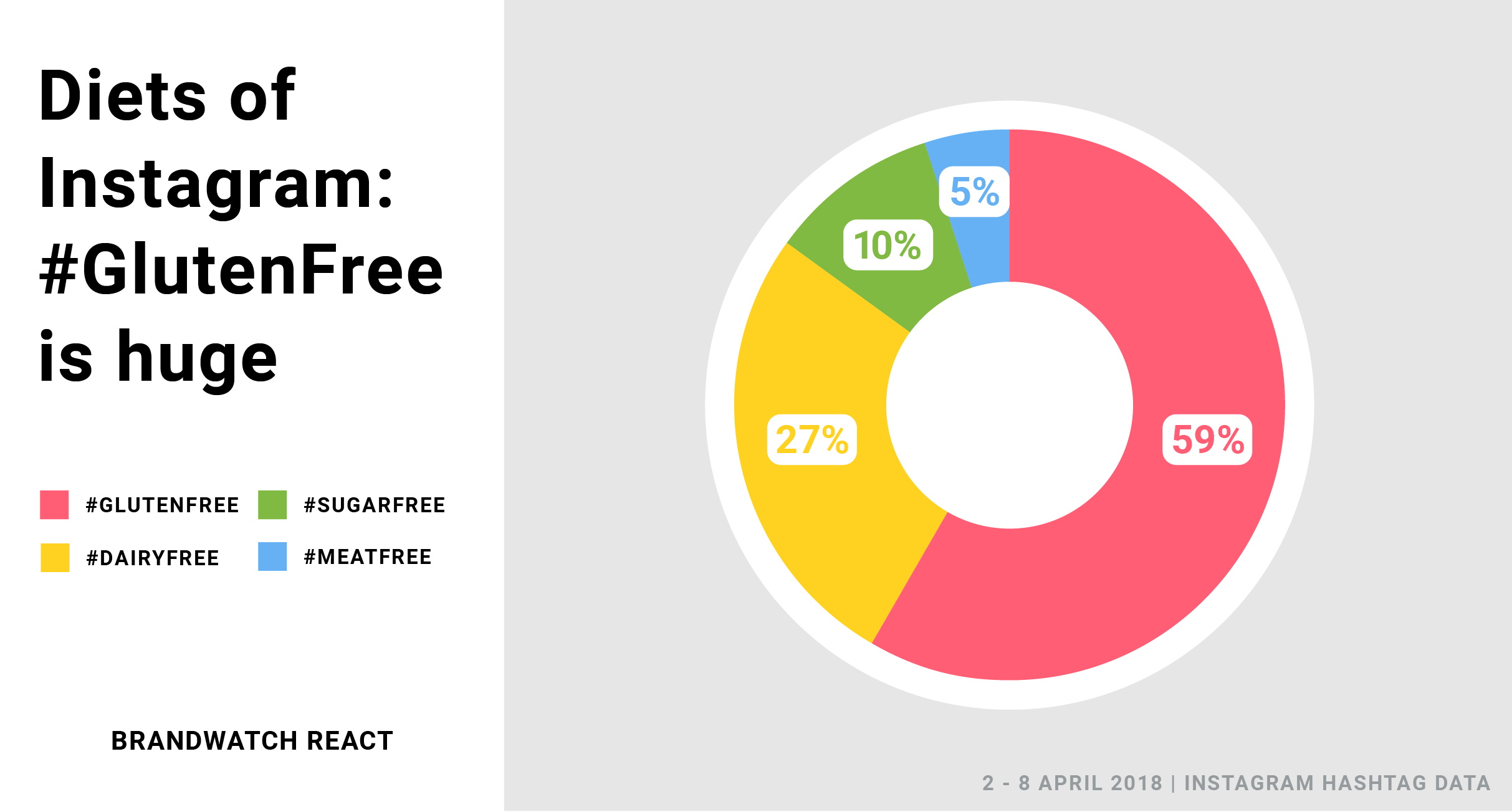 ---
You might like
#PlantBased: An Exploration of Online Vegan Communities and Conversations
Read the Article
---
An uncomfortable time for brands?
So, with consumers becoming more health conscious and a messy political fight about whether sugar should be taxed as well as bubbling conversation around the adverse health affects of artificial sweeteners, where do brands find themselves?
We can start by looking at how brands are discussed in relation to sugar tax.
Coca-Cola is the most prominent brand in the conversation, according to Brandwatch's Entities function that surfaces organizations being mentioned within the data. The brand was one of the only companies that did not reduce the amount of sugar (in 'red Coke') and this meant that the tax was imposed on it. 500ml bottles were subsequently replaced by smaller ones, including in meal deals, leading to frustration from customers.
Sneakily reducing the coke bottle size in the meal deal @tesco but still charging the same price. 😕

— Simon (@sihoughton) April 5, 2018
TESCO replied to one concerned #sugartax tweeter "Coca Cola have actually made changes to the sizing of their bottles and cans to keep the price the same."
A number of supermarkets were pulled into the Sugar Tax debate on social, including Sainsbury's, ASDA and Morrisons. It is at the store that many people seemed to become aware of changes to sugary drink prices, and the stores themselves had to deal with a number of complaints and inquiries around the issue. When changes in the law decided months in advance are only first come across by customers when the changes are visible on the shelves it's possible that supermarkets might benefit from informing customers earlier about significant price changes so as not to be hit by a wave of negativity.
They weren't the only sugary drink distributors to be hit by criticism on the front line.
Fuck off. #SugarTax @McDonalds pic.twitter.com/jDYPdy6OFU

— Thomas Timson (@Thomas_Timson) April 7, 2018
Meanwhile, Lucozade and Ribena (who altered the sugar content in their drinks) are being criticized for the different taste. One Redditor enquired:
With the sugar tax coming in today, as I drink bucket loads of Cola I was wondering if there is a sugar free alternative that doesn't have that horrid aftertaste. I've tried to switch to Lucozade but they've changed the recipe and now it just tastes horrible!
A sticky situation
High levels of sugar cause health problems but changing the sweetness elements could effect the taste of a popular, familiar product. Artificial sweeteners are not perceived very positively at all – a scroll through the artificial sweetener mentions within the sugar tax conversation revealed a number of health-related complaints. And people don't want to pay more for the same product (or the same for a smaller version of that product). It's a sticky situation.
The ideal way for brands to get around this is to find healthier alternative ingredients to their most loved products that make them safer to consumer and hopefully cheaper to buy (because the tax would be removed). But if that was easy it would probably have been done already.
Another way is to boost the appeal of their healthier "diet" or "light" options, perhaps by linking them to popular dietary trends. As we found in some recent research around veganism, there are plenty of internet sites that host thriving vegan communities who are open to discussing their favorite meat free products. Brands could identify and work with influencers within #sugarfree conversations to boost awareness and, ideally, sales of their healthier products.
The more socially responsible brands may want to take a proactive approach with their unhealthiest offerings by advertising them as something to be enjoyed in moderation and making nutritional information as clear as possible, although commercial interests may get in the way of this.
Something that sugary drinks do have going for them is that people value convenience, even when they're talking about money we found they talk about convenience over security. If sugary items can make themselves appealing to thirsty impulse purchasers among the cheaper, less sugary items next to them they shouldn't be harmed too much by the sugar tax.
Are you a journalist looking to cover our data? Email react@brandwatch.com for more information
---
Brandwatch Analytics
Listen to your customers. Fuel product innovation.
Find out more