The Top 15 Social Media Management Tools Marketing
Regardless of their organization's size, social media management has become one of the core focuses for marketers and community managers.
Having an active presence on most popular social platforms is as important as learning how to manage them effectively and make the most of their features and benefits.
Managing various different networks at the same time can be challenging and that's where social media management tools come in handy. Such platforms let you keep an eye on and promptly reply to messages on social, monitor all your social accounts in one place, schedule posts in advance and analyze your online activity.
There are plenty of tools out there, so choosing the right one for your business can prove difficult. For this article, I decided to have a look at the top 10 most useful and popular social media management tools and ease your decision of choosing the one that suits your needs.
User-friendly and clean, Buffer is great for staggering content throughout the day across multiple social platforms: Facebook, LinkedIn, Twitter, Google+ and Pinterest.
If you're looking for a simple and efficient management app for scheduling updates, helping you save time on administrating your networks, Buffer can definitely help.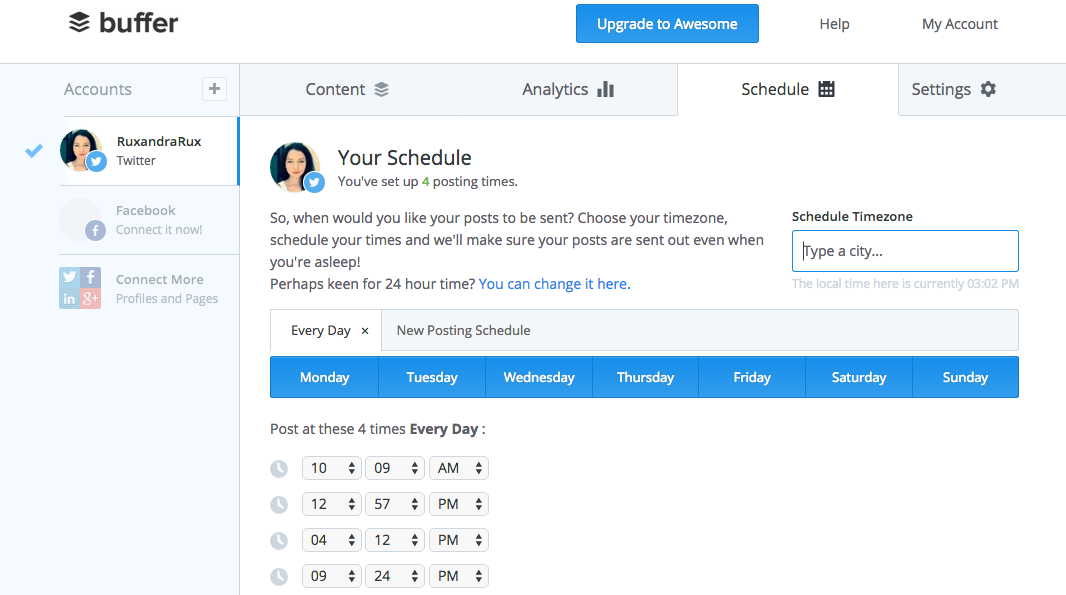 Also, all available accounts (Individual, Awesome and Business) allow users to track engagement metrics such as shares, favorites, comments and clicks, which can help you discover with little effort which are your best performing posts on social.
Buffer's free Image Creation tool, Pablo, can help you create engaging images for your social media posts quickly, without any hassle. The app has stock images you can use, but there's also an option to upload JPEG and PNG images. Very handy and worth trying out!
Cons:
If you manage numerous social accounts with lots of followers, and have an interest in responding to comments/tweets and interacting, Buffer has its limitations, and in this case, it's probably not the best option.
Pricing:
The Individual Plan is free, but you can also opt for one of their paid plans which range from $102 to $2,550 / year.
---
Integrated with over 25 social networks, Hootsuite is the right management tool for you if you're looking for engagement, great publishing and workflow features, analytics and managing campaigns, all in one place.
One of its core strengths is definitely facilitating audience engagement. On a single dashboard, anyone on your team, in any region or department, can quickly respond to messages, mentions and comments. There is also an option to save responses for future use, which can be handy.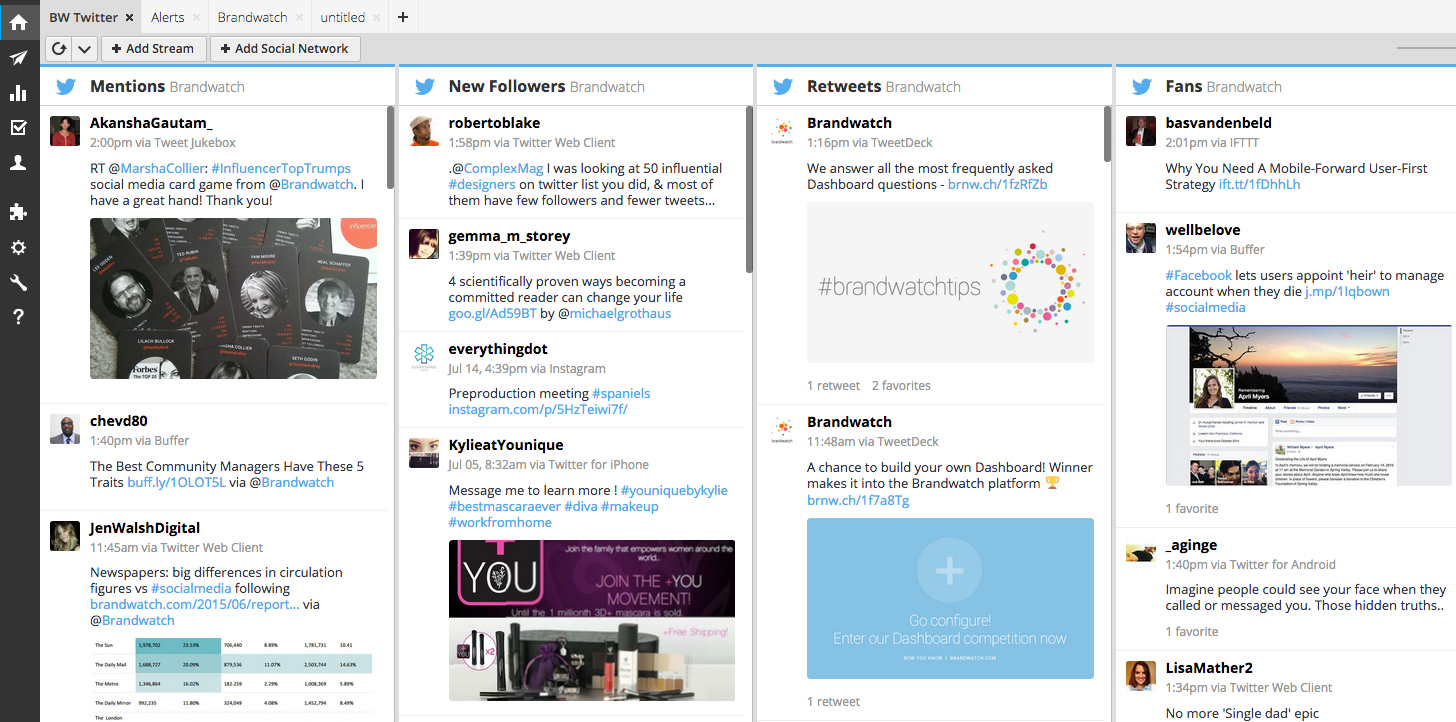 Another useful feature is the ability to target your posts and share content with your customers based on location, language and demographic details, helping you reach and communicate with your online communities in a smart and effective way.
Due to its integration with Brandwatch (and uberVU?), Hootsuite is the ideal solution if you're seeking to combine publishing and engagement with a social analytics solution.
Cons:
Being such a complex and multifunctional platform, Hootsuite can be a bit daunting for social media rookies and it takes a bit of time to get used to. However, once you pass that stage and start exploring all its benefits, it's all worth it.
Pricing:
There's a free plan available, great for personal use, and also 2 additional options: Pro (from £6.99/month) and Enterprise, recommended for big corporations and organizations.
---
Spredfast allows users to monitor online conversations through keyword searches and it's also recommended for managing multiple social media sites and its reliable publishing capabilities, as it also suggests optimal scheduling time.
If reporting is what you are looking for, Spredfast is unmatched. It provides advanced analytics reports and all data is clearly presented in formatted graphics which you can easily export.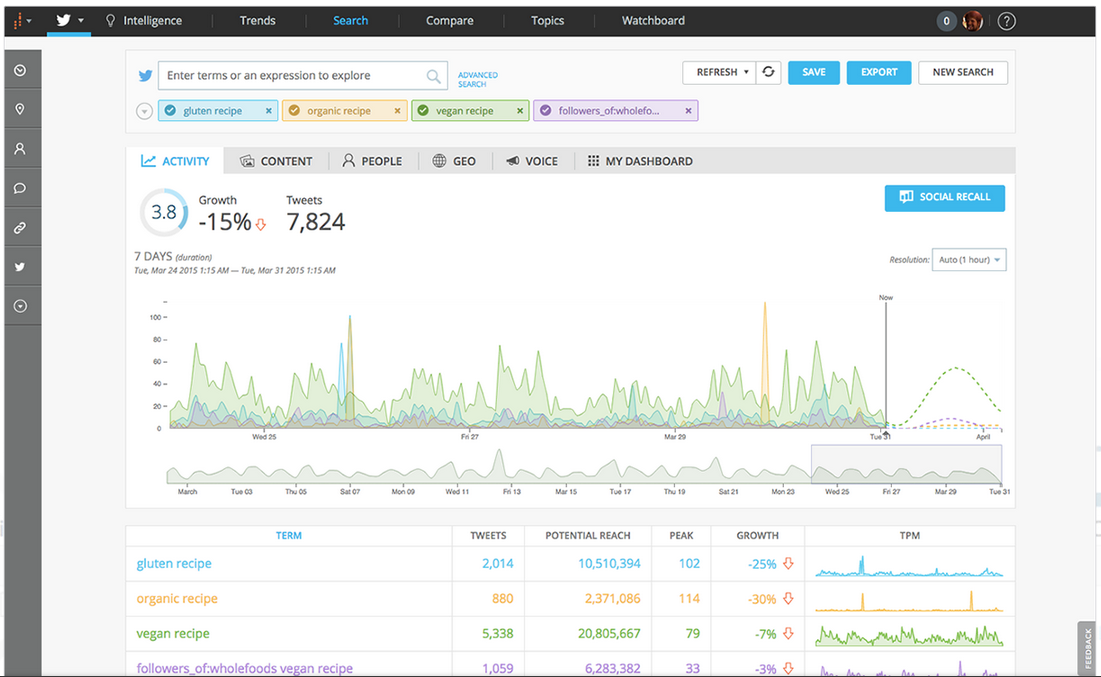 Their dashboards are a good source for a quick reference of what is happening across your pages and it's also very easy to track what type of content is performing best on specific channels.
Cons:
For those who aren't that familiar with social media, Spredfast requires a bit of a learning curve, and while there is an extensive amount of training documentation available, it can take some digging to find an answer to some user questions.
Pricing:
Not available
---
Using Percolate's customizable marketing calendar, you can schedule content for multiple channels, organize and collaborate with team members on campaigns.
Its user-friendly interface makes it easy for you to find what you're looking for. For instance, you can easily find all images that you have tweeted out or look at the calendar to find out how many times you have posted in a day across various social channels.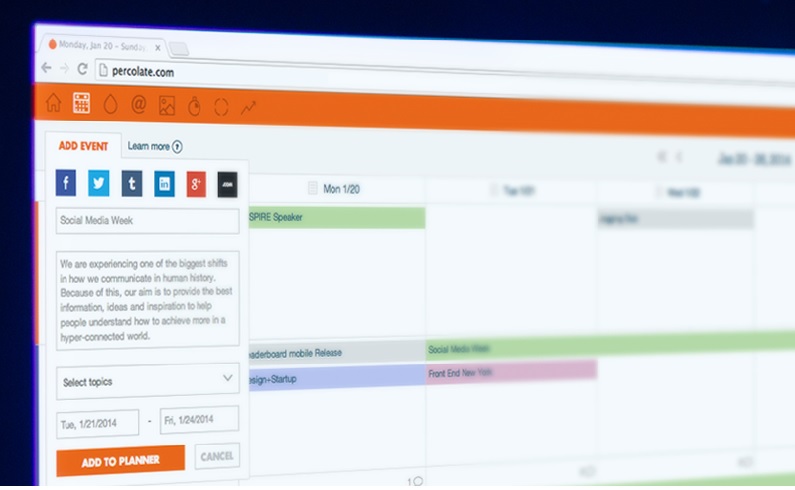 If one of your core focuses is content creation, Percolate is a great choice. It provides everything you need to build visually appealing content, such as access to Getty Images and your own built in media database.
The Brew, Percolate's content suggestion feature is extremely useful for finding shareable content, which is a real time saver.
Cons:
At the moment, there is no possibility to change time zones for different users, an issue which can be tricky to tackle if being part of a global team.
Pricing:
Not available
---
If you're simply looking for a Twitter-focused managing tool, with a clean and responsive interface, Tweetdeck fits the bill perfectly.
Tweetdeck makes it easy to engage with streams and posts quickly and it is also extremely flexible, as it allows you to add all Twitter streams you're interested to keep an eye on. Also, desktop notifications can be set up to make sure you respond to comments or questions in real time.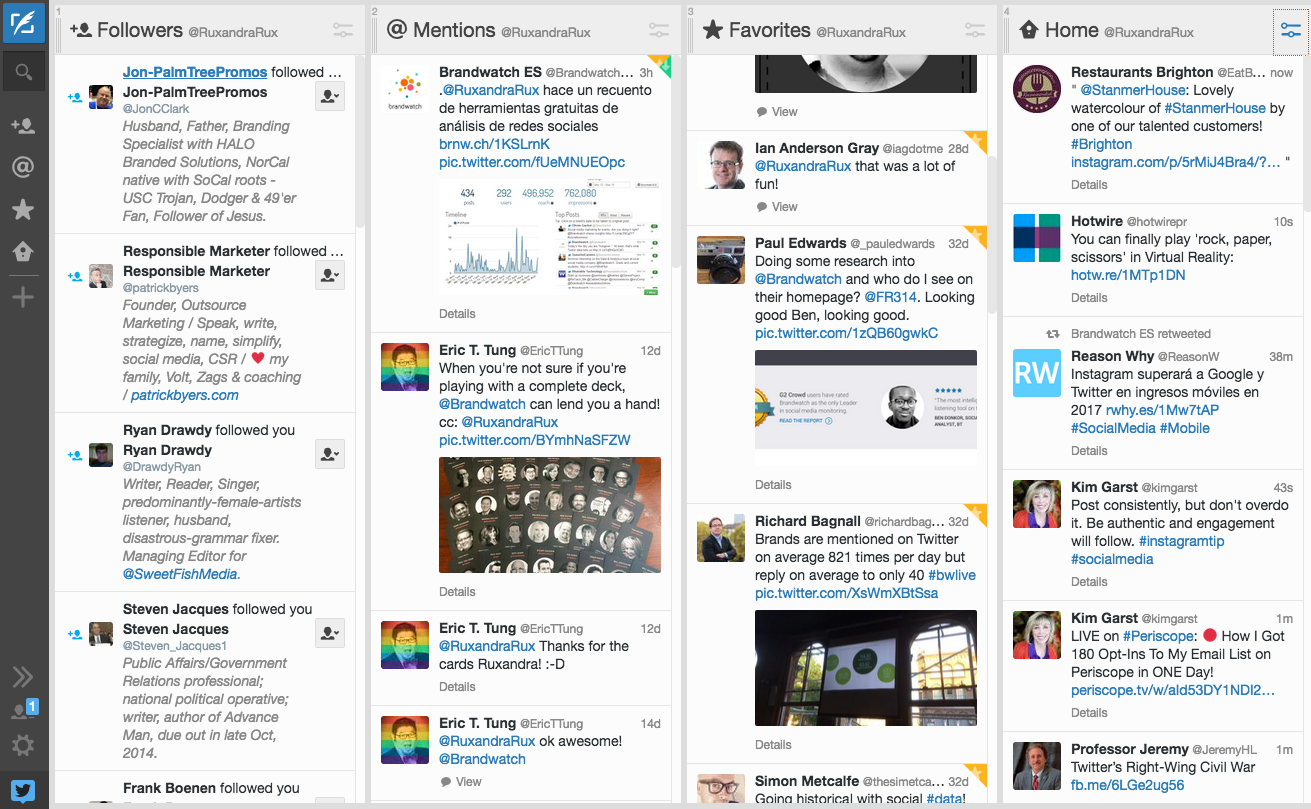 One of the best things about Tweetdeck is its search features. You can easily stay abreast of latest Twitter trends and join discussions about hot topics.
Cons:
It is quite difficult to manage more than one Twitter account, and also, scheduled tweets including images can't be edited. Lack of analytics can also be an issue, but I'd highly recommend this as a first Twitter management to use for beginners.
Pricing:
Free
---
With an incredibly easy to navigate interface, Oktopost doesn't take a lot of time to get used to.
Some of the pros that our community management team has identified include being able to track the total number of clicks on your posts, bulk scheduling and access to a single-dashboard where you can publish and schedule posts across multiple social channels.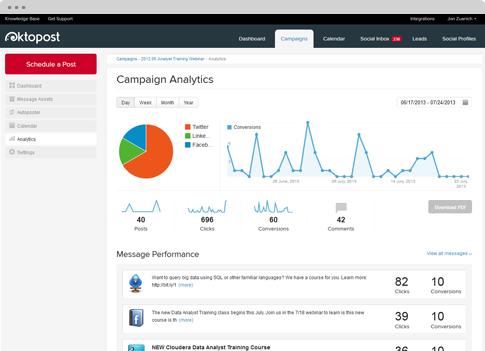 Its "Message Assets" feature is extremely useful as it houses all content posted to social, making it really easy to reuse when relevant, without having to recreate the same content.
Cons:
If you are looking to share a piece of content across multiple channels at the same time, there is no option to do it automatically, you'd have to copy and paste the post for each platform.
Pricing:
All four plans (Basic, Basic+, Business and Enterprise) come with a free 30-day trial and range from $55 to $1870 per month.
MavSocial pushes the fact that it's an easy-to-use platform. New users shouldn't struggle to get to grips with it. It has all of the features you'd expect from a social media management tool, including content curation, scheduling and reporting. Generally, a good all round option.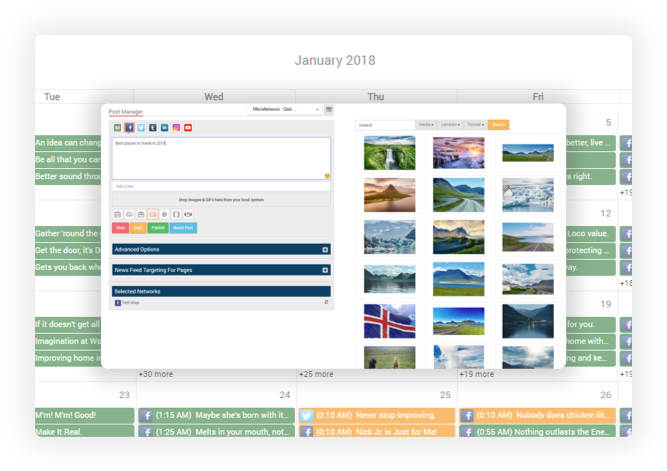 Cons:
The interface is fairly simple, but it also feels clunky and a bit dated compared to other platforms.
Pricing:
There are a range of packages going from $19 to $499 a month. At the lower end, you might struggle if you run multiple accounts, but the bulk of features are still available in this range.
Sendible pulls in posts and comments from sites such as Facebook, Twitter and Flickr making it easy to manage and respond to all from one place. Each post is analyzed and messages requiring urgent attention are highlighted, helping users prioritize important mentions and deal with messages that require an immediate response straightaway.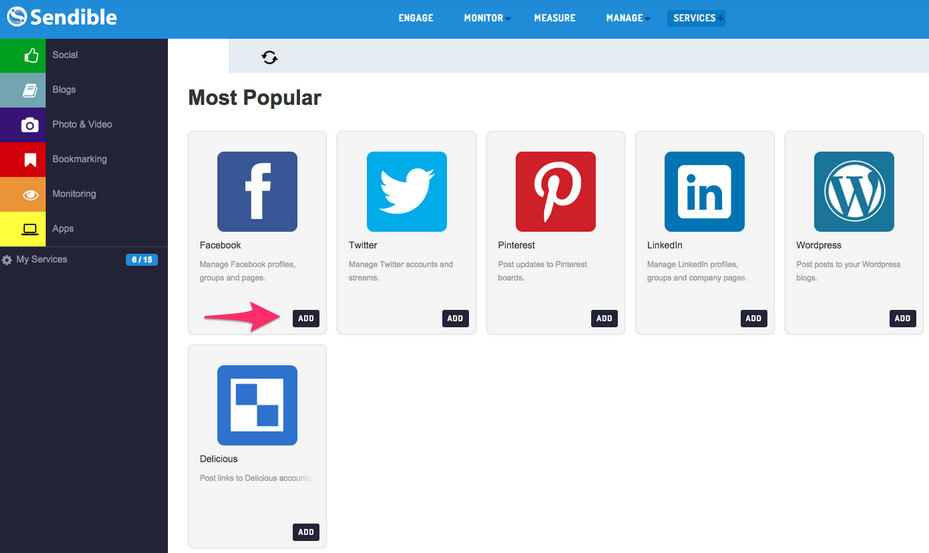 Like other social media management platforms, Sensible allows you to engage with your online communities across multiple platforms, analyze and track your social media and email campaigns, measure the success of the content you share and plenty of other things.
Cons:
If you're managing a large, fast-paced account, this service is probably not the best. While it seems that some posts come in through Sendible immediately, others can take up to several hours to show up, which can be a tricky issue if you're looking for real-time social media engagement and management.
Pricing:
Depending on the size of your business, you can opt for a Taster, Startup, Business, Corporate or Premium Plan, ranging from $10 to $442 per month.
---
Their coverage includes a broad list of social media platforms such as Twitter, Facebook, Google+, Youtube, LinkedIn as well as forums, blogs and Q&A websites.
You can post comments, replies or posts, send retweets and private messages across all these channels without leaving the workspace. It may attach images and it can also shorten URLs if needed.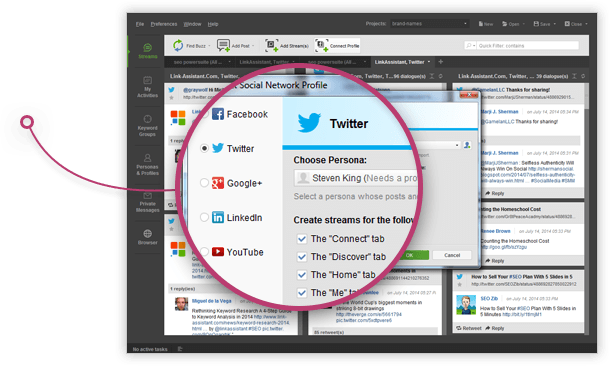 BuzzBundle allows you to set up a number of Personas, which can be set up for different departments or individuals, or even for a specific audience or community. This is extremely beneficial as when scheduling, you can choose which persona this message is coming from or going to within the same screen across different social platforms, which is a huge time saver.
Cons:
The tool can sometimes be slow to pull in results and there is a steep learning curve attached to it.
Pricing:
You can either opt for a free account, which give you access only to a sample of mentions, or you can choose the Professional License ($199), for unlimited personas and 100% of brand mentions.
---
Coschedule is a content marketing tool that lets you plan your posts as well as create and schedule social media messages from right inside your post editor.
The app supports LinkedIn, Tumblr, Google+, Facebook and Twitter and there is also an option to integrate with your Bitly account and track clicks across all your social media channels.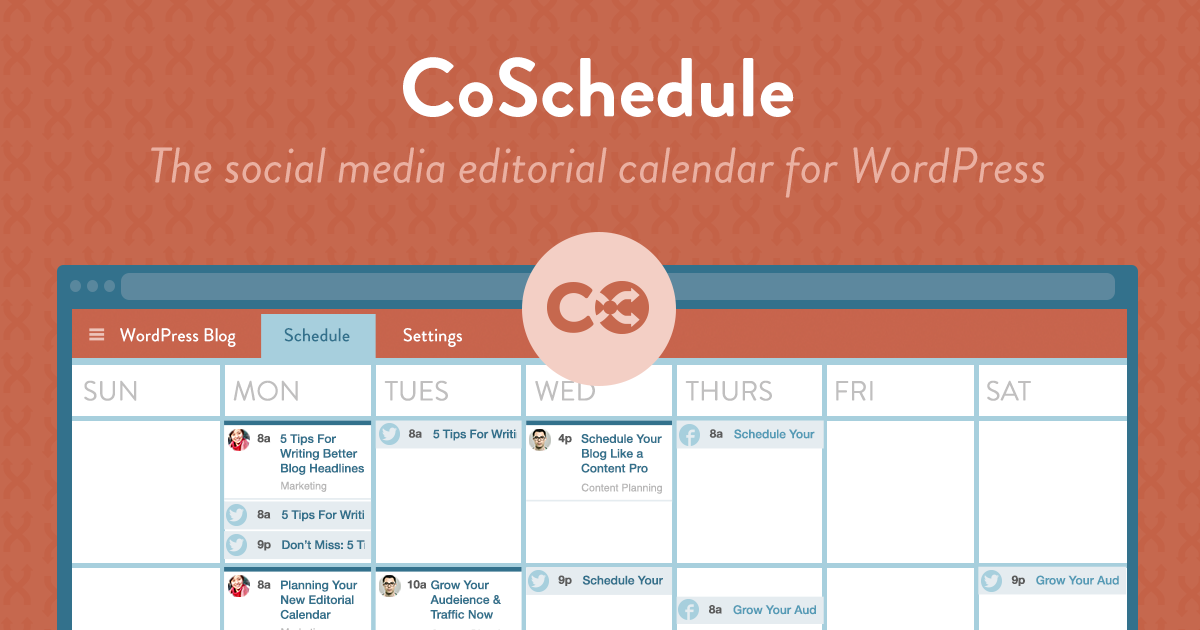 The social media posts are displayed in the editorial calendar and in the post editing view. This makes for two very simple and intuitive ways to visualize both your content planning and your social media posts.
CoShedule is very easy to set up, so there's no need to invest a lot of time and effort in learning how it works.
Cons:
It is worth mentioning that CoSchedule is only for WordPress, so if you're using a different content management system you might need to consider other options.
Pricing:
CoSchedule's pricing plans start at $15 per month and can get up to $60/mo , depending on the number of social profiles you want to track.
Zoho Social is a cost-effective option for growing businesses and agencies.
The bulk-scheduler allows you to schedule multiple social media posts in one go, across Facebook, Twitter, LinkedIn, Google+, and Instagram, all in one dashboard.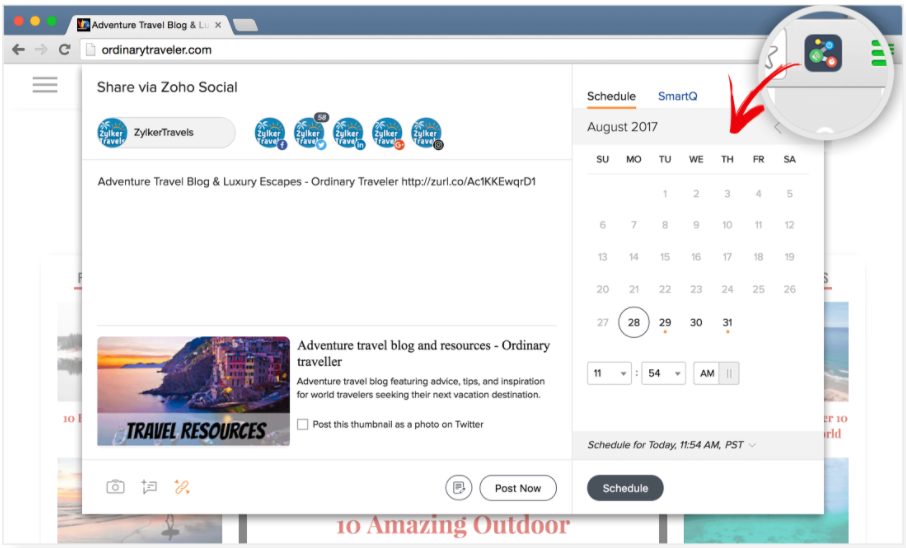 Additionally, the collaboration feature makes it easy for teams to communicate, brainstorm and plan all together.
Intuitive and easy to use, Zoho Social has great reporting capabilities, as well as the capacity to shorten links and suggest the best times to post on social media to maximize community engagement.
Cons
At times, there can be issues with receiving notifications in real time, and the engagement capabilities (likes, replies, etc.) for comments can be limited.
Pricing
The pricing is transparent and highly flexible — it ranges from £8 – £100/month, depending on how many logins you need and the number of brands you'd like to track, as well as a number of additional features.
Supporting nine social networks, Socialpilot helps over 75,000 agencies and social media professionals increase efficiency and save time.
A feature I find particularly interesting is content suggestions, for all those times when you're struggling to find engaging content to share on your social channels.
There are several categories to choose from, including Business, Technology or Startups, and you can easily get those posts scheduled in your calendar.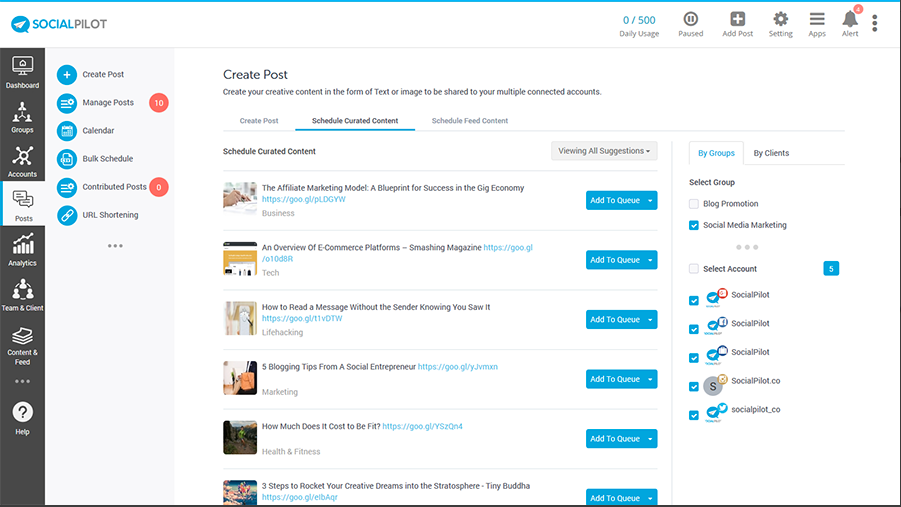 Their iOS and Android app can come in handy for your scheduling needs whilst you're on the go.
Cons
Some features are still in development, and it'd be great to see more in-depth analytics capabilities.
Pricing
There is a starter free plan available, which is a good starting point, especially for small businesses. Additionally, the paid options include four plans: Basic ($8/month), Growth Hacker ($16/month), Business ($25/month), and Enterprise (TBD).
Agorapulse enables its users to listen to their community and build meaningful relationships with them, as well as publish content across six social media platforms.
They stand out when it comes to engagement capabilities, picking up every single inbound comment and message on all networks, ensuring you reply, review, assign or tag every single important mention.
Their users mention the social inbox feature as one of their favorite platform characteristics.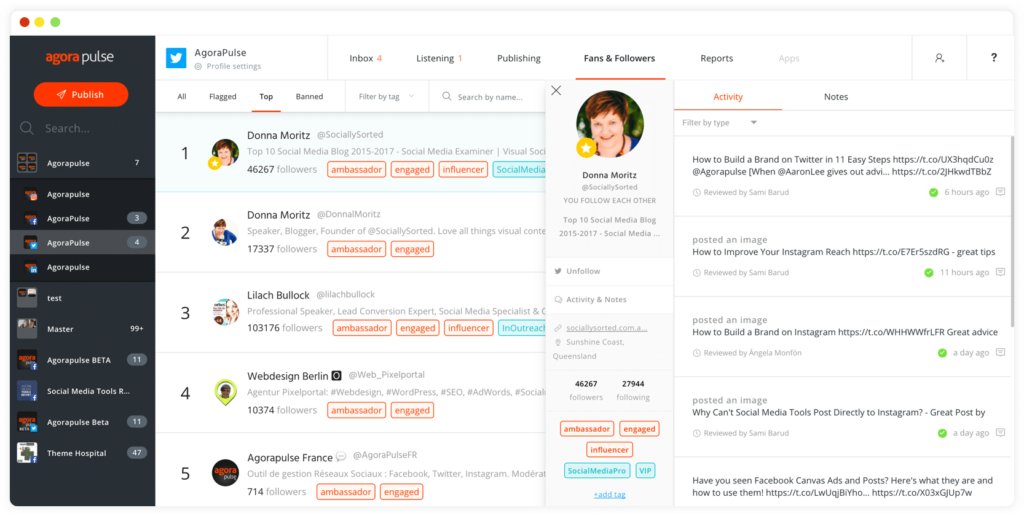 Furthermore, their Facebook Barometer is a quick, smart way to get a snapshot of key metrics such as reach, engagement levels, or CTR. The Twitter Report Card and Facebook Page Contests are also interesting tools, worth having a look at.
Cons
Compared to some of the other tools we've listed, Agorapulse can be quite complex for novice users at first sight. Also, the search functionality and customizability could be improved.
Pricing
The pricing ranges from €49 to €299/month. Demos and free trials are available on request.
eClincher takes automated social media publishing one step further. You can organize your content into themed queues, such as "blogs", "industry articles", "tips", etc., and your updates will automatically get published across any social networks of your choice. Recycling content is also a popular feature.
Monitoring keywords and hashtags is an essential component of any healthy social media management strategy. With eClincher, you can easily follow discussions, mentions, and find new leads by always being on top of all conversation around your brand, industry, and competitors.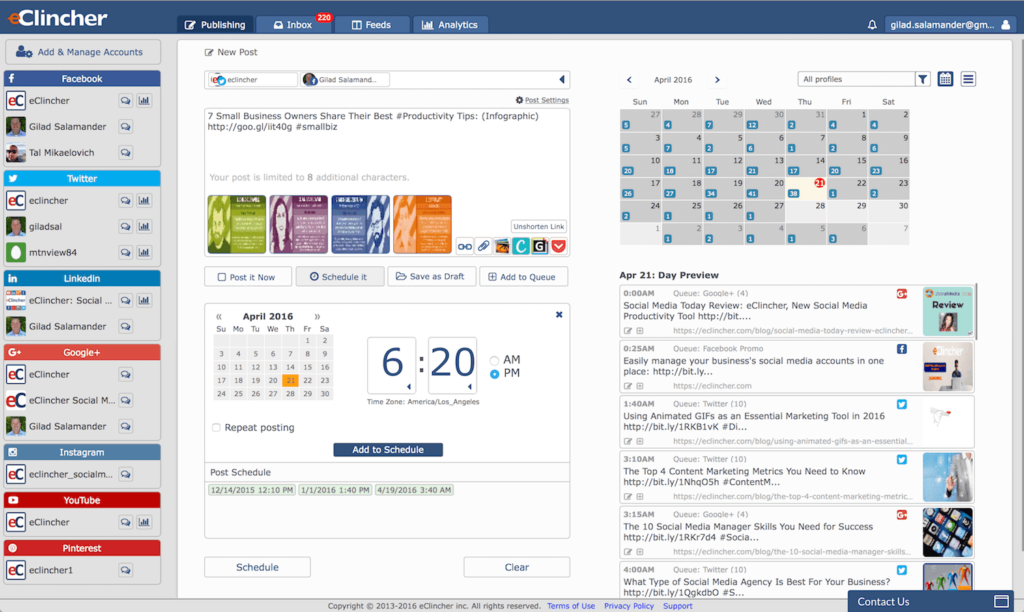 Due to the integration with Canva (a free graphic-design tool), you can even edit your images without having to leave the platform, and use them to enrich your scheduled across all social platforms.
Cons
The tool takes a bit of exploring and digging around to get used to, due to the slightly bulky UI.
Pricing
After your free 14-day trial, you can choose between their packages (Basic, Premier, Agency and Enterprise), which start at $49/month.
Businesses use Falcon to oversee all social media platforms, publish, listen, engage and measure performance across channels.
In addition, it allows teams to work collaboratively and discuss ideas within the platform, as well as send posts for approval.
You can also run unlimited reports based on metrics of your choice, which you can then export and share with the wider team, via email, at set times.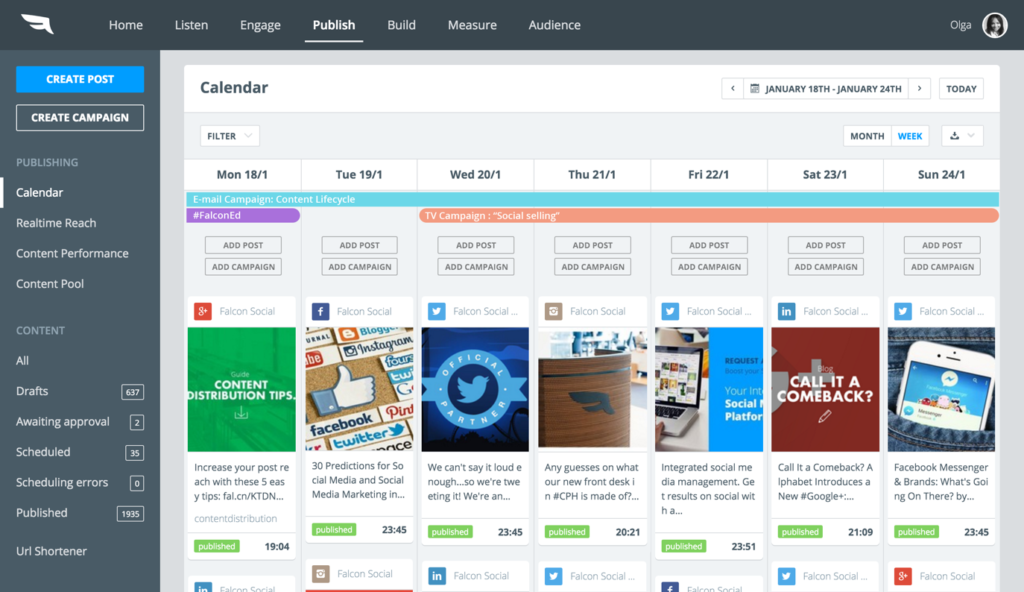 Their Audience feature highlights the importance of gathering all customer information and enriching each audience segment with social data.
Users are able to create profile cards which automatically list social media messages, comments or mentions from the individual. Salesforce CRM records can be synced, too.
Cons
Users miss is the ability to schedule across different platforms (i.e. Facebook, Twitter and Google) with one click.
Pricing
Starts at $1000/month, due to increased complexity, as well as unlimited channels, teams and reports.
---
Do you have a favorite social media management or community management tool? Let us know in the comments.
---
Want to understand how social media is delivering value for your business?
Brandwatch Analytics is an enterprise social intelligence platform that helps social media managers track and measure the ROI of all their social activity.
Learn more by booking your free demo.
---
Brandwatch Analytics
Measure the impact of all your social media activity with Brandwatch.
Find out more