G2 Crowd Social Media Monitoring Grid Reveals Brandwatch Earned Highest Customer Satisfaction
NEW YORK, March 27, 2014 — Brandwatch, one of the world's leading social media monitoring and analytics platforms, today announced it has earned the highest customer satisfaction ranking in G2 Crowd's first-ever Grid for Social Media Monitoring.
Brandwatch dominates the industry when it comes to customer service, having been named a High Performer in the G2 Crowd social media monitoring report. G2Crowd verifies all its reviews through certified LinkedIn accounts, providing honest and in-depth reviews from real customers, which gives social media monitoring professionals substantiated peer opinions. Earlier this year, Brandwatch was also cited as a Strong Performer and earned the highest ranking in the Customers sub-category in "The Forrester Wave™: Enterprise Listening Platforms, Q1 2014″, a report released on January 22, 2014 by independent research firm Forrester Research, Inc.
The G2 Crowd report's findings show:
97 percent of users rated Brandwatch 4 or 5 stars
92 percent of customers would recommend Brandwatch to peers
The Brandwatch support offering was rated at 93 percent
In feature comparison, Brandwatch's social listening capabilities were rated highest, at 95 percent
Of the nearly 40 social media monitoring products listed on G2 Crowd, the 8 ranked products each received 10 or more ratings and reviews to qualify for inclusion on the Grid. Satisfaction rankings are generated from the 45-question user reviews, and market presence is calculated from vendor size, market share, and social impact. Based on a combination of these scores, each software solution is categorized as a Leader, High Performer, Contender, or Niche.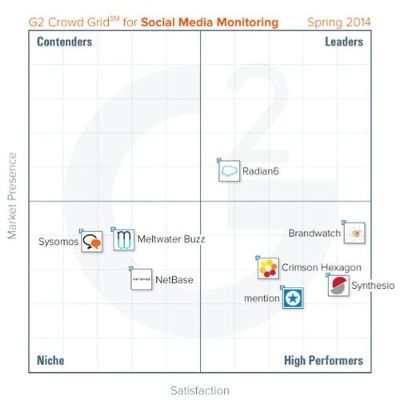 "We're thrilled our customers have ranked us highest in customer satisfaction in the G2 Crowd Social Media Monitoring Grid and report," said Will McInnes, Brandwatch CMO. "Brands crave social media monitoring technology that can pinpoint the conversations that matter, in real time, and a company that will stand by its product and provide expert support. That's Brandwatch."
Sample Review from G2 Crowd
"The entire experience with them from the first sales call until now has been great. We have been a customer with Brandwatch for over a year now. Their pricing, the way you can backdate data, the full Boolean query flexibility, and the fact there is ALWAYS something new coming in the tool. Since we have been a customer I honestly think there have been like ten major new features added to the platform, per the request of customers like me." Logan Lawler, Practice Leader for Social Media Services Practice, Dell
About G2 Crowd Social Media Monitoring Grid
G2 Crowd users can compare products on the Grid by both overall customer satisfaction and by market presence and momentum data. For social media monitoring, reviewers also rated specific features such as social listening, sentiment scoring, and influencer identification. Premium research access can be purchased on the site for $599 and offers the original data for filtering and weighting, as well as individual profiles of each software platform with the most helpful positive and negative social media monitoring reviews, detailed company information, user satisfaction ratings, feature scores and customer metrics. Future refreshes of the Grid will provide updated rankings based on the latest reviews and social data.
See the new Grid for Social Media Monitoring and subscribe to the premium research here.
About Brandwatch
Brandwatch is one of the world's leading social media monitoring platforms. It harvests millions of online conversations every day and provides clients with the tools to analyze them, enabling brands and agencies to make smarter, data-driven business decisions.
The company grew 101% year-on-year in 2013 and has won awards for its technology and renowned corporate culture, and regularly wins accolades for its impressive growth. The Brandwatch platform is used by over 900 brands and agencies, including organizations such as Dell, PepsiCo, Whirlpool, British Airways and Digitas.
www.brandwatch.com | @Brandwatch | press office | contact
*Reviews from more than 150 social media professionals helped determine the G2 Crowd social media monitoring grid rankings.