Denver and Los Angeles home to happiest tweeters, Boston, Louisville and Fort Worth least happiest
NEW YORK, February 5, 2015 — When it comes to Tweeting about whether a day was awesome or it sucked, people in Denver and Los Angeles tweet the happiest. Brandwatch, one of the world's leading social intelligence companies, has just released the "Twitter Happiness Report: A Study on Positive and Negative Emotions Expressed on Twitter." Using social data and analytics, the Twitter Happiness Report uncovers key insights about how Twitter users express emotions online, breaking the results down by gender, life category, and conversation over time. The report also reveals some of the nuances in people's behavior when using Twitter to express their feelings.
Key report findings include:
Which US regions are happiest on Twitter?
Overall, the US regions with the highest ratio of positive to negative tweets were the West and South. The Northeast and Midwest had the lowest ratio of positive to negative Tweets.
At a state level, Tweets from Georgia and Colorado citizens expressed the highest daily positivity scores, while Tweets from Delaware and West Virginia had the lowest.
Who's happiest on Twitter – men or women?
In general, men Tweet happier than women. The report finds the ratio of positive to negative references to a person's day was 2.57 for males, compared to 1.942 for females.
When tweeting about their lives on Twitter, women were more likely to use the phrases "love life" or "hate life" compared to men who use phrases like "having a good day" or "bad day."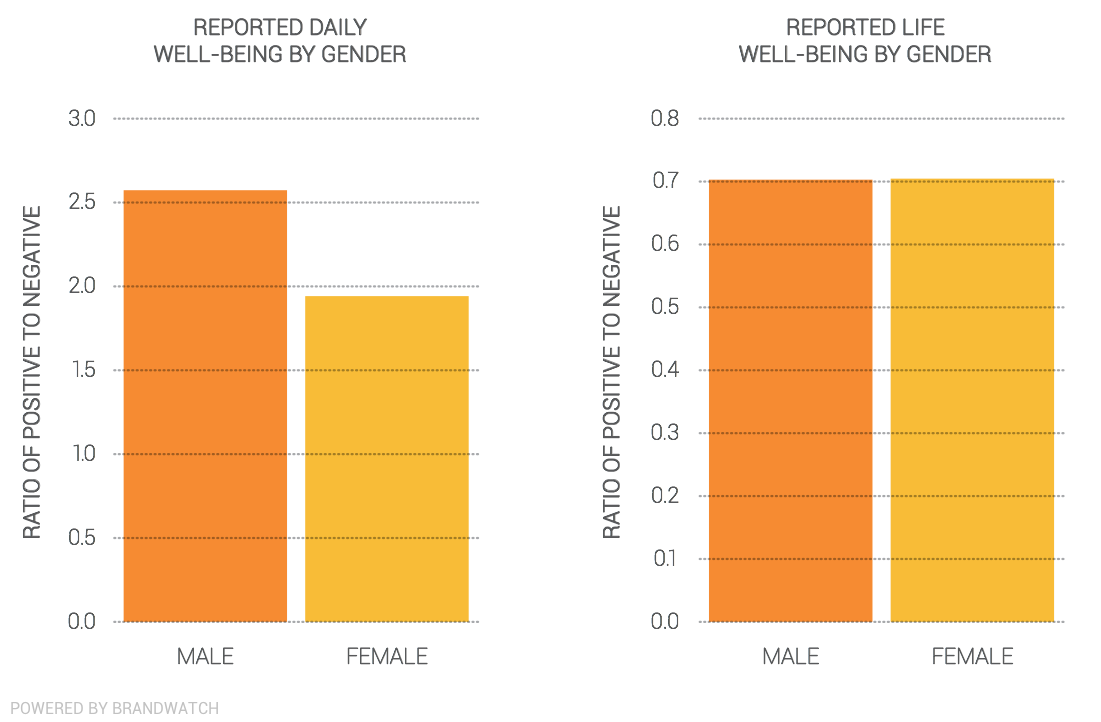 Friends and family make us happy; work not so much
On Twitter, posts about friends and family scored considerably higher for positivity, compared to posts about money or work. The ratio of people talking about family and friends in terms of their family well-being was 4.15 compared to the number for work which is 2.25.
When people discuss their day on Twitter, posts about friends and family and money scored considerably higher than that of work. However, when discussing their lives, friends and family were the most positive topics.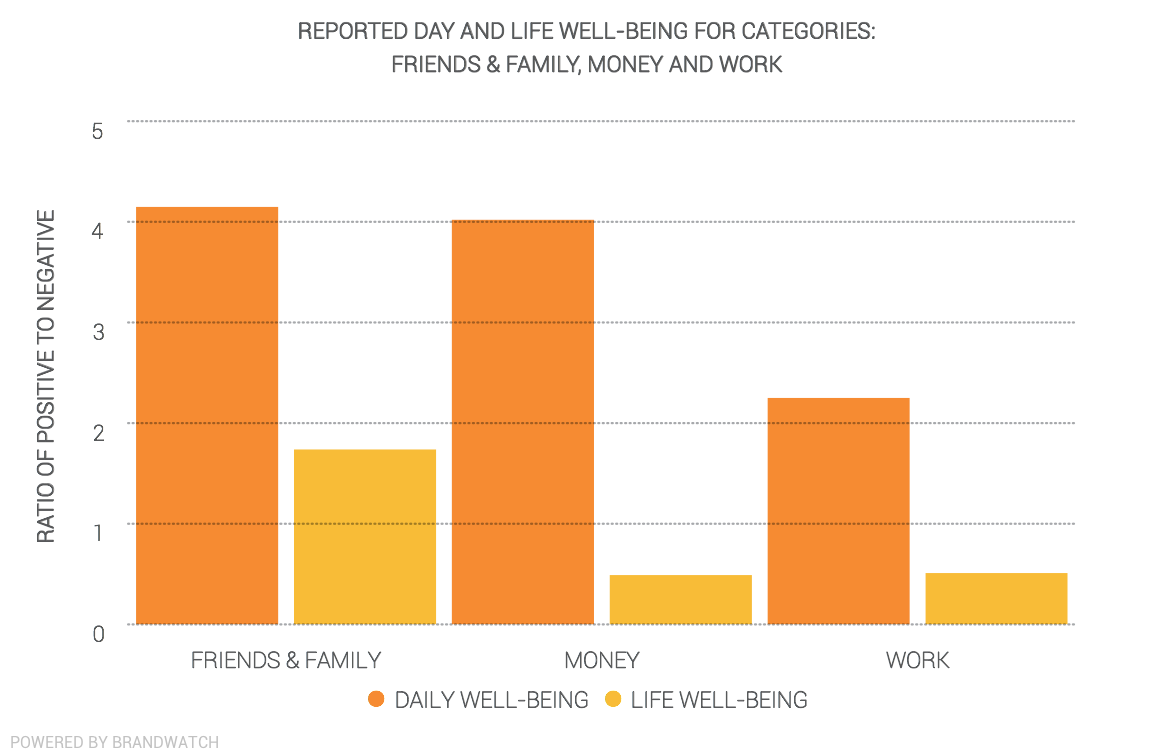 When are we happiest on Twitter?
Predictably, positive tweets were low across the board on weekdays, tick slightly upwards on Friday, and then peak during the weekend.
Users are more likely to Tweet about the quality of their lives on a Saturday or Sunday, in general, compared to how their specific day is going.
"This report only scratches the surface of understanding the ways in which we express emotions online," said James Lovejoy, content researcher at Brandwatch, who led the study. "Researching emotion presents a number of complex challenges. For example, this study can't possibly identify the actual emotions that Twitter authors are experiencing or the extent to which they are experiencing it. However, we can be certain that behind every Tweet, post and conversation, there is some genuine emotion driving it. For the first time ever, online social conversations present the opportunity to further understand the language we use to express ourselves. The aim of this type of research is both to shed some light on and instigate dialogue on the trends, topics, and aspects of our lives that affect our well-being."
Methodology
The Brandwatch social media listening and analytics platform was used to monitor and analyze 1.035 million conversations expressing the different ways that people discuss having good days, bad days, loving life, or hating life. The sample of social data collected is designed to be an effective representation of the larger social conversation around each category. The social data analyzed in the development of this report is from November 17, 2013 – November 17, 2014.
Download the free report here: https://www.brandwatch.com/twitterhappinessresearch.
About Brandwatch
Brandwatch is one of the world's leading social intelligence companies. Its social media listening and analytics technology platforms gather millions of online conversations every day and provides users with the tools to analyze them, empowering brands and agencies to make smarter, data-driven business decisions.
Acquiring social influencer analytics firm PeerIndex in December 2014, Brandwatch continues on its aggressive business trajectory following on its most recent round of venture funding to the tune of $22 million. The company grew over 100% year-on-year in 2013, has won awards for its technology and renowned corporate culture, and regularly wins accolades for its impressive growth. The Brandwatch platform is used by over 1000 brands and agencies, including Whole Foods, Whirlpool, Pepsico, British Airways, Papa John's, and Dell.
Brandwatch. Now You Know.