#BrandwatchLive: Five Things We've Learned About Facebook Live so Far Marketing
The video revolution has well and truly arrived. Brands left, right, and center are placing their bets on the medium that has successfully captured the attention of the digital world. We like to think we're unique at Brandwatch, but we couldn't help dip our toes in the proverbial video pool.
Where better to start than the unforgiving world of live video? Facebook Live seemed like a good option for us; it's accessible and easy to use, the audience is there, and it's a social channel we wanted to develop.
With all that said, here's what we've learned over the past four months.
1. Rome wasn't built in a day
Our very first live video was recorded on a phone and a rather shaky tripod, balanced atop an overturned bin with only one person in shot. Needless to say, there was room for improvement.
Since then, we have gradually built out our set-up. With lights and a DSLR camera, the picture is a lot clearer and more professional. We also use Open Broadcaster Software which offers a suite of features, giving more control over the stream.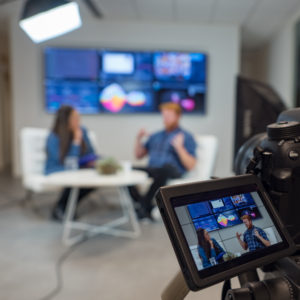 2. Try and try again
At the offset, our Facebook Live strategy was loose at best. Initially, we wanted to showcase our CMO and his many industry-leading opinions. But then we realized that there were so many amazing people and things that we could showcase within Brandwatch, so we began to experiment to see what worked:
We tried new formats: Live Streaming Super Bowl data using The Vizia 2 Platform

New interviewers: There's nothing worse than a bland broadcast so make sure your participants have some chemistry

Content: Casual chats, product launches, industry-led topics…
This was a process of experimentation and it worked because now we know what things that were a success and the things that definitely weren't. Every brand or page is different but maintaining an essence of who you are throughout is paramount.
3. It's all about the data
We might be biased, but there's no point in experimenting and trying new tactics without keeping an eye on the data.
Luckily, Facebook provide an extensive array of metrics based on both the video and the post. Use them.
We don't need to say that your key metrics will be determined by your overall objectives for the video, but the ones we keep a keen eye on are:
Peak live views

Unique views

Reach

Other clicks
We also find that it's useful to keep track of the number of staff engaging with the live stream as this can skew your viewer numbers.
4. Know your audience
As a B2B SaaS company we know that not everyone is interested in what we do, but that doesn't stop us. We are doing exciting things in the social intelligence space and we want to showcase this to whoever is listening, but we have to be mindful of our audience.
In order to keep things fresh we experimented with format, as explained above, but also tried quirky topics of conversation like: "Can social intelligence help find Chris a wife?"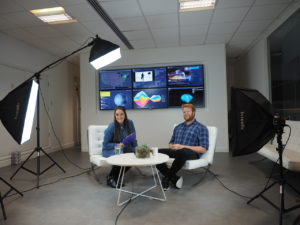 Turns out it can't.
For our most recent live stream we launched our new and improved AsiaPacific data offering, live on air. Think a big red button and party poppers.
This may seem silly to some, but it reflects aspects of our culture – and who doesn't love party poppers. We have important messages to share and we know we can't take ourselves too seriously.
5. Things will go wrong
Let me repeat, things will go wrong.
When we streamed the Super Bowl data, the video went dead for no apparent reason. We had to abandon it 2 hours in.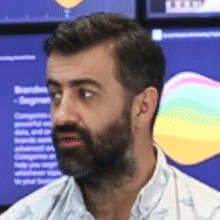 During our first run with the digital camera and OBS, the frame rate was off so it looked like the video was in stop-motion during the entire stream. We couldn't fix it while we were live.
When launching The Vizia 2 Platform, the video was scheduled to go live but we didn't give the speakers enough notice. Cue looks of shock and horror live on Facebook.
It's live video, there's nowhere to hide. Take things in your stride and put measures in place to stop them from happening again.
Hopefully, like us, you'll get some amazing gifs of your CMO's shocked face.
We have just scratched the surface of live video and there's still a lot to learn.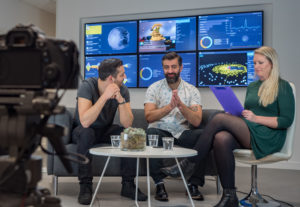 You can find all of the videos on our Facebook page. If there's a topic you'd like us to cover, tweet us or drop us a message on Facebook.
---
Brandwatch Analytics
Check out the Brandwatch Analytics platform in action.
Find out more