I Love Emojis! So Here Are 7 Facts About How We Use Emojis That You Definitely Didn't Know Already Research

Emojis – we love them. I certainly love them. You should love them.
They make communication simple, effective, and playful. Why bother writing a whole sentence when the absolute classic 'cry-laughing face' can do the job for you? Why go to the trouble of sending your partner a lengthy Mills and Boon-esque text when an eggplant and a taco will do?
I don't know about you, but I've got business to attend to. No time for nonsense, y'all. These fingers need to be making money, honey.
But emojis do more than simply cut your word count. They add emotion, context, and meaning to your communication. If you remember the bleak days of trying to make weekend plans on the humble Nokia 3310, trying to add context and colour, you'll know why that's so important.
As such, our mega-brain teams at Brandwatch thought it would be worthwhile studying how we use emojis. Using emoji analysis technology, we (the Royal We, of course) analyzed emojis published on Twitter over the course of two years.
During this period we found 6,400,278,100 (six billion) emojis published online. Reading through the brilliant report the team published (available to download here), I've pulled out seven interesting insights to wow your friends in both the boardroom, and the pub quiz.
The 150 most used emojis on Twitter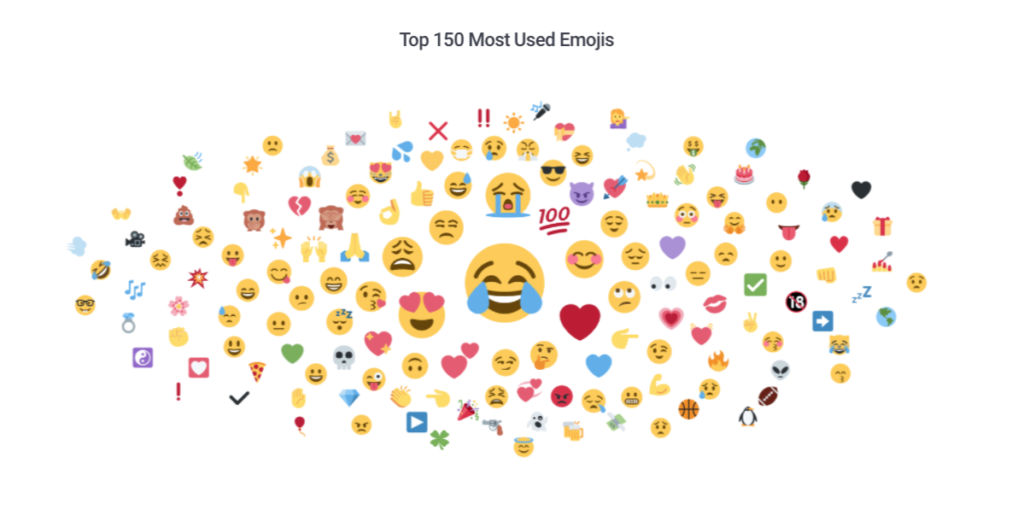 Clearly, the most popular emojis are smileys, hearts, humans and hand gestures. So emotional! So lovely. Even though there's a much longer list of animals, sports, objects, and symbols, it seems that people want to see their emotions reflected in the emojis they use.
2. Positive vs negative emoji use
On average, 75% of the emojis on Twitter are positive, and 25% are negative. When we dig a little deeper, the emojis really tell a story.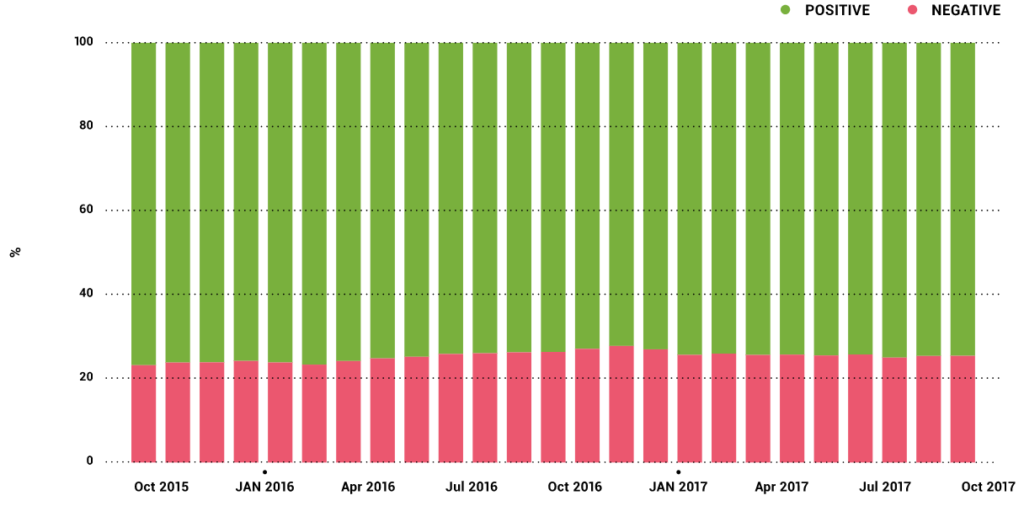 Over the last two years, the use of negative emojis has grown from 23.2% to 25.4% – an increase of 9.5%

The largest volume of negative emojis came during the month of the American election (8th November 2016)

During the week of the election, negative emoji use grew to 28.9% (a two year high)
3. When emojis are used: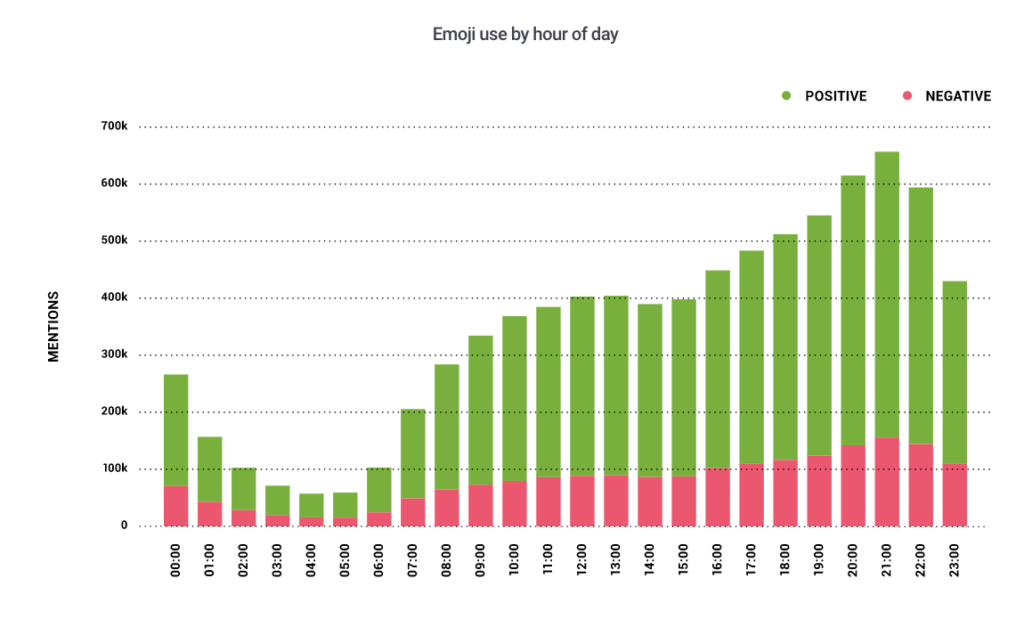 The use of negative emojis averages at 22.5% from 6am to 8pm

However, from 8pm to 6am (during the evening) negative emoji use grew to 27.3%. That's an increase of 21%!
4. How men and women use emojis:

Women are more likely to use emojis when tweeting

However, they're 6.83% more likely to use negative emojis than men
5. How different locations use emojis: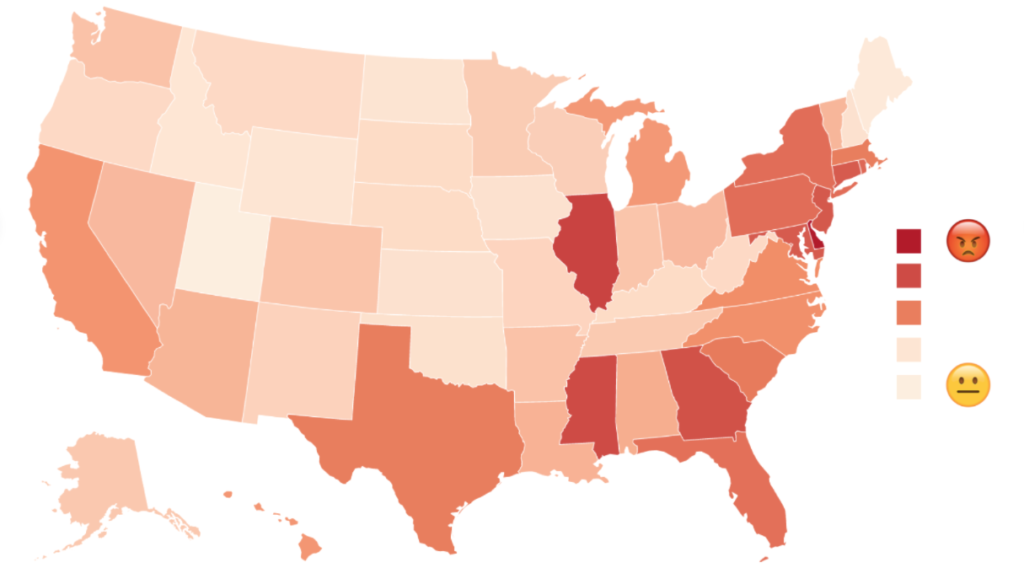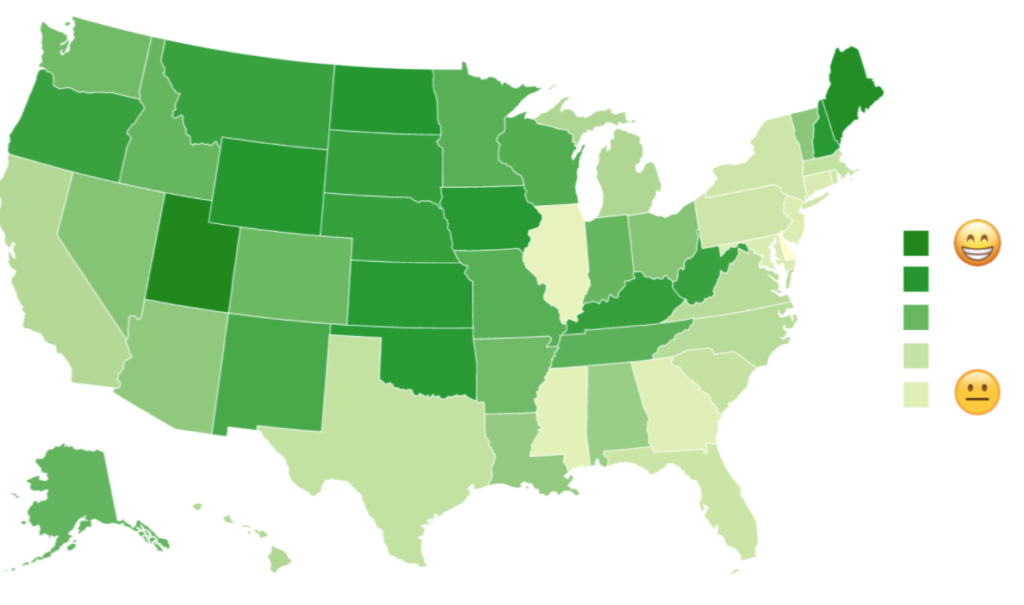 United States 🇺🇸
The most positive states are Utah, Maine, and Wyoming

The most negative states are Delaware, Illinois, and Mississippi
Europe 🇪🇺
The most positive countries are Montenegro, Monaco, and Gibraltar

The most negative countries are The Netherlands, United Kingdom, and Greece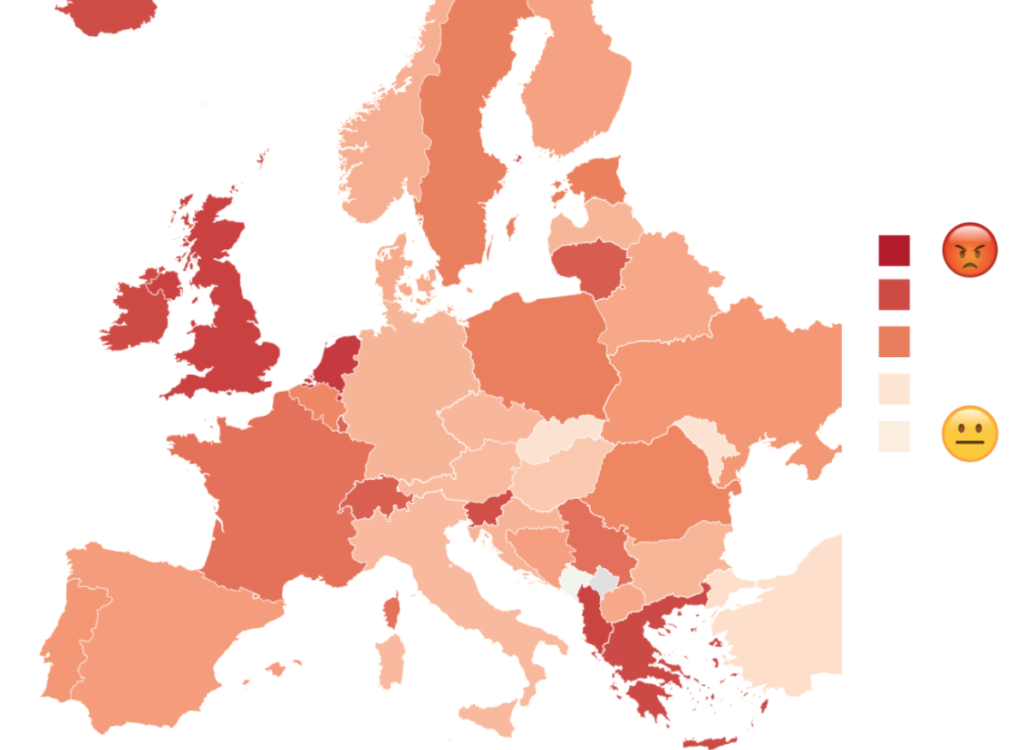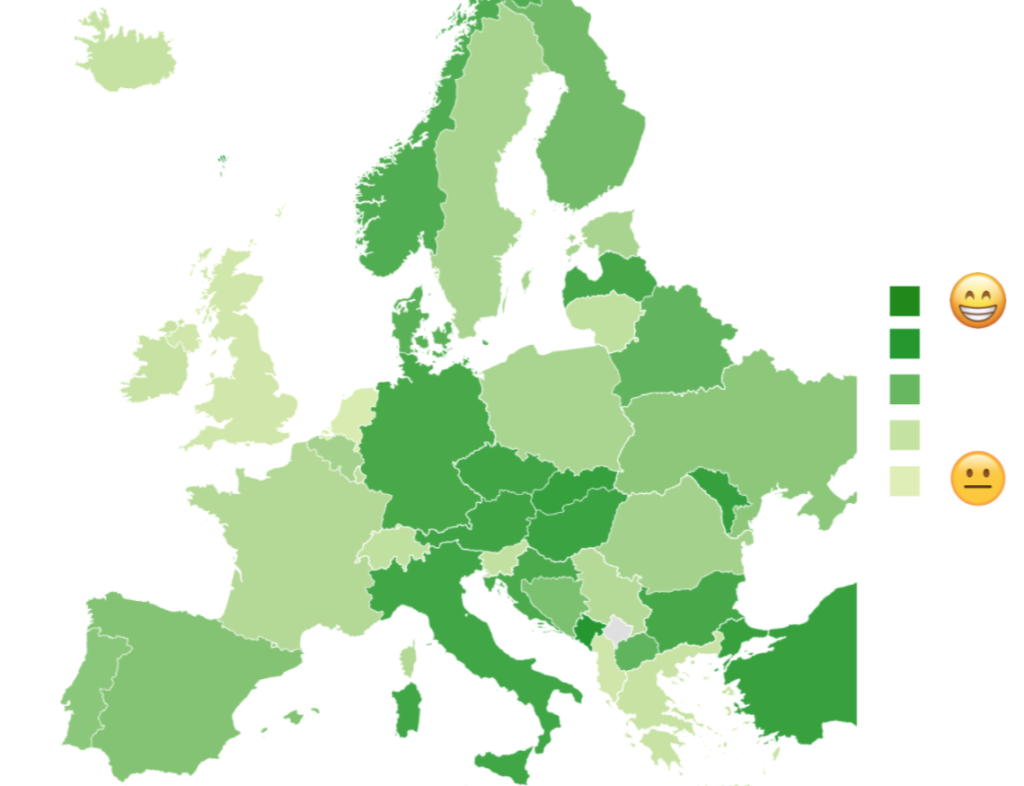 United Kingdom 🇬🇧
The most negative city in the UK is Edinburgh. 

The most positive city is Belfast
6. The most positive brands:
Here are the top 15 brands sorted by the number of positive tweets they received (as a percentage of their total conversation):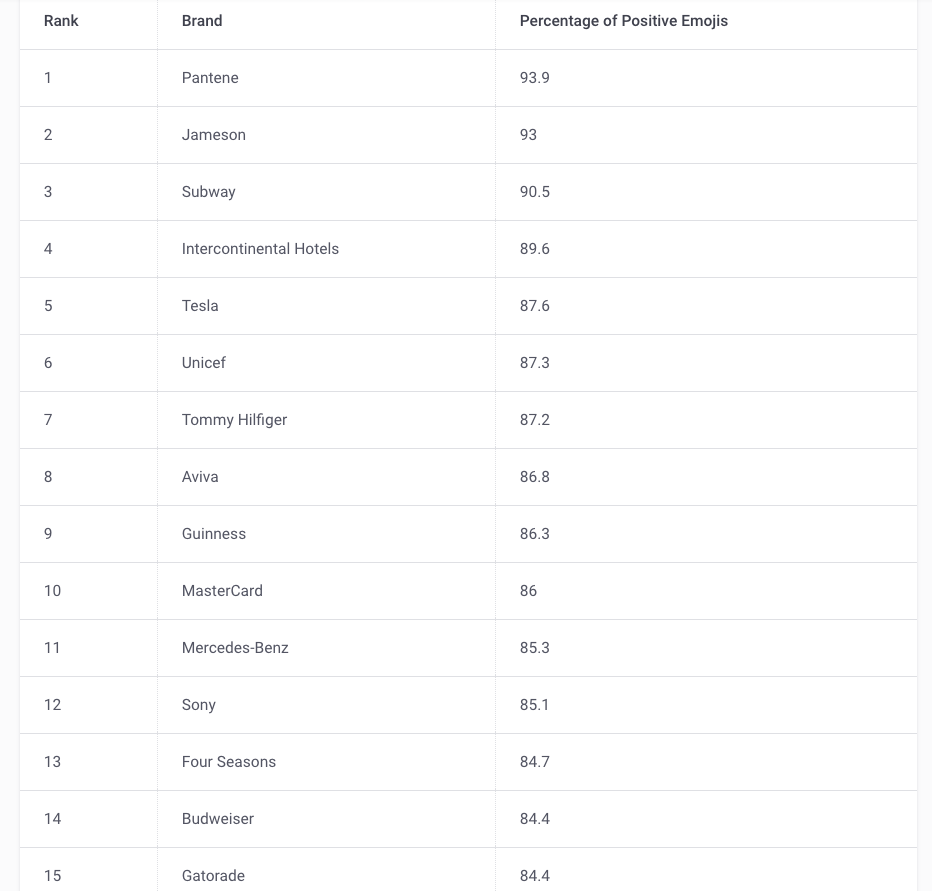 7. The most positive and negative industries:
By grouping several brands by industry we are able to determine which industries generate positive consumer engagements and which frustrate and anger consumers: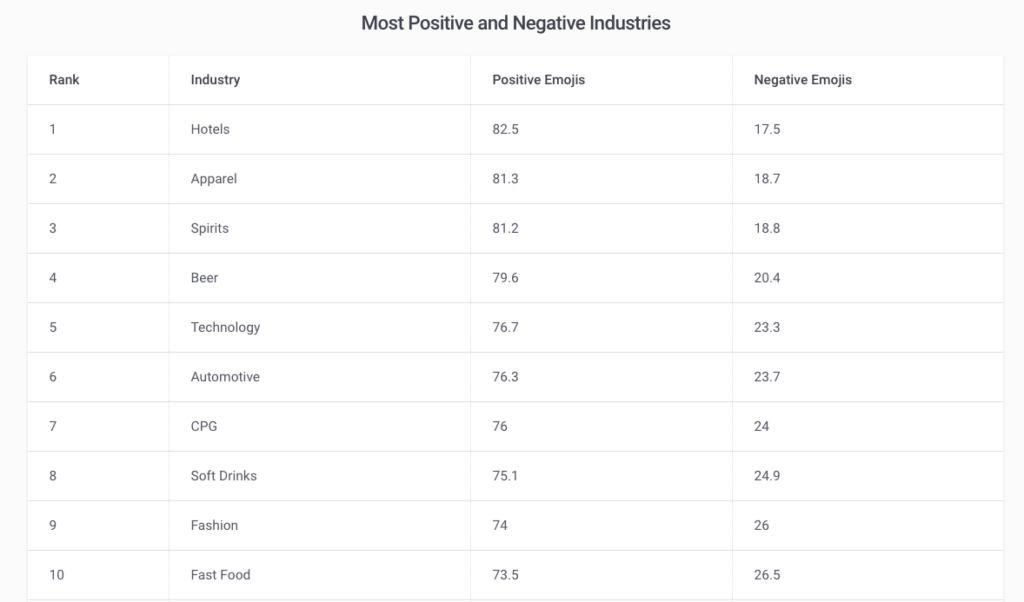 So what does this all mean?
Zooming out and viewing this analysis from a macro level, this emoji analysis reveals a trend towards communications similar to earlier Egyptian hieroglyphics. I know! Madness!
Emojis represent a new, international method of communication. Regardless of the language you speak or the medium you use to communicate, emojis are a unilateral way to showcase your feelings and emotion in just text-based messages.
For brands and organizations, it's a vital form of communication that must be used to analyze consumer perception.
For everyone else, it's one of the clearest and most distinct changes to written communication this century. Get eggplanting. It's the future.
---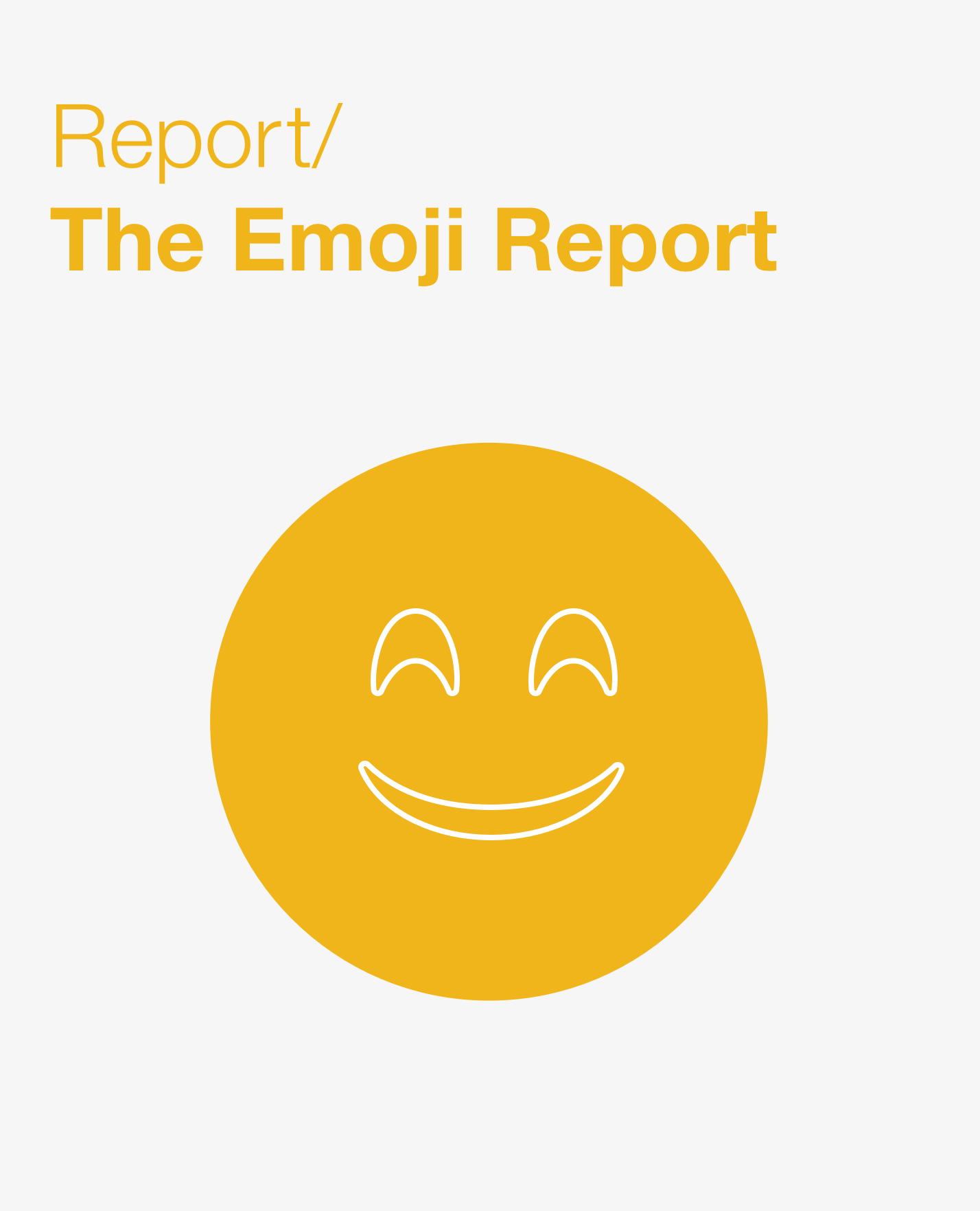 The Emoji Report
Over 10 billion emojis are sent each day. Find out what you can learn from them 📖
Get the report